Introduction:
A growing number of mobile apps provide you with tailored services based on your real-time environment. However, this also triggers people's concerns about their privacy, for hackers can easily access people's whereabouts through these apps. As a result, to protect your online privacy, it is a good choice to create a fake GPS location when necessary.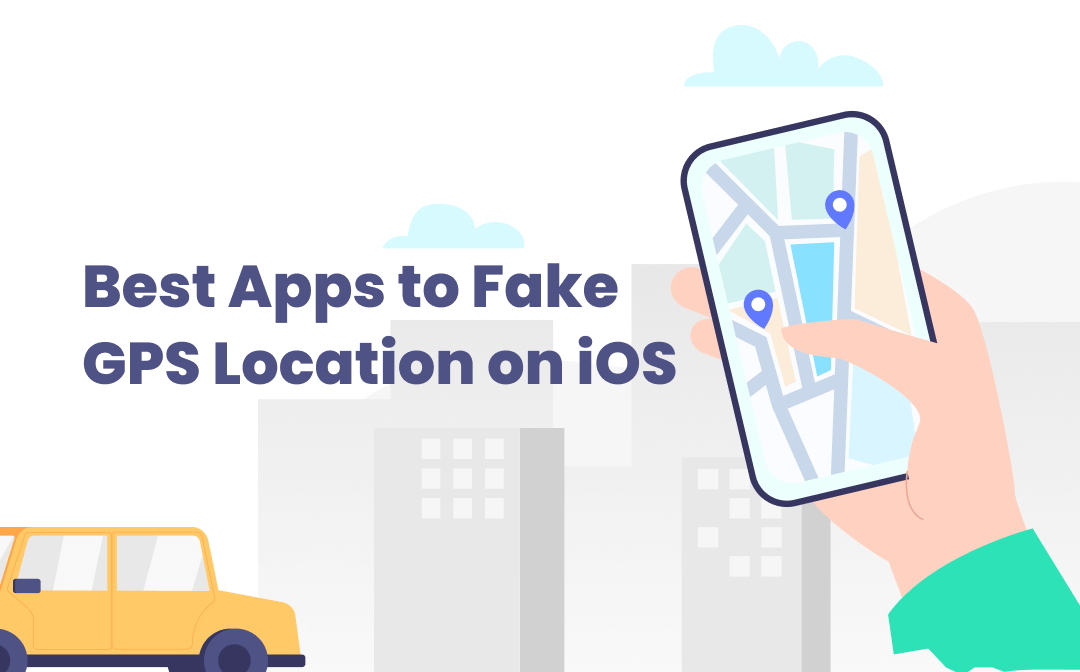 Lots of iOS apps can quickly locate you. Want to hide your real position on social media apps? Wonder how to use the geo-restricted service on your iPhone? Or do you just try to play a trick on your family and friends? It is never tricky if you know the right app to fake GPS location on your iPhone without jailbreaking it. Let's get an overview of the 6 best GPS-spoofing apps.
Why Do You Need an App to Fake GPS Location
Apps require GPS locations to function properly, but accessing your real-time position might bring about several problems. Using a tool to fake GPS locations can:
Protect your privacy: Many location-sharing apps can accurately display where you are, whether you like it or not. You can fake your GPS location to protect your privacy without being noticed.
Bypass geo-restrictions: Geo-restricted applications like Youtube Premium are only available in certain countries or regions. You can set up a virtual spot to change your Netflix region or Hulu location to access exclusive films in other areas.
Meet more friends online: Friendship networking programs prefer to recommend like-minded friends nearby. But you can meet more people from different areas or countries by faking your real position.
Since creating a virtual position can benefit you a lot, here comes the question: what apps can be utilized to change locations on iPhones?
AWZ AnyPorter

AWZ AnyPorter is one of the most excellent and safest programs to fake GPS locations on iOS devices. You can simply click on the map or enter an address to change your current location to a new spot. Additionally, imputing the coordinates of the mock place is supported as well. This location changer is widely compatible with all location-based apps, including Find My, Twitter, Pokemon GO, etc.
With this location-mocking app provided by AWZWARE, you don't need to jailbreak your iPhone to use its reliable and quick services so that your phone can avoid potential legal issues and security risks.
Pros:
Fake GPS locations on iPhones to wherever you'd like with a single click;
Automatically generate virtual routes to simulate movement along real roads shown on the map;
Spoof Pokemon GO and other AR games smoothly without being detected;
Customize the walking speed and method to create a natural movement;
Support all recent Windows and iOS systems.
Cons:
Only available for Windows and iOS.
Dr. Fone

Dr. Fone is a risk-free program to change your location on iPhones. This program allows you to alter positions swiftly with several steps, and it works perfectly with all iOS versions. With the easy-to-use features of this location spoofer, you can pinpoint a fake GPS location on any location-based app. Despite changing locations on your phone, this desktop application can transfer and restore mobile data and synchronize files stored on different clouds.
Pros:
Teleport to multiple spots you selected successively to pursue the items in AR games instantly;
Add your frequently used spots to the favorite list;
Use the keyboard to control the movement of your avatar flexibly on the computer.
Cons:
All features can be utilized after purchasing its premium version;
Cannot directly launch the location changer;
Only a 2-hour free trial is available.
MockGO

MockGO is another good option to fake GPS locations. It has extensive features but a simple user interface that allows you to quickly navigate to the feature you want and understand how to use it correctly. This desktop application helps you cheat locations with a few clicks. There is no need to root your device, and the GPS-faking app has good performance.
Pros:
Pause and continue the virtual movement at any time along the created path;
Variably change the direction of the pin by tapping the four direction buttons;
Serve as a useful Pokemon GO spoofing app.
Cons:
Short free trial for only 2 hours;
Not cost-effective for a long-term subscription;
Not compatible with Android devices.
iTools

If you have a GPX file and want to upload it to synchronize the recorded places with your iPhone, then iTools is a great assistant. It helps users add GPX files to set fake GPS locations. In addition, it is more of a location changer. This application enables you to back up and restore mobile data, quickly transfer photos to your PC, and customize your ringtones.
Pros:
Fake your location with a joystick to move backward and upwards;
Import GPX files to mock locations quickly;
Connect iTools with your iPhone via WiFi after the first connection via USB cable.
Cons:
Slow loading speed when launching this app;
Overwhelmed for users to find location spoofing features;
Windows 11 is not supported.
ProtonVPN

If you want to fake GPS location on iPhones without a computer, a VPN is optimal for picking up a new spot on your phone to change your current place immediately. A VPN allows you to access unlimited Netflix libraries or other geo-restricted streaming services across the world effortlessly.
ProtonVPN is a professional fake location spoofer to protect mobile data, hide your real IP address, and bypass geo-blocking. This VPN app highly values users' online privacy and security. It uses high-level security technologies and offers full transparency to improve your Internet privacy. You can flexibly change your location on Hulu to watch films even outside the US.
Pros:
A strict no-log policy to safeguard your online privacy;
Fast server speed to ensure a smooth user experience;
Free services are available.
Cons:
Slow response time;
All servers and features can only be obtained at the highest pay level;
Doesn't work well with Netflix.
SurfShark

SurfShark is a user-friendly GPS spoofing app for iOS devices to set fake GPS locations. You can change your IP address flexibly without the assistance of a PC. It provides lots of servers in a wider range of areas to let users access the one that suits them most. This app is one of the best VPNs for streaming platforms such as HBO Max, Apple TV, and Hulu. You can enjoy a seamless streaming experience with this program.
Pros:
View websites around the world as a local;
Block advertisements when surfing the Internet;
Unlimited connections with one account.
Cons:
Expensive to pay for its subscription;
Cannot simulate natural movement and need to frequently change positions during a game.
Conclusion
After reading this post, you are now familiar with various location-faking programs for iOS. Then you can choose any of these apps we've mentioned above to fake GPS locations on your device. By creating a virtual spot on your iPhone, you can secure your privacy, enjoy geo-restricted services, or expand your social circles.
If you want a reliable fake GPS spoofing tool, AWZ AnyPorter is the best app to change your location on your iPhone immediately.