The Find My app was previously known as Find My iPhone or Find My Friends. But it later changed to be known as Find My, indicating that it can be used on all iOS devices such as iPhones, iPads, Macs, AirPods, Apple Watches, and even AirTags. Hence, it replaced Find My iPhone and Find My Friends.
Find My Friends is an app to locate friends and family, ensuring they are safe and sound. But sometimes, you may notice Find My Friends stuck in one location or not working correctly on iOS 15/16. Does this make you think, Why is Find My Friends not working for one person or failing to update the location?
In this article, AWZware deals with the problems that cause these failures and discusses solutions to fix them. Read on to know more.
What Causes Find My Friends Not Working?
You might often be left asking why is Find My Friends not working on my iPhone. Well, there can be many reasons, like Find My Friends not updating location or the Find My Friends app failing to work in general. So let's look at the possible causes for both scenarios.
Find My Friends Not Updating Location
Why is Find My Friends not working for one person? There could be multiple reasons for Find My Friends not updating location. Some are stated here as under:
The Hide My Location option is activated
The phone's battery is drained out and is switched off
The person might not be sharing their location in Find My Friends
Location Services are turned off
The person must have traveled to a place where Find My Friend is unavailable
The phone's date and time are incorrect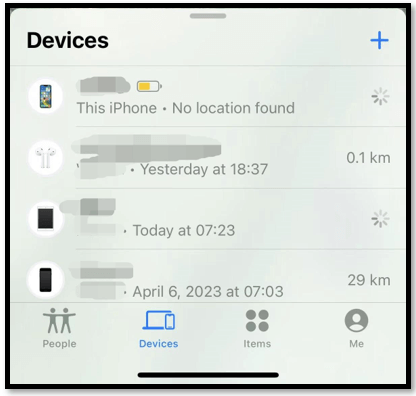 Find My Friends Not Working
Some common reasons for Find My Friends not working on iOS 15/16 include the following:
GPS or network connection (WiFi or cellular) is turned off
Background app refresh is disabled
Find My and iCloud are disabled
You are not signed in with the correct Apple ID
You are not signed in to Find My Friends
Software issues or glitches on iOS device
Another app's interference with the Find My Friends app
How to Fix Find My Friends Not Working
When Find My Friends is stuck in one location or does not work correctly, you can instantly try any of the quick fixes below to resolve your issue. Let's check.
Solution A: When Find My Friends not Working Even After Update
Check for updates for Find My Friends to work correctly. But when you are left with the question, Why is Find My Friends not working after update, consider force quitting and restarting the app. Or you can uninstall and then reinstall the Find My app to resolve the issue.
Solution B: Why is Find My Friends not updating location?
When GPS doesn't work correctly for you or your friend, the Find My Friends app might fail to update the location. So ensure both of you have turned on the location services. If it's turned off, visit Settings > Click Privacy > Turn on Location Services. Alternatively, if it is already on, refresh Location Services by turning it off and then turning it on in a few seconds or a minute.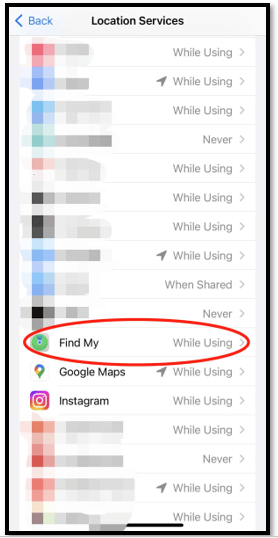 Solution C: When Family information is not available in Find My Friends
Use the same Apple ID for Family Sharing and Media & Purchases in this case. Then make sure that Purchase Sharing is turned on. After that, ask all the family members to check their settings.
Visit Settings > Tap your name > Note your listed Apple ID > Click Purchases > Ensure the Apple ID for Purchases and Family Sharing is the same. Otherwise, click Share from the other Apple ID and type in the Apple ID and password for that Apple ID.
Solution D: Find My Friends stuck in one location
When Find My Friends stuck in one location, it can be that the app is unable to update the current location. In this case, you can;
- Check your internet connection and privacy settings
- Enable iCloud and turn on Find My app in the Settings app
- Turn on Share My Location in iCloud
Solution E: Other solutions
Some other methods you can try to make Find My Friends workable again;
Force restart iPhone
Delete and re-invite your friends
Check and re-set the time and date
Turn off Hide My Location
Ensure to use the correct Apple ID
How to Spoof Location in Find My Friends to Avoid Being Tracked
Often you might crave privacy and some personal space without being surrounded by the uncalled nuisance. But hiding your current location might cause stress to the ones you are sharing your location with. So instead, a better solution would be to fake your current whereabouts with some quick steps. AWZ AnyPorter can come to your rescue in this case.
AnyPorter: Effortless Location Changer on iOS 15 & 16
AnyPorter is an excellent iPhone location spoofer that lets your phone travel anywhere with a single click. It spoofs the GPS of at most 5 iOS devices, including iOS 15/16, without jailbreak.
Furthermore, the program enables you to simulate real movement by moving along a customized route to explore new places. It works seamlessly and flawlessly with geo-based apps like dating apps, AR gaming apps, and social platforms. So you can hide or mock locations to access the new features on social apps.
Fake Your Location with AnyPorter
Step 1: Download and launch AWZ AnyPorter and click Get Started to use the location spoofer.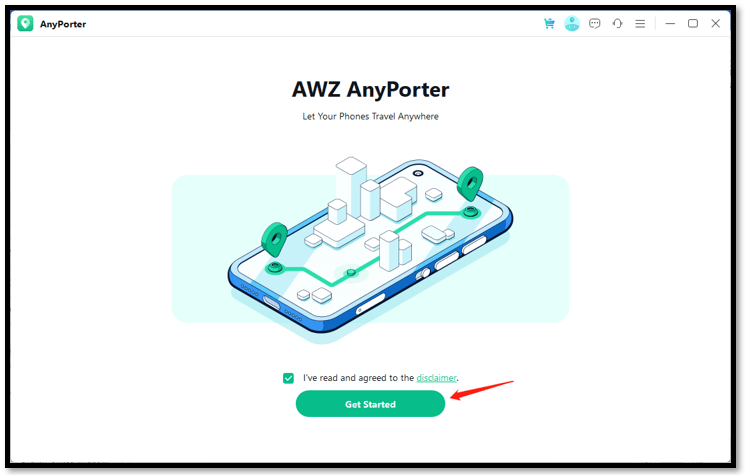 Step 2: Make a connection between your iOS device and PC with a USB cable. Click Trust to allow permissions on your iOS to continue.
Step 3: Select a new destination on the main screen after the map loads. By default, you will be in Flight Mode, so you can easily change your location to a new spot. Pinpoint any place on the map or type an address/GPS coordinate in the address bar at the upper left corner and click the Go button.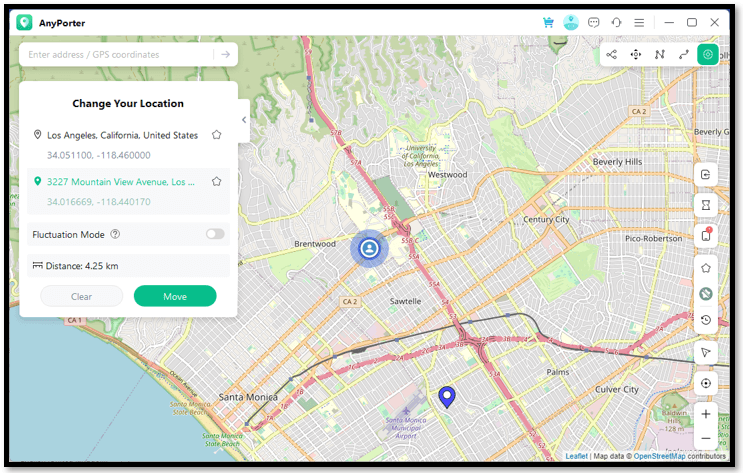 Step 4: As the sidebar pops up with your current location details, click Move.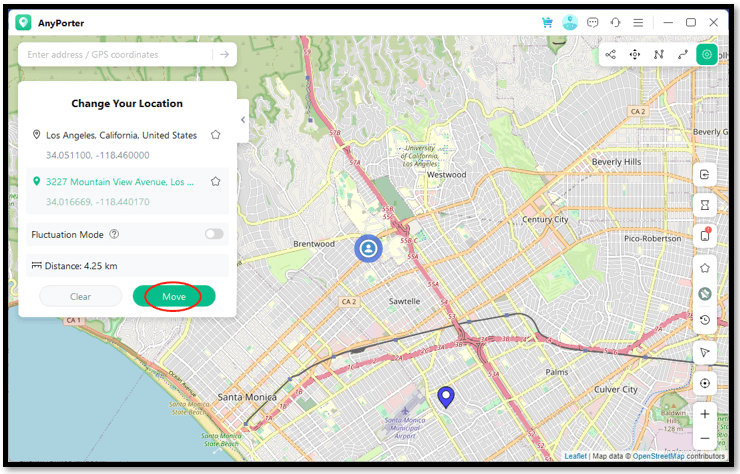 To Sum Up
Like other apps, despite technical improvements, Find My Friends is not glitch-free, and issues are bound to arise. But remediating it gets a lot easier once you know the exact cause behind the plausible issue. We have discussed the reasons and their solutions to fix the Find My Friends not updating location problem.
Besides hiding, you can use AnyPorter to mock or spoof your location to any desired place in simple steps and explore new features from social apps. So try AnyPorter to fake your location today!