Find My iPhone helps find lost iPhones and allows Apple users to share their current location with their family and friends. However, due to multiple reasons such as weak internet connection, incorrect phone settings, etc., users may often worry about Find My iPhone not updating location, restricting them from fully utilizing the function.
This post by AWZware discusses seven effective and practical solutions to instantly fix the Find My iPhone not updating problem. Let's quickly have a look to refresh your Find My iPhone location.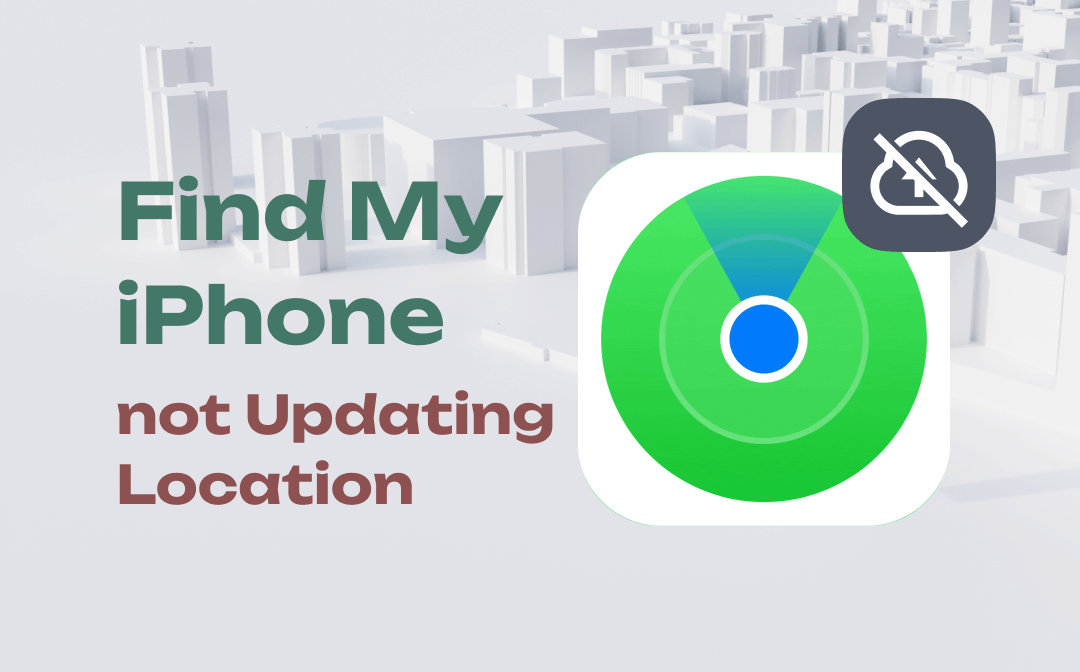 Methods to Fix Find My iPhone Not Updating Location
The following parts are about fixing Find My iPhone location not updating in 7 Ways that are tested helpful. Try based on your own condition.
Manually Refresh The Location
Refreshing the location manually is the first thing you can try when Find My iPhone not updating location. While it will update automatically on newer iPhone devices, you can always try this manual method if the Find My iPhone location not updating.
Step 1: Launch the Find My app on your device.
Step 2: Browse the People tab on the bottom menu tab.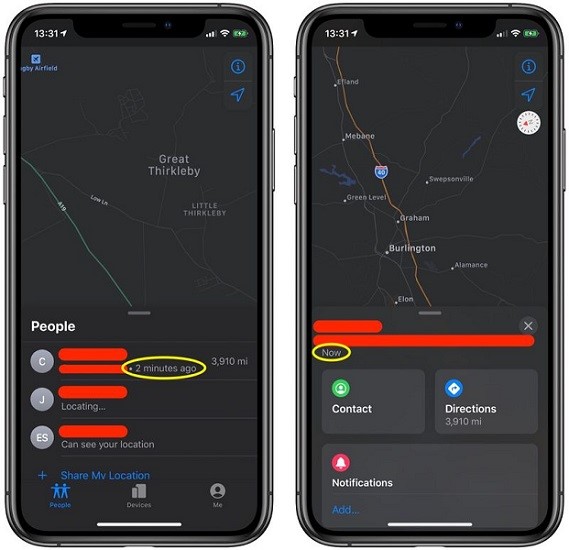 Step 3: Select the person's location you want updated.
Step 4: Now, the location card of the selected contact will open, and the Find My app will update their location in no time.
Check Your Network Connection
A weak internet connection also prevents Find My iPhone not updating location. Check if your mobile data is turned off, so turn it back on. However, if the problem persists, you can reboot your mobile data or connect to a different WiFi connection.
Check the connection speed by browsing a web page to have a rough estimate of the speed. If it is slow, you must fix it asap to get the location update. Also, check and confirm your iPhone allows Find MY to use the mobile data or WLAN to resolve the Find My not updating location problem.
Make Sure You Have Turn Location Services on
Despite trying the abovementioned options, if you still wonder why is Find My iPhone not updating location, chances are your Location service is turned off. But you can adjust the setting and turn it on to make Find My iPhone work again.
Step 1: Move to your mobile's Settings and tap on Privacy.
Step 2: Select Location Services and click Find My.
Step 3: Choose the option whether you want to use While Using the App, Ask Next Time, or When I Share.
Step 4: After selecting, toggle the Precise Location button and see if it turns green.
Check out The Date and Time
If the date and time are incorrect, then the Find My iPhone not updating location issue may arise automatically. Apple servers are set to work correctly with devices with date and time set properly. However, a problem might occur if they are set incorrectly. Following these steps, you can accurately set the date and time, fix Find My location not updating, and prevent it from interfering with the Find My iPhone app.
Step 1: Move to mobile Settings and click on General.
Step 2: Select Date & Time.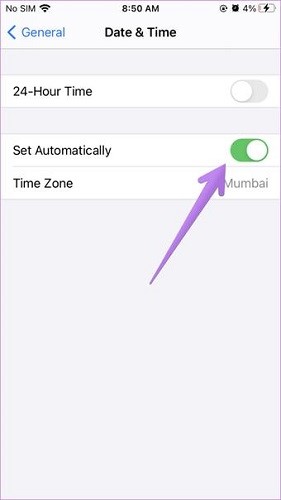 Step 3: Toggle the Set automatically slider on to ensure it turns green.
Enable iCloud and Find My in Settings
Have you tried all the listed methods, and still, the problem occurs? You may wonder why won't Find My iPhone update. If iCloud and Find My are disabled in the Settings app, Apple users can face trouble updating locations, and an issue of Find My iPhone not updating location may trigger. So ensure they are enabled in the Settings.
Step 1: Move to Settings and click Find My.
Step 2: Select Share My Location
For iCloud
Step 3: Check Settings and click your name.
Note:
If you cannot see your name, you must enter your current Apple ID and password and log in.
Restart Your iPhone
Often restarting your iPhone also fixes the issues of location not updating on iPhone. So try this method to restart your iPhone.
For iPhone X/11/12/13/14
Hold the Side button and Volume Up/Down. Wait until the power-off slider appears on the screen and release the buttons. Drag the slider to turn off your phone and wait for a few seconds to turn it on again by long pressing the Side button.
For iPhone 8/SE/Older models
Hold the Side button until the slider appears. Then let go of the buttons and drag the slider to power off the device. Wait for some time and long-press the Side button to restart the device.
Update to the Latest iOS 16
'Why isn't Find My iPhone updating' is a big problem. And with mobile devices, system updates are necessary for smooth functioning. This issue may arise as a result of a bug or an iOS update. So ensure to update your iOS to the latest version to fix it in no time.
Step 1: Move to Settings and click General
Step 2: Select Software Update. A notification would prompt you to update the iOS and proceed to update if available to fix your Find My iPhone not updating location issue.
Step 3: Ensure to back up the files and data before you update your iOS.
Bonus Tip: How to Hide Your Location Without Hassle
Often situations arise where you may need a solution to hide your current location due to privacy and location tracking. In such a case, AWZ AnyPorter can come in handy to spoof your site within seconds.
It is a safe and convenient location spoofer program that helps you fake your GPS location on 5 iOS devices simultaneously without jailbreak in one click to any place. It allows you to move along a customized route and explore the unknown. The program is designed to work effectively with location-based services like AR games, social platforms, and dating apps.
Simulates real movement
Spoofs GPS location with a virtual joystick
Mocks location to access new features of social applications
Offers an adjustable moving speed with recorded historical locations
Here's how to use AWZ AnyPorter, one of the best iPhone location spoofers.
Step 1: Download and launch the application.
Step 2: Connect your iPhone and PC with an Apple cable.
After ticking "Get Started", your current location will be shown on the map. Tap the phone icon on the right side and allow the app to change your location.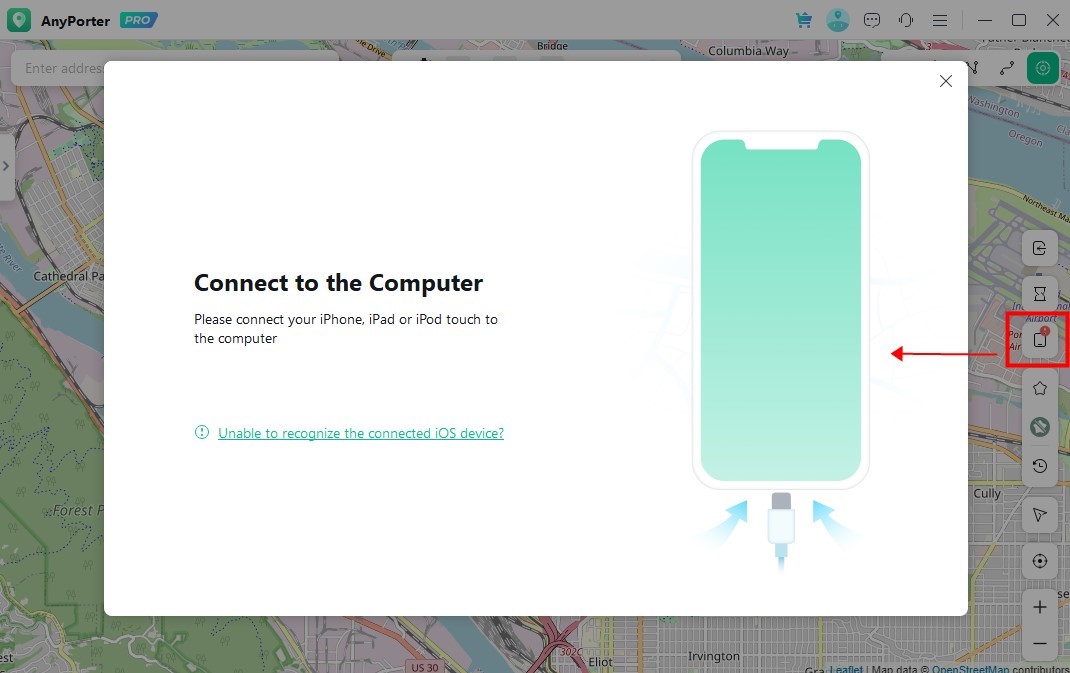 Step 3. Choose the destination and spoof location.
Select a spot and then press "Move", and your location will be changed immediately! Type the address or coordinates in the search box if you know exactly where you are going.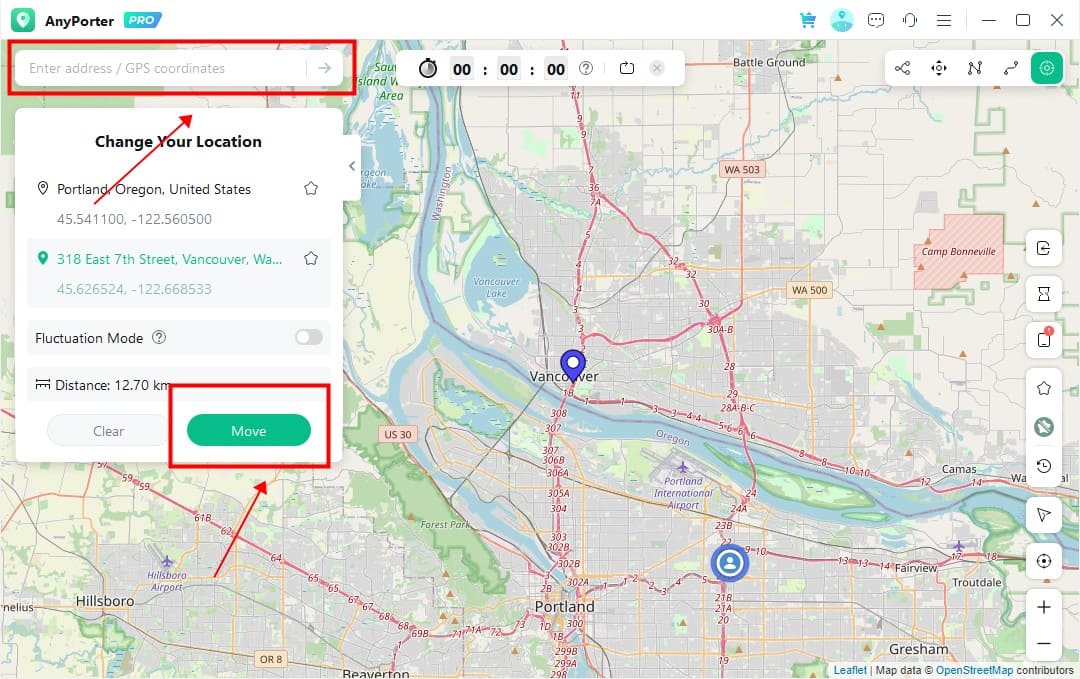 The Bottom Line
Find My iPhone not updating location is problematic and can occur for any reason. Understanding the cause helps significantly to work in the right direction and fix the problem instantly without wasting time. We have already mentioned seven detailed practical solutions.
However, we suggest you try AWZ AnyPorter to hide your location, as it works with all geo-based apps. Moreover, it lets you mock your area to test new features of social and dating apps in other regions.