Tinder can be dubbed one of the most popular social apps in 2022, together with more than 75 million monthly active users. With a single swipe to the right, you can meet new friends and plan face-to-face dates online. Admittedly, Tinder was a huge success. What follows the popularity is a series of questions. One gripe that keeps troubling you may be changing the real-time location when using the app. Can you change your location on Tinder?
Understandable: Tinder's free version can only find users within a 100-mile radius. The possible workaround to bypass the geological restriction is to upgrade to the premium version of the Tinder Passport. Is there any way to change the location on Tinder for free? No more worries; this post will dispel your doubts and present an easy way to fake the Tinder location: use a location changer.
How to Change Your Location on Tinder
For users who need to find more people from different communities on Tinder, there is no other way but to pay for the subscription plan. Whatever you need, this post comes up with two easy ways to change your location on Tinder:
AnyPorter: Change Tinder Location on Computers
AnyPorter is one of the workable location changers to fake Tinder's real-time location without jailbreaking your iPhone. With this app, users can easily modify the geological information and fake GPS simultaneously. Moreover, AnyPorter can create a customized route so that users can move along the path to different places.
These features make AnyPorter an ideal partner for location-based service providers, such as the geo-based dating app, Tinder. Now, let's move on to learning how to change your location on Tinder:
Step 1: Download and install AnyPorter on your PC;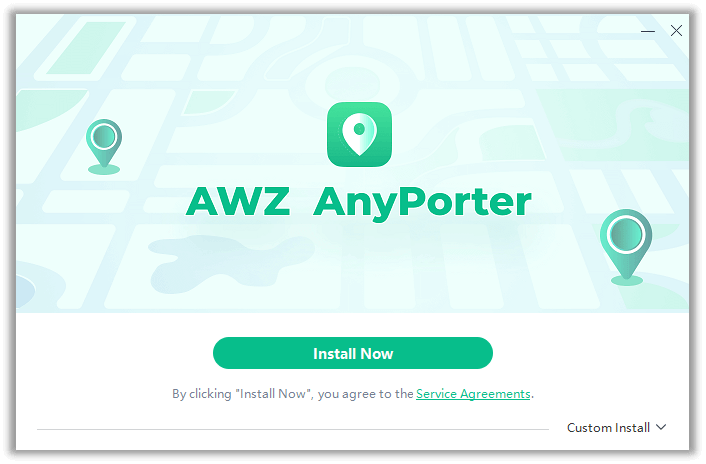 Enter the website in the search bar and go to the official website of AnyPorter. Click "Free Download" and install the downloader on a local folder. Then launch the downloader.
Step 2: Start installing the software;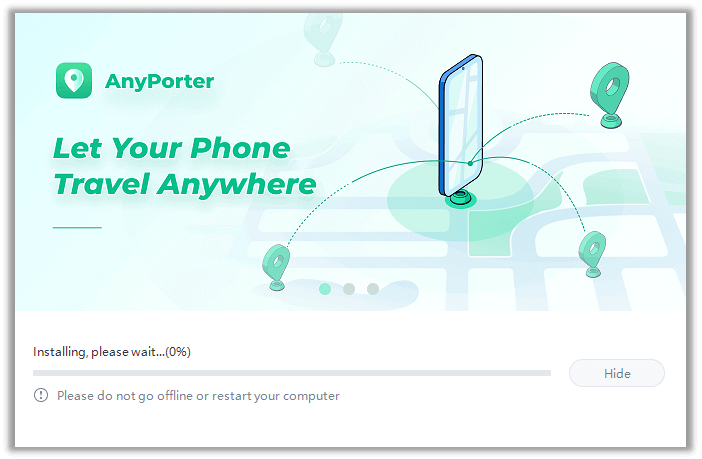 Hit the "Install Now" button to activate the downloader. Within a minute, the module is successfully mounted on your PC. After this, you're prompted to connect your device to the computer.
Step 3: Plug your mobile devices into the computer;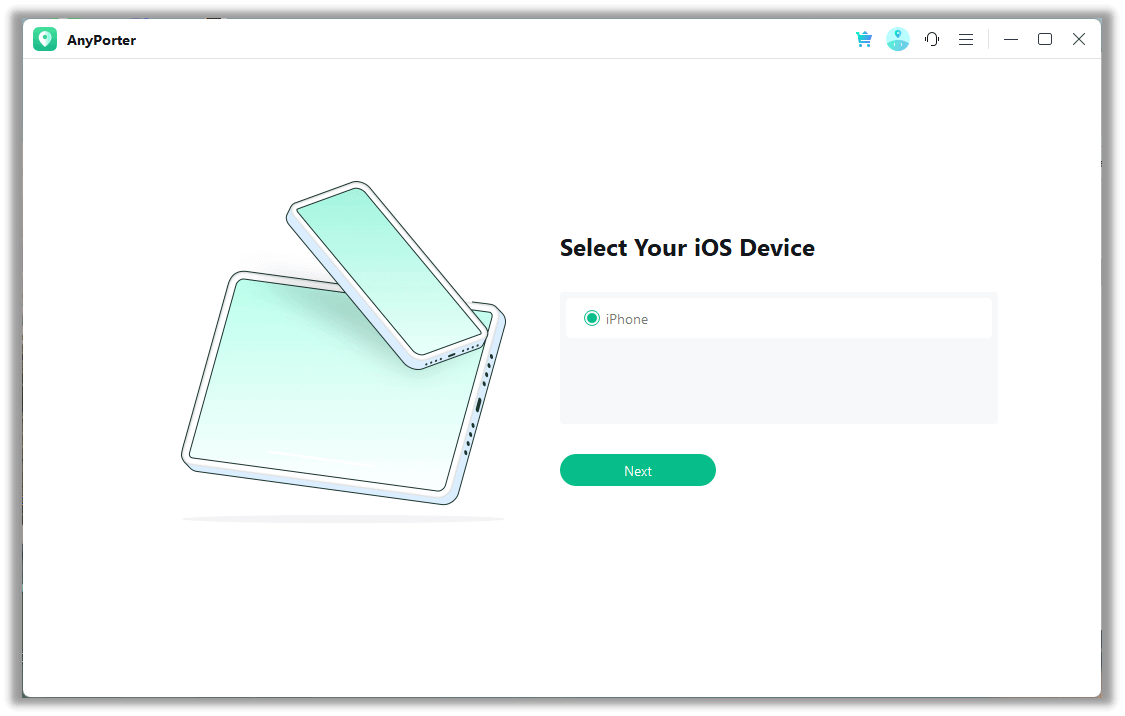 AnyPorter currently supports Apple devices, for instance, the iPhone, iPad, and iPod Touch. Therefore, connect your phone to the computer via a USB cable. Then, unlock the screen and select your iOS device to kickstart by clicking Next. When ready, trust this device;
Step 4: Change your location on Tinder
Wait until the map is fully loaded. The next phase is to change the location. By default, you're in "Teleport Mode" when first logging in. This mode enables users to change their locations by typing and tapping. What do they mean? The first method is to type the address in the bar, while the latter one is to tap on the screen to change the Tinder location to anywhere you want to be.
If you are to travel to a new city and want to meet local Tinder users, just zoom out on the screen and navigate to the destination. Alternatively, users can enter the exact address in the search bar and choose the closest spot.
Generally, when you enter an accurate address in the field, AnyPorter displays landmarks near your targeted address. Users need to select an option from the list. Otherwise, you cannot move to that place.
Now that everything is set, click "Move" to fake your real-time location on Tinder.
AnyPorter is an easy-to-use Tinder location changer. Besides that, users can take advantage of the location spoofer to mock the location on different social apps. However, only the Windows version is available. But the Mac version is under development, and macOS users can expect it to fake the location on Tinder in the upcoming months.
Of course, there's another applicable approach to changing the location on Tinder: using a VPN. So we've handpicked and narrowed down several trustworthy VPN apps for your reference. Read on to learn about the best VPNs to change your location in 2023.
How to Set Location on Tinder
If you think twice and make up your mind to upgrade the Tinder account to Plus or Gold, good luck to you. Faking the location on Tinder could not be easier. Check out how to set the location on Tinder:
Step 1: Launch the app and navigate to the Profile;
Step 2: Then click SETTINGS > Location. When you are directed to the Location page, choose Add a new location;
Step 3: Next, search for a new spot or tap on the screen to set a new location on Tinder.
Tinder is a free app, but with limited likes and rewinds. What's worse, free users cannot access Tinder's Passport feature, thus making it almost unrealistic to change the location on this app. With the Tinder Passport, users can modify their location information easily, without utilizing a professional location changer. Nevertheless, Tinder Passport is exclusive to paid users.
An annual Tinder Plus account costs $54 per year. Compared to the $39.95 offered by AnyPorter's yearly plan, the difference is too clear. What needs further attention is that AnyPorter is fully compatible with other location-based apps, such as AR games (Pokémon Go), and geo-based localization service providers (Find My). In brief, AnyPorter cannot only meet your needs for changing Tinder location, but it has a broader usage scenario and is hence much more cost-effective.
How Does Tinder Location Work?
As we've mentioned above, Tinder is, in essence, a location-based dating app. Therefore, to provide accurate matching results, Tinder has to rely on your built-in GPS. This popular social platform needs your location coordinates to proceed, and then it works by sharing with you the profiles of single users that are within your selected 500-meter diameter radius at your current location.
Then it uses your current location to share with you the profiles of other users within your selected 500-meter diameter radius
Generally, every dating app uses location to suggest matches and filter users who are not within the search scope. That's why the first time you download a similar app, you'll be asked to share your location with the operator.
How accurate is Tinder's location?
Under normal conditions, Tinder's location is as exact as possible, as it is closely correlated to the network connections. This app itself should rest upon the inbuilt positioning system on your phone to render related matching services. That is to say, whenever you want a precise location on Tinder, make sure the WiFi signal or cellular service is available or not.
How to hide location on Tinder
Tinder supports hiding geographic information for Tinder Plus, Tinder Gold, and Tinder Premium users. Otherwise, embrace a location changer or a VPN to hit the mark.
When does Tinder update your location?
Will your location be automatically turned off? Some users may be curious about whether their location will be updated even without opening the app. No worries, Tinder won't automatically renew your location when you log out or during the background process. Only if you open the app manually will your location be updated to the current one.