Introduction:
Find My Friends enables you to follow your friends' iOS devices to find them instantly at a crowded festival or make sure all of them get home safely after a party. However, it also has a negative side. This tool lets others locate you whenever you are, which invades your privacy and might expose your position to hackers. Hence, some people wonder how to fake location on Find My Friends.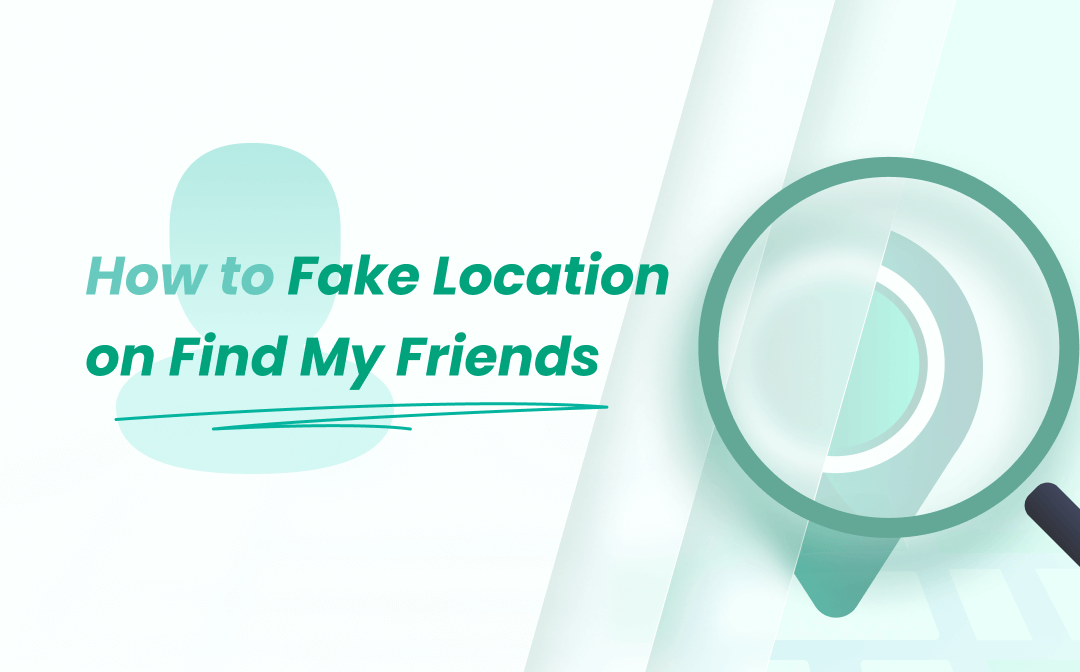 It has been normalized to share your location with friends or family members on this location tracking program. But if location sharing becomes a group norm, terminating access to your GPS location is difficult when you don't want others to know where you have been. Then setting a fake GPS location is necessary. In this post, you can learn 3 useful ways to create a fake location on Find My Friends, including an app presented by AWZWARE!
About Find My Friends
Find My Friends lets users send a request to people from their contacts, and they can share locations after the request is approved. Since the release of the iOS 13 version, Apple has combined Find My Friends and Find My iPhone into one app – Find My. So users won't be confused about these two apps anymore and can enjoy their full features in just one program.
Notwithstanding, no one likes being constantly monitored by others, and your location can be easily accessed by strangers. That's why you may need to set a fake location on Find My Friend to protect your privacy.
Fake Location on Find My Friends with AWZ AnyPorter
Using the AWZ AnyPorter app is one of the most efficient ways to hide your real location in Find My Friends. It is a functional application to prevent people with malicious intent from locating you. With this tool, you can use its wonderful features, including:
Fake locations to anywhere in the world with a single click;
Simple steps to change your location on Hinge, Snapchat, and Grindr;
Extensively compatible with all iOS devices from iOS 7- iOS 16;
Support multiple devices with a single purchase.
Here are the steps to fake your location on Find My Friends with AWZ AnyPorter:
Step 1: Download and install this app on Windows;
Step 2: Launch it, and use a USB cable to connect your iPhone to the PC. Unlock your phone and enter the password to allow access;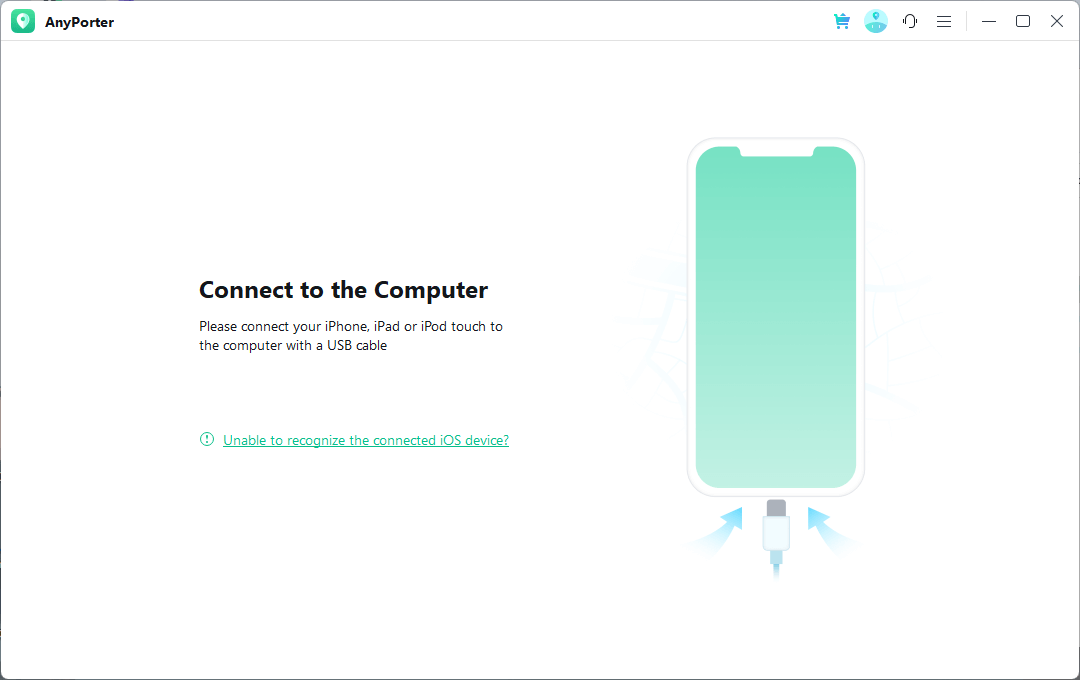 Step 3: Click Get Started, then hit Next to confirm the connection;
Step 4: Drag and tap on the map to choose a preferred place, then press Move. You can zoom in to select it more specifically. Alternatively, this app allows you to enter an address or its coordinates in the search bar.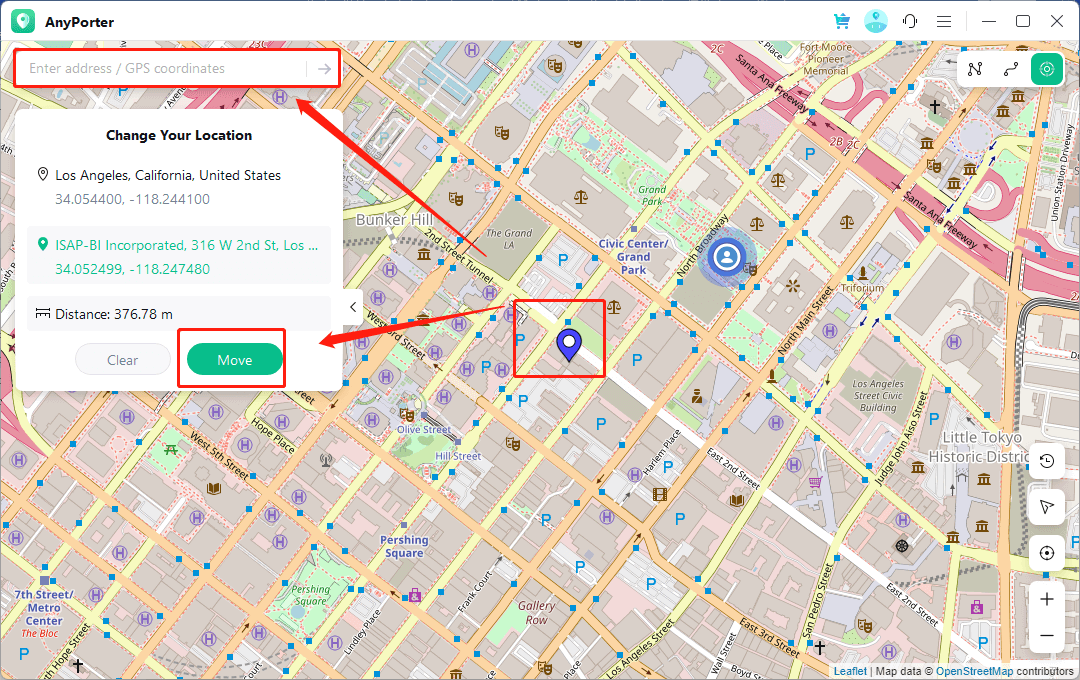 Then your position in Find My Friends is changed to the virtual location immediately! In addition to setting a fake GPS location in location tracking apps, AWZ AnyPorter can effortlessly solve other location-changing problems. For instance, it can help you spoof locations in Pokemon GO and other location-based games so that you can just stay at home and pretend to go outside.
Fake Location on Find My Friends with a Used iPhone
Using a secondary iPhone or a used one is another good choice to set a fake location on Find My Friends. Let's see the steps below:
Step 1: Go to Settings and hit Apple ID to log in to your account. Tap App Store and download Find My on the used iPhone;
Step 2: Then open your main phone, press Settings, and click on Apple ID;
Step 3: Select Find My on the list. Tap Find My iPhone and switch off Find My iPhone;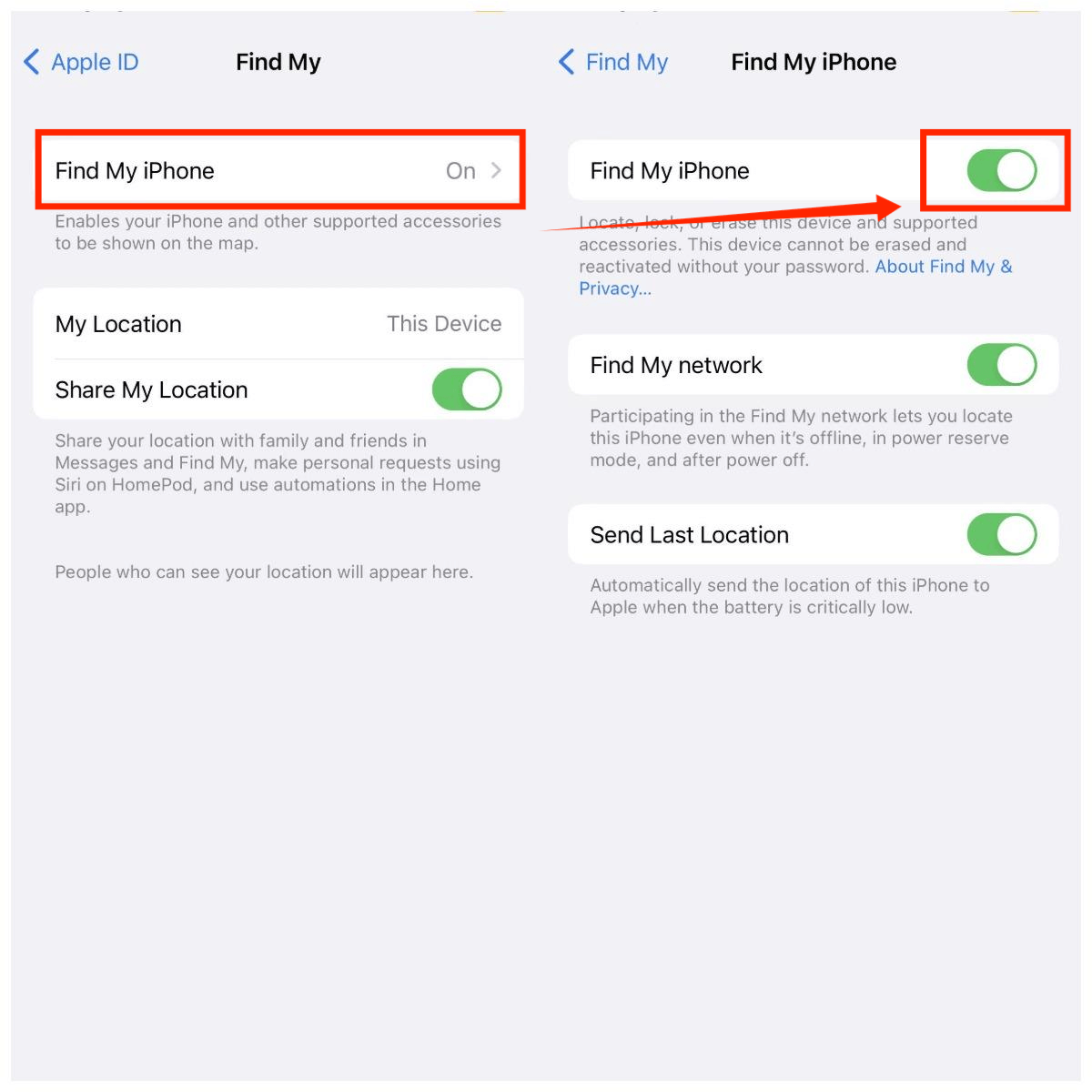 Step 4: Enter your password to log out of Find My on your main phone. Put the used iPhone in the place you want.
That's how you set a fake location in Find My Friends with your used iPhone. It is a good way to turn off your location on Life360 without anyone knowing as well. Although the process is not difficult, it is bothersome to sign in and out of the account between two phones, especially when you need to download a new app from the App store. Besides, you can't receive any messages from the app after you log out.
Note: This method applies to iOS 13 or later versions. Make sure your iPhone runs on any of these versions.
Fake Location on Find My Friends with Nord VPN
If you want to directly teleport your location with your iPhone, then you can try Nord VPN. It is a helpful application to hide your IP address and create a virtual position. The following content explains how to fake locations on Find My Friends with this app:
Step 1: Open this app on your iPhone and you will see various servers on the map;
Step 2: Choose any server you'd like. Or, you can click QUICK CONNECT to automatically connect to the fastest server available.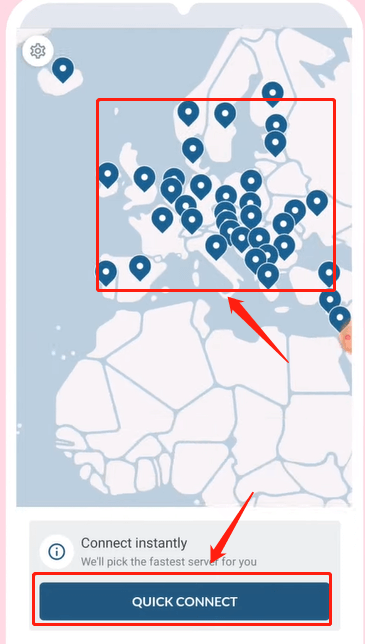 If the header turns green, you successfully connect to the server, and your current place is set to the fake GPS location in Find My Friends. It is also a useful tool to change your Netflix region to enjoy unlimited film resources. However, the security risk of using a VPN is comparatively higher than the other two methods.
Bottom Line
Whether to prevent potential crimes or just to play a prank on your friends, you need an easy-to-use method to change your real position in Find My Friends. With the above three ways, you don't have to jailbreak your iPhone and can pick a fake location wherever you like in this app.
Considering the pros and cons of the location-changing tools we've mentioned above, AWZ AnyPorter is a risk-free technical application for budget-conscious users to enjoy a smooth experience. You can give it a try!