Introduction:
Mobile devices have eased our lives to a great extent. It does everything from calls and texts to exploring the world through social media and apps. Most importantly, location services are one of the valuable features in our day-to-day lives, especially when you are stranded in a new place or need recommendations to avail of the local services. But what if you intend to hide your phone's location?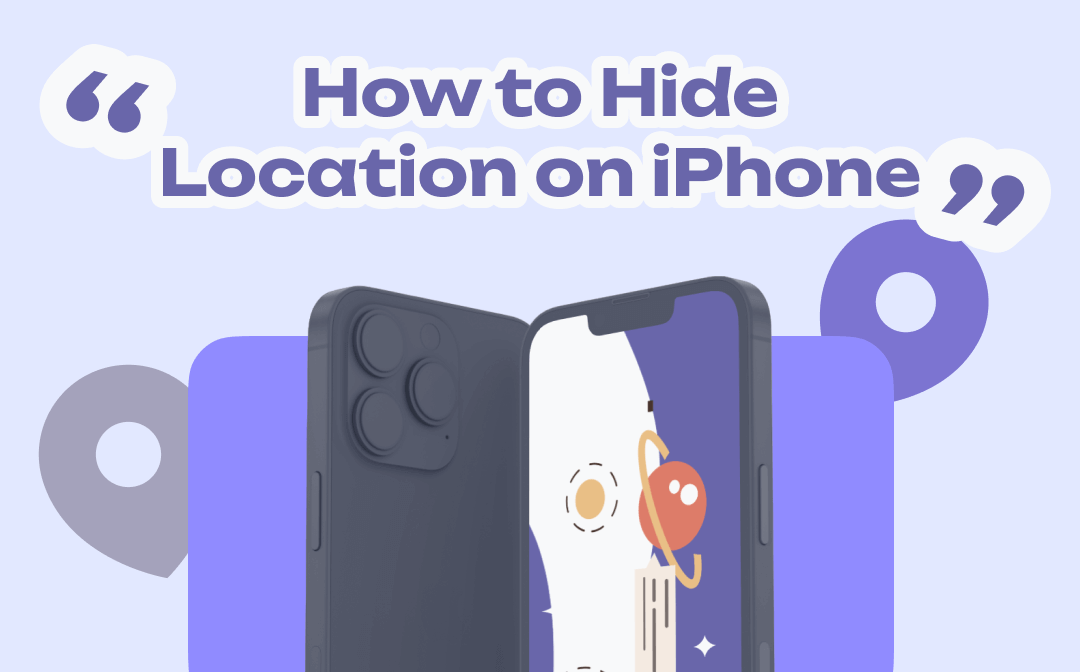 Well, if you are seeking the best ways to find a solution to your doubt about how to hide location on iPhone without anyone tracking you down, you have landed at the right place.
In this post, AWZware will show you some easy methods to help resolve your query on how to hide your location on iPhone in multiple easy ways, safely, without notifying anyone. So without further ado, let's get to the solutions!
Why Hide Location on iPhone
Though the location service on mobile phones is one of the most thoughtful functions today, especially regarding local service recommendations, social advice, and traffic navigation, being tracked 24 x 7 can put your privacy at risk.
Also, many times situations arise when you need to hide your location on an iPhone, primarily if they concern your privacy and protection. Or you might want to hang out with friends or spend some time away from them, ensuring you are not being tracked. So you can think about mocking or hiding your location on your iPhone.
How to Hide Your Location on iPhone
If you are thinking, "How do I hide my location on iPhone," here is a list of some common methods you can use to hide your location and prevent anyone from knowing your whereabouts. Let's have a look at all the ways and their detailed process.
Method 1: Change Your Location on iPhone Using AnyPorter
How to hide location on iPhone can be a troublesome issue, especially if you do not have the apt solution in hand. But AWZ AnyPorter comes in handy to change your location on all the iOS devices, such as iPhones, iPads, and iPod Touch, including iOS 16, without jailbreak and lets your phone travel anywhere in the world.
You can spoof GPS location on iPhone in a single click and fake the GPS of up to 5 phones simultaneously. The program lets you move along a custom route and delve into the unknown. It works seamlessly and flawlessly to simulate real movement and access location-based services like streaming apps, AR games, dating apps, and social platforms.
Step 1: Download and launch AWZ AnyPorter
Download and install this location spoofer on your iPhone and tap Get Started.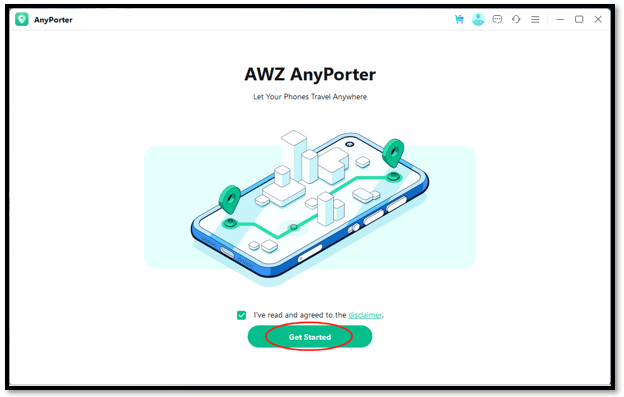 Step 2: Connect to your PC
Connect your iPhone and computer system with a USB cable. Then unlock your phone and tap Trust to continue the location-hiding process.
Step 3: Choose a new destination
The map will load on your main screen to display your current location. By default, you will be in Flight Mode to change your location to a new spot. Tap any place on the map or enter an address or GPS coordinate in the Search bar at the upper left corner and click the Go button.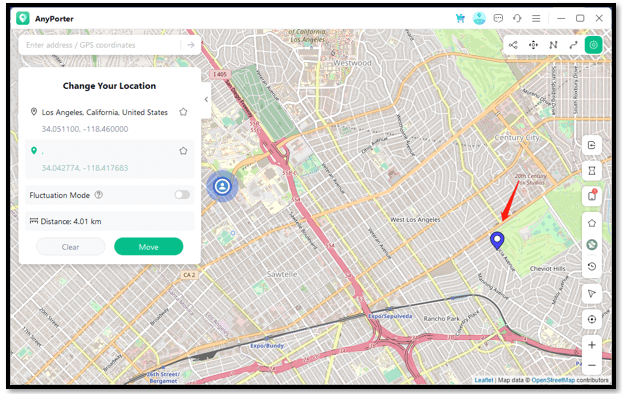 Step 4: Change your GPS location on iPhone
Finally, a sidebar will show detailed info on your current location. Click the Move option in the sidebar. Your GPS location will successfully change on your iPhone, and all the geo-based apps will remember the new GPS location.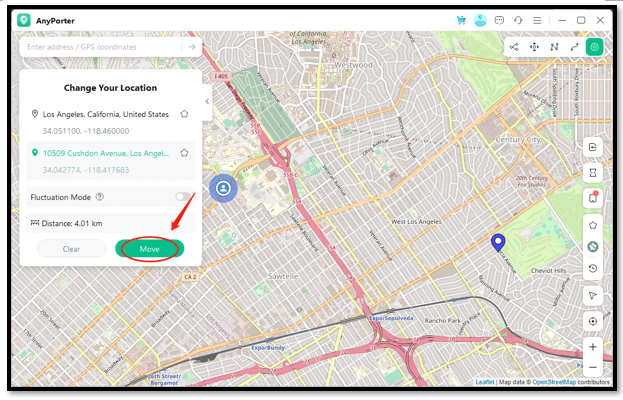 Method 2: Turn on Airplane Mode
Turning on the Airplane Mode disabled cellular connections, including WiFi, to immediately stop anyone from viewing your current location. Unfortunately, this method will steal your access from making calls and sending texts to anyone.
And even if you turn on the WiFi to browse the web, the Find My app will disclose your location to people. So if you are thinking of a temporary solution regarding how to hide (my) location on iPhone without them knowing, turning on Airplane Mode can help you unplug for a little while.

Step 1: Move to Settings on your iPhone;
Step 2: Click Airplane Mode;
Step 3: Tap the toggle button next to Airplane Mode to turn it off.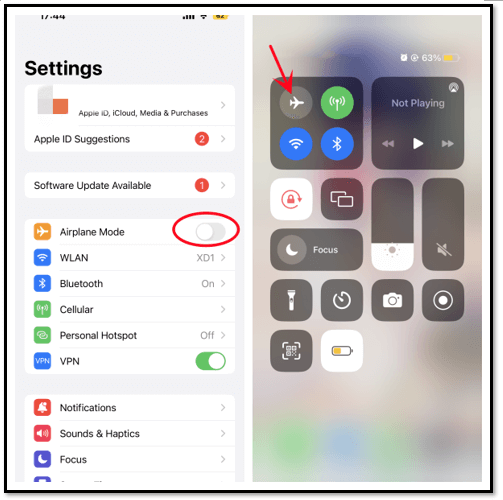 Alternatively, open the Control Center on your iPhone and tap the gray colored Airplane logo. Or swipe down the upper right of your iPhone and hit the Airplane logo to hide your location quickly.
Method 3: Turn Off Find My to Hide Location on iPhone
Turning off Find My enables you to hide your location from all the main people, family, and friends added in the People section of the Find My app. Doing so will show your last known location with a timestamp to your 'People' on the Find My app. Check the below process to turn off Find My on all iOS devices.
Step 1: Visit Settings on your iOS device.
Step 2: Press your name at the top
Step 3: Scroll down and look for Find My; tap and open it.
Step 4: On the next screen prompt, tap the toggle button next to the Share My Location to turn it off and hide your location without anyone knowing.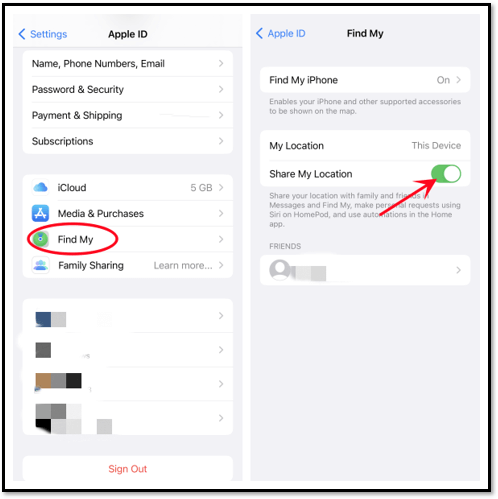 Method 4: Change Location Services
Apple provides its users with solutions to remediate queries on how to hide location on iPhone. Follow the instruction to hide your location for all apps and services on any iOS, iPadOS, or macOS device;
Step 1: Go to System Settings.
Step 2: Click Privacy & Security.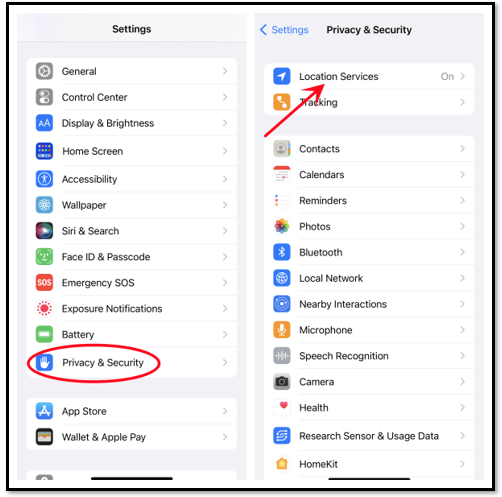 Step 3: Tap Location Services under Privacy.
Step 4: Click the blue toggle button to turn off the location sharing.
Method 5: Use a VPN to Hide your iPhone Location
A Virtual Private Network or VPN is also one of the methods to hide location on an iPhone. For example, a VPN lets your device send and receive data through a shared or public network, helping you hide your current location.
You can download a safe and trustworthy VPN, such as Nord VPN or ExpressVPN, to hide your location. However, you must remember that a VPN does not hide your GPS location but lets you change your IP address to spoof your location for streaming services and other apps. Check these steps to use a VPN.
Step 1: Add a VPN to your iPhone after downloading and installing it from the Apple App Store.
Step 2: Create your VPN account and sign in to set up your VPN.
Step 3: Hit the Allow option if asked for permission to create VPN configurations.
Step 4: Visit the Settings app on your iPhone.
Step 5: Tap the General option and then click VPN. If you have installed many VPN apps, select the one you want to use from the available list.
Once you follow these steps, you can re-route the internet traffic through your chosen server, hiding your real IP address and, in some cases, physical location. Furthermore, your connection will be fully encrypted.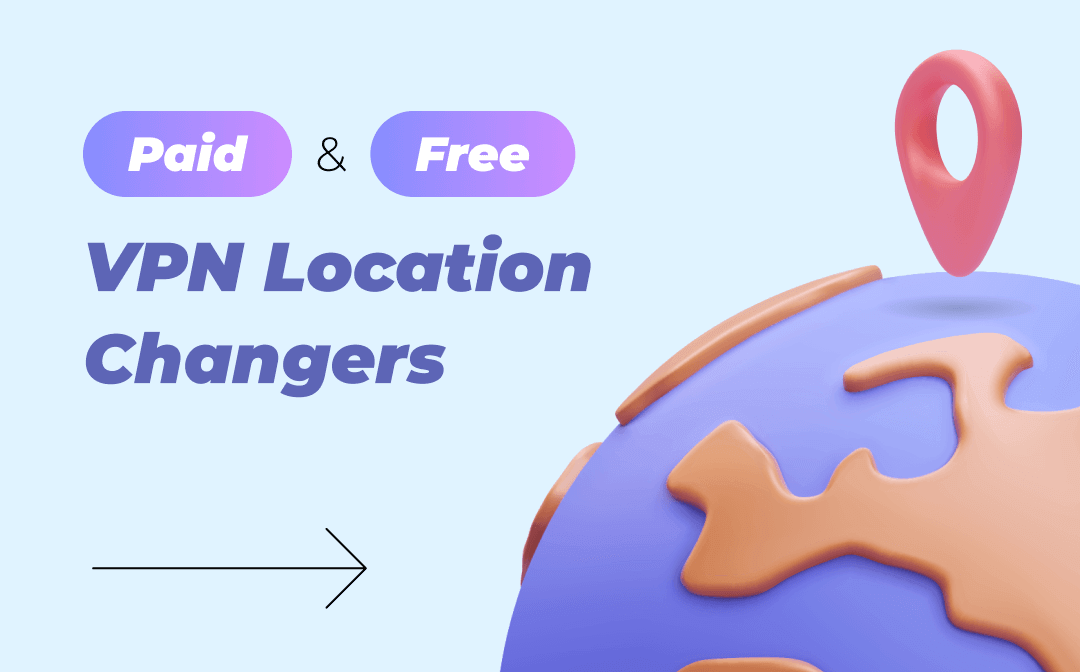 4 Best VPN Location Changers | Paid & Free
Can you use a VPN to change your location? This article four practical VPN location changers to change your IP address.
READ MORE >
To Sum Up
Countless options are available to remediate your doubts about how to hide iPhone location. Depending on your needs, you can pick the best one that suits your requirements. However, AnyPorter is the most effective and doable solution to hide your location and trick anyone by mocking your location to a different one. You can effortlessly fake GPS location with a virtual joystick, and all apps believe it. So try AnyPorter today to mock and change your location without anyone knowing.