Introduction:
Location sharing for family or friends makes you feel more secure when on the way home or helps you make sure your kids get to school safely. However, it's fairly challenging to share your location between phones with different operating systems. Consequently, if you are an iPhone user, you may wonder how to share location from iPhone to Android.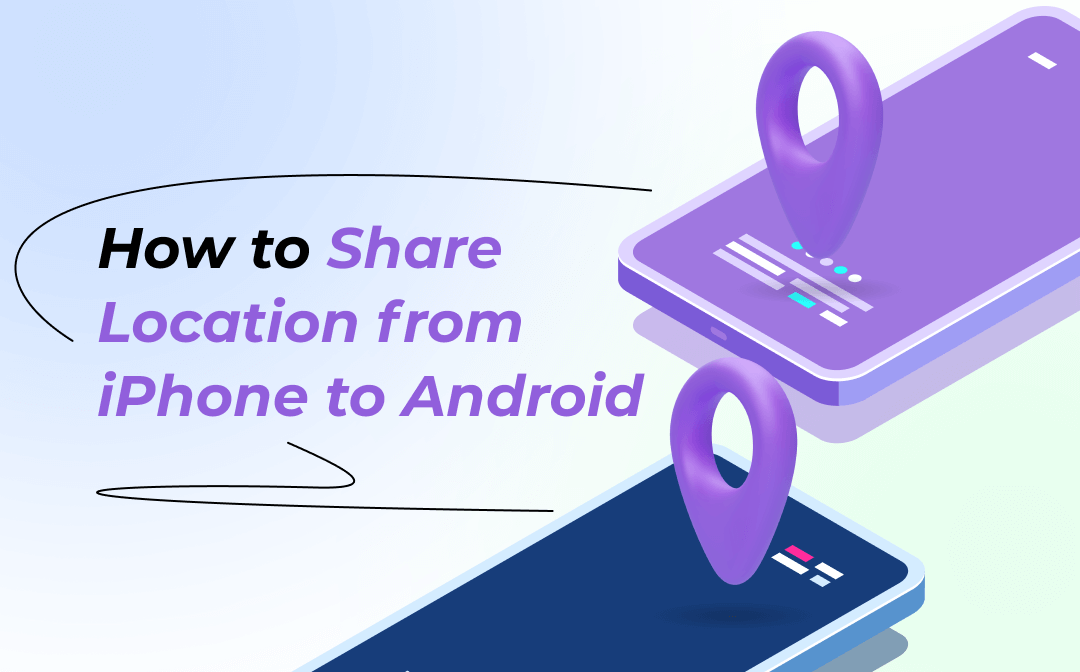 It's easy to share your location on iPhone with other iOS users, but what about sharing with an Android phone? Learn how to share location from iPhone to Android devices in this guide. AWZWARE has organized the most useful information you need to send your iPhone location to an Android user efficiently.
3 Apps to Share Location between iPhone and Android for Free
Here are 3 free apps to share your location from an iPhone to an Android phone. Let's get an overview of them and learn how they can help you.
Life360
Life360 is one of the most frequently used location-based services to indefinitely share a location from iPhone to Android. This app allows you to use its basic service for free. Once the location-sharing feature is enabled, your family and friends can see your current location instantly when they open the program. Apart from that, to protect your privacy, your location can be only visible to the Life360 Circles you joined.
Read on to see how to share your location from iPhone to Android with this family social networking app:
Step 1: Open this app and register for an account;
Step 2: If your family or friends already has a Circle, ask for the code from them. Or you can create a Circle and set an invite code to them;
Step 3: Input the invite code > Submit > Join;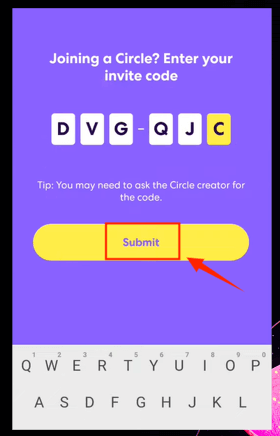 Step 4: After adding the details, allow this app to access your location by following the instructions shown on the screen. Then set your home location.
After completing these steps, you can share your location from iPhone to Android. All members in the same Circle can see where you are in. If you are sensitive about your privacy, it's okay to turn off your location on Life360 when location sharing is unnecessary.
Google Maps
Google Maps is not just a mapping platform offering route planning services or real-time transportation conditions. It is also an app to share locations between iPhones and Android phones. Your loved ones can receive your minute-by-minute locations across different operating systems.
Different from Life360 which displays your location all the time, this application allows you to choose whether to share your location from iPhone to Android indefinitely, or select a duration.
Find out how to share a location from iPhone to Android using Google Maps:
Step 1: Launch this software and tap on the profile icon in the upper right corner;
Step 2: Choose Location sharing, then select how long you want to share;
Step 3: Navigate to the recipient, click Share, and hit Share again.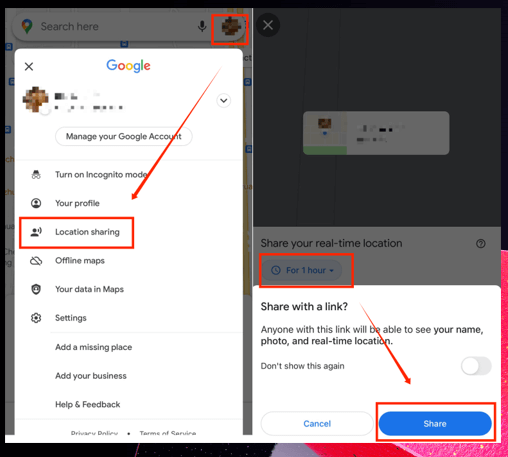 Your location will be shared between an iPhone and an Android device. A spotlight of Google Maps is that it provides various channels to send your location, including Gmail and Facebook.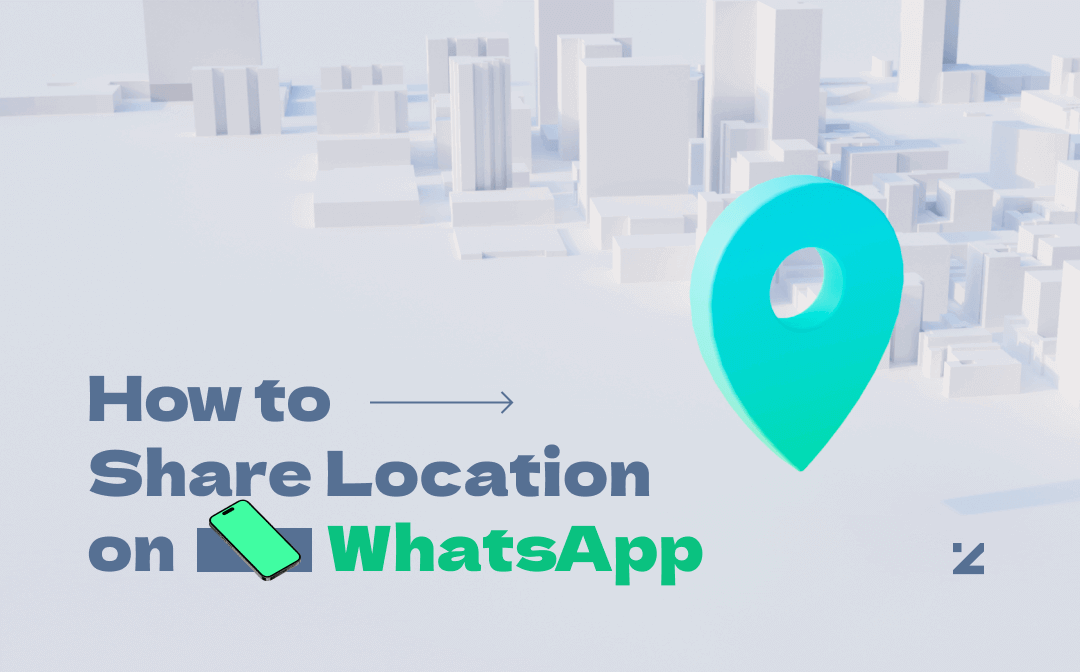 How to Share Location on WhatsApp [iOS & Android]
Wonder how to send your WhatsApp location? This article introduces 2 methods for how to share location on WhatsApp for iOS and Android devices.
READ MORE >
Glympse
Glympse is a free location-sharing app that can accurately share your location between an iPhone and an Android phone. When sending a location to others, this program estimates your arrival time based on your movement speed. Besides, it enables you to choose how long you want to share your location from your iPhone to an Android user as well if you don't like to be monitored continuously.
Take a look at how to share the location from iPhone to Android for free:
Step 1: Open this app and click on the three vertical lines in the top left corner;
Step 2: Tap Share Location and add the recipient (you can customize other options such as adding a message or a destination);
Step 3: Adjust the duration, then press Send.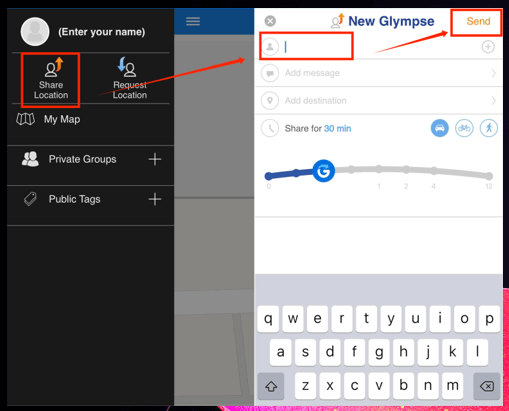 This free application lets you share your iPhone location with anyone without signup. However, it doesn't have the option to continually send your location to particular people, making it inconvenient to check the real-time whereabouts of your family and friends.
Bonus Tip: Hide Your Location Without Anyone Knowing: AWZ AnyPorter
It's wonderful to have an app to indefinitely share a location from one iPhone to an Android device so that users can access their loved ones' minute-by-minute location across different operating systems. However, everyone has secrets. Sometimes, it is a little awkward to let others know where you have been, and turning off the location-sharing feature will make you more suspicious. Then you need a utility tool to fake a GPS location on your iPhone.
AWZ AnyPorter is a dedicated location-changing app that can set a mock location on your iOS device. Whether you want to hide your current location without your parents' knowing or escape from a stalker, this software can trick all location-tracking apps into believing that you are at the chosen fake location. It has a good performance and there is no need to worry about your fake GPS suddenly returning to the true position.
Features:
Set fake location on Find My, Life360, and other location-tracking apps;
Unlock geographically restricted services on Grindr, Snapchat, etc.
Spoof AR games such as Pokemon GO to collect more items while staying at home;
Compatible with iOS 7 and above versions.
Let's discover how to use this location changer to hide your real location without anyone knowing:
Step 1: Open this program on your computer after downloading and installing it;
Step 2: Connect your phone to the PC via a USB porter. Then press Get Started and click Next;
Step 3: Unlock your phone, tap Trust, and enter the passcode so that your computer can access your device's data;
Step 4: When the map is fully loaded, drag and zoom on the map to pick a spot you desire. Alternatively, enter an address in the search bar and hit the right arrow symbol next to it. Finally, press Move.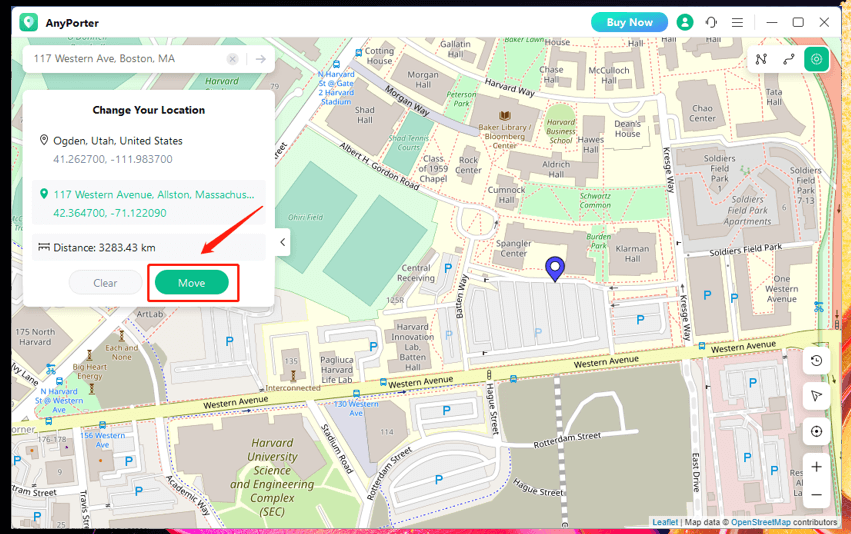 Then you can fake GPS location on your iPhone and share it with others when you don't want them to know where you are.
To Sum Up
This guide has discussed how to share a location from iPhone to Android. And we hope you find the 3 free apps helpful. With these apps, you can make sure your loved ones are safe as long as you open the program. In turn, if you want to hide your location temporarily without anyone knowing, a location changer like AWZ AnyPorter meets your expectations.