Introduction:
As an avid Pokemon Go player, you may seek options for teleporting in Pokemon GO and make your gameplay enjoyable by traveling to distant places and getting unique Pokemons. But as Niantic detects any sudden changes in the player's current location, it may result in your account getting banned. So often, players look for some competent tools to Pokemon GO teleport and keep the game running smoothly.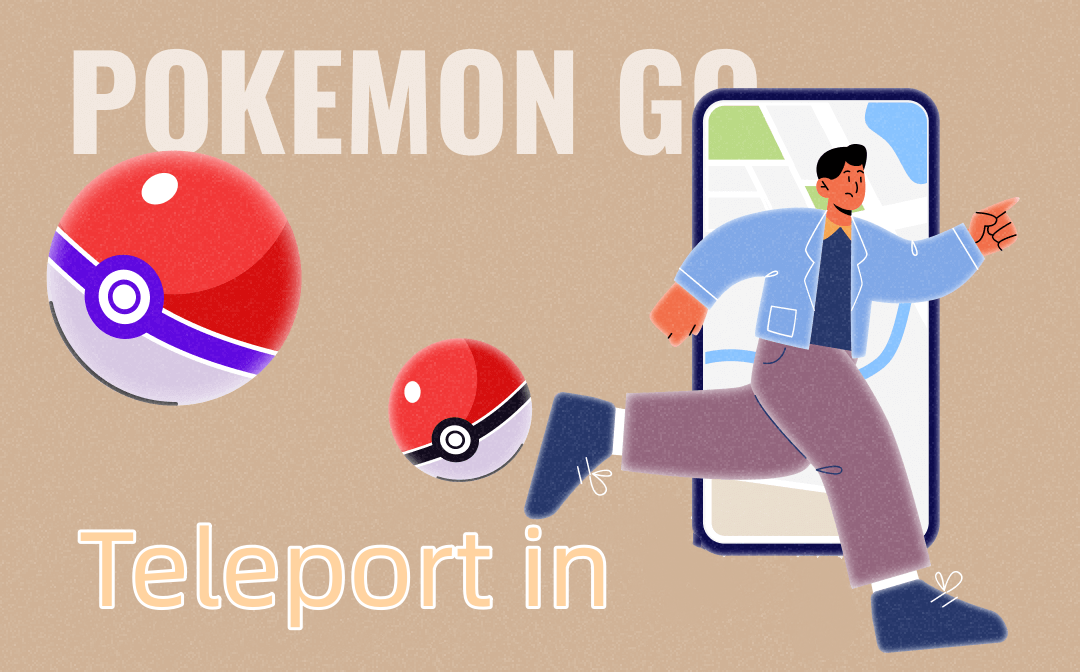 This article presented by AWZware discusses some efficient software on how to teleport in Pokemon GO seamlessly on iOS and Android users. Stay with us for a knowledgeable read to improve your gameplay without the fear of your account getting banned.
Can You Still Teleport in Pokemon GO?
Teleporting enables the Pokemon Go players to move to new and different locations and play the game while being in their comfort. While playing the game, you may often wonder if Pokemon GO teleport is available for better gameplay. So you will be overwhelmed to know that you can teleport in Pokemon Go on iOS and Android devices with a lot of different methods.
Pokemon GO teleporters are available to help you catch new and unique Pokemons right from your home. You can change your current location and travel anywhere to grab your Pokemon. Let's check how to teleport in Pokemon GO with these teleporters on iOS and Android devices.
How to Teleport in Pokemon GO on iOS
Do you know about using Pokemon GO cooldown timers to prevent soft bans? If not, we are here to introduce a Pokemon GO teleporter, AWZ AnyPorter, that can help you teleport in Pokemon GO with ease without getting banned and also hatch eggs without walking.
AWZ AnyPorter is a versatile and powerful location spoofer tool that enables iOS users to change their GPS locations on all iOS devices, such as iPhones, iPads, and iPod Touch, and teleport to any place in the world without any physical movement. The Pokemon GO teleport tool helps test geo-based apps, bypass location restrictions, and protect your privacy. Users can customize and fake their GPS locations with a friendly UI in a few clicks.
Here are some more features that add up to the grace of this excellent Pokemon GO teleport program.
Works well with go-based AR games;
Spoofs GPS locations on up to 5 devices at once to travel worldwide;
Enables users to move along a customized route and explore the unknown by simulating natural movement;
Provides an adjustable moving speed with location history.
Check the quick process on how to teleport in Pokemon GO in just three steps.
Step 1: Download and launch AWZ AnyPorter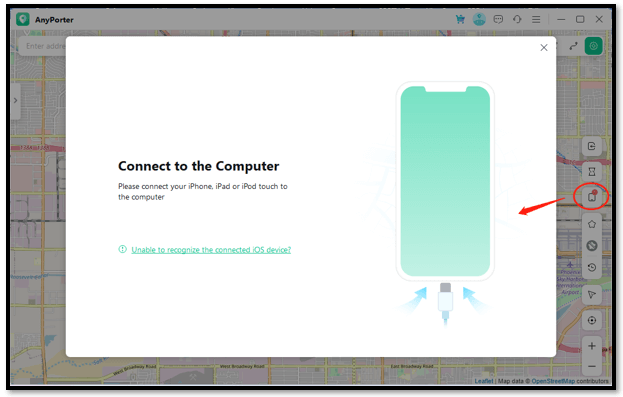 Launch the AWZ AnyPorter program on your PC. Click the phone icon to connect your iPhone with a USB cable to create a connection.
Step 2: Select a destination
Choose a destination you want to teleport to and create a route.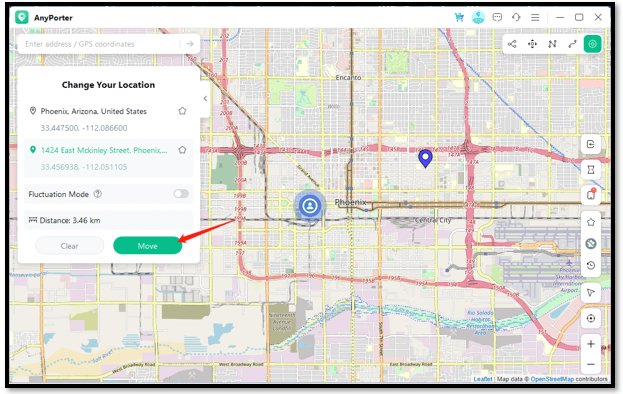 Step 3: Change your GPS location
Click the Move button to change your GPS location to a new one instantly.
How to Teleport in Pokemon GO on Android
PGSharp is a Pokemon GO teleporter for Android users that helps users enjoy Pokemon Go anywhere and anytime. The tool enables you to create custom shortcuts and manage speed to spoof locations anywhere in the world. In addition, PGSharp is compatible with all popular Android devices to teleport to any location swiftly in a trice.
The Pokemon GO teleport also lets you start auto-walking to automatically move along a customized route or move your avatar manually with the built-in fake GPS joystick, eliminating the need to reinstall this feature. You can even alter your walking speed to simulate the natural movement of an actual human being efficiently.
Here's how to teleport in Pokemon GO on Android devices.
Step 1: Click on the drop-down menu, the one right above the settings, second from the bottom;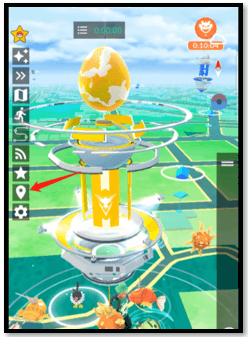 Step 2: Paste the coordinates here or otherwise click the star icon to see the saved places and select a desired one. After choosing the location, click Teleport from the popped-up dialog box;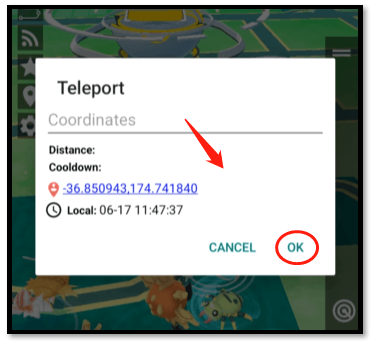 Step 3: You'll find multiple spots in the area once teleported. Alternatively, you can move to Settings and turn it on from Tap to Walk to Tap to Teleport.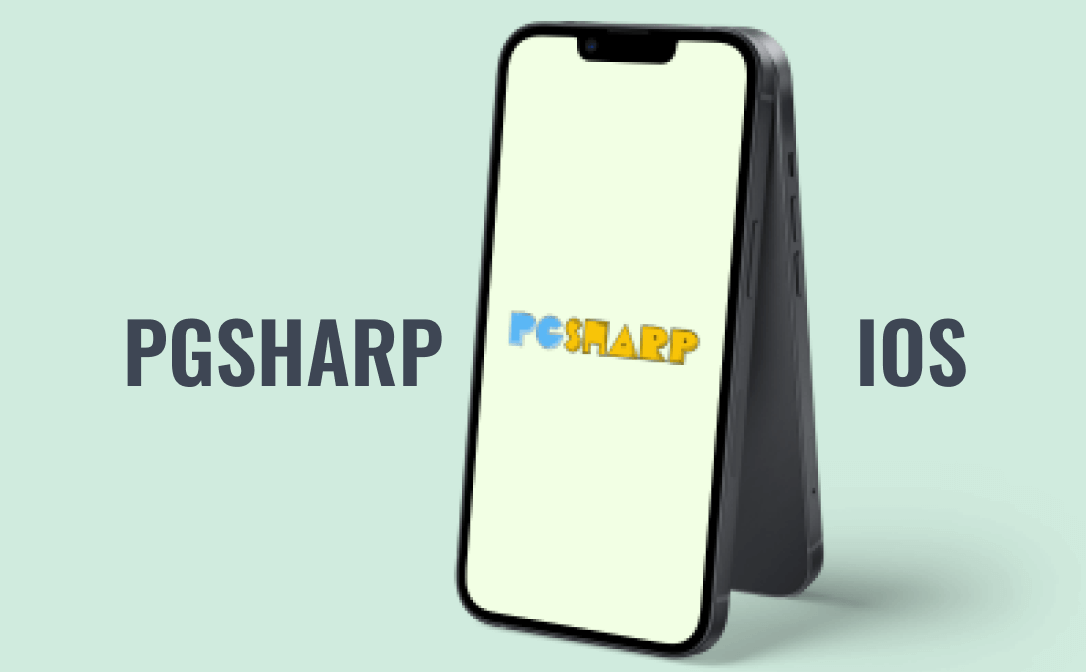 PGSharp iOS Version: Does It Work & What's the Alternative
Is PGSharp available for iOS? This article explains everything about the PGSharp iOS version to answer this question, together with a good iOS alternative.
READ MORE >
How Do You Teleport in Pokemon GO without Getting Caught?
You have already seen how to teleport in Pokemon GO, but going against the Cooldown rules often results in your account getting soft-banned. Consequently, you shall not be able to spin poke stops, and all the Pokemon will flee when you try to catch them. Anyway, you can follow the Cooldown rules from Pokemon Go to avoid a soft ban.
Here are some quick methods to prevent getting caught. But before that, do check the best Pokemon GO coordinates to teleport in Pokemon GO instantly without being banned.
#1. Teleport after the cooldown
Pokemon Go specifies the Cooldown rules that discuss the waiting time before using an in-game activity like gym or raiding. Players must wait for the cooldown to perform the next teleporting as changing location to thousands of miles in a second; results in getting your profile flagged. So instead, they must use a joystick to avoid the soft ban during Pokemon GO teleport. You must check the Pokemon GO cooldown chart for further information.
#2. Do not share account
If Pokemon Go keeps running in the background, then during the teleportation, it can easily detect what you have created. So avoid sharing accounts and ensure to always log out from your account after the teleport Pokemon process to prevent any soft ban or privacy issues.
#3. Activate Airplane mode before teleporting
Besides using Pokemon GO teleporter, you can also enable Airplane mode to implement the Pokemon GO teleport hack hassle-free. Here's how you can turn Airplane Mode on/off:
Close the Pokemon Go app from running in the background, ensuring you are logged in to your account.
Enable Airplane Mode through Settings or control center and wait for some time.
Then turn it off before launching the PokeGo++ app on your device.
Wait for more time if an error occurs during sign-in.
After the app loads, go to the map interface and change your location.
Last Word
Teleportation has multiple benefits, especially for gamers and social app users. Now you know the perks of Pokemon GO teleporting and the process of how to teleport in Pokemon GO without getting banned on iOS and Android devices.
As an iOS user, we suggest you use AWZ AnyPorter for Pokemon GO teleport, as its simple UI helps spoof your GPS location on multiple devices. In addition, with a cooldown timer, it eliminates the risk of getting banned from the gameplay. So try it today to teleport to any location across the globe.