Introduction:
Snapchat is a popular photo and video-sharing app that allows users to share temporary messages. The temporal fastness of
Snapchat has earned it 347 million daily active users worldwide
. But its location-tracking feature updated recently is a red flag that alerts users that their GPS locations can be followed by others. As a result,
how to turn off location on Snapchat
has become a hot topic.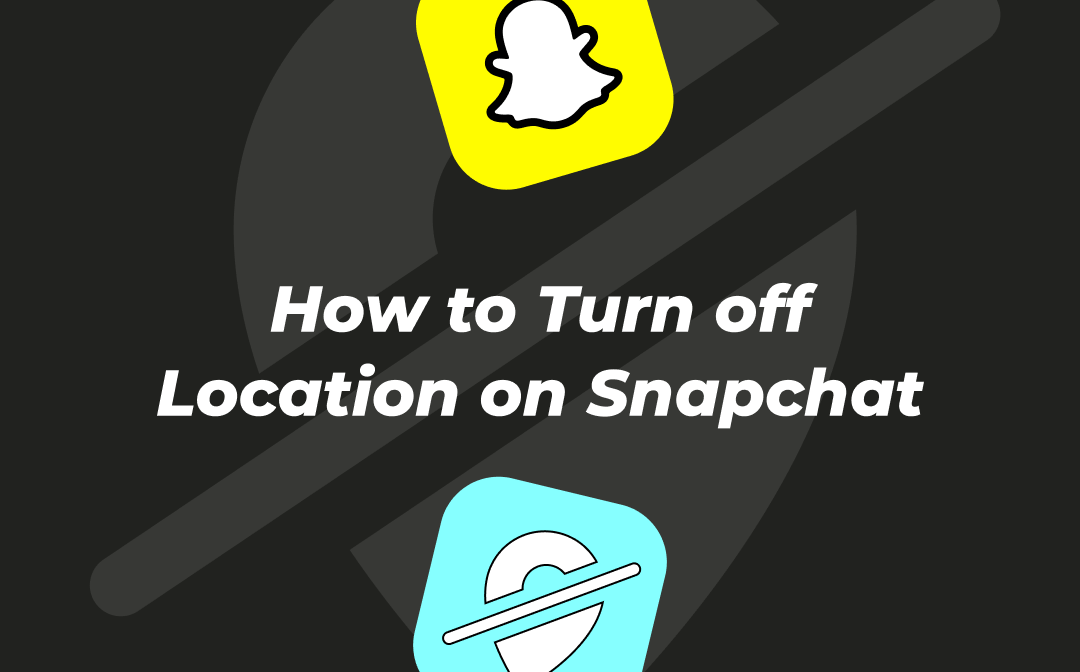 Temporary messages on Snapchat will disappear after the recipient views them. And that's why this app becomes popular because it makes people easier to share silly photos and videos. However, the latest update enables other users to see the exact location of each other on the Snap map, which invades users' privacy. If you want to stop sharing locations on this app, we introduce four methods for how to turn off locations on Snapchat in this article.
Why Do We Need to Turn Off Location on Snapchat
One issue is that once people let Snapchat access their location data, they might forget it. And their locations are exposed to others unintentionally. This brings about negative consequences if you keep broadcasting your position on this program.
For example, it's common to receive a Snapchat friend request from a stranger or someone you barely know (the friend of your friend). These people you know nothing about can get your real-time whereabouts through this app, which is worrying enough. That's why it's imperative to know how to turn off your location on Snapchat.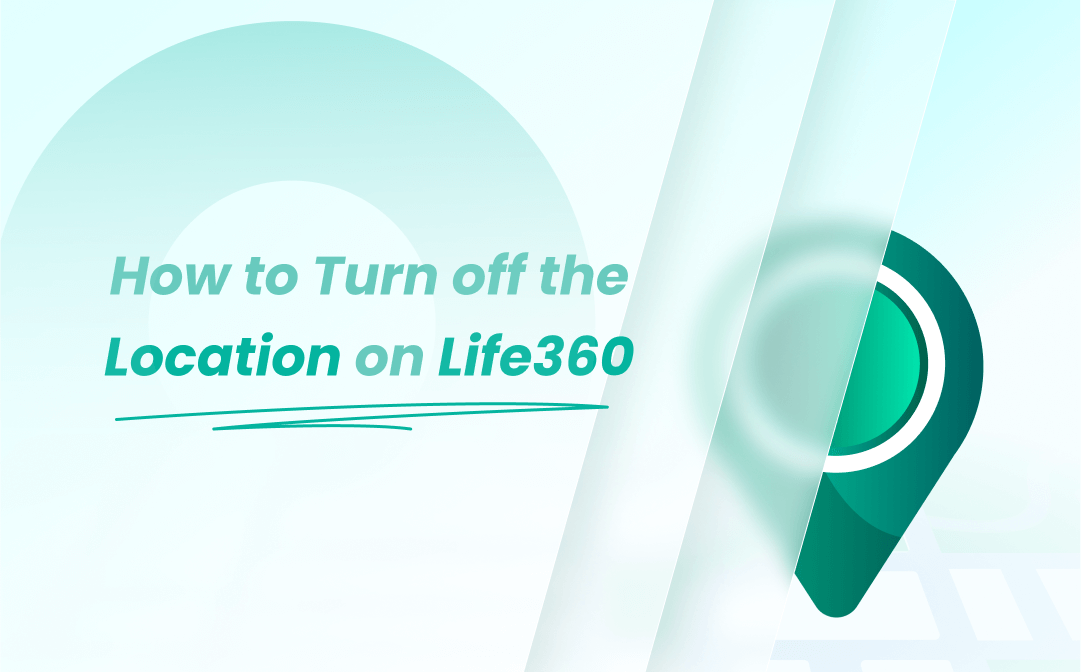 How to Turn off Location on Life360 without Anyone Knowing [Easy Methods]
Do you want to discreetly stop sharing your location on Life360? You can learn how to turn off location on Life360 without anyone knowing in this blog.
READ MORE >
Turn on Ghost Mode
If you don't want your family members or friends to know exactly where you are for certain reasons, you can turn on Ghost Mode to stop sharing locations on Snapchat. And don't worry! The steps to activate this feature for iOS and Android devices are the same.
Check out how to turn off your location on Snapchat by enabling the Ghost Mode feature:
Step 1: Launch this app and tap on your profile icon in the top left corner;
Step 2: Scroll down to find Snap Map, then tap on the Ghost Mode button;
Step 3: Switch on the Ghost Mode feature, and select how long you want to be hidden from the public.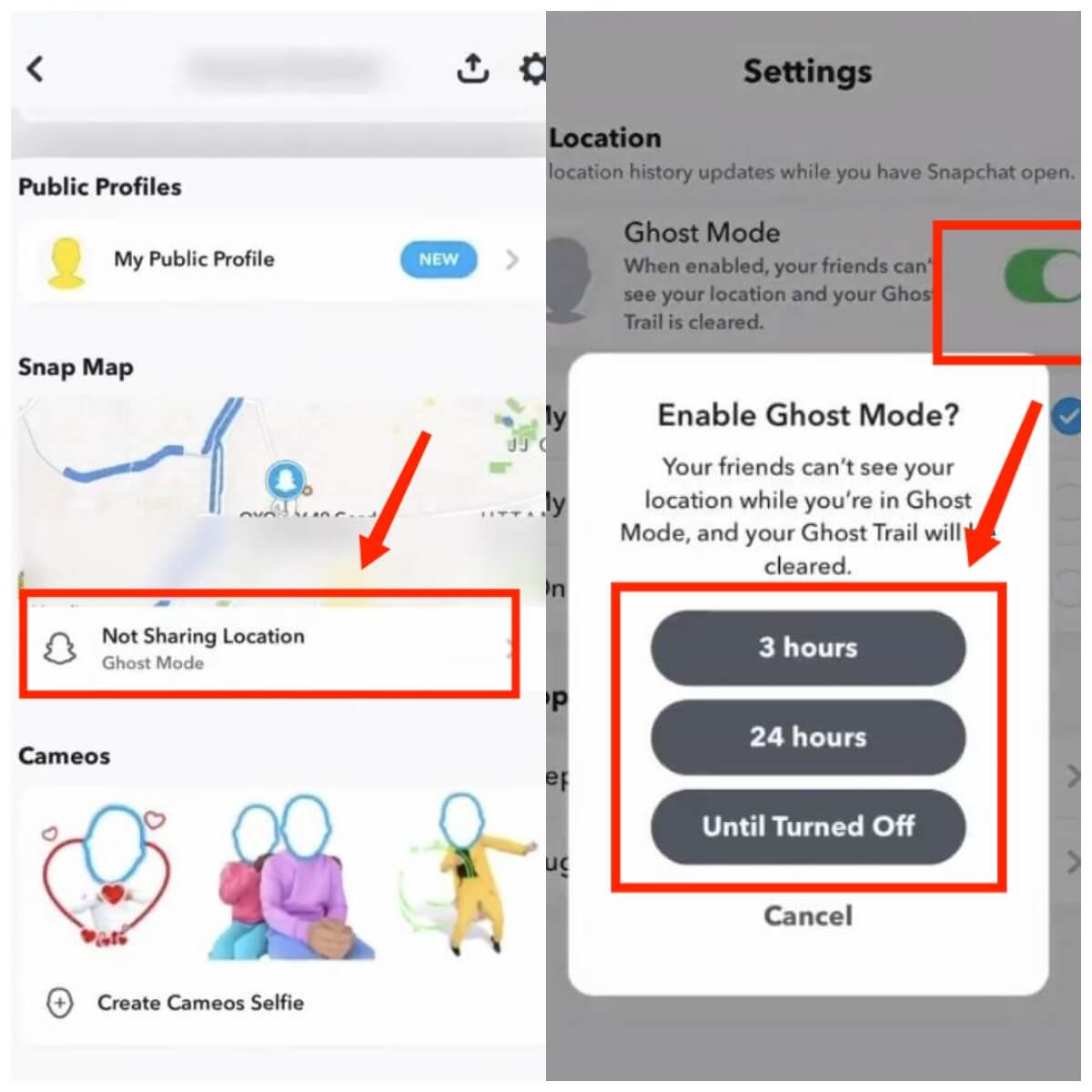 It is quite simple! You can turn off your location on Snapchat with only three clicks. Once Ghost Mode is on, your location data on Snapchat won't be displayed immediately.
To permit limited people to access your position, click the gear icon > "Who Can See My Location". Then choose the people with whom you'd like to share.
Remove the Location Permissions of Snapchat on Your device
Not allowing the app to access your location data is another way to turn off your location on Snapchat. Both iPhones and Android phones support removing the location permissions granted to a certain mobile app. Considering the differences between iOS and Android, we demonstrate how to turn off your location on Snapchat by removing the location permissions.
iPhone
First, let's discover the step-by-step guide to turning off your location on Snapchat using an iPhone.
Step 1: Click Settings and navigate to Privacy (for the iOS 16 version, it's Privacy & Security);
Step 2: Tap on the Location Services button and find Snapchat;
Step 3: Choose Location and select Never.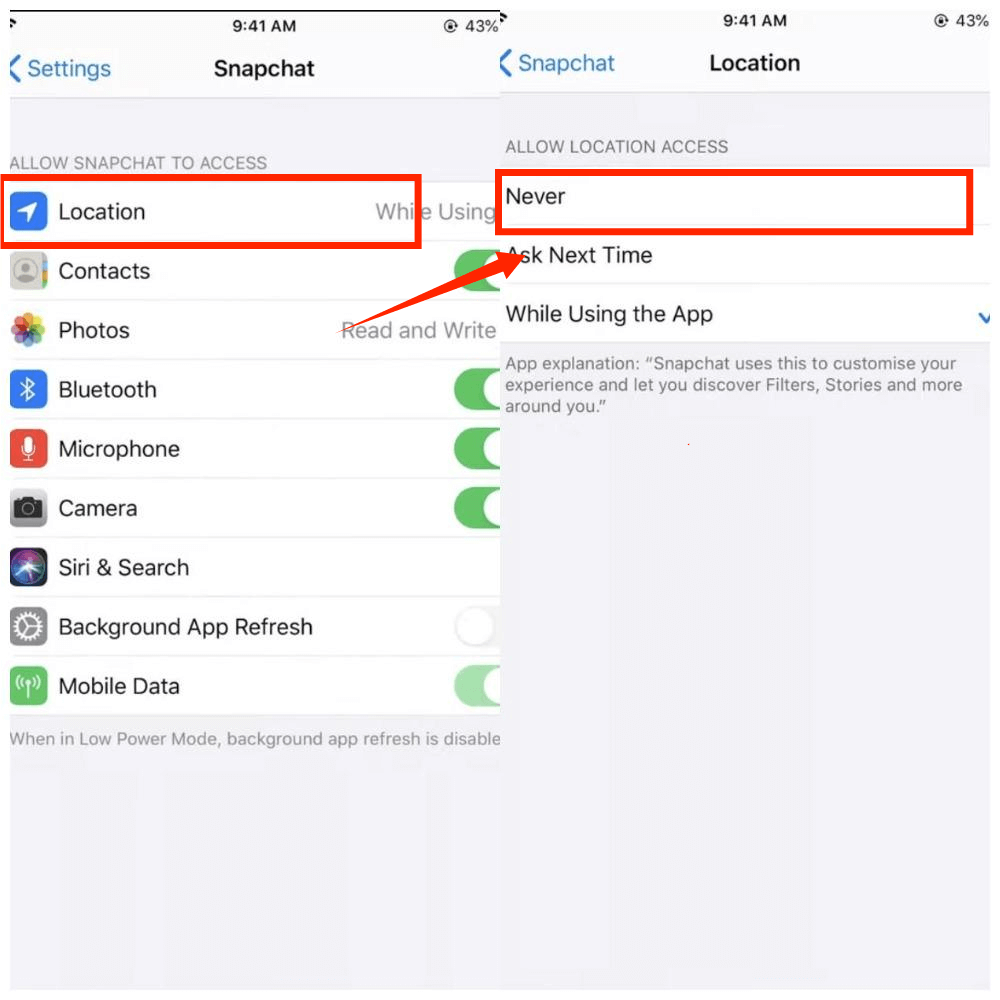 Optionally, you can go to "Settings" > scroll down and locate "Snapchat" > repeat steps 2 and 3.
Android
Now, here is how to turn off your location on Snapchat for an Android phone:
Step 1: Tap Settings, then navigate to Apps. Optionally, type Snapchat in the search bar on the top;
Step 2: Choose Snapchat and click the Permissions tab;
Step 3: Hit the slider next to Location to disallow the location permission.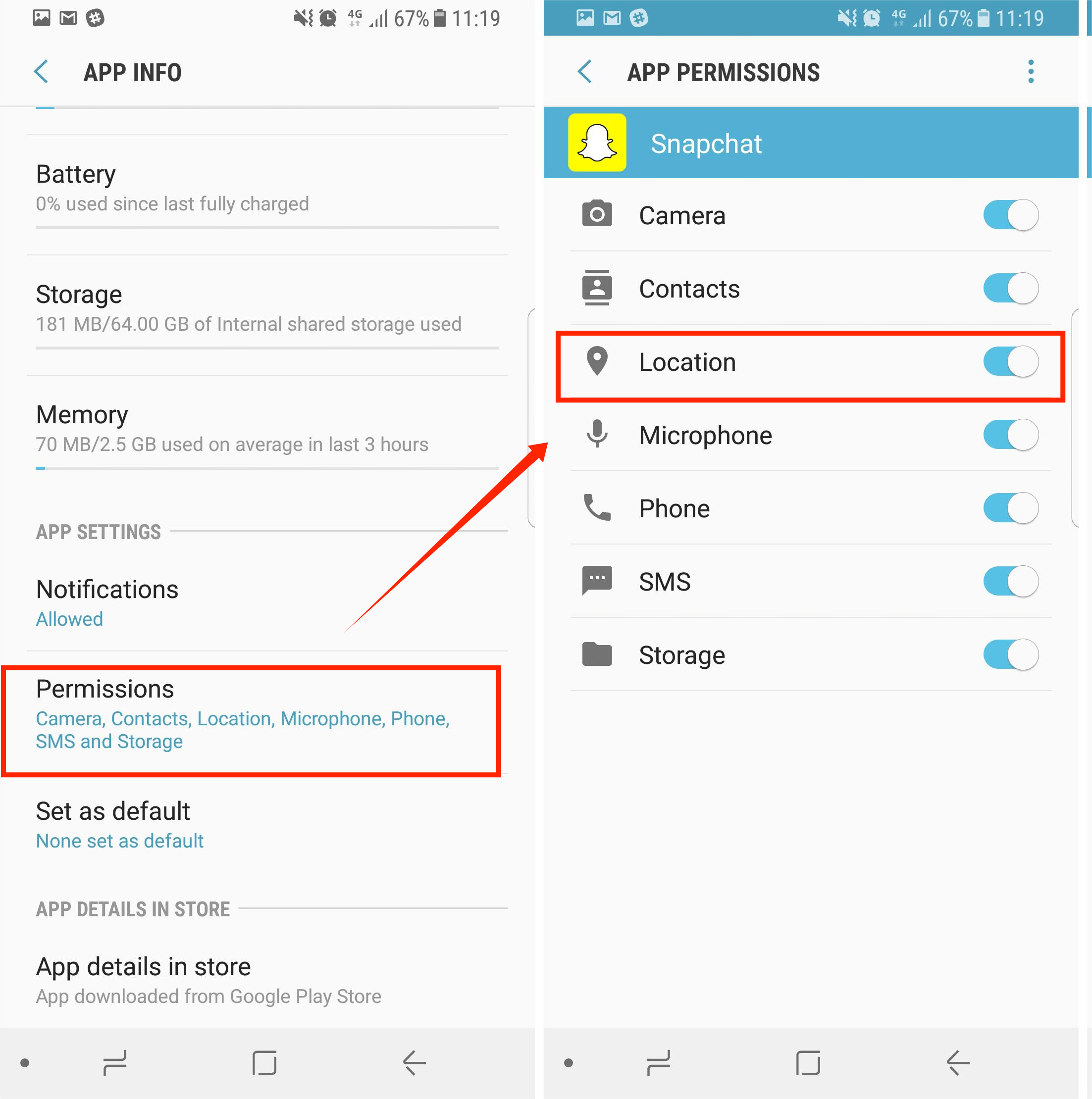 That's how to turn off your location on Snapchat by removing the location permissions. Your location won't be displayed on Snapchat and your contacts will not see where you are. This method helps you remove location permissions from one app instead of disabling the entire location service so that it won't affect the use of other location-based apps such as Weather and Uber.
Fake GPS Location on Snapchat
Stopping sharing locations on Snapchat is not the only option to hide your true position. You can also turn off your location on Snapchat by creating a fake GPS location. This can easily mask your location data, especially when it's inappropriate to let others know you stop sharing your location. In the following part, we present how to turn off your location on Snapchat without anyone knowing.
iPhone
AWZ AnyPorter is a wonderful location spoofer to set up a mock location on Snapchat. You can choose any place around the world as your new destination using this app. It is a Windows-based desktop application that supports systems from iOS 7 to the latest iOS 16. It enables you to:
Discreetly turn off your location on Snapchat;
Work perfectly with location-sharing programs like dating apps and social networking platforms;

Auto-walk in Pokemon GO

and other AR games without jailbreaking;
Support 5 devices to change locations on 1 PC simultaneously.
Check out how to turn off your location on Snapchat without anyone knowing using this AWZWARE presented tool:
Step 1: Download and install this app from the official website. Then launch it;
Step 2: Agree to its terms and click on the Get Started button;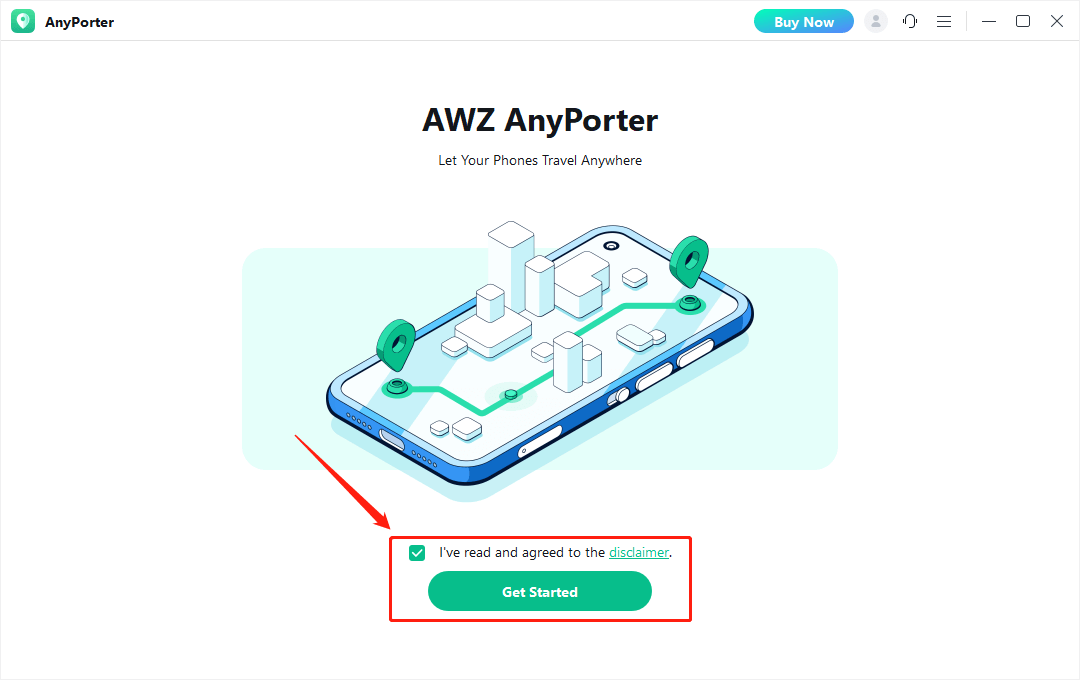 Step 3: Connect your iPhone to the computer via USB, and enter the passcode to grant permission to the PC. Choose the phone you just connected, then select Next;
Step 4: You are in the Teleport Mode by default after the map is loaded. Tap on the map to pick a spot, then press Move to turn off your true location on Snapchat. You can drag and zoom on the map to specifically select a place.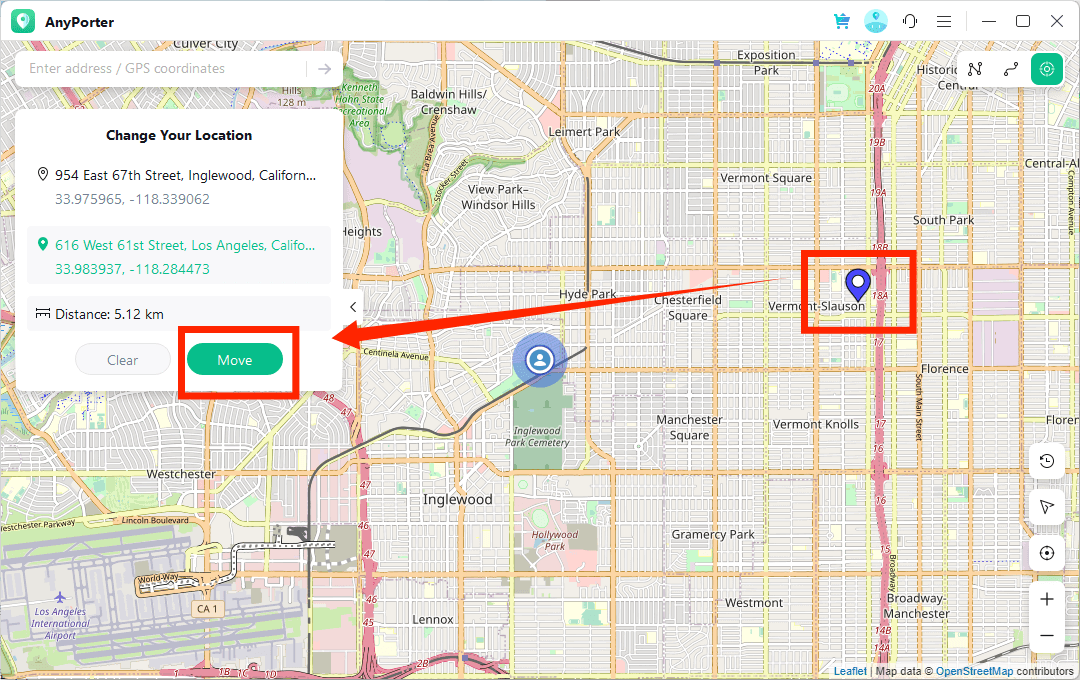 When you open Snapchat, you will find your current location is teleported to the chosen one. To stop this location spoofer, you can just restart your phone and then you can go back to your real coordinates. Apart from secretly turning off your location on Snapchat, this program can also simulate movement from one spot to another at a customized speed. It's easy to generate a natural virtual movement to trick others.
Android
Dr. Fone is a great utility tool to fake your GPS location on Find My, Snapchat, and other location-tracking apps. It is a computer program that is widely compatible with Android 6.0 and above versions. You can create a virtual position or movement without any manual movements. It is an effective app to stop sharing real locations on Snapchat.
Let's see how to turn off your location on Snapchat without anyone knowing on Android:
Step 1: Launch this program and choose Virtual Location. Then plug your Android phone into the computer via a USB port and tap Get Started;
Step 2: Grant permissions to the computer. After successfully connecting your phone to the computer, type the address or coordinates in the search box, and hit Go.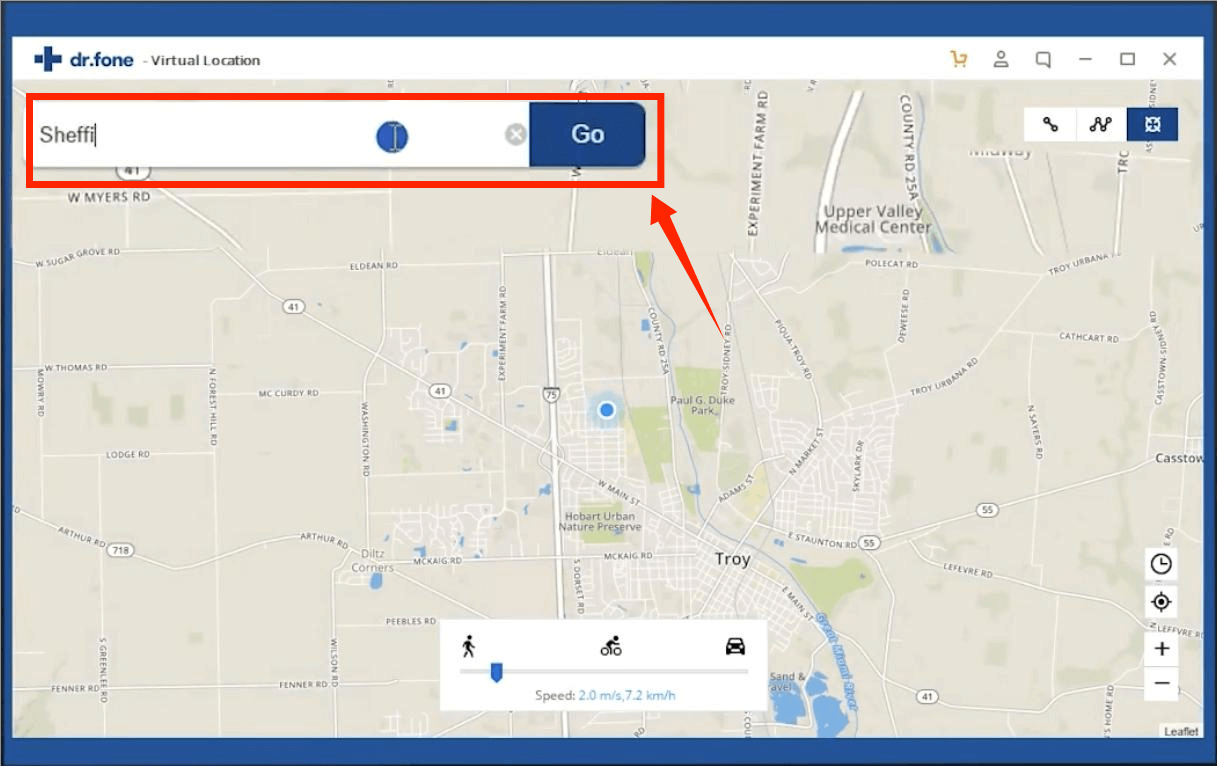 Then you will find that the pin on the map moves to the new mock location and the address on the Snap map syncs with the change. This application is a risk-free option for Android phones to turn off the real location on Snapchat without jailbreaking it. You can add your favorite spots to the favorite list, import GPX files to generate new routes, and perform other tasks effortlessly. However, its free trial only lasts for 2 hours.
Note: Faking GPS locations on your phone may affect other location-based services, including Google Maps and food delivery apps.
Conclusion
After reading this article, you know how to turn off your location on Snapchat. These 4 methods are quite effective, and you are free to choose the one that suits your needs the most. If you prefer a hassle-free desktop application and want to do more like spoof Pokemon GO location, AWZ AnyPorter is right for you. You can enjoy many features beyond the boundaries with one click for free.