Ever since its publication in 2016, Pokemon Go has gained many players all over the world. They have been trying to find new cheats and hacks to make the game easier to play. Among them, a new Pokemon Go trick called has brought people's attention.
But what on earth is Pokemon Go DeFit? In today's blog presented by AWZware, you are going to learn DeFit for Pokemon Go in detail, including what is it and how to use DeFit for Pokemon Go. Furthermore, this page provides you with the newest Pokemon Go spoofer. Read on!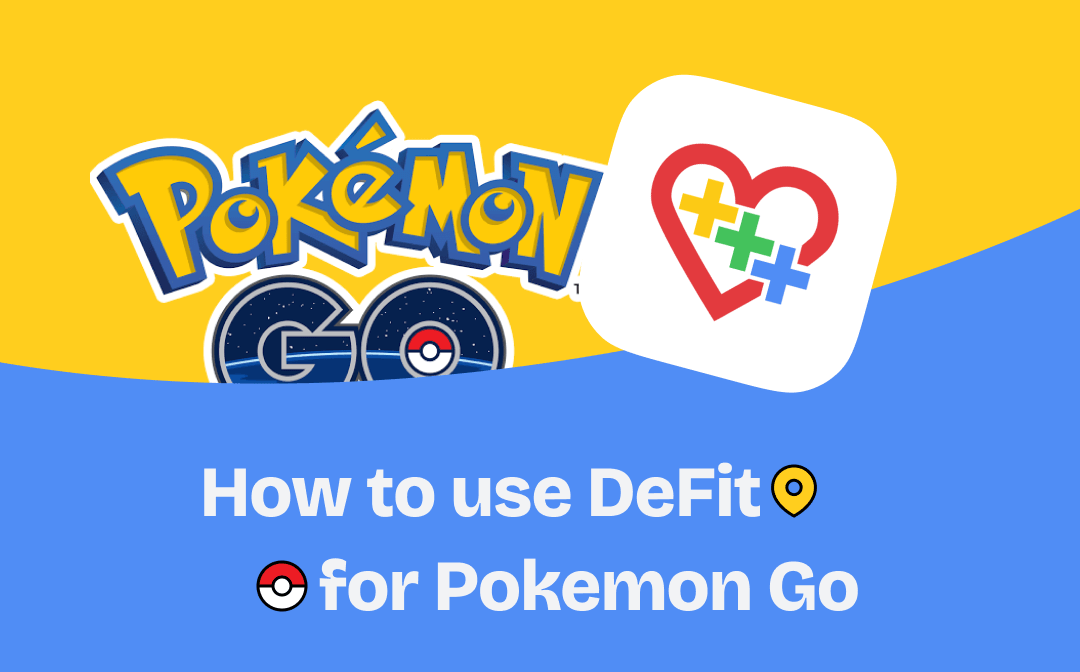 What Is DeFit Pokemon Go?
Before learning how to use DeFit for Pokemon Go, it is better to check out what is it first. DeFit is a third-party tool that can help you cheat fitness apps. It allows you to add activity records to the fitness database. It enables you to set the speed and/or steps of the activity, and no need to actually walk or run there.
It can also help players hatch Pokemon without moving by importing the records of activity into Pokemon Go. It will consider that you have already walked that far. Many players use it to speed up the hatching and to catch rare Pokemon.
Note that DeFit app for Pokemon Go is not a Pokemon Go spoofer, but a step tracker.
How to Use DeFit for Pokemon Go on Android
DeFit for Pokemon Go can help people find Pokestop and gyms, they don't need to search for them through other tools. Setting activity records and tracking the steps both make it the best app on your phone. Time to move on to get Pokemon Go DeFit and how to use it.
There is one thing you should know. Instead of acquiring it on iOS, try to use it on Android devices. Because DeFit for Pokemon Go is not working on iOS devices for now. But don't worry, the blog will provide you with an alternative to DeFit on iOS later. Now let's focus on how to use DeFit for Pokemon Go on Android.
Steps: How to Access Pokemon Go DeFit on Android
Firstly, It requires Google Fit to DeFit Pokemon Go's activity records. You can get it on Google Play by searching for its name and installing it. Secondly, you need an Android device.
Step 1. Download Google Fit on your phone.
Step 2. Search for "DeFit" in any app store (Google Play is recommended) and tap to install.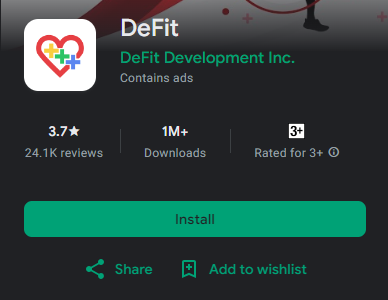 Step 3. Launch it on your phone and log in with the same ID that you use in Pokemon Go. Allow the permission requests for both apps. Toggle on "Sync fitness data" in the DeFit and wait for connection.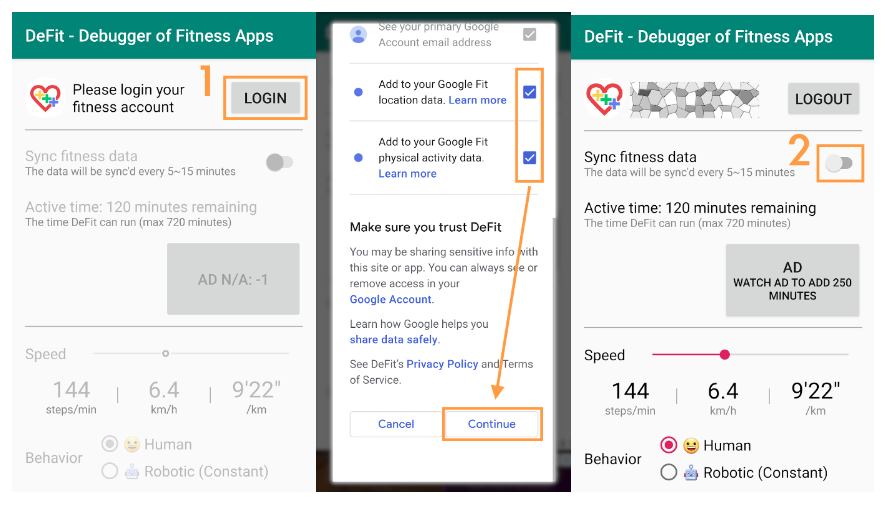 Step 4. Open Pokemon Go on your home screen and go to SETTINGS >> Adventure Sync. Turn it on.
Step 5. Turn off Pokemon Go and go back to DeFit. Tap on the AD button. Watch ads for DeFit Pokemon Go. Renew time, speed, and distance in DeFit. When all is done, DeFit will send these data to Pokemon Go.
Check out the walked distance in the profile picture and see if it has been updated.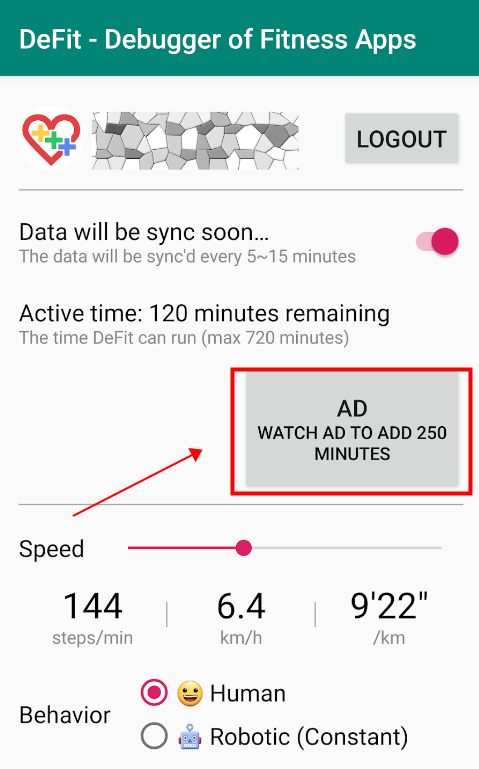 That is how to use DeFit for Pokemon Go on Android. In a nutshell, the way it works is that it synchronizes the exercise records you set up with Pokemon Go through Google Fit. It uses this to trick Pokemon Go into thinking you're walking when you're actually at home.
While it seems perfect, there are drawbacks to DeFit app for Pokemon Go. Read on.
Cons:
It can only help you hatch eggs and do some research activities.
There are chances to be detected by Niantic.
That may lead your account to be banned.
So always think twice before accessing Pokemon Go DeFit.
What Is The Alternative to DeFit for Pokemon Go on iOS?
As said in the "how to use DeFit for Pokemon Go on Android" part, there is no DeFit app for iOS devices for now. It is probably because of the Apple Store's strict access rules. It restricts many hacking and spoofing apps as a way to protect users' privacy and property.
One way to get those Pokemon Go spoofers, like iPogo, you'll need to jailbreak which will bring your phone danger. So is there a way to DeFit Pokemon Go on iOS without jailbreak? The blog recommends AWZ AnyPorter, an easy-to-use location spoofer and the perfect solution to DeFit not working on Pokemon Go iOS.
The app runs perfectly fine on iOS devices and can simulate routes that you have set. It is virus-clean and will not access your private information. The tool requires no jailbreak, so your phone is secured. Besides enabling you to play Pokemon Go without moving with the virtual joystick, this iOS Pokemon Go spoofer can also change your location to anywhere instantly! More features to be introduced later, let's check out how to use DeFit for Pokemon Go alternative on iOS devices.
Step 1. Download and install it on your computer.
Alternative to DeFit Pokemon Go
Step 2. Connect your phone to the computer.
After initiating the iPhone location spoofer, your current location will be shown on the built-in map. Click the phone icon on the right side and use a USB cable to connect iOS devices to the computer. Toggle to choose USB and then press the Next button and wait for the connection.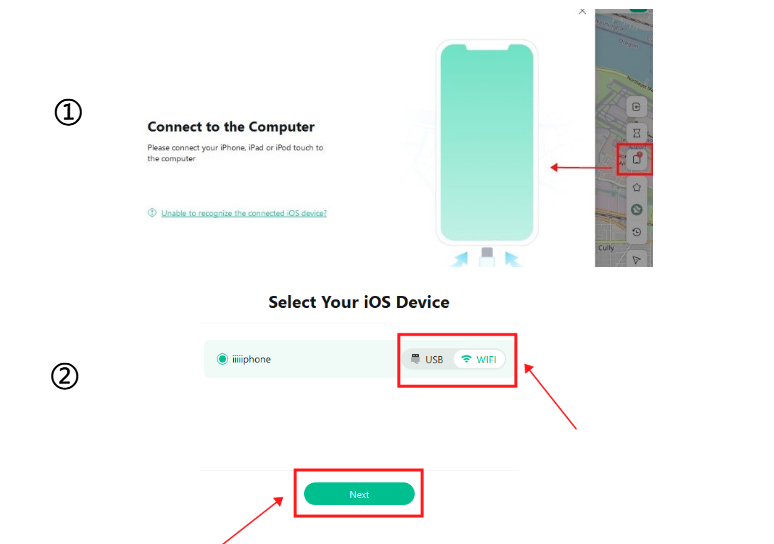 Tips:
The next time you can use WiFi to link, after the first successful connection.
Step 3. Tap to use DeFit for Pokemon Go alternative on iOS.
Choose virtual joystick mode at the upper right corner. Set the moving speed in the floating bar at the bottom. Use the steering wheel at the bottom left to customize directions. When all is done, click the blue start icon on the steering wheel to apply auto walking.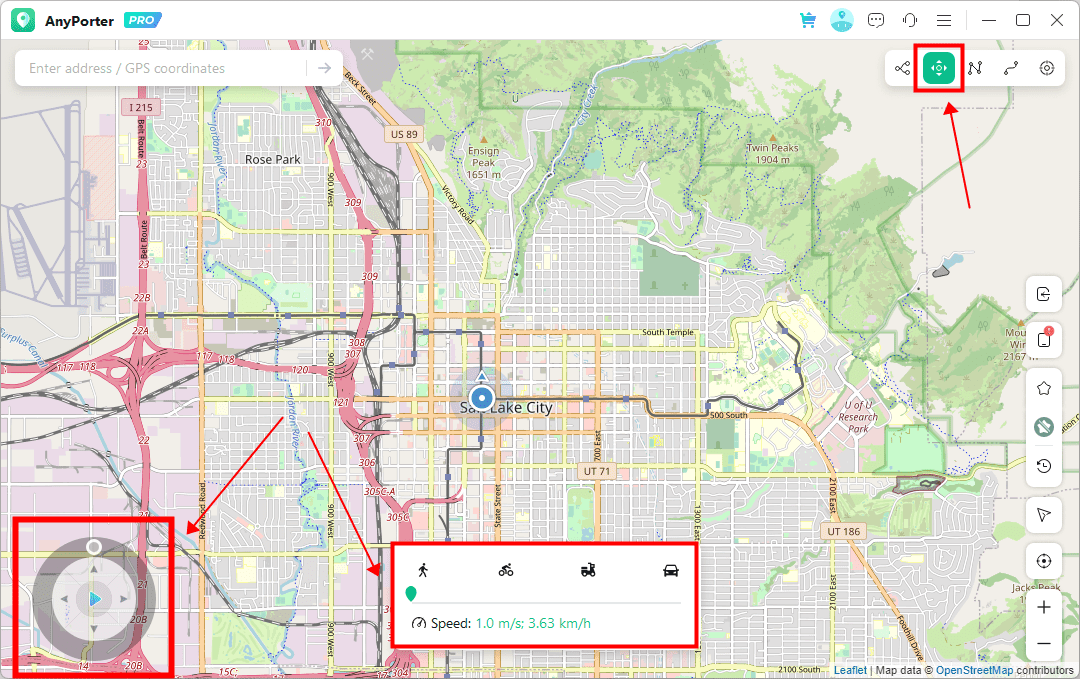 The above are the steps to use the Pokemon Go DeFit alternative. Apart from the feature introduced in the beginning, the location-mock app offers a unique cooldown timer in flight mode to avoid changing position too quickly. And thus prevent your account from being banned.
Final Thoughts
This page mainly talked about what is DeFit and how to use DeFit for Pokemon Go. In a word, DeFit can help users to play Pokemon Go without moving on Android. But it has disadvantages as well. DeFit not working on Pokemon Go iOS. To solve the problem, the blog offered you AWZ AnyPorter, a perfect and even better alternative to DeFit on iOS. Download and try now!