Introduction:
Hulu allows you to access the latest crop of movies and shows, including The Handmaid's Tale Season 5 and Ramy Season 3. However, Hulu is a US-only streaming platform. When traveling outside America, it stops providing streaming services until your Hulu location changes to the US. Then it may be essential to know how to change your location on Hulu.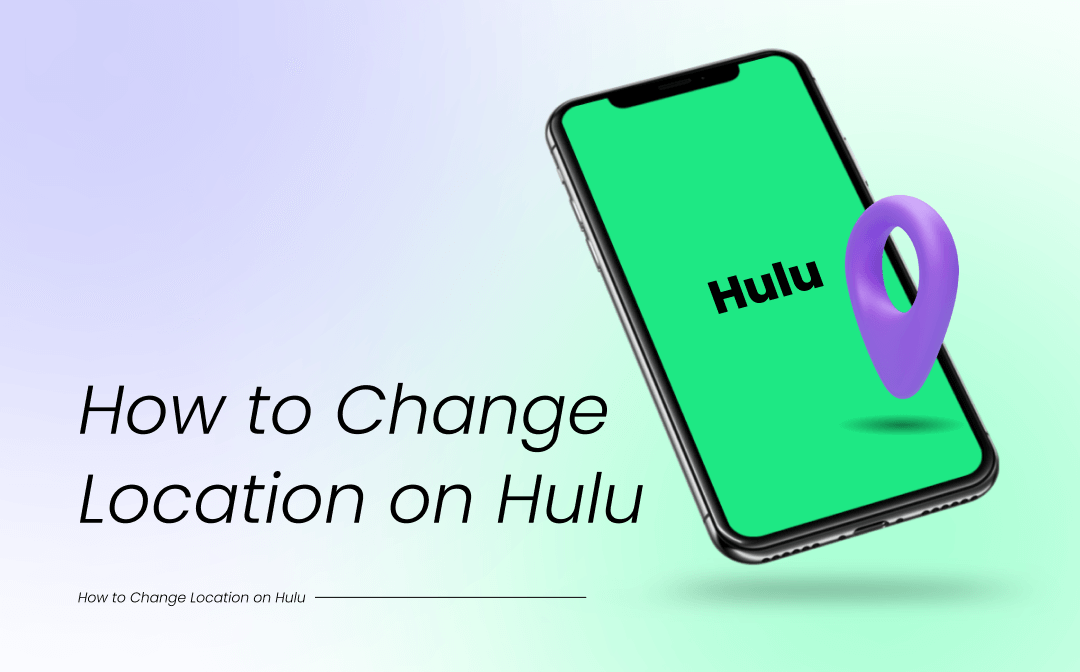 Hulu is one of the most popular streaming libraries with thousands of TV episodes and movies which are only available in the US. Once your Hulu location changes, you will be locked into the local living streaming channels and even can't watch on Hulu outside the US. But is it possible to use your Hulu account anywhere around the world? In this article, AWZWARE drafts a guide for how to change your location on Hulu handily.
Why Does Hulu Need My Location
Hulu only offers its streaming services to people living in the US, so it needs your location to decide whether you can use it or not.
Moreover, although most TV shows and dramas are accessible nationwide in the United States, Hulu's Live TV doesn't have the right to sell live streaming channels to all viewers, such as local news stations and regional sports networks. Based on your home location, Hulu's Live TV distributes regional channels to you. Accordingly, you are required to update your Hulu home location to watch local content when moving to another place.
Generally, Hulu identifies your home location by specifying your IP address and GPS location once your device connects to the network, which makes it difficult to make Hulu location changes when you're traveling to another state or going abroad. That's why you might be eager to figure out how to change your location on Hulu.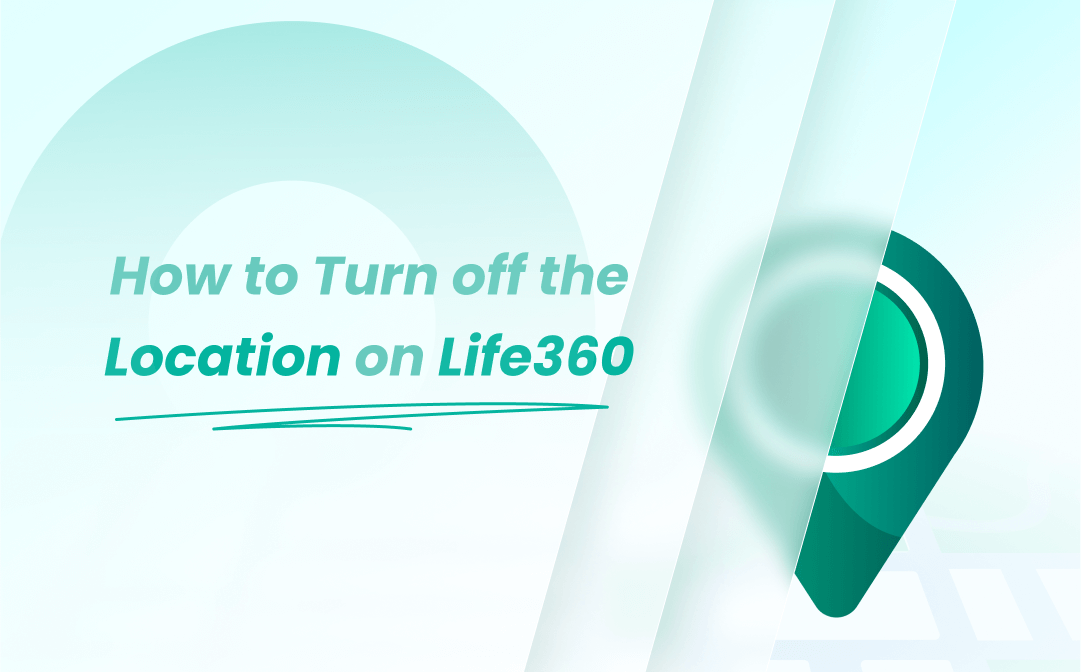 How to Turn off Location on Life360 without Anyone Knowing [Easy Methods]
Do you want to discreetly stop sharing your location on Life360? You can learn how to turn off location on Life360 without anyone knowing in this blog.
READ MORE >
Change Hulu Home Location (Within the US)
If you move or travel to a new state, it's easy to change your Hulu home location by updating your Home network in the settings, which is quite similar to setting up your home location on Hulu for the first time.
As long as your supported living room device connects to a new network, Hulu will identify the network and inform you that your Hulu location changes. You can just click on the "Yes, make this location my home" tab to quickly set up your new Hulu location.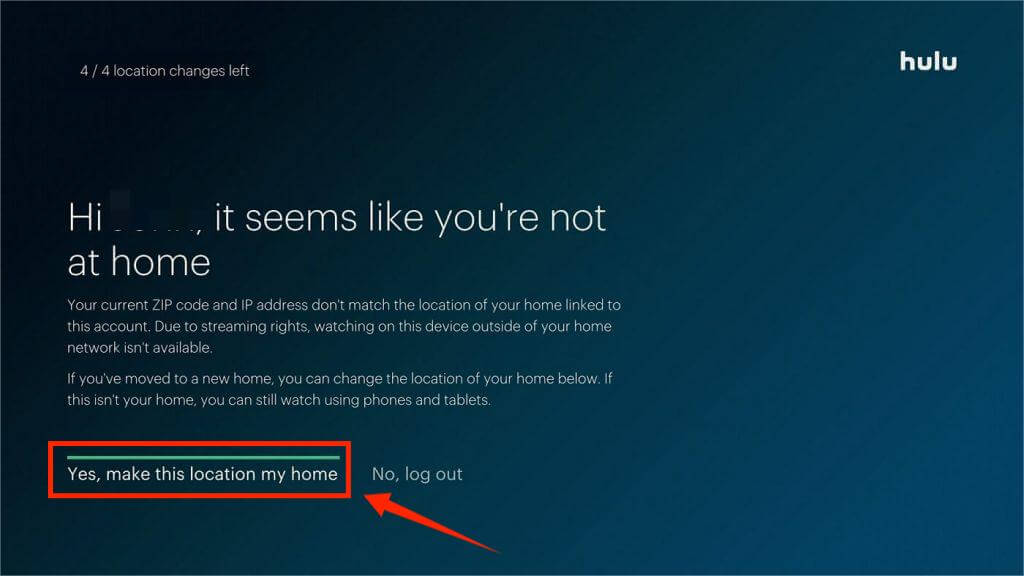 Besides, it's okay to update your Hulu home location manually on your mobile device or computer. Here is the step-by-step tutorial for how to change your location on Hulu:
Step 1: Sign in to your account on any Hulu-supported device;
Step 2: Click on your profile icon > find "Privacy and Settings" > tap "Set or Change Home";
Step 3: Confirm your new location.
Then the job is done! Your Hulu home location is changed to the new network address, and you can start enjoying the local streaming services immediately. However, this platform doesn't allow your Hulu location changes too frequently. Therefore, you can only change your home location 4 times a year. It's better to take care of the timing when changing your Hulu location.
Note: You can't change your home location when connecting to a cellular network, such as mobile hotspots and shared Wi-Fi networks.
Use a VPN to Override Hulu Home Location (Outside the US)
Since Hulu locates your GPS position by your IP address, utilizing a VPN to alter your IP is another great option to change your location on Hulu. A reliable VPN makes Hulu location changes efficiently without being banned by this streaming platform. More importantly, it smoothly works with your phone and computer at the same time, so that whether you're at home or outside, you can stream on Hulu.
CyberGhost VPN is one of the most dedicated VPN location changers making streaming on Hulu convenient and easy. This utility tool enables you to fake IP locations on Hulu and to access the entire Hulu library outside the US. You can watch TV shows, feature films, and live sports at high speed wherever you are. This location changer offers over 1300 servers in the US, making you enjoy different local content freely.
Let's take a look at how to change your location on Hulu with this VPN:
Step 1: Launch it on your PC or phone;
Step 2: Choose Best Server Location below Connect to, and select any server available in the US.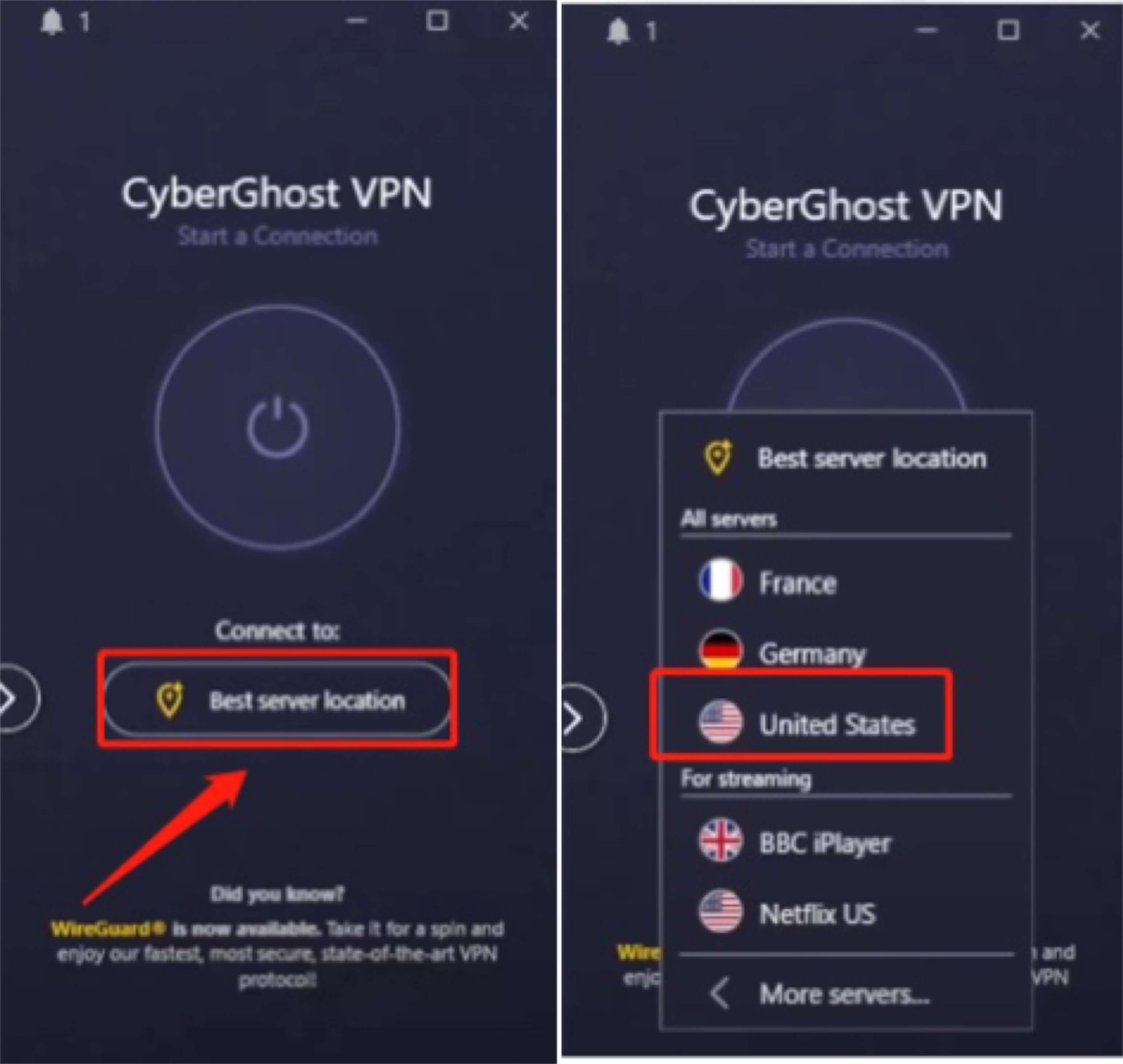 Step 3: Finally, click on the power icon.
Congrats! You will change your location on Hulu to the place where the selected server is, and watching the geo-blocking streaming content is no longer a problem. It is a budget-friendly tool to meet your IP-changing demand. You can also use this tool to change your Netflix region to watch films available in other countries.
Bonus Tip: Spoof Your GPS Locations on Your Phone
If you're interested in a utility tool to spoof your GPS location on your iOS devices, AWZ AnyPorter is a standalone application packed with holistic features. This desktop software lets you hide your real position by simply connecting your iPhone or iPad to the PC. With this GPS-spoofing program, you can:
• Switch your current location to any place around the world with 1 click;
• Draw customized routes to simulate walking between different spots;
• No jailbreaking;
• Compatible with all iOS systems above iOS 7 (iOS 16 supported);
• Create fake GPS locations on Grindr and other popular social networking apps.
Let's check how to fake your GPS location with this tool:
Step 1: Download and intall AWZ AnyPorter. Then launch it on your computer;
Step 2: Tap Get Started and plug your phone into the PC via a USB cable;
Step 3: Unlock your phone, select the connected device, then click Next. Grant permission to allow your PC to access information on your phone;
Step 4: After the map is loaded, tap on the map to choose a new destination, and select Move. Optionally, enter the address or coordinates in the search bar and hit the right arrow icon.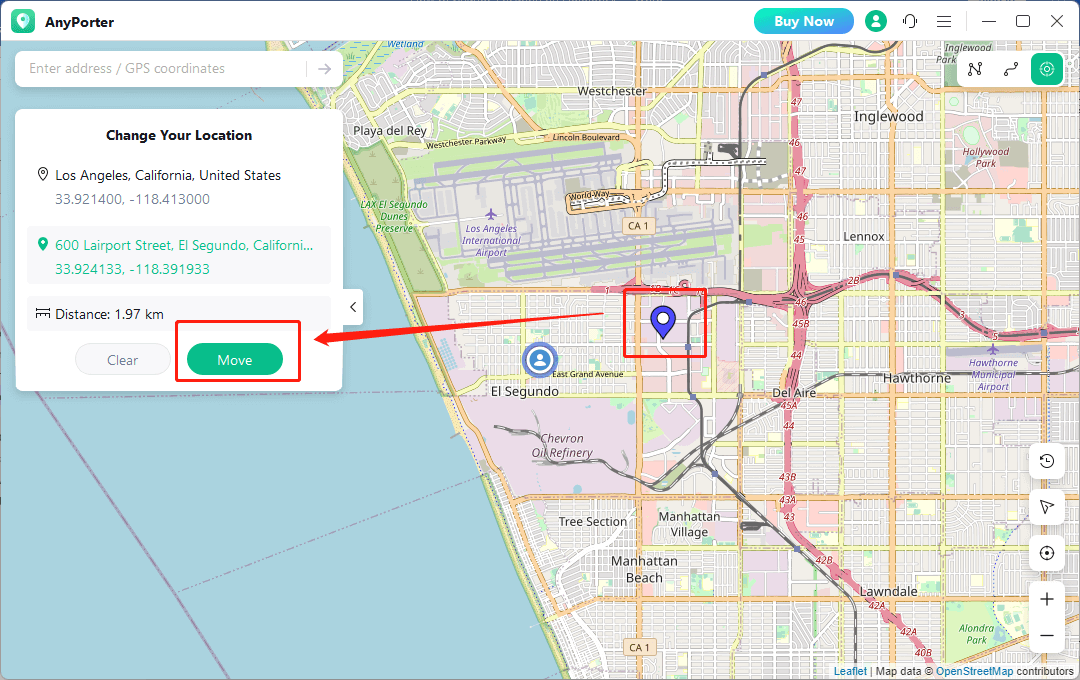 Your GPS location will be changed immediately. It is optimal for spoofing Pokemon GO and other AR games to make your avatar move along the generated path. Using this location spoofer enables you to battle or collect items while staying in your comfort zone.
To Sum Up
In this article, we introduce two methods for how to change your location on Hulu and we hope they can meet your demands.
If you move to another state in the US and want to access local streaming services, your Hulu home location can automatically change so long as your device connects to the local networks. If you reside outside America, try a VPN to change your IP address so that your Hulu location changes to the US at once. If you like to fake your GPS location on an iOS device, AWZ AnyPorter is ready to help.
Frequently Asked Questions
How can I subscribe to Hulu without a US credit card?
As a US-only streaming platform, Hulu only accepts American-based credit cards for its streaming services. If you don't have an American credit card, buying a gift card can solve your problem after you successfully change your IP address to the US.
Visit MyGiftCardSupply.com and search for Hulu to purchase a gift card. PayPal, Visa, and other payment methods are supported without using an American credit card. After you finish the purchase, a link will be sent to you via email, then click the link to get your redemption code.
Follow the steps to redeem your gift card codes:
Step 1: Go to https://secure.hulu.com/start/gifting;
Step 2: Copy and paste your code and click REDEEM;
Step 3: Choose a plan, create your Hulu account, and tap on the CONTINUE button;
Step 4: Confirm your selections, then press SUBMIT.
Then you can watch and stream on Hulu outside the US!