Introduction:
Life360 is an excellent family communication program that sends location alerts to your loved ones to help them track your current location and ensure you are safe. But what if you are stuck somewhere, and Life360 no network or phone off issue occurs? The Life 360 app not working problems can arise because of multiple reasons, and you need to get a quick fix asap before your loved ones get tensed.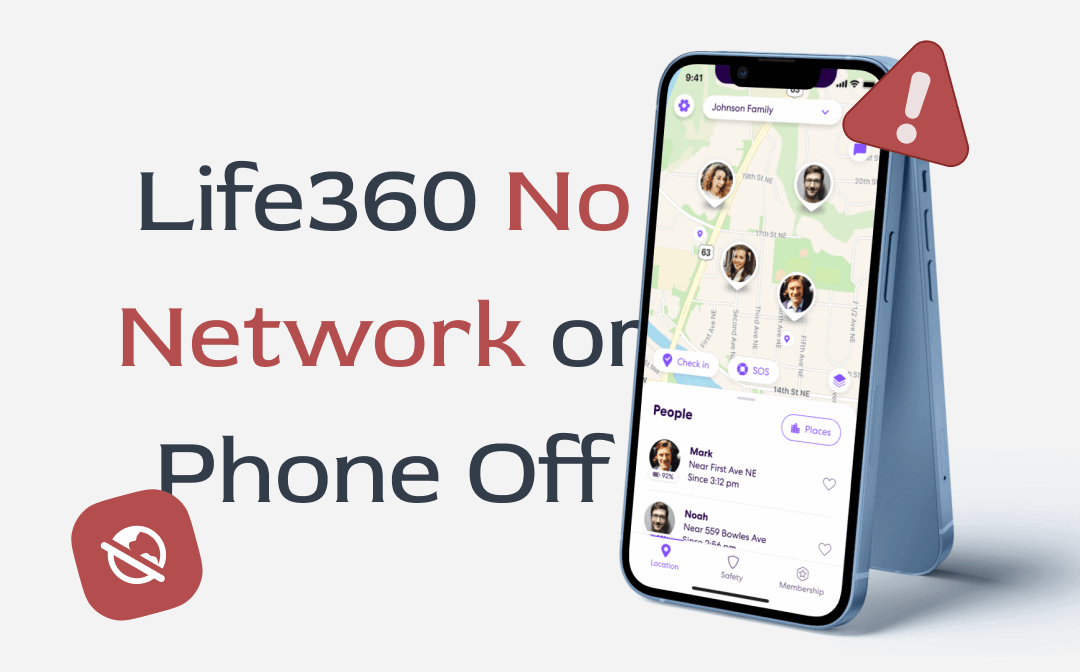 In this article, AWZware will get into the thorough details of what does Life360 no network or phone off error mean and why is Life360 not working. In addition, you'll be in for some practical and quick solutions to fix this issue on iPhone and Android issues. So gear up for an insightful read right away.
What Does Life360 No Network or Phone Off Mean?
Have you ever seen the Life360 no network or phone off error message? If you have, do you know what this means or what happens to this app on your phone? Often Life360 shows this alert can be caused when a user intentionally turns off the network or location services permissions.
But the Life360 not working problem can also appear because of these scenarios;
● A Circle member logged out of the app
● Location access is denied
● Location sharing is paused or turned off due to a Low-power mode
● The targeted iPhone/Android is turned off
● Background location access is turned off
● No active internet connection
● Your device is in a remote location with no signal
How to Fix Life360 No Network or Phone Off
So how to fix the Life360 no network or phone off error? Check out the listed seven tips to make the app functions properly.
Fix 1: Update Life360
The developer may have found out the Life360 not working issue and they squash the bug in the newly released version. All you need to do is click on the Update button and install the new version.
Step 1: Open the App Store/ Google Play Store and search for the Life360 app;
Step 2: Check if an Update button is shown;
Step 3: Click the Update button (if available) and wait for some time.
Fix 2: Check Location Services
The Life360 no network or phone off problem can also rely upon in the case when the location access is denied. So check your Location Services and ensure the Location Access is enabled.
On Android devices, open "Settings" and move to "Permissions". Then select "Life360" and enable Location access.
On iOS devices, open "Settings" and navigate to find and click Life360. Select Location and click Always. Enable the Precise Location toggle.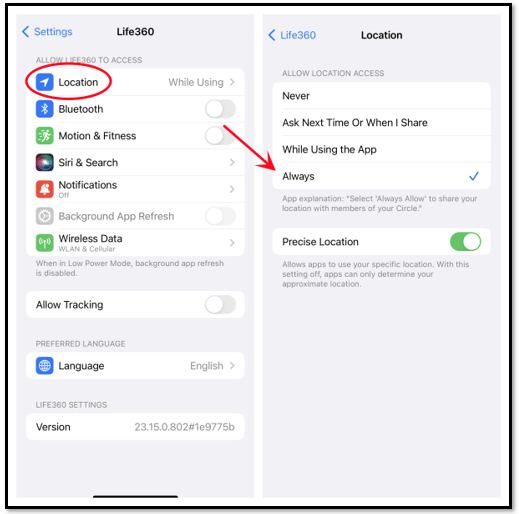 After granting the location access, restart the app and wait for some time to see whether the Life360 app not working bug is fixed.
Fix 3: Log out and Log in Again
This is another easy solution when you see the Life360 No Network or Phone Off error. Besides, this method can save your data such as conversation history.
Step 1: Open the Life360 app;
Step 2: Click the Settings icon from the upper left corner;
Step 3: Scroll down and click Log Out;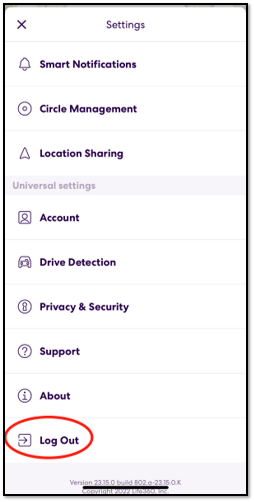 Step 4: After logging out, enter your login credentials and sign in again to your Life360 account.
Now go through the member's list and see if the Life360 not working problem has been resolved.
Fix 4: Turn Off the Battery Saver
Enabling GPS can quickly run out of your phone battery. Hence, the battery saver or low power mode may disable GPS on your phone to minimize battery usage. This can lead to the Life360 no network or phone off problem.

For Android users, open the Settings menu. Scroll down the categories until you find "Battery"; tap on it. Click on "Battery Saver" and turn it off by using the switch. Alternatively, you can go to the status bar and disable your device's battery-saver mode.
For iOS users, move to the Settings menu and click "Battery". Select "Low Power Mode" to switch off the Battery Saver.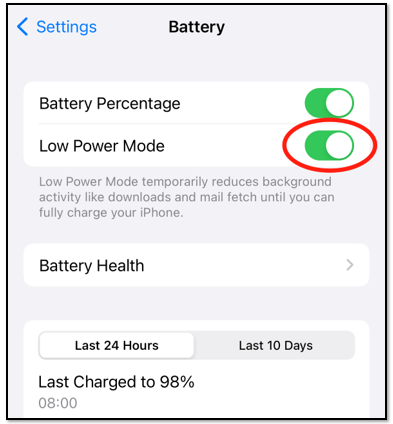 Fix 5: Check Network Connections
The Life360 app needs to communicate with the server to obtain the location data of the concerned device. So ensure your Android or iPhone is connected to a WiFi or cellular network.
If your network is weak, you might see "No network or phone Off" in Life360 since it may take longer than usual to verify your location. So instead, connect your phone to a different network. Once done, close and reopen the Life360 app to refresh the application.
Fix 6: Clear Life360 App Cache
Sometimes, when the cache files of an app are corrupted, it can cause the app to misbehave. When you encounter the Life360 no network or phone off issue, try to clear the cache and restart it.
On Android
Step 1: Open Settings and go to the Apps/Installed Apps/Manage Apps option.
Step 2: Choose Life360 and click the Clear cache button.
Step 3: Click Yes on the appearing prompt and wait for some time before restating the Life360 app to see if things are working fine now.
On iOS
There's no option to clear the Life360 app cache on iOS. Hence, you must uninstall and reinstall Life360 to clear the cache and resolve the Life 360 app not working issues instantly.
Fix 7: Reinstall Life360
Step 1: Press and hold the Life360 app icon.
Step 2: Click the Remove App option to uninstall the application.
Step 3: After the Life360 app is uninstalled, open the App Store and type to find the Life360 app.
Step 4: Click the Install option to download and reinstall the Life360 app again. Once installed, log into your account and check if your issue is resolved.
Bonus Part: How to Fake Your Location on Life360
Life360 no network or phone off error on iPhone is a huge challenge to tackle. While Life360 proves useful for location sharing and safety, what if you need to fake your location on the app for privacy concerns or spend some alone time away from your chosen 'people' that have access to your current location? Well, AWZ AnyPorter can help you instantly fake your GPS location for all apps.

AWZ AnyPorter is a location spoofer tool that lets your device travel anywhere across the globe without any physical movement. The tool fakes your GPS to let you move along a customized route in one click without jailbreaking. You can change location on iOS devices and simulate real movement in a few clicks. The program is designed to work seamlessly with geo-based services, viz., AR games, social platforms, and dating apps.
Key Features
● Spoofs location in one click on five devices at once
● Teleports the GPS location to anywhere in the world
● Allows you to hide location for privacy purposes
● Mocks location to check new features of social handles
● Changes locations on Tinder, Bumble, etc to find more matches without a subscription.
Here is how to use AWZ AnyPorter to spoof Life360:
Step 1: Download and launch AnyPorter software.
Install and launch the AWZ AnyPorter program on your computer. Check the message "I've read and agreed to the disclaimer", and click "Get Started".
Step 2: Connect the device to the PC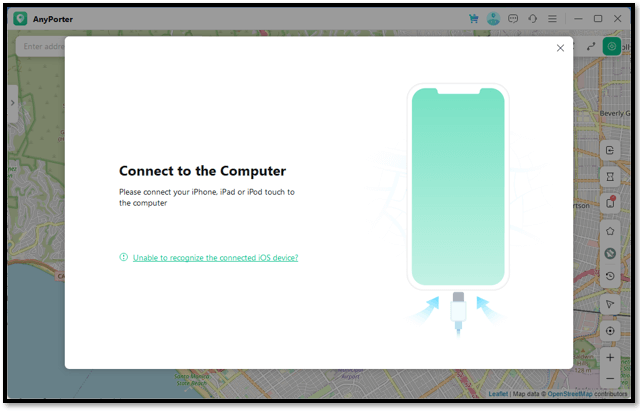 Connect your iPhone to the PC through a USB cable. Then unlock the device to grant it permission and continue. Hit the Next button.
Step 3: Set a virtual location.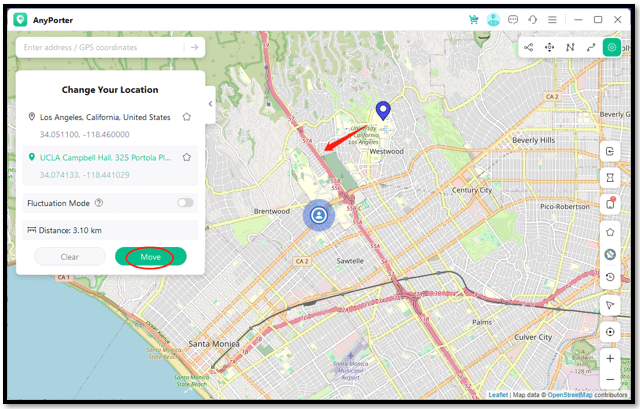 Set a virtual location by tapping anywhere on the map to pinpoint a place and click Move. Or you can enter an address or GPS coordinate in the Search field and locate a new destination without any hassle.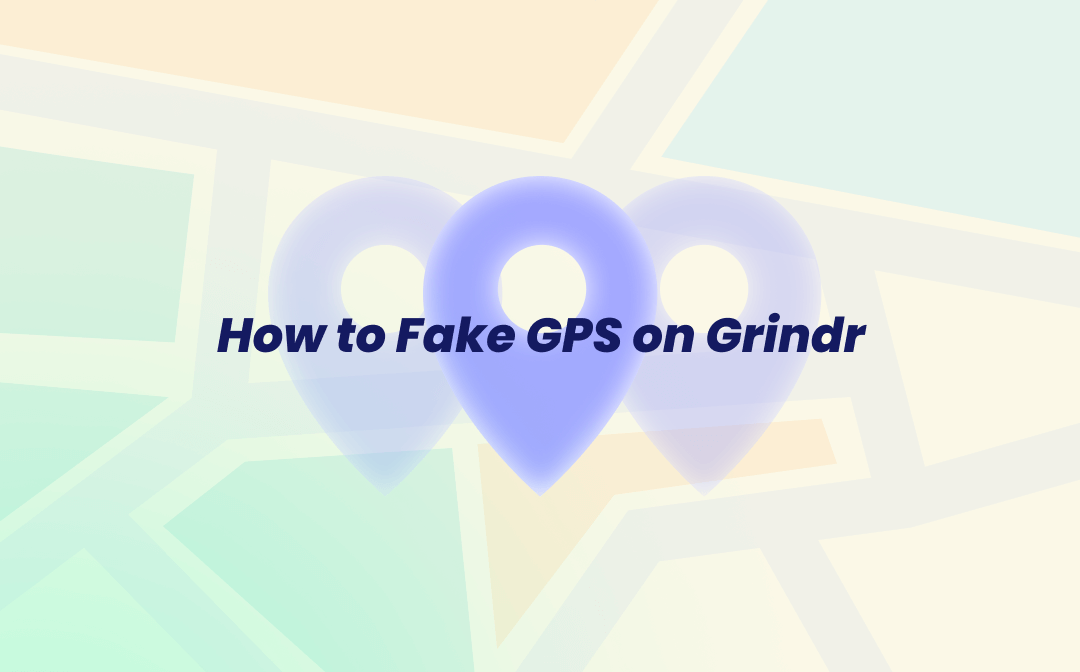 How to Fake GPS on Grindr: 3 Easy Ways to Follow
Do you want to surpass the geo-restrictions and know more friends on Grindr? This post features an overall introduction to fake GPS on Grindr.
READ MORE >
The Bottom Line
Life360 no network or phone off error is a severe issue that can be concerning if your loved ones are dependent on the Life360 app for your location and safety. So if you are stuck at a place where you fail to use the app usually, you can try any of the mentioned fixes to get through a guaranteed solution and resolve your Life 360 app not working instantly.
You can also use the beginner-friendly AWZ AnyPorter program to spoof your location whenever needed and change your location within seconds hassle-free.