If you are bored and looking for like-minded people through your smartphone to confide in, location-based dating apps can definitely help you connect with people from your region. With these apps, you can always find matches with similar interests and preferences as yours and can engage in a casual or serious relationship.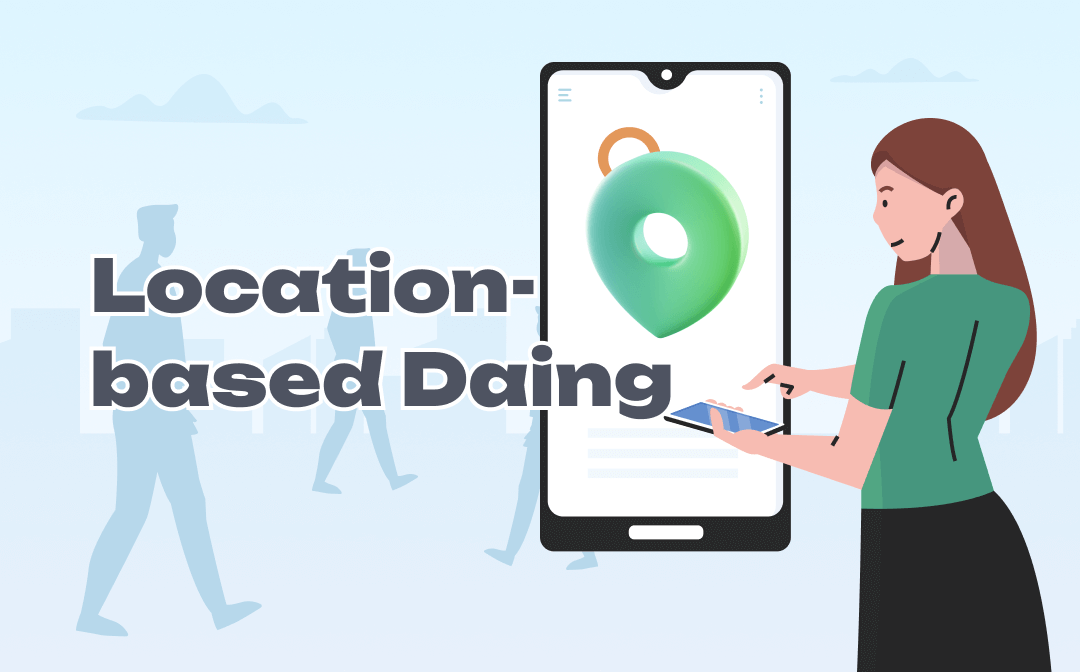 This post by AWZware combines our effort to bring you the ten location-based dating apps with their pros and cons to help you decide better. And stay tuned as we will also discuss an efficient location spoofer to mock your GPS location and explore matches from other regions and locations from your comfort. Let's get started in your pursuit of romance.
The Best 10 Dating Apps Based on Location
In this part, the blog will introduce ten popular GPS dating apps. Each one has its own features, such as many gay guys using Grindr and Tinder, while lesbians prefer OkCupid and Hinge. Coffee Meets Bagel is focusing on the quality of dating instead of quantity. An interesting fact about these dating apps by location is that OkCupid, Hinge, Tinder, and Plenty Of Fish are all owned by Match Group, which is also the parent company of Match.com. Let's check them out one by one.
Tinder
Tinder is one of the first location-based dating apps that created a buzz for people looking for casual or serious relationships. It is one of the finest dating apps based on location to introduce swipe action to choose between potential partners and connect with people without hassle.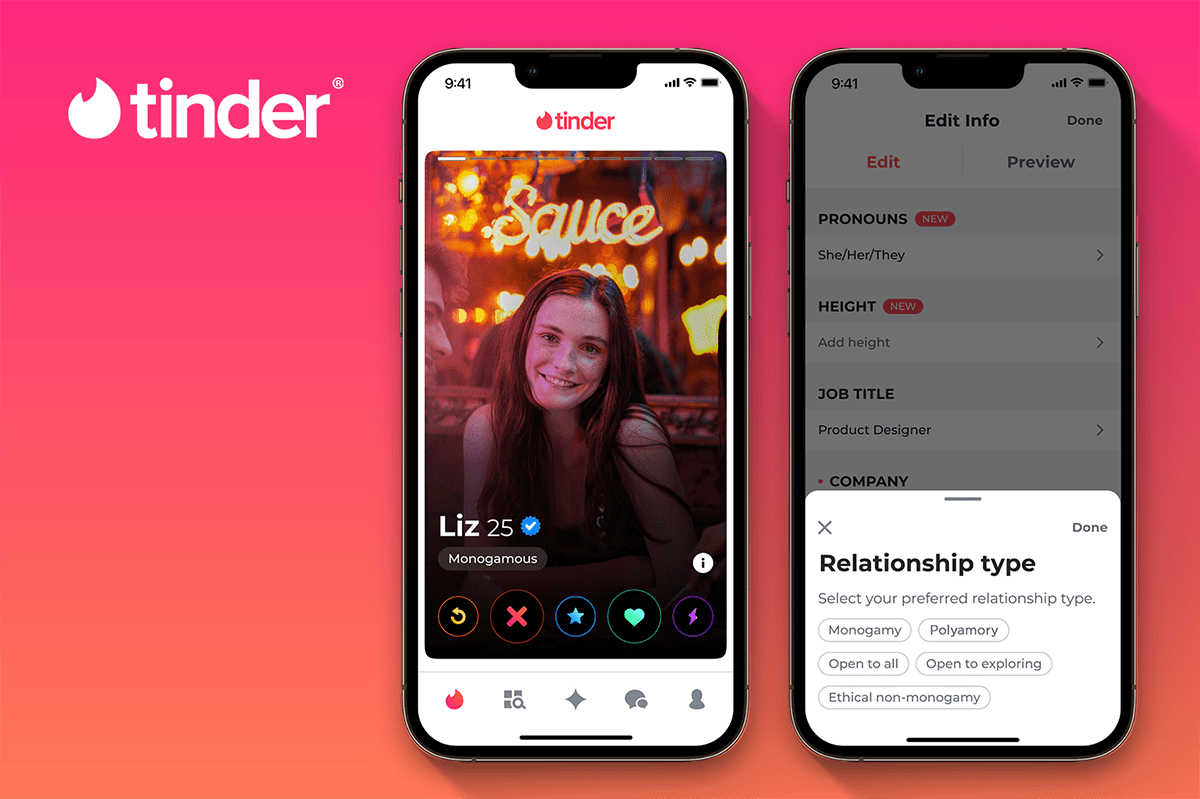 Pros
High safety range with unlimited chatting
Excellent free features
Cons
Upgrading based on age
Sometimes it is impossible to match people (different profiles)
OkCupid
OkCupid is a simple location-based dating app that connects people to their needs. This dating app by location lets users quickly connect with the right match and bring people with similar interests and preferences together. OkCupid has an excellent interface to reveal the best intro in the profile section.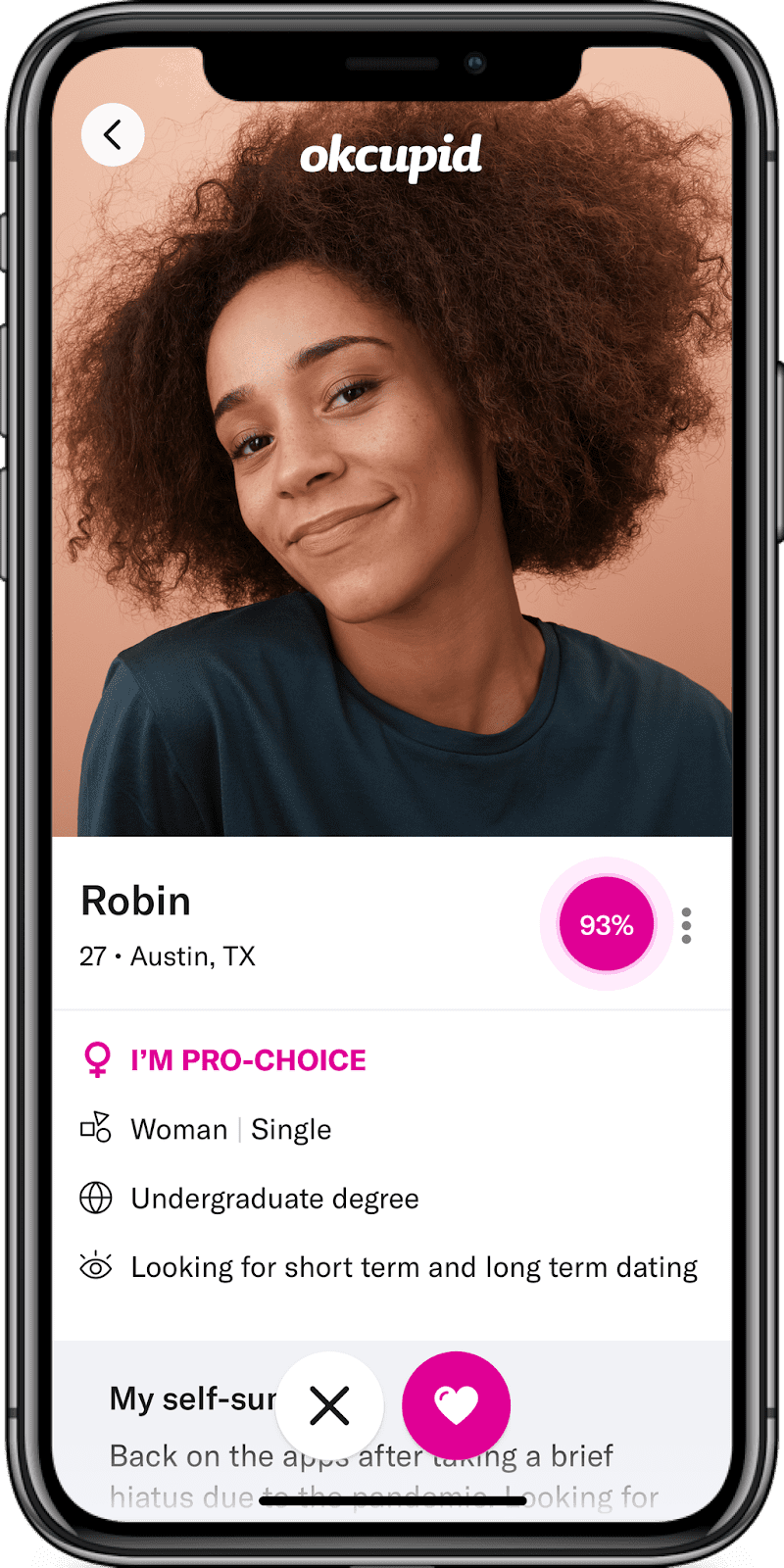 Pros
Multiple free features with numerous members and choices
Connected with Facebook and Instagram accounts
Cons
Many fake profiles and annoying ads
Unavailable video chat option
Bumble
Bumble is a renowned name in dating apps based on location as it gives preference to women to initiate the chat with their favorite profiles. It is indeed one of the best location-based dating apps, boasting a sophisticated interface to meet users' needs and establish quick connections between like-minded profiles.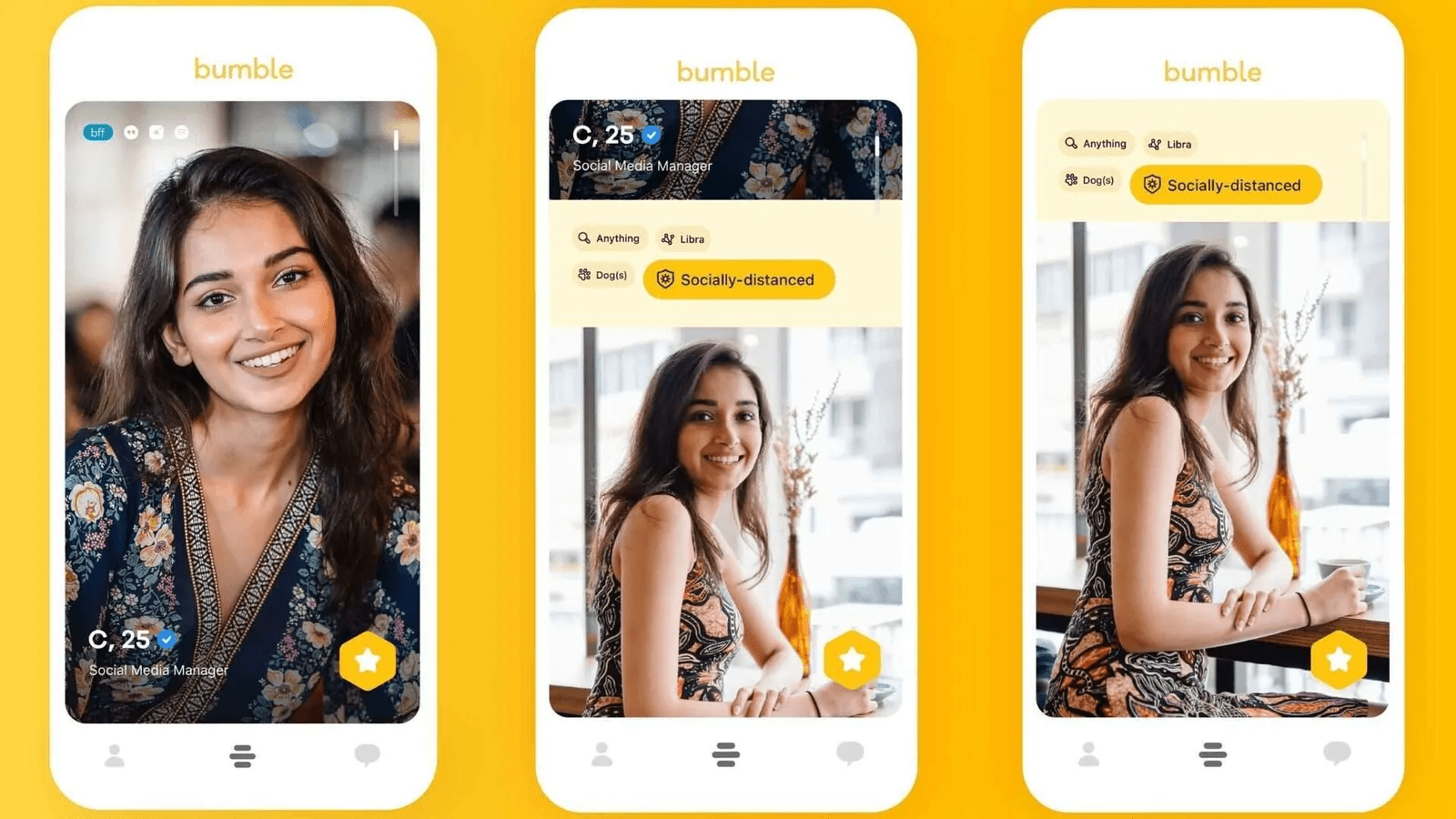 Pros
Safe and reliable dating app
Fast connections between like-minded people
Cons
Only premier users can build business contacts
Hinge
Hinge is a location-based dating app that triggers relationships and helps connect like-minded people in the digital space. This GPS dating app connects people beyond boundaries easily with a swipe and offers space to reveal your stories.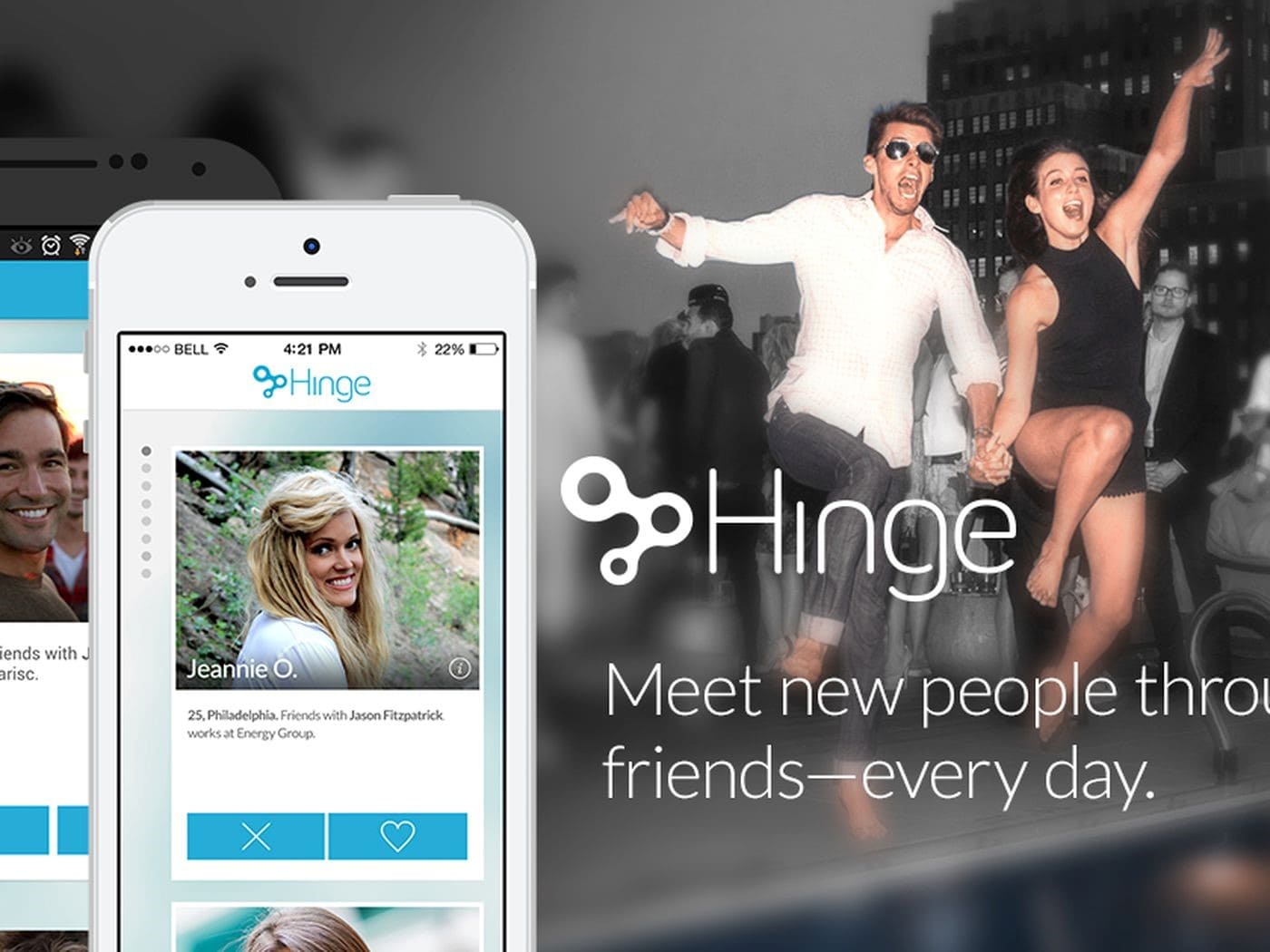 Pros
Simple and clean user interface
Profiles are displayed in a structured form
Cons
Many fake profiles are available
You may need: How to Change Location on Hinge without Effort >>
Grindr
Grindr is one of the most incredible location-based dating apps for gay, trans, bisexual, and queer communities (LGBTQ), where users can create profiles and flawlessly maintain their accounts, revealing their interests. This location-based hookup app permits people to start chatting with others in minutes.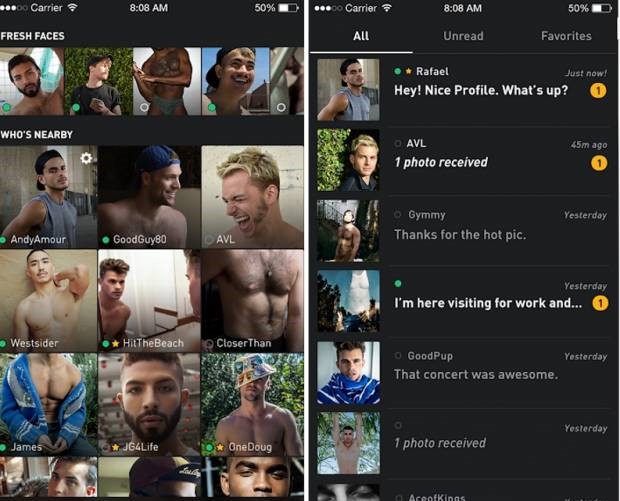 Pros
Ease to use user interface
Filter control allows narrowing the profile search
Cons
Enroll a subscription for ad-free access
Also read: How to Fake GPS on Grinder >>
Happn
Happn is also one of the location-based dating apps with a feature to find people they have crossed paths with. It is a dating app by location that offers a unique way to match users based on proximity. The popularity of the dating platform is such that it has over 100 million members.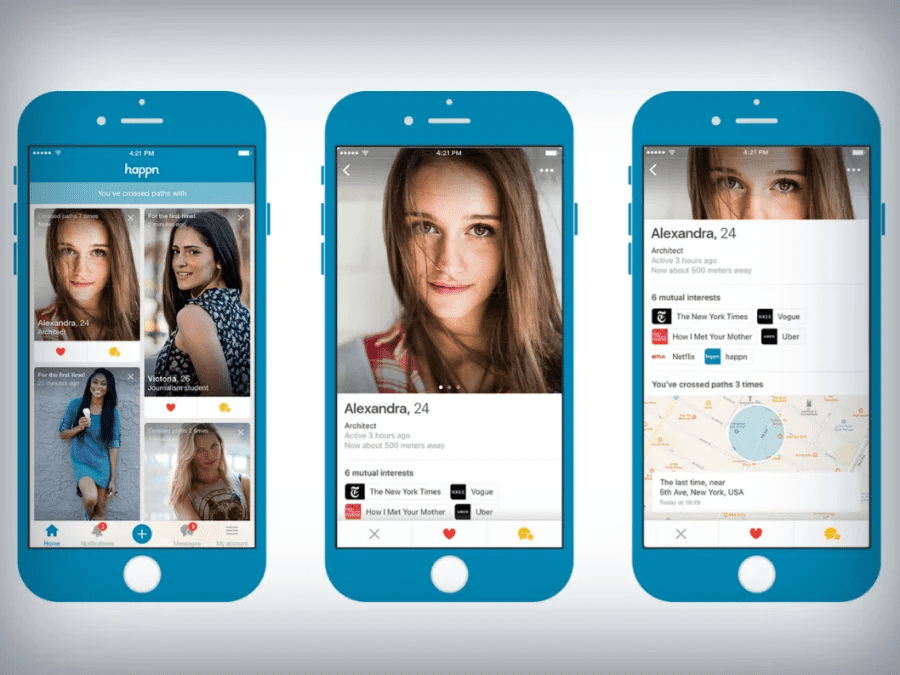 Pros
Matches users based on location
Increased likelihood of finding nearby matches
Cons
Matching is based on proximity
Match.com
Match is one of the preferred location-based dating apps for people seeking casual hookups, flings, and not-so-serious relationships. People create accounts on Match for fun and quickly check out to flirt around the clock with profiles across boundaries.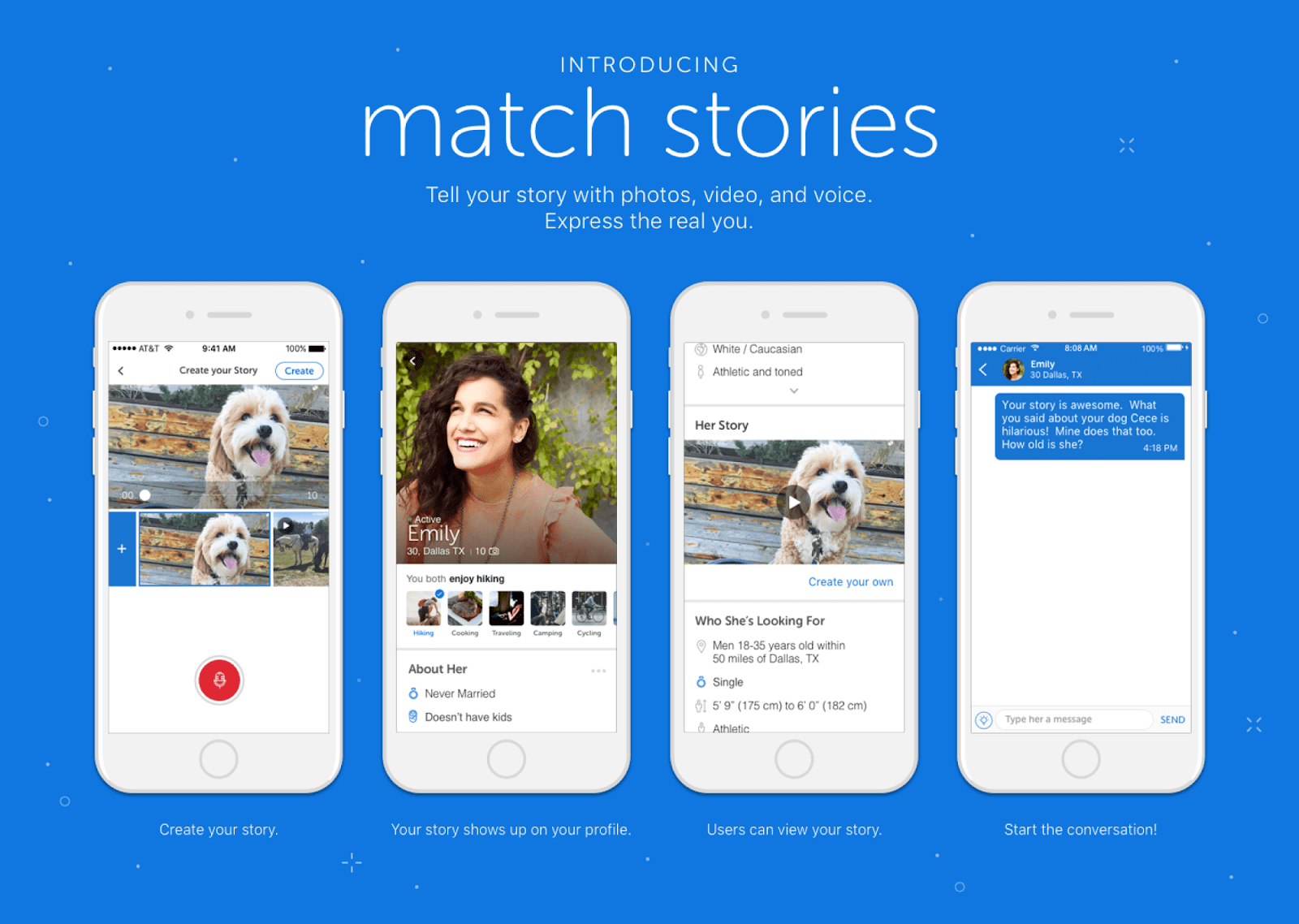 Pros
Ease of use as it has few complex controls
The free version offers to create a profile easily
Cons
Must need to upgrade and buy a subscription to access advanced features
Coffee Meets Bagel
Coffee Meets Bagel is one of the exciting location-based dating apps for men and women that offers the privilege to women to choose particular profiles of men who are interested in them. The best part of this dating app by location is that it triggers a chat window only after mutual likes between the profiles occur.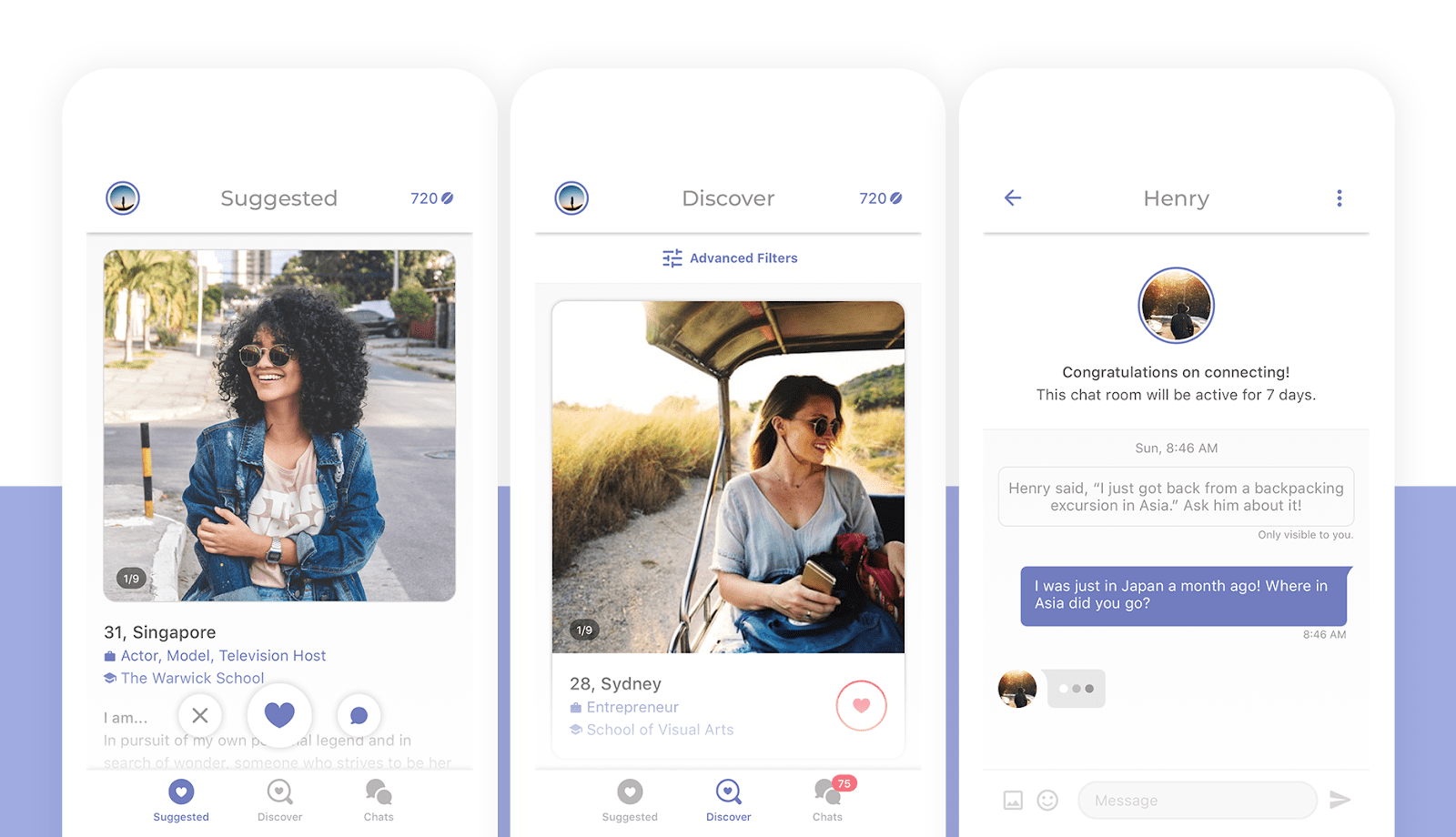 Pros
Built-in algorithm to select user profiles according to users' preferences
New recommendations every noon
Cons
Limited chat duration, even after mutual likes
It takes up to 7 days for an icebreaker session between the users
Plenty of Fish
Plenty of Fish is also an interesting location-based hookup app where users can find vast collections of profiles from a majority of English-speaking countries. This dating app based on location, allows users to import video from Instagram and enables them to perform live streaming of their content whenever required.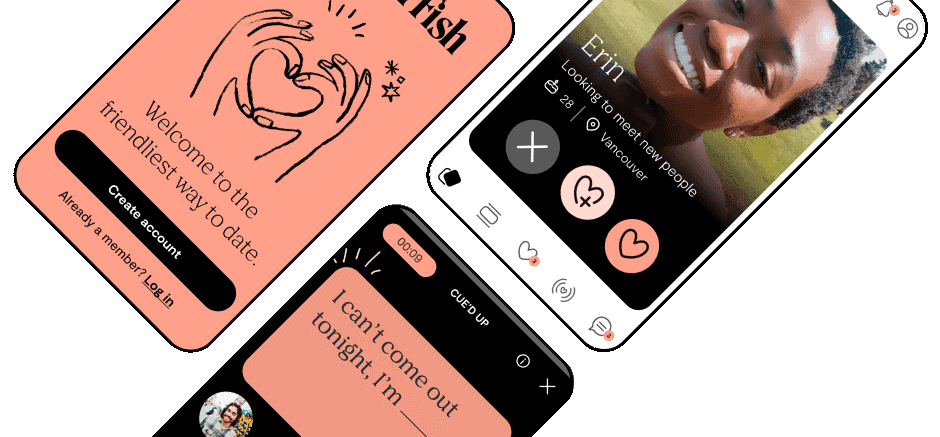 Pros
Multiple profiles and match options
No complex controls to confuse beginners
Cons
Take a premium subscription to enable the calling service
Blendr
Blendr is one of the fantastic dating apps based on location with an exciting feature that it is based on geographical and social algorithms. Blendr is the best location-based dating app, offering a modern design to easily find local men and women.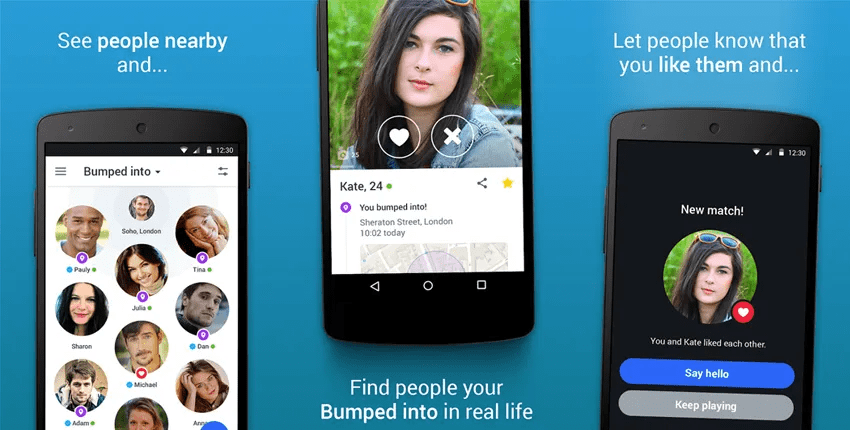 Pros
Many free features with active users
Simple and easy to use with modern app design
Cons
Multiple popups
Creating a profile is time-consuming
Bonus Tip: How to Get More Matches on Location-based Dating Apps
Have you leafed through all the nearby matches but still connected with none? As GPS dating apps offer many exclusive features and matches based on specific regions, you can always spoof your GPS location to explore the prospective matches, advanced features, and subscription prices in other areas.
AWZ AnyPorter is a foolproof tool to fake GPS locations on iPhone without jailbreak in a single click to travel anywhere in the world. It works well with all location-based dating apps, social platforms, and AR games equally well. It helps meet more people of similar interests by changing your GPS location without any physical movement.
Let's see how to spoof location with AWZ AnyPorter.
Step 1: Download and launch the iPhone location spoofer on PC.
Step 2: Connect your iPhone to the PC with a USB cable.
Tap the phone icon on the right side and follow the guide to allow the app access to iPhone's location services.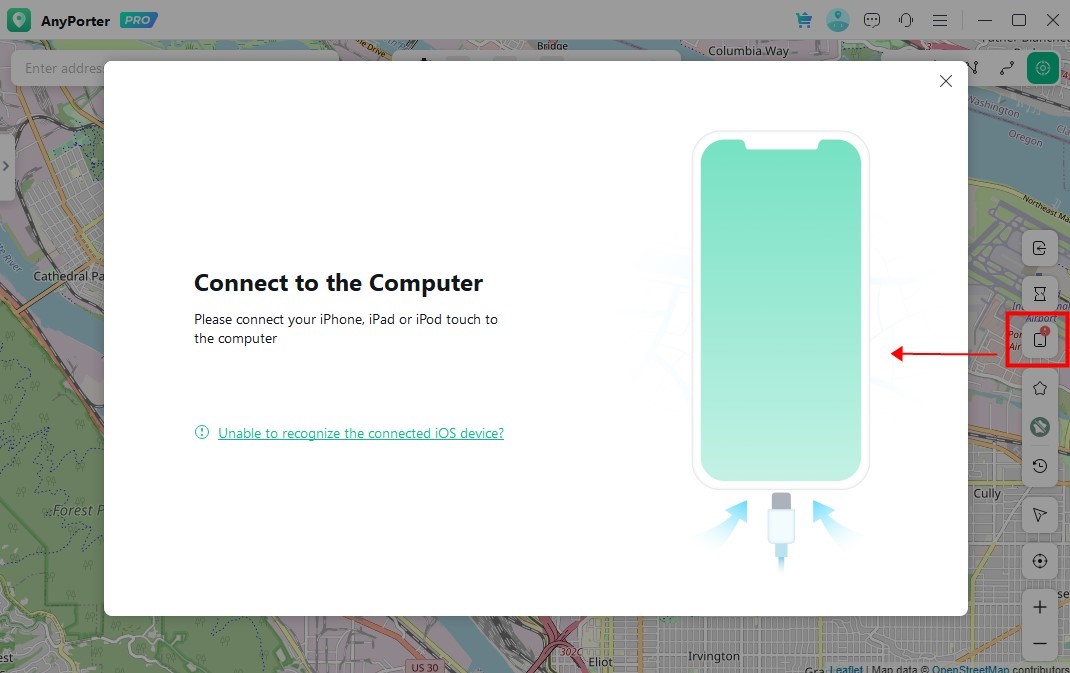 Step 3: Select a new destination
Now, your current location will be shown on the built-in map. Entering an address/GPS coordinate in the search box or pinpoint to any place you like.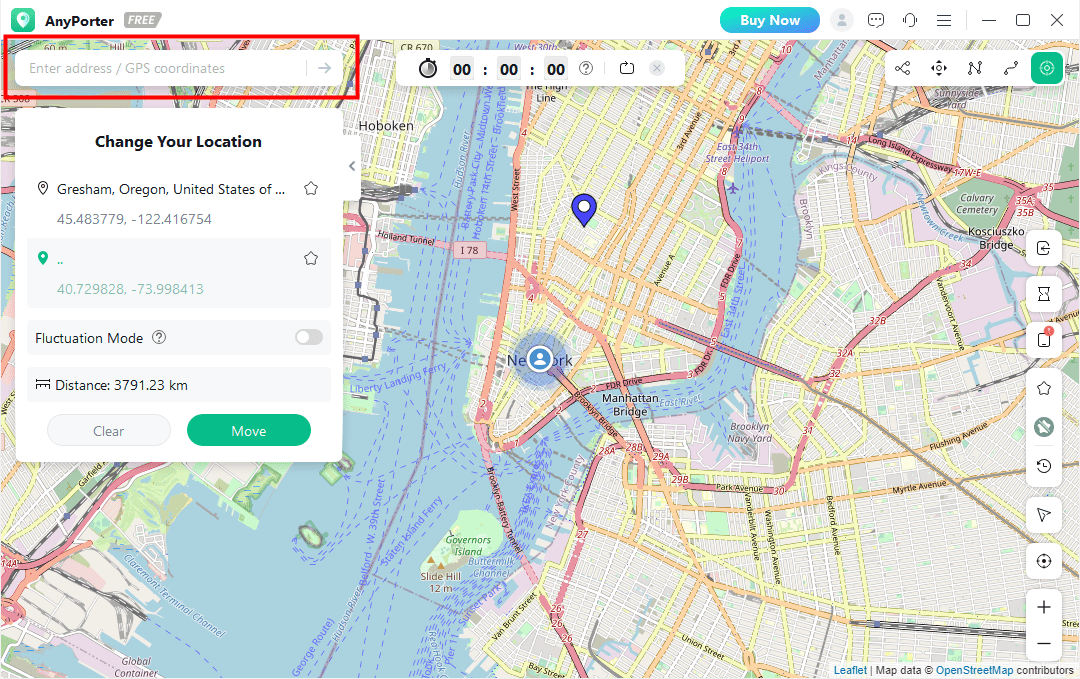 Step 4: Spoof dating apps based on location.
Click Move once the sidebar appears with detailed information about your current location and destination.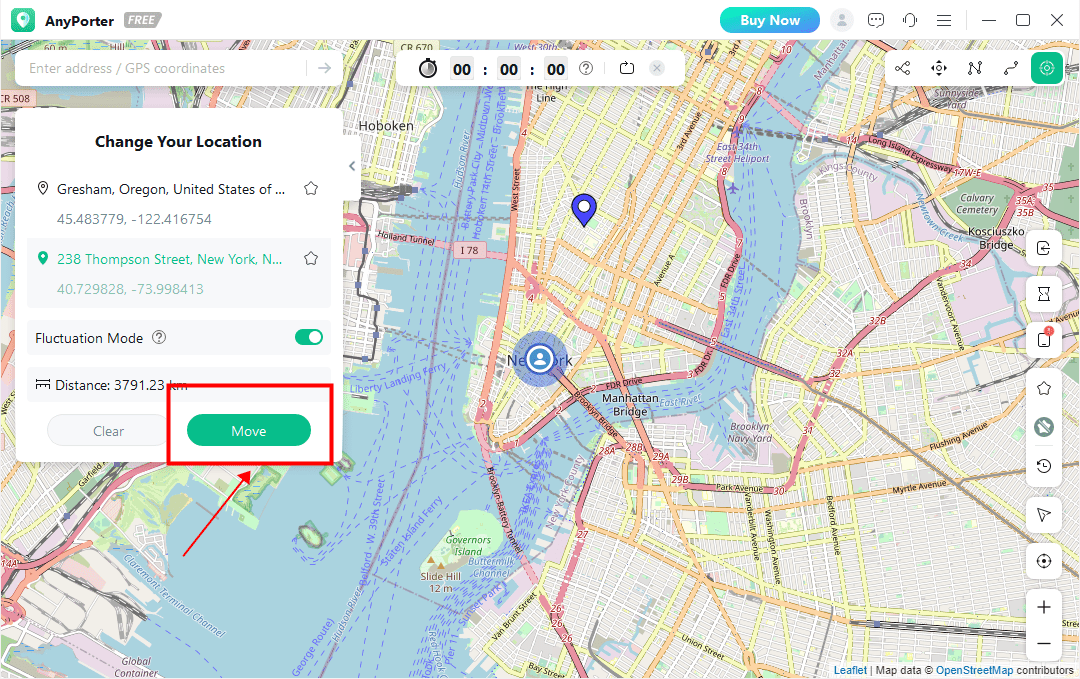 To Wrap Up
Over the years, dating apps have seen a significant rise. And our post seems to end your search for a free location-based dating app with the best options in the digital market. We have discussed the ten best dating apps by location and their pros and cons to help you settle for one that best matches your preferences.
However, we recommend you try AWZ AnyPorter to change your GPS location and access the exclusive features of location-based hookup apps from your home for any region to match people with your preferences and interests. Download and try!