Introduction:
Pokemon GO encourages players to walk out of their homes and socialize with each other face-to-face. However, rare Pokemon are only available on specific sites, so you need to travel a long distance to pursue a special one, which can be time-consuming. If you are not in the mood to leave your cozy couch, then try PGSharp, the best Pokemon GO spoofer for Android.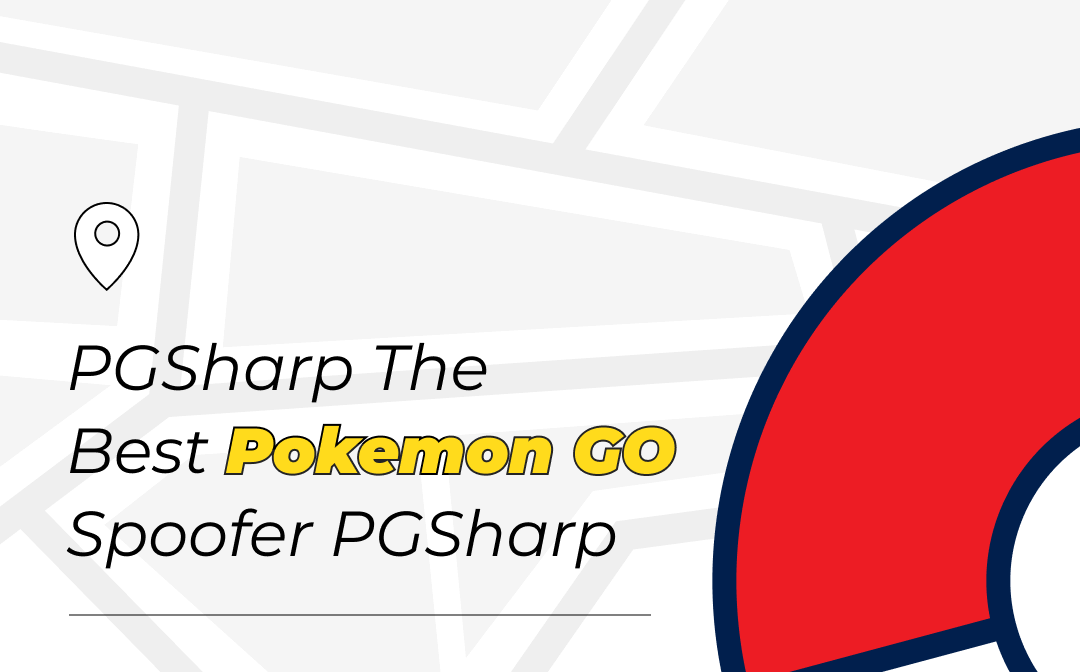 Several exclusive Pokemon are unique to certain cities, towns, or even countries. It can cost you a lot to undertake a journey to catch your desired one. The most effective way to collect more characters is to spoof Pokemon GO. In this post, we present an overall review of PGSharp from different aspects to help you learn more about this professional Pokemon GO spoofer.
What Is PGSharp

PGSharp is an Android-only application that allows you to spoof Pokemon GO by pretending you're going outside. It is widely compatible with all popular Android phones but doesn't have an official iOS version. This Android-based Pokemon GO spoofer lets you easily change your location across the world in a trice with a few taps. It now provides stable services across many countries and regions.
PGSharp's Key Features
PGSharp is equipped with several excellent features to spoof Pokemon GO efficiently. Besides, these features are quite easy-to-understand, so there is no learning curve to master them. Here is an overview of PGSharp's major features:
1. It's convenient to start auto-walking in Pokemon GO, and hatching eggs will no longer eat into your time. Your avatar can automatically move along your customized route while you watch films, take a nap, or do other work.
2. This Pokemon GO spoofer lets you teleport from one location swiftly to another, which is the fastest way to catch exclusive cuddle characters in a certain country.
3. Altering your walking speed makes it easy to simulate the natural movement of a real human being.
4. You can manually move your avatar with the embedded fake GPS joystick, eliminating the need to reinstall this feature.
5. The Nearby Radar feature takes you to your desired Pokemon, shiny Pokemon in particular, which saves you time seeking them.
How to Download PGSharp on iOS/Android Devices
Can't wait to try this Pokemon GO spoofer? This part tells you how to use PGSharp on your iOS or Android device. Make sure you install it on your phone instead of your computer, as this app needs to access your game data.
Download PGSharp on iOS
Since this Pokemon GO spoofing app is only available for Android devices, it is not compatible with the iOS operating system. However, it's possible to utilize PGSharp on your iOS device with an unofficial method, except that two additional apps need to be installed.
Learn the way to download PGSharp on iOS to spoof Pokemon GO:
Step 1: Make sure you enable Background App Refresh on Wi-Fi & Cellular Data. If you're not, click Settings > General > Background App Refresh > Wi-Fi & Cellular Data;
Step 2: Search appfast.club in Safari. Scroll down to find PGSharp, tap on it, and press Start injection;
Step 3: After downloading it, you need to install two other apps from a new page. When finished, go back to the page and refresh it.
Then you can set fake location on your iPhone with this Pokemon GO spoofer! However, this unofficial method may trigger some safety concerns that threaten your mobile data. It's not a foolproof way to spoof Pokemon GO on iOS devices.
Download PGSharp on Android
Android has no problem using this Pokemon GO spoofer. PGSharp has a free and paid version on its official website. You can choose the one you like and install it without rooting your phone. Follow the steps below to have it on your device:
Step 1: Visit the official website and install the app;
Step 2: Go to "My Files" > click "Downloads" > tap the corresponding APK file > hit "Install"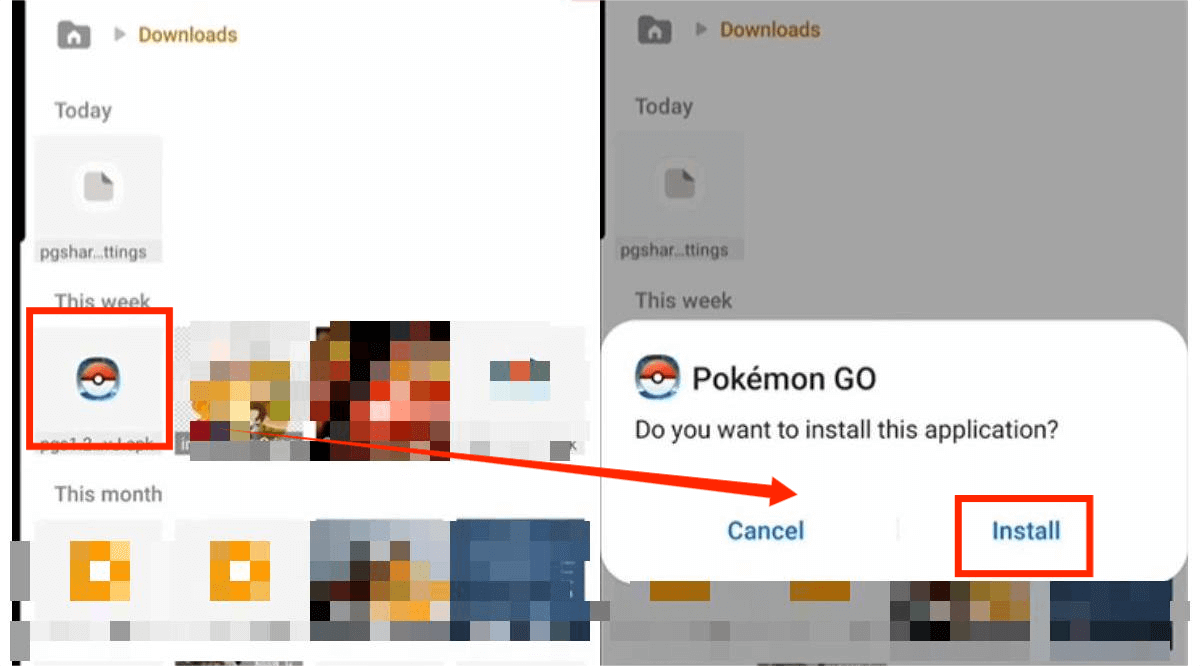 That's it! This app is ready to help you pursue more Pokemon.
If you want to learn more about excellent Pokemon GO spoofers for iOS and Android, the following post might be helpful: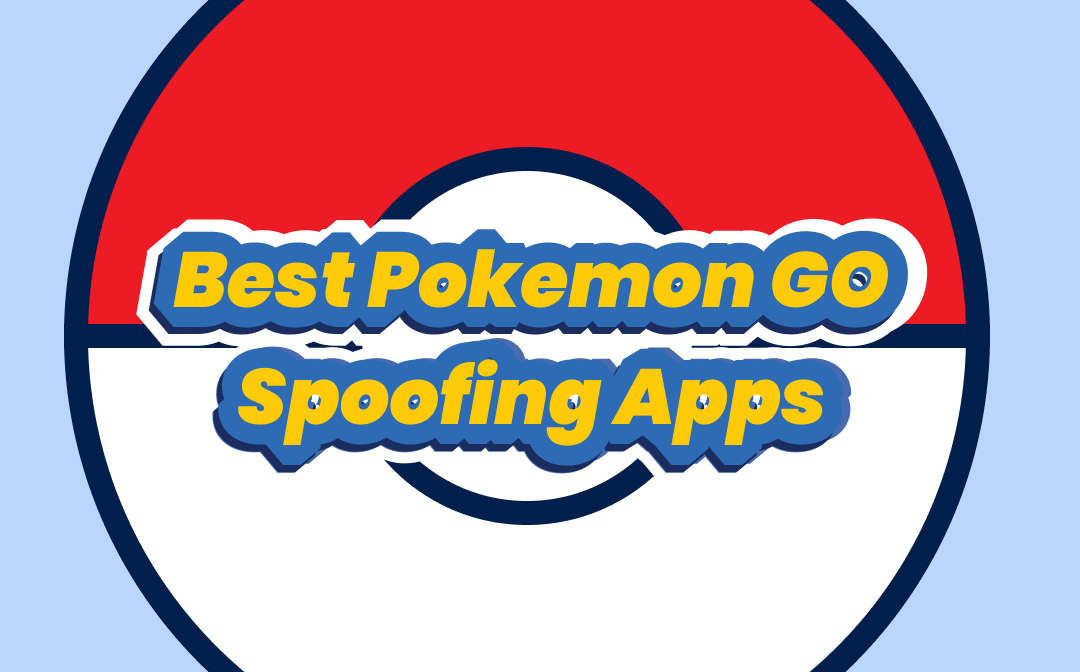 [2023 Newest] 4 Best Pokemon GO Spoofing Apps for iOS & Android
Tired of walking a long distance to catch Pokemon? This article provides four Pokemon GO spoofing apps to change your location in the game flexibly.
READ MORE >
How to Use PGSharp for Free
It's okay to use PGSharp for free by downloading its free version on your Android device. And it is safe to use, though you still might get banned when using it. The free version comes with some basic features that are enough to spoof Pokemon GO.
Once you successfully installed this fake GPS spoofer, you'll need an activation key to activate this application for the first time. Don't worry! The key is available for free from the official website. Here is the way to get the free activation code:
Step 1: Go to the official website, tap on the Log in button in the top right corner;
Step 2: Sign in with your PTC login information. Then the activation key will be sent to you;
Step 3: Launch Pokemon GO and enter your login credentials. Then go to "Settings" > click "Activate" > copy and paste the code > hit "OK".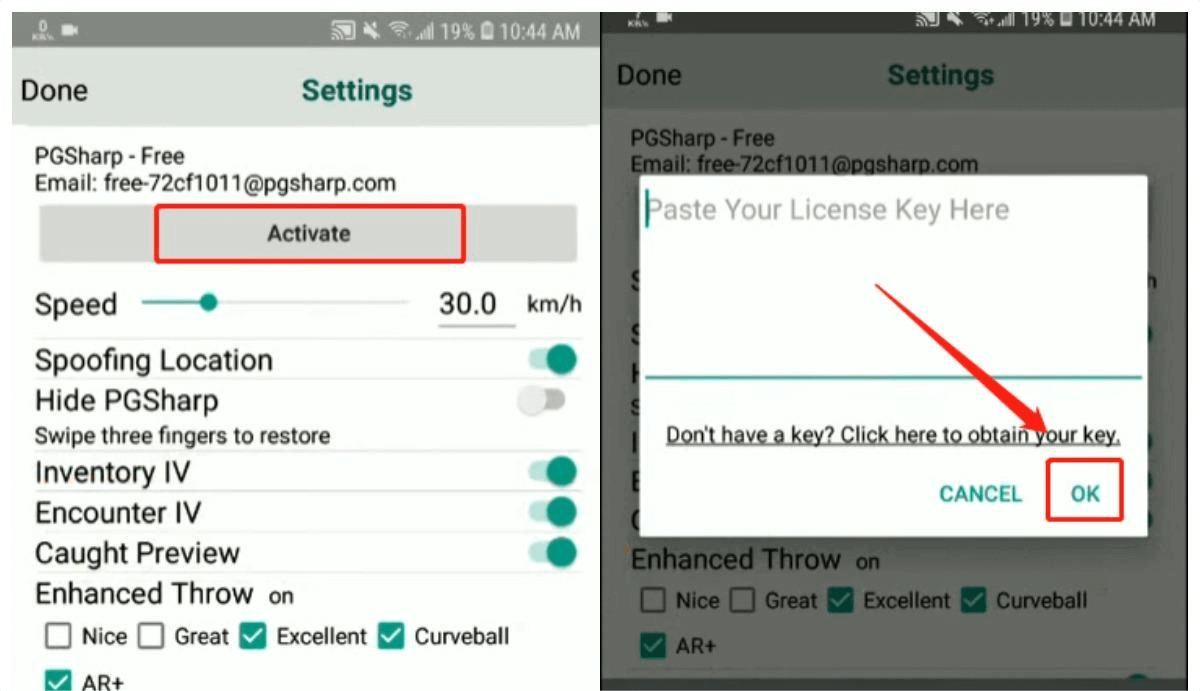 Now you can enjoy the free trial of PGSharp on your Android device to spoof Pokemon GO!
Note: PGSharp uses the tweaked version of Pokemon GO gaming, which may get your account banned.
The Best PGSharp iOS Alternative: AWZ AnyPorter
As PGSharp is designed for Android phones, it creates a hassle to download it on an iOS device. And the services might be not safe. As a result, we present to you the best iOS alternative to PGSharp – AWZ AnyPorter! It is a dedicated Pokemon GO spoofer for iOS devices to trick Pokemon GO. This risk-free location spoofer is a Windows-based program that allows you to play all the popular AR games while comfortably lying on your couch.
Main features of AWZ AnyPorter:
• Spoof Pokemon GO with 1 click and you won't be punished;
• Enable your avatar to auto-walk in the game at an adjustable walking speed;
• Customize the times to repeat the movement;
• Pause at any time;
• Widely support iOS 7 and above versions (iOS 16 included).
Let's take a look at how to utilize this Pokemon GO spoofer to spoof Pokemon GO effortlessly:
Step 1: Launch this app after download and installation;
Step 2: Tap Get Started, then plug your iPhone into your computer via a USB port. Unlock your phone, select the device you connected, and hit Next;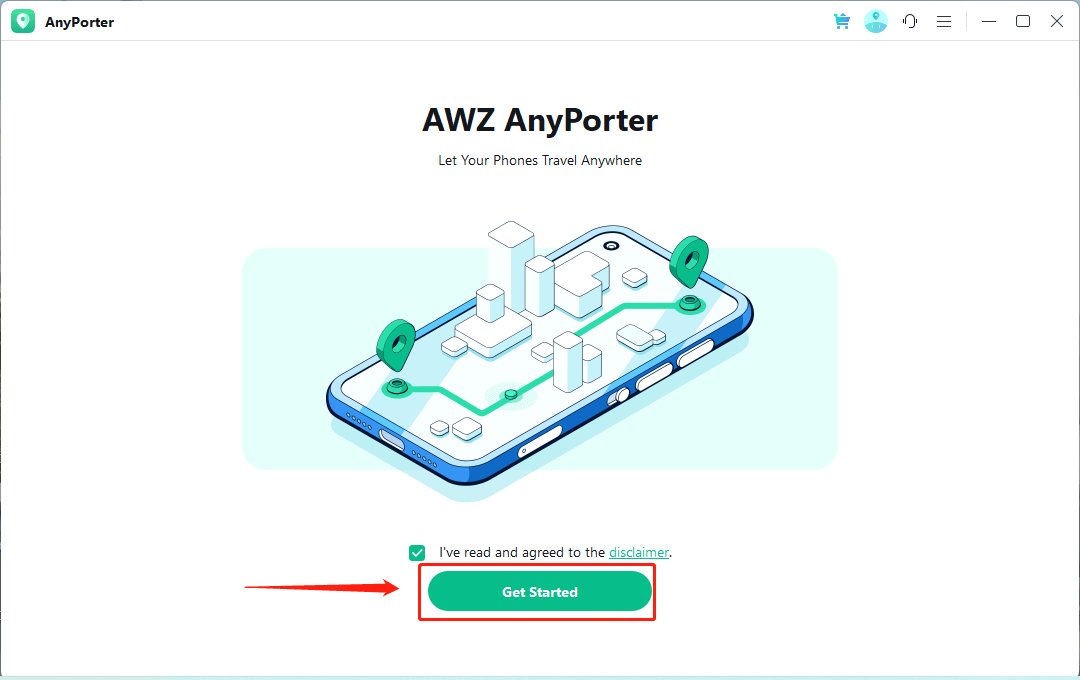 Step 3: Accept the computer's access and select Single-Stop Mode in the upper right corner;
Step 4: Click on the map to pinpoint a place, and drag the slider to set your walking speed. Then enter the required number of times for the virtual route;
Step 5: Select how to loop the movement (move start-to-end or back-and-forth) and the moving method (move at a steady speed or variable speed). Hit Move.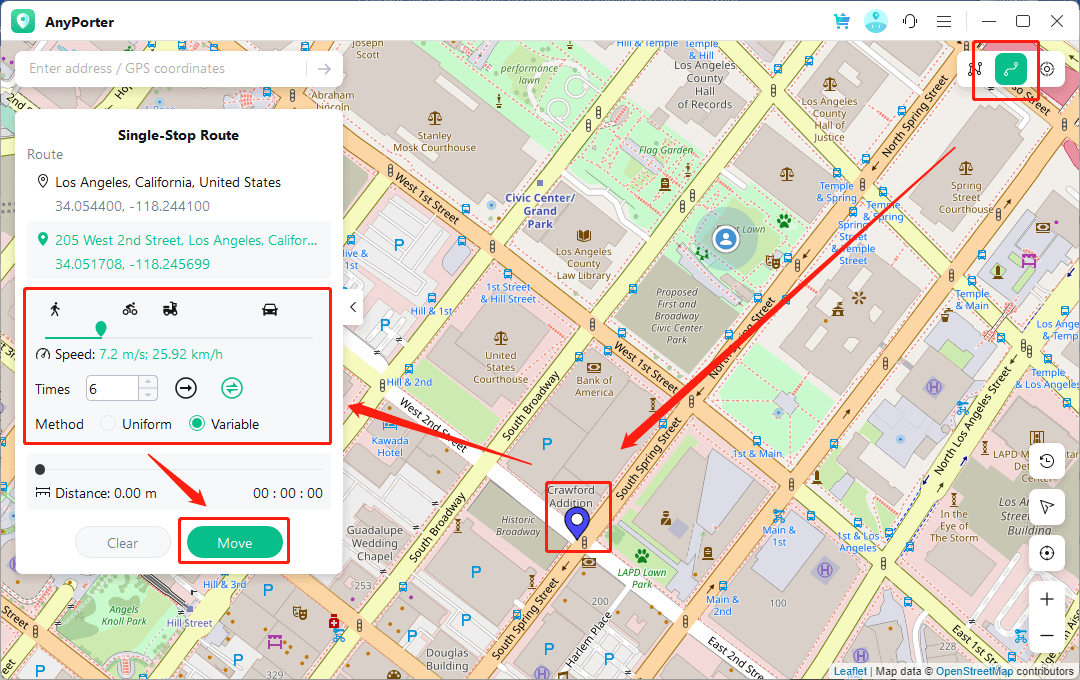 That's how you spoof Pokemon GO with AWZ AnyPorter. This safe Pokemon GO spoofer alternative to PGSharp lets you create a mock location anywhere in the world. You can easily generate a simulated movement along your customized path, pretending you are walking outside.
Moreover, this program is not just a PGSharp alternative. It helps you turn off your location on Life360, Grindr, and other location-based apps, enabling you to bypass several geo-restricted services and expand your friend circle worldwide.
Wrap Up
As a big fan of Pokemon GO, you may want to spend less time collecting more favored Pokemon. Then PGSharp is the best Pokemon GO spoofer for Android devices. If you own an iPhone, you can try AWZ AnyPorter designed by AWZWARE, which is a perfect location-changing tool to spoof Pokemon GO without getting caught.