Introduction:
It could be annoying so much when you find your Pokemon GO is not tracking steps. This makes your Pokemon eggs stop hatching and no Buddy Candies are rewarded. The Pokemon GO Adventure Sync not working bug hasn't been sorted after rounds of updates. If you also be bothered by the issue, keep reading to say goodbye to the problem.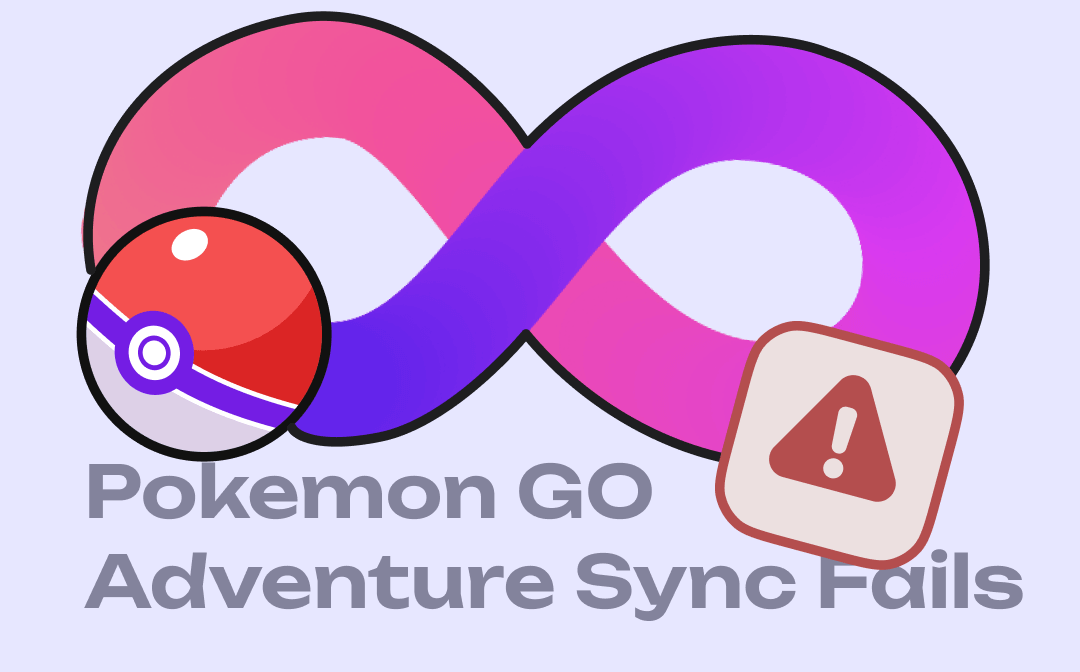 When trying to use the Adventure Sync feature, you may have different problems: your Pokemon GO is not counting steps, Adventure Sync cannot be enabled, etc. Many causes can contribute to the Pokemon GO walker tracking bug. Don't worry; AWZware takes you through a complete guide on how to fix the Pokemon GO Adventure Sync not working issue on iPhone and Android devices.
What Is Pokemon GO Adventure Sync
In Pokemon GO, Adventure Sync is a feature that enables players to track their walking distance even when the app is closed. This Pokemon GO walker helps players to earn Buddy Candies and hatch Pokemon eggs that require long walking while saving the battery life.
However, since the update of this game, many players find the Pokemon GO Adventure Sync is not working on their iPhones or Android phones. That can be a huge hindrance if you want to upgrade quickly. Consequently, it is necessary to know what to do when your Pokemon GO is not tracking steps.
How to Fix Pokemon GO Adventure Sync Not Working Problem
Here are the six tips for the issue of Adventure Sync in Pokemon GO not working. Get your device ready and let's find the ideal solution!
Turn on Adventure Sync
Sometimes, the Pokemon GO Adventure Sync not working problem may happen simply because you accidentally turn it off. Or maybe you forgot to enable the feature. This mode doesn't be activated by default after the installation. You need to turn on Adventure Sync mode in the game settings first and follow the instructions to allow the game to always access your location data.
Sync Pokemon GO with Health/Google Fit
For many users, the reason why Pokemon GO is not tracking steps on iPhone is that they don't link their daily workout with Health, the in-built health data-recording program. When enabling Adventure Sync and turning on the location services, the game will automatically lead you to Health for enabling it to access your motion and fitness activity. However, some reported that they didn't be redirected to that page.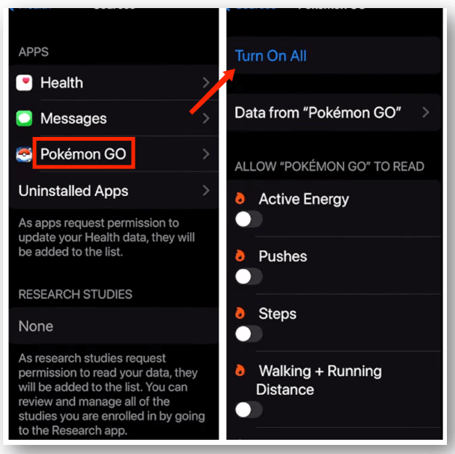 Then you can manually complete the steps. Go to Apple "Settings", locate "Health", and choose "Data Access & Devices". Select "Pokemon GO" and tap "Turn On All". Finally, go back to the game "Settings" and enable "Adventure Sync". Android users can follow similar steps to download Google Fit and link with the game to let it update the tracking data.
Untick Battery Saver
Being in the low power mode is another cause for the Pokemon GO Adventure Sync not working issue. This mode can affect the functionality of Adventure Sync so that Pokemon GO is not tracking steps. All you need to do is click Apple "Settings", navigate to "Battery", and toggle off "Low Power Mode". Then open the game, click on the Settings icon, and untick "Battery Saver".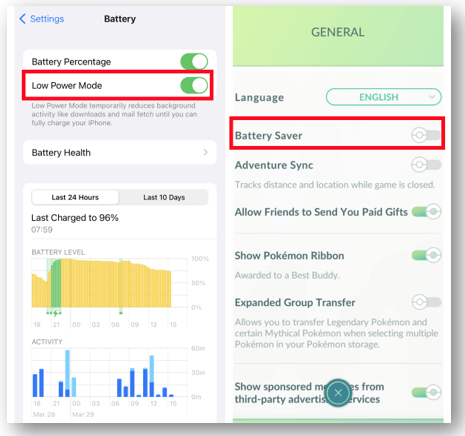 Turn Off Adventure Sync on Other Devices
Sometimes when you can't turn on Adventure Sync in Pokemon GO, you will see a message to let you toggle motion and fitness on while there is no such option. That might be because you've turned on Adventure Sync on another device using the same account.
Under this circumstance, turn off this feature on the old device, then turn on Adventure Sync on the new one. Then you can fix the bug that Pokemon GO is not counting steps.
Note the Speed Cap
In some cases, even though you enabled the feature, Adventure Sync is not working on your iPhone or Android phone. That could be because your moving speed surpasses the speed limit of 10.5 km/h. The game system thinks you are not walking but driving. Then it won't track your traveled distance.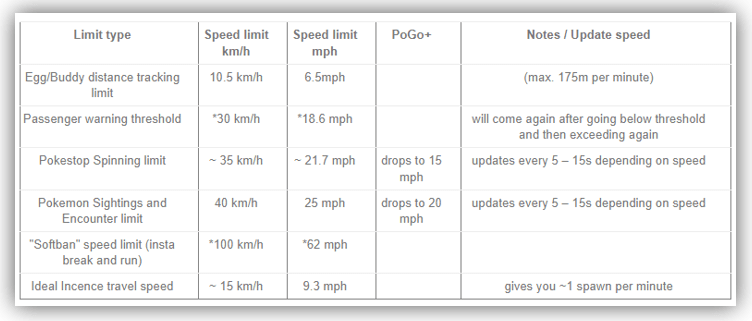 If the Pokemon GO adventure sync not working issue still doesn't be solved, you can check the GPS signal problem in the following article to find the solutions: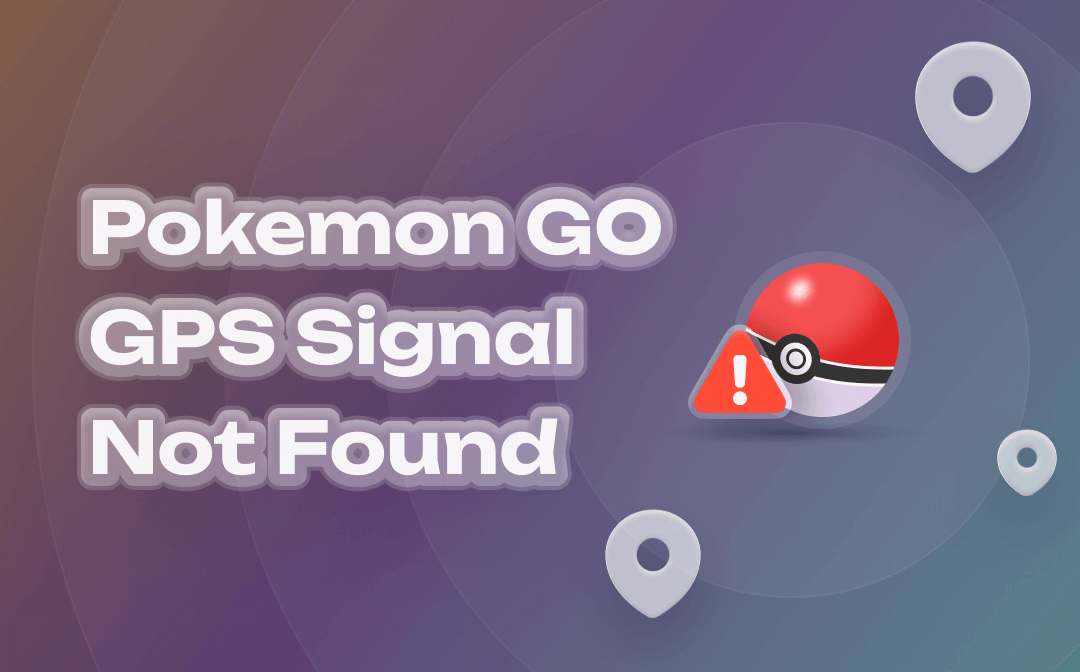 Pokemon GO GPS Signal Not Found | How Do You Fix It?
How do you fix the Pokemon GO GPS signal not found problem? This guide has got you covered. Read it to find the best solution to the error.
READ MORE >
Fully Close the Pokemon GO App
When you find Pokemon GO Adventure sync not working and you have turned on all permissions, that might be because you didn't fully close the app. Pokemon GO can only access your fitness activity. If the app runs in the background on your iPhone or Android device, Pokemon GO won't track your distance.
Reinstall Pokemon GO
Deleting the app and reinstalling it is the last solution speaking of the Pokemon GO Adventure Sync not working bug. Though it might take time, the method lets the game successfully track the distance traveled when you can't turn on Adventure Sync in Pokemon GO.
Everyone can encounter different errors resulting in Pokemon GO not tracking steps. You could need other options when the tips above don't suit you. Then try another method: using a Pokemon GO auto-walking hack.
Simple Expedient: Use a Pokemon GO Auto Walking Hack
If you still cannot fix the Pokemon GO Adventure Sync not working problem, we recommend a simple expedient to hatch your eggs – AWZ AnyPorter. It has a nifty feature that enables your avatar to automatically move in the game when Pokemon GO is not tracking steps or you want to take a break from playing. You can still easily complete the weekly walking task and get newborn Pokemon without being banned.
Key features:
• Hatch Pokemon eggs in Pokemon GO without walking;
• Repeat the movement as many times as you want;
• Simulate average walking pace to prevent soft bans;
• Safe to spoof AR games on unrooted iOS devices.
Go over how to resolve the Pokemon GO Adventure Sync not working error using AWZ AnyPorter:
Step 1: Connect your iPhone to this little gimmick
Download and install this tool on the PC. Connect your phone to the computer via USB. Then launch the program and click "Get Started". Choose your device and tap "Next". Then follow the instructions to complete the connection.
Step 2: Plan a route on the map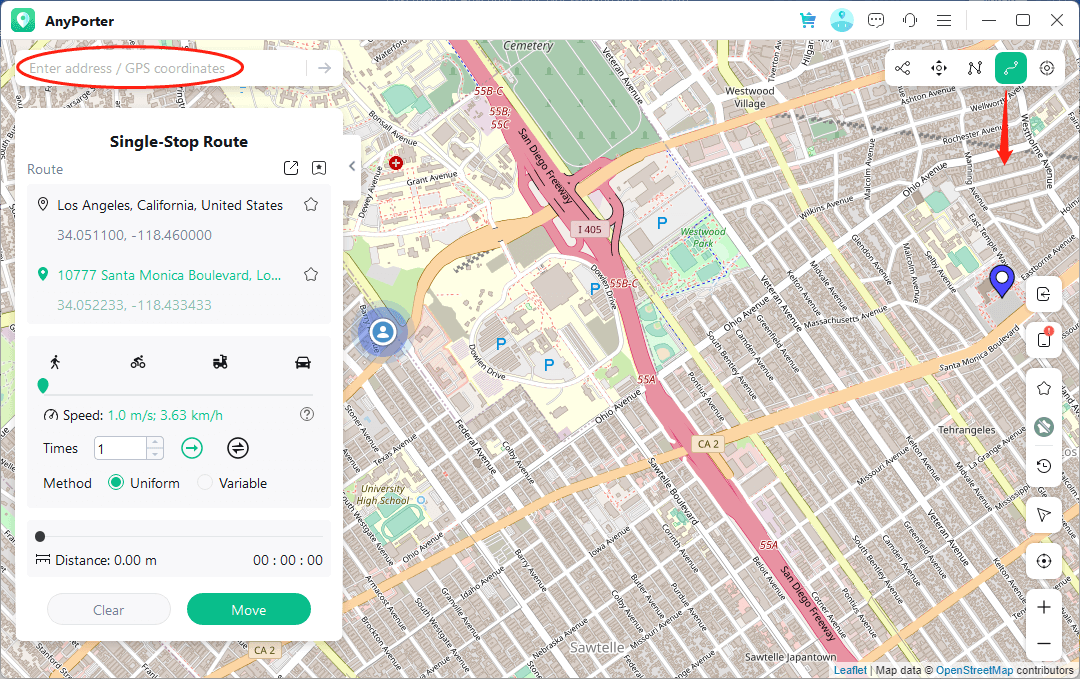 After the map fully displays on the screen, choose the Single-Stop Mode icon in the upper left corner. Click on the map to pick a destination. You can also enter an address or copy and paste coordinates in the search bar, then hit the arrow icon next to it.
Step 3: Start the virtual journey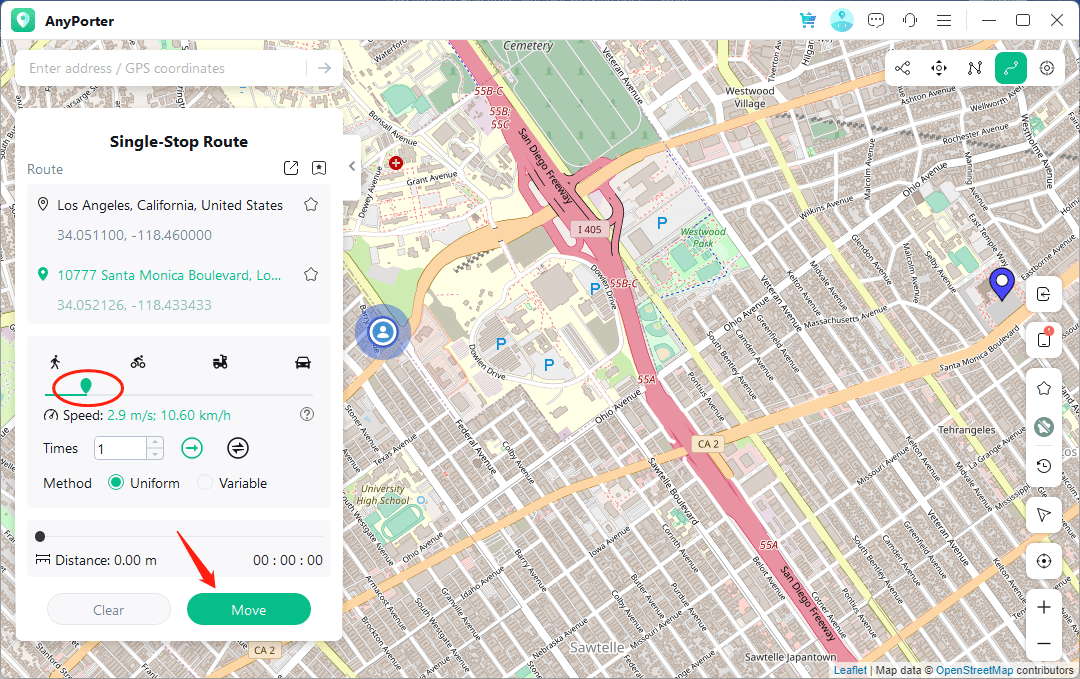 To simulate your walking pace, drag the slider to adjust the speed. Then tap "Move" to let your character move in the game. You will find the weekly kilometer walked increases even if Adventure Sync is not working on your iPhone.
This tactic is an option to solve the problem that your Pokemon GO is not counting steps when you are too busy to play the game. The auto-walking feature lets you overcome the Adventure Sync distance bug easily.
Conclusion
In this article, we introduce seven solutions when it comes to the Pokemon GO Adventure Sync not working issue. And the first six tips are troubleshooting to fix the tracking bug when Pokemon GO is not counting steps. You can check them one by one to find the right method.
If your Adventure Sync is still not working on the iPhone, then give AWZ AnyPorter a shot. It enables you to gain walking rewards or hatch Pokemon eggs while pretending you are actually walking.