Pokemon Go is one of the hottest AR games globally. Users are encouraged to walk out the door to catch more Pokemon. Despite the tiered discipline policy, cheating to catch rare Pokemon or items cannot be avoided in this game, thus resulting in the introduction of cooldown time. In this post, we recommend a useful tool, AWZ AnyPorter, to better calculate the Pokemon Go cooldown time in an attempt to reduce soft bans.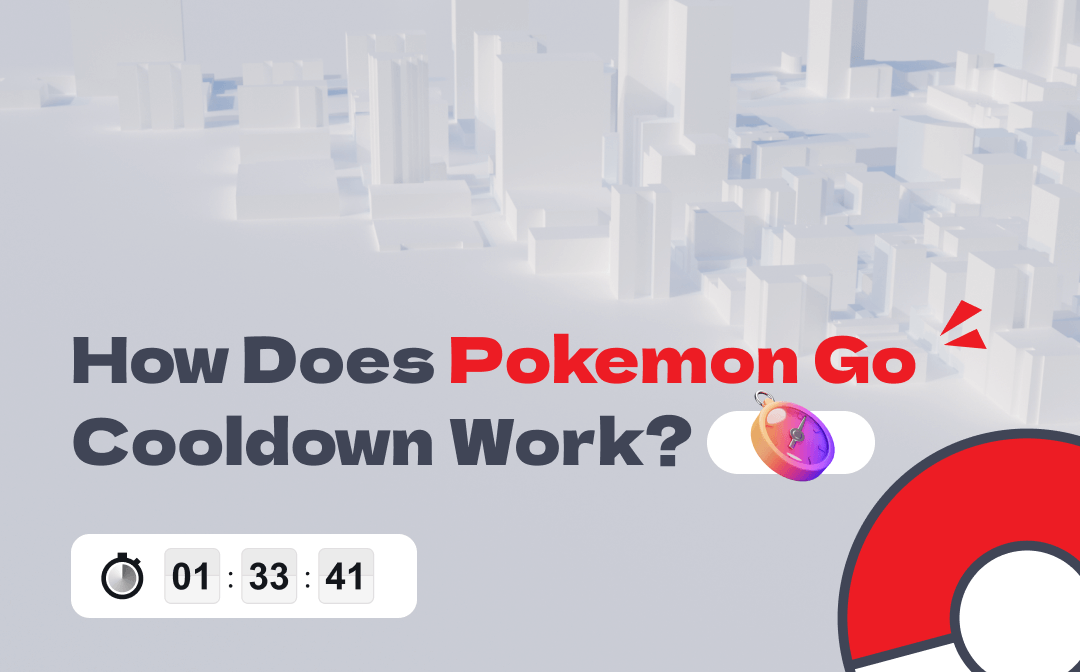 What Is the Meaning of the Pokemon Go Cooldown?
For those who have no clue what the Pokemon Go cooldown refers to, don't worry. A cooldown period is the amount of time a user has to wait before performing another specific action in the game. The Pokemon GO cooldown time is based on the entire distance between the start and the destination. The further you travel or teleport, the longer you have to wait for the cooldown.

The cooldown policy is intended to combat cheating and discourage players from playing Pokemon Go while driving. Some users may take successive actions in a short time, which will be detected as cheating and increase the risk of being soft-banned. This is something that no one wants to happen. Before we go any deeper, it is essentially important to figure out what actions lead to a Pokemon Go cooldown.
What Will Cause a Cooldown in Pokemon Go?
Perhaps the cooldown has been triggered, but you are unaware of it. It is simply because you don't have the whole picture of the cooldown policy. Now, this section prepares a complete list of actions resulting in the cooldown. To avoid soft bans, do not do the following after you have completed an action and are thus in the cooldown:
Actions That Trigger a Cooldown in Pokemon Go
Catch wild Pokemons;
Drop Pokeballs on the catch screen, even accidentally;
Feed wild Pokemon or raid bosses with berries;
Spin a PokéStop even though you've received the notice "Bad is full due to the item limit";
Place defender Pokemons in any gym;
Feed gym defenders with the screen radar;
Battle with other gamers in the gym;
Free a Pokemon caught by you due to the catch limit;
Use any Gotcha device to spin and catch.
Actions that Don't Trigger a Cooldown in Pokemon Go
Move to a new place by teleporting;
Bump into a new wild Pokemon;
Automatic walking in Pokemon GO, excluding spinning and catching;
Hatch/evolve/power up/trade/transfer Pokemons;
Get quest and weekly rewards;
Catch a reward Pokemon from quests;
Speed raiding;
Exchange and open gifts;
Use potions, revives, TMs, evolutions, or other items in the game;
Have access to secondary moves on a Pokemon;
Transfer a Pokemon to your Nintendo Switch;
Take screenshots during playing;
Change your buddy Pokemon;
Collect buddy candies when walking;
Use an Incense, Lucky Egg, or Star Piece;
Remove any items from your bag;
Start PVP battles;
Team leader training (fight with Blanche, Candela, or Spark)
Place a Lure or Special Lure on a PokeStop;
Buy coins and items from the shop;
Catch Pokemons from Photobombs such as Smeargle and Party Hat Pikachu.
Pokemon Go Soft Ban: What If I Violate the Cooldown Rules?
The above explains in which cases you will experience a cooldown. Some of you may wonder: What if a user violates the stipulated cooldown rules? Congratulations. When you take too many actions, for instance, traveling too fast and frequently in a short time, and thus violating the cooldown rules, you need to deal with the soft ban in Pokemon Go.
What Is a Pokemon Go Soft Ban?
A soft ban occurs owning to faking GPS location, taking frequent actions, or sharing accounts. It won't cause substantial punishment to your account, but it does have several effects, as follows:
During the ban period, all Pokemon you have caught will flee, irrespective of the ball type or berries ;
Gamers won't win gym fights or loot from PokéStops. In addition, spins don't work either.
What merits extra attention is that Niantic implemented the Three-Strike Discipline Policy to create a fair and friendly gameplay experience. Strike 1 is the mildest level: punishment; Strike 2 leads to account suspension, and Strike 3 will terminate an account.
How Long Will the Pokemon Go Soft Ban Last?
If you are soft-banned from playing Pokemon Go, be patient. Let me give you a clear example: when you move to a new plan and want to catch a Pokemon (but it escapes), you have to wait for the cooldown before taking another action. Regarding the duration, it depends on how far you've traveled, and the maximum is 2 hours. Below is a Pokemon Go cooldown time chart. Play safe on your Pokemon hunting journey.
Is There Any Way to Avoid or Fix the Soft Ban?
When you get banned by Pokemon, there are many viable ways to determine whether the ban is over. One of the methods is to spin the Pokéstops to see if you can get rewards. If yes, it means you can enjoy your journey as usual. Otherwise, wait for the cooldown to avoid soft bans.
So far, we don't have any good ideas about how to get away with soft bans in Pokemon Go. Nevertheless, some apps, like AWZ AnyPorter, can help calculate the cooldown time so that players can tell when to play the game again. In the latest 2.0 version, AWZ AnyPorter presented by AWZWARE released a Pokemon Go cooldown timer, which can greatly improve your game experience. Follow the guide below to see how this cooldown calculator works and how to avoid soft bans as much as possible.
AWZ AnyPorter: How to Avoid Potential Soft Bans in Pokemon Go
AWZ AnyPorter is an easy-to-use location changer for iPhone users, which enables users to do the following:
One click to change your location on iOS devices to any part of the earth;
High compatibility with GPS-based apps, such as Pokemon Go and other AR games;
Ability to create a customized route and move along the path;
Two different modes to stimulate real and natural movement;
Control of moving speed to make the gameplay more interesting.
Let's dive into how to avoid latent soft bans in this game with AnyPorter:
Step 1: Download and install the latest version of AnyPorter;
Step 2: Launch the software on your PC and connect your device to it;
Step 3: When the program opens, the default mode is on, and you can select an address on the map to teleport;
Step 4: After you click on the Move button, your avatar starts walking in Pokemon Go along the planned route right away.
Once you make a move, you will enter the cooldown period, during which it is not recommended that you take any further actions. That's all about spoofing the location in Pokemon Go.
Summary
When you read here, I bet you are clear about the definitions of the Pokemon Go cooldown time and soft ban. If you are struggling with how to deal with the cooldown, just give AWZ AnyPorter a shot for a better gameplay experience in Pokemon Go.