Introduction:
Pokemon Go is still one of the highest downloaded games, and all thanks to its engaging gaming tactics. While it was a rage among the members and global players during its launch, users are actively participating in the raids and PvP battles even today. Using tools like Pokemon Go maps helps you find and catch unique Pokemons and know the upcoming events to plan in advance. So now you can travel to different locations and find particular Pokemon near you.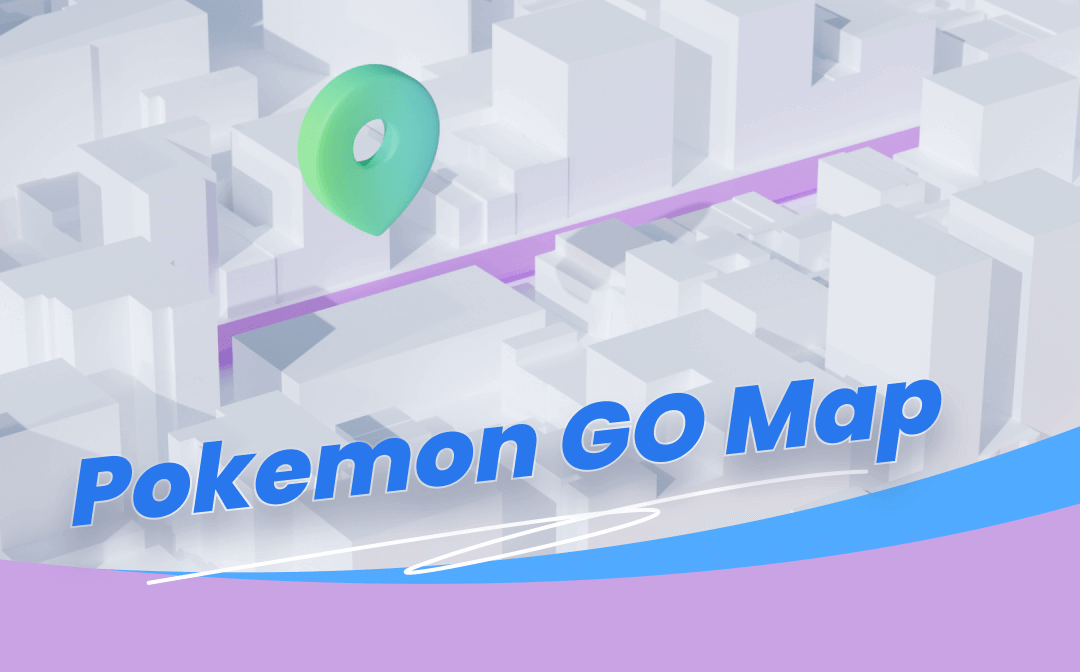 We are here to assist you with Pokemon Go maps and how you can traverse any location across the globe in a single click. Let's explore them together with AWZware.
Is There a Pokemon Go Map That Still Works?
Yes, there are Pokemon Go maps that still work. These Pokemon Go trackers and maps help players change a few game settings and play their favorite game from their comfort. They act as a guiding tool to avoid unnecessary interactions and create social interaction through technology. With these maps, you can also mark an edge by achieving higher levels of Machamps and finding rare and unique Pokemon.
Multiple maps enable users with real-time information and update members with upcoming quests, events, and some Pokemon's spawn patterns to plan ahead and increase chances of catching Pokemon near you. Some map services even allow the community aspect to share information and tips for a more social and fun game.
Pokemon Go Maps That Work in 2023
Take a look at the five Pokemon Go maps that are still relevant in 2023. As these maps help display the Pokemon location in real time, it elevates your gaming experience in a breeze. Let's check.
1. PokeMap
PokeMap is one of the interactive and popular working Pokemon trackers that shows the location of Pokemon spawn points in the game. Most importantly, it displays the location of Pokemon in the real world. With this Pokemon locator, you can even explore the best Pokemon moves and their strengths, move sets, and more.
PokeMap displays a simple interface that lets you enter your location and find Pokemon near you. You can even add a gym or Pokestop with a click on the map. The program helps select a Pokemon by country, where you can click to find the Pokemon in the cities of your selected country.
2. PokeEvolver
PokeEvolver is one of the Pokemon Go spawn maps that finds Pokemons with a click. This program searches around the map and lets you know the places and areas where you can find Pokemon locations and nest coordinates. It even directs you to cities where you can directly jump and see the Pokemon locations.
PokeEvolver is a Pokemon radar map that helps you find Generation 2 Pokemon. Its usage is pretty straightforward and does not require professional expertise. But as it is a community-driven map, the surety of its spawn locations and other locations is dicey.
3. NYCPokeMap.com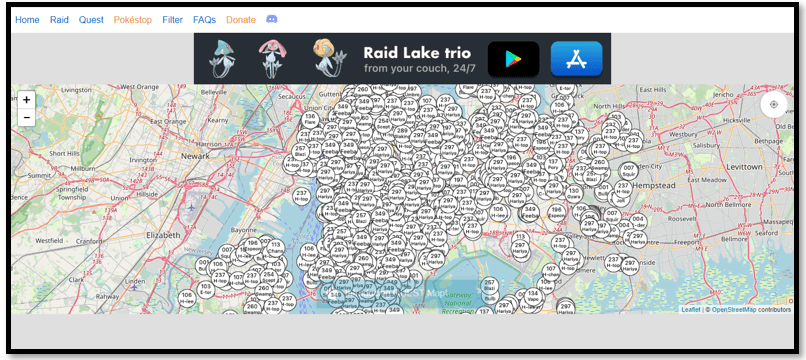 NYCPokeMap is one of the Pokemon Go maps you can easily access from your browser. With a simple and clean interface, the official website of this Pokemon Go Pokemon finder displays the significant details of different countries and makes switching comparatively easier. In a few clicks, you can spawn Pokemon in other regions and find recent quests, raids, nests, gyms, and Pokestops.
NYCPokeMap.com helps search specific Pokemons and access Pokedex with a Statistics page to understand different Pokemon characters. However, this Pokemon Go map stands bland and needs to be more attractive. Moreover, it is more of a location-specific map.
4. PoGOMaps UK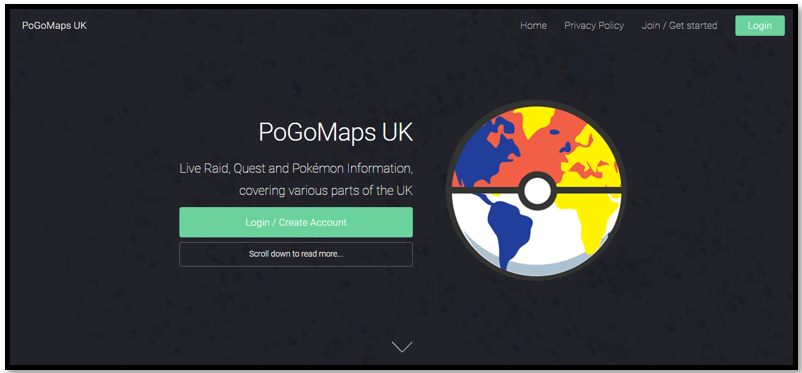 PoGoMaps UK is a fast Pokemon Go map that lets you know about upcoming raids, quests, and Pokemon information in many parts of the UK and find the best Pokemon Go coordinates swiftly.
PoGoMaps UK runs a pay-to-use service and requires compulsory registration to make an account to see and access the map. With a customizable notification bot, this Pokemon Go rare map helps you find rare Pokemon you are looking for in a specific area. The site posts regular updates on Discord and constantly updates its service as well, so you never miss out on your game.
5. PokeHunter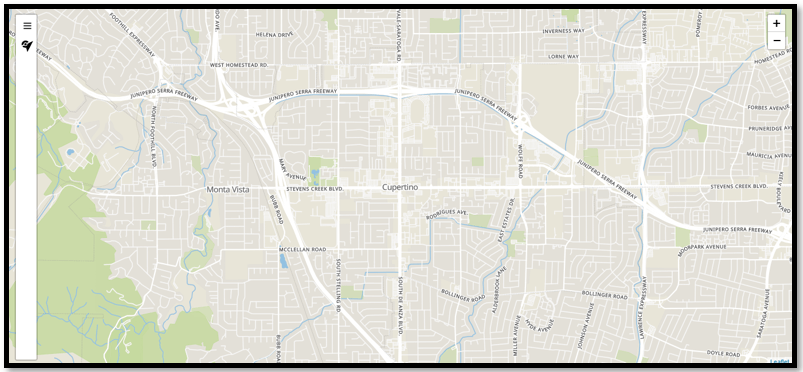 Lastly on our list of try-worthy Pokemon Go maps is PokeHunter, which supports a handful of locations in the USA, like California, Minnesota, Oregon, Washington, and Lithuania in the EU. The site helps you improve your in-game performance, analyze your stats and focus your efforts in the right direction.
This Pokemon Go gym map helps search and catch Pokemon near you and does not require any app installation or account registration. Simply open the official website and browse through the opened map to find the best Pokemons before you.
So these were the 5 Pokemon maps that work and enable you to find Pokemon Go raids near you. Once you access the maps and know the whereabouts of different Pokemons, AWZ AnyPorter makes it easy to teleport to that specific location with a click. So let's explore this Pokemon spoofer to enhance your gaming experience.
Use AWZ AnyPorter to Find Pokemon That Show Up on the Map
Why wander around aimlessly to find Pokemon near you when you can make the most of your game and time while playing Pokemon Go with a Pokemon Go map?
That said, nothing matches the expertise and ease of using AWZ AnyPorter. As Pokemon location maps help you find the game resources, this tool helps players find and catch Pokemon shown on the map by getting to the coordinates quickly regardless of the distance.
AWZ AnyPorter is a location spoofer tool that enables you to teleport your GPS location to a new destination without physical movement once you access the raid map in Pokemon Go. In a few clicks, you can switch your game character (Pokemon) to the newly-selected location and catch it as you would typically.
It helps you fake GPS location on up to 5 devices at once and travels your phone across the globe in a single click. You can move along a customized route with adjustable moving speed (max speed limit 30 m/s) and instantly explore the unknown.
Key Features
● Mocks GPS location with a virtual Pokemon Go joystick;
● Compatible with all iOS devices - iPhone, iPad, iPod Touch without jailbreak;
● Changes directions 360 degrees smoothly.
Here is how to use AWZ AnyPorter to find Pokemon:
Step 1: Double-click and launch AWZ AnyPorter after downloading and installing the program;
Step 2: Click Get Started. After the map loads fully, tap the phone icon on the right side of the screen and connect your smartphone (iOS) to the computer using a USB cable;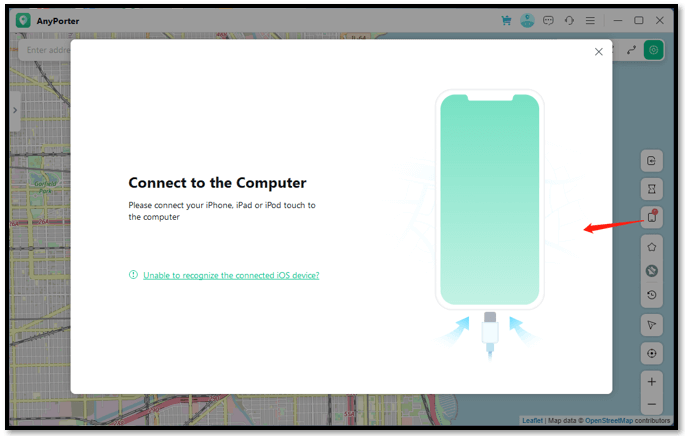 Step 3: Allow the connection by unlocking your device and selecting Next to complete the connection process;
Step 4: Change your location by setting the GPS coordinates in the Search bar at the upper-left corner or enter the address as seen on the Pokemon Go live map. Click the Go button and tap Move to change your location.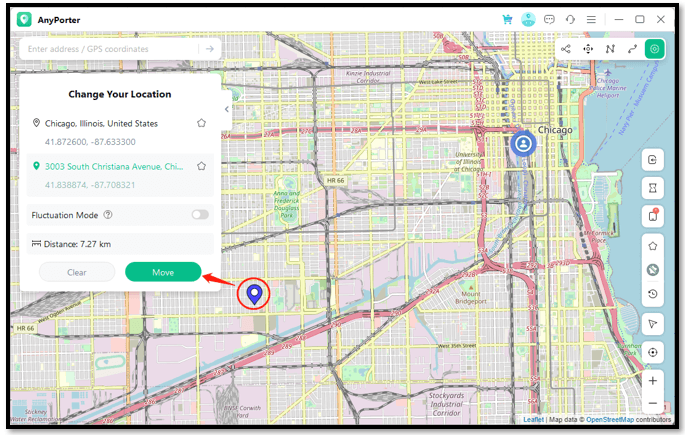 To Sum Up
So these were the best Pokemon Go maps that still work in 2023 to make your gaming experience a better one. Their rich features enable you to find Pokemon near me and plan in advance for upcoming events, raids, and quests. After looking for the unique Pokemons on the map, you can virtually change your GPS location without a physical movement with AWZ AnyPorter to easily catch the Pokemons in a few clicks.