Introduction:
Pokemon Go hosts various events, and currently, it is hosting the Dark Flames event, a time-research quest featuring Dark and Fire-type Pokemon from 29th June to 2nd July. You can battle in current raids and be in for rewards. While Pokemon Go raids are pretty famous among the game players, finding one can sometimes be challenging. But then, how do you know when a raid will spawn in Pokemon Go?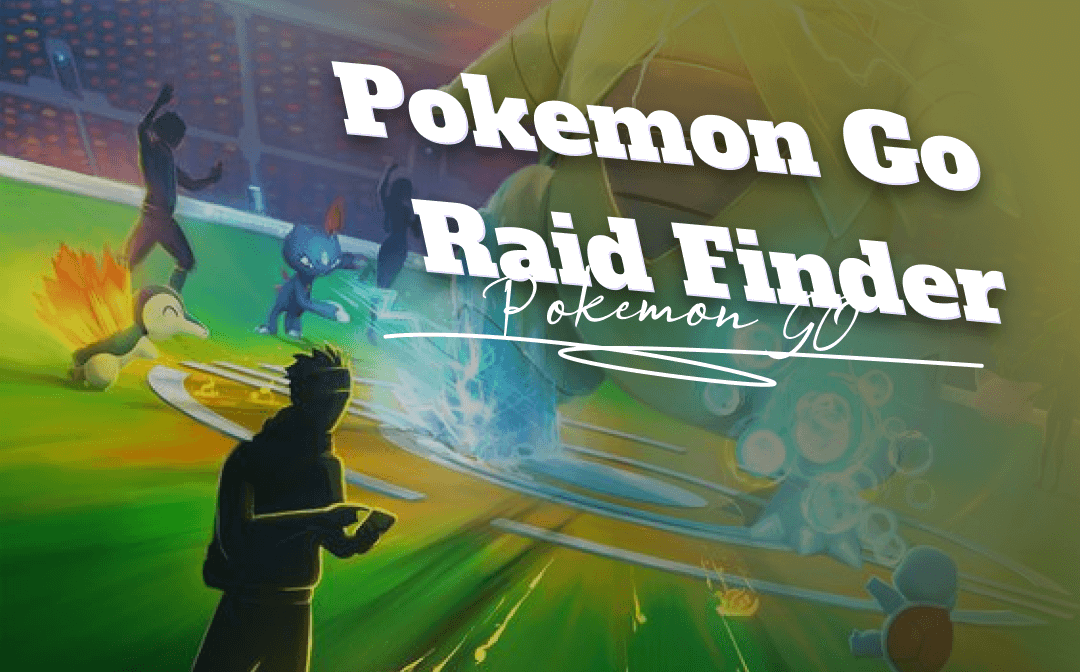 Here's where a Pokemon Go raid finder can help you to find raids in Pokemon Go efficiently. While Pokemon Go has in-game features to find raids, AWZware has also covered you with the top 6 raid finders. So let us look at these apps and websites instantly with their pros and cons. Let's begin.
Is There a Way to Search for Raids in Pokemon Go?
Pokemon Go enables players to find raids using its in-game features. For instance, players can find Pokemon Go raids near me through these three options;
Nearby Raid Battles: It displays nearby raid locations and raid bosses.
Team Communication: It helps coordinate to share raid locations, timing, etc., with fellow team members through communication channels like Slack or Discord.
Gyms with Active Raids: Gyms in the vicinity provide information on raid eggs (raids will start soon) or active raids (battle is currently in progress).
Despite these built-in options, players opt for a competent and effective Pokemon Go raid finder to expand their raid-finding options and search for raids they like. Third-party tools provide additional functions and help make raid coordination more accessible.
Top 6 Pokemon Go Raid Finders
The larger the Pokemon Go raid groups, the more fun it is to battle. But finding raids can sometimes be challenging, especially if you are searching for a specific Pokemon. So let us look at some of the Raid finder Pokemon Go apps and websites worth exploring.
1. 9DB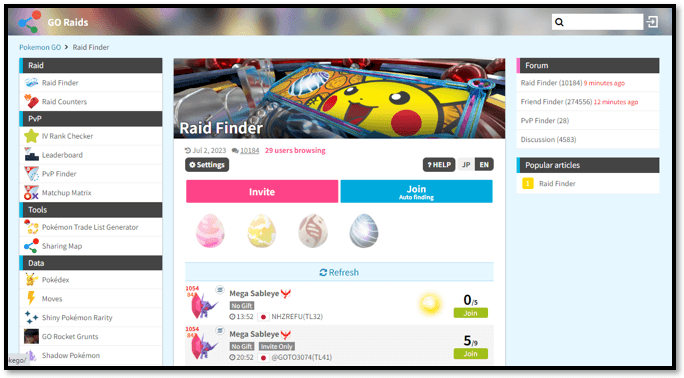 9DB is a famous Japanese Pokemon Go raid finder that enables players to fix the focus detection. The website helps find Pokemon Go current raids where you can join Pokemon Go raid groups and battle the Pokemon. Additionally, 9DB provides Pokemon's SCP calculations, which means that when the Pokemon of the same species and moveset battle, the one with the higher SCP wins.
Pros
● Simple and user-friendly interface
● Weighs Pokemon attack, defense, and stats equally
● Provides players with a forum for discussions
● Allows players to check the rank and breakpoint of each PvP league from Pokemon IV
Cons
● Requires players to register on-site before making an invite
● Many players find SCPs useless for Pokemon Go
2. Gishan Networks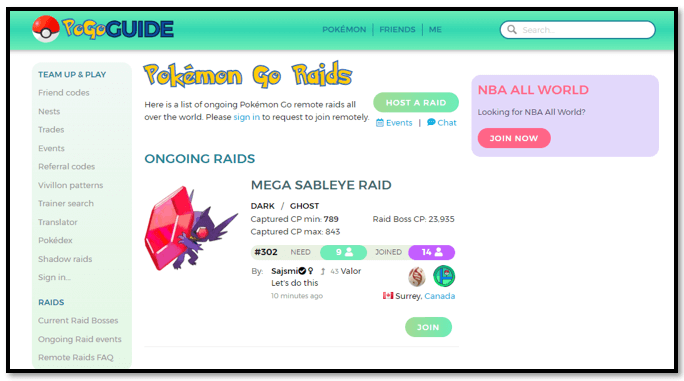 Pokemon Go raid finder website pokemongo.gishan.net is a safe and reliable Pokemon Go ultimate guide to finding raids easily. The site's simple interface helps players opt for Pokemon Go remote raids in the left sidebar, displaying ongoing remote raids worldwide.
Pros
● Displays current raid bosses
● It shows ongoing Pokemon Go raids and missed raids
● Enables to host a raid
● Helps find trainers for Shadow raids
Cons
● Requires an account to join in
● The site has a low rank (according to Tranco)
3. Leek Duck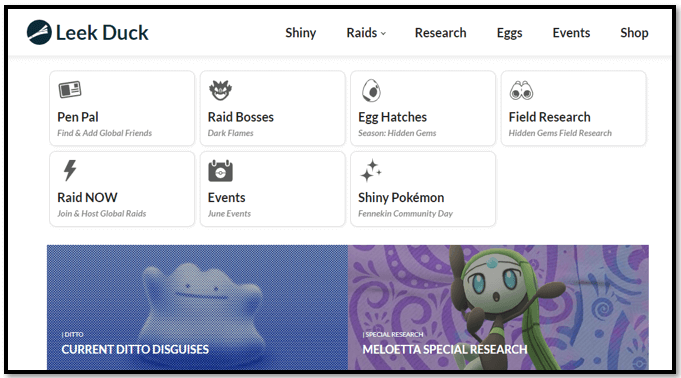 Leek Duck is a competent Pokemon Go raid finder that helps players find Pokemon Go current raids. The site lets users know all the egg hatches in Pokemon Go for the current season, Hidden Gems.
Pros
● Lists the available research tasks with Pokemon encounters for the current season
● Displays all the ongoing and upcoming events
● It helps find and add global friends
● Allows users to join Pokemon Go raid groups and host global raids
Cons
● Does not currently support Shadow raids
● Requires guests to complete the friend request process within 80 seconds of applying
4. Discord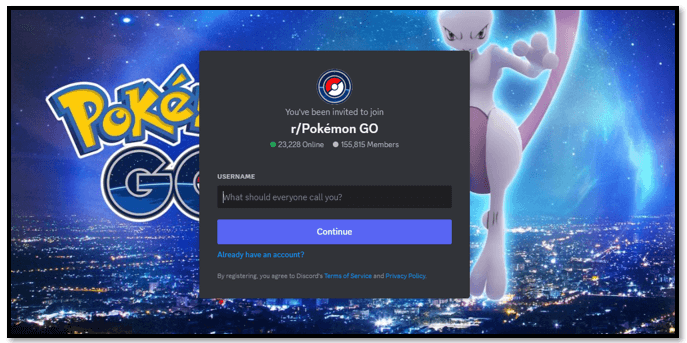 Discadia Discord is one of the effective raid finders in Pokemon Go that helps players get remote raids. Players can join the Pokemon Go Discord Server and enjoy Pokemon Go raids live, Live Rare Coordinates, giveaways, PokeSearch, Shiny hunts, and more. However, when you enter the Pokemon Go raids, don't forget to check the best Pokemon in Pokemon Go to help win the battle.
Pros
● Brings trainers together to coordinate raids
● Connects remote raids hosts and raiders
● Helps find new friends
● Hosts a selection of different emojis
Cons
● Only server owners can update invites on Discadia
● Players must register to use the functions
5. Go Raids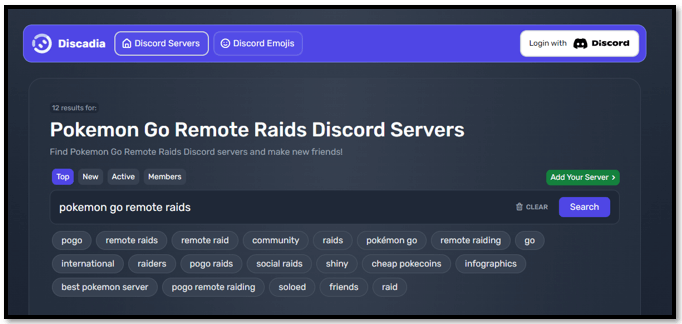 The Go Raid Party is a Pokemon Go raid finder app that helps users to Pokemon Go remote raid from anywhere in the world with a simple and easily understandable interface. The app allows players with a strong team to help find Pokemon Go raid groups to join and help out. In addition, if a user has plenty of raids but nobody around to raid with, it also offers to host a room.
Pros
● Fast and efficient app
● Enables players to join and host Pokemon Go raids
● A safe app that does not violate the terms and conditions of the Pokemon Go game
● It helps build your own team to raid anywhere in the game
Cons
● Premium prices might not be affordable for everyone
● Players must install and set up profiles to get raids
6. PokeRaid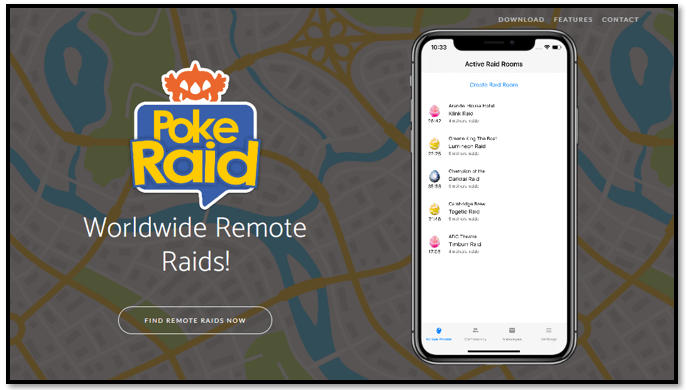 PokeRaid is a popular Pokemon Go remote raid finder app with over 1,000,000 remote raids that have been previously hosted globally since the announcement of Remote Raids. The program helps users find Pokemon Go raids near me on both iOS and Android devices and join groups of other players to take on the raids together.
Pros
● Offers integrated translation service to communicate with trainers in multiple languages
● Respects trainer's privacy by not sharing their location with other users
● Shows active current raids Pokemon Go reported by other trainers in your region
● Provides raid notification at the selected time interval
Cons
● The app has bugs and issues
● AutoJoin makes it impossible to find a raid now
Extra Tip: Participate in a Remote Raid Battle without a Remote Raid Pass
Pokemon Go raids are essential for everyone, and a powerful teleporter app like AWZ AnyPorter helps spoof your location to catch rare and unique Pokemons from your comfort. In addition, AWZ AnyPorter can allow players to join any Raid battle they searched for from a Pokemon Go Raid finder with their powerful Pokemon.
Other notable features
Provides a Pokemon Go joystick to manually control your avatar;
It enables users to spoof their game location and travel to any place with one click;
Creates a customized route on the map to explore the unknown;
Helps fake GPS of up to 5 devices at the same time.
Here's how to use the AnyPorter app to change the location for the Pokemon Go raid finder by following the below instructions.
Step 1: Download and launch the location changer on your device;
Step 2: Click Get Started. Unlock and connect your iOS phone to the PC using a USB cable;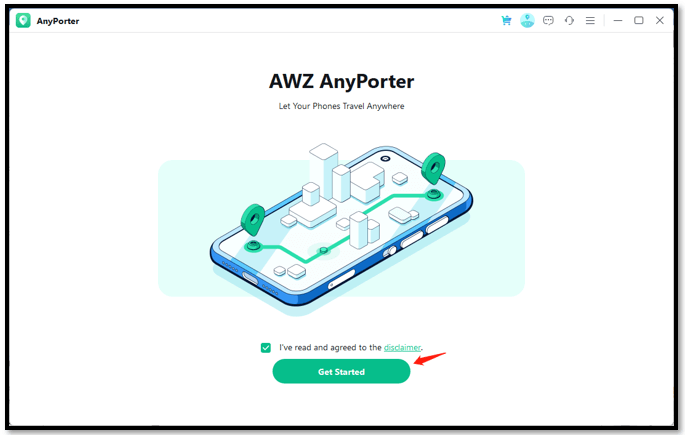 Step 3: When the map is loaded, tap the phone icon to choose your device and click Next;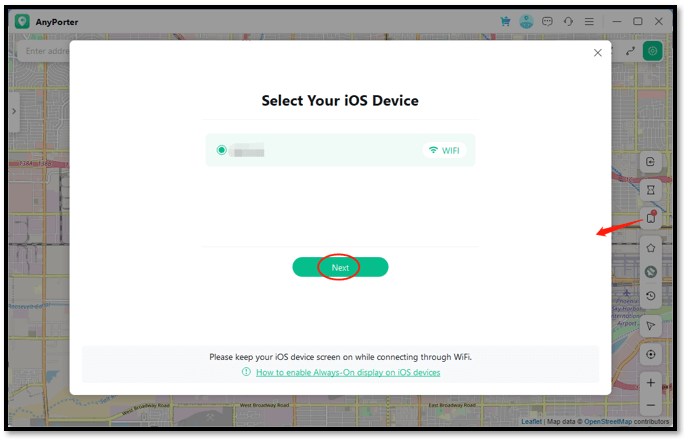 Step 4: Select a new location on the map to enter a Pokemon Go remote raid anywhere in the world. Or, enter the GPS coordinate in the top-left Search box. Tap the Move button to change your location.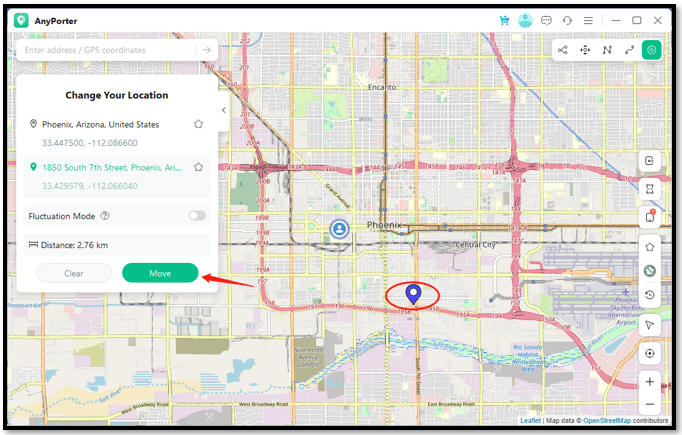 The Bottom Line
Pokemon Go raids are exciting and crucial for every player to provide opportunities and battle powerful Pokemon to collect rare rewards. While the game offers in-game raids, the need for external Pokemon Go raid finders steps in to explore more raids and make the coordination simple.
Besides using raid finders, players can use the AWZ AnyPorter program to join any Pokemon Go remote raid battles with their unique Pokemon and have the upper hand in the PvP battles. So try this teleporter and location-spoofer tool today.