Introduction:
What to say on Tinder is still a stress for many people. Installing a dating app does not ensure exchanging numbers or a date on the calendar. Instead, you must put in effort to swipe a profile and compel your match for a meeting! Of course, Tinder conversation starters are the key here, but how to start a conversation on Tinder is still unbeknownst to many.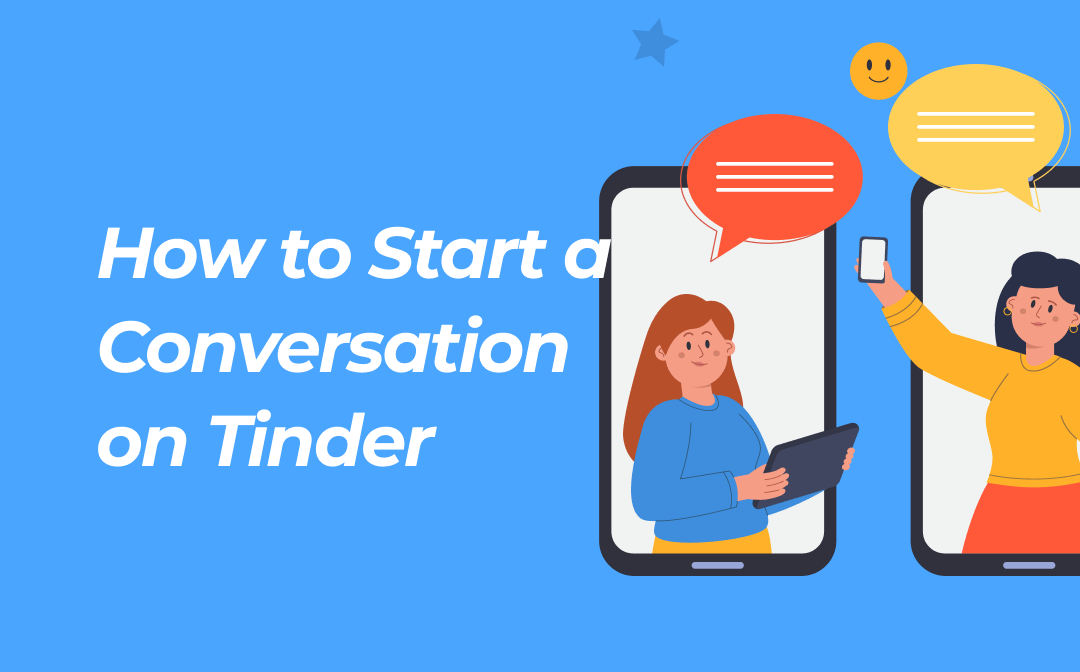 In this article, AWZware focuses on tips to help you with 'how to start a conversation on Tinder' and get quick replies from your match. So sit back and relax but take notes for some excellent conversation starter tips.
Why You Don't Get a Reply on Tinder
Tinder conversation starters must be selected wisely to sound fun, exciting, and unique. But for various reasons, you might not proceed with a conversation in Tinder despite choosing the best openers. So before knowing how to start a Tinder conversation, let's understand why you may fail to receive a response.
Your message was too lengthy;
Your message lacked originality;
Your message had excessive use of emojis;
Your message had a rude tone and came on too strong;
Your message gave them a creepy vibe;
Your match found someone suitable.
These are just a few reasons to be careful from your end and receive quick replies from your match.
Best Tips on How to Start a Conversation on Tinder
This part will discuss multiple ways how to start a conversation on Tinder and help you with what to say on Tinder to get your conversion rolling smoothly and enjoyably.
#1. Be Nice, Not Creepy
The best way to start a conversation on Tinder is to be friendly and gentle. For instance, when you start a Tinder conversation, you need not be creepy by making sexual remarks about your match. It is entirely okay to engage in healthy flirting but ensure not to cross the limits. Instead, you can tease your partner with cheesy openers to excite the conversation.
When you talk to girls on Tinder, you must not wait for them to make the first move. If you are interested, just go for it and break the ice by cracking a conversation - ask about their hobbies or interests to find something familiar.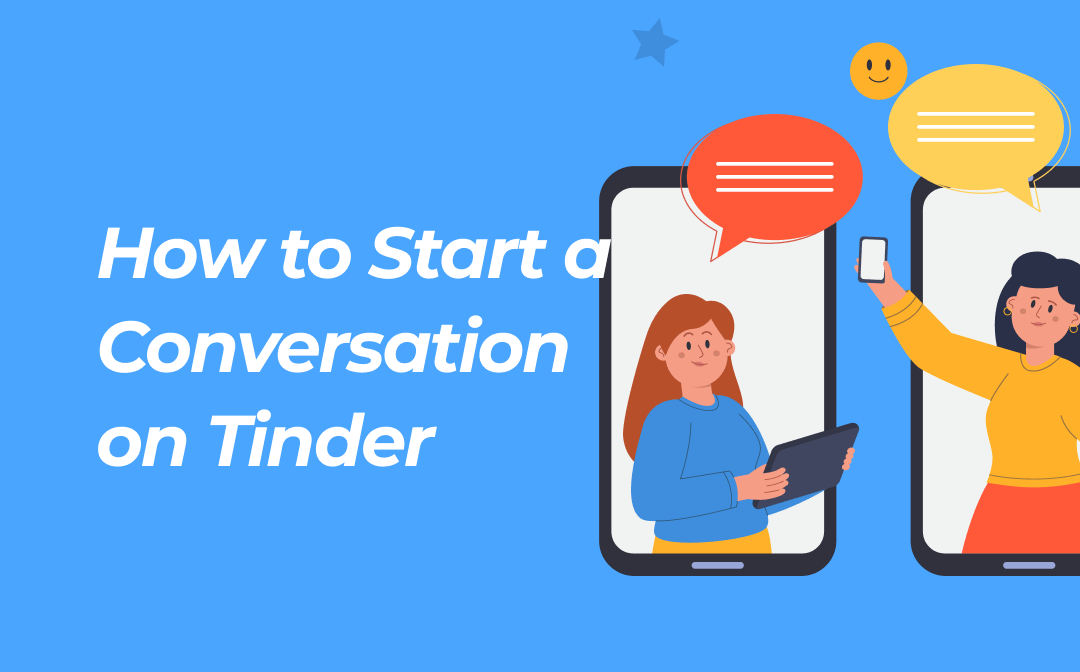 #2. Send Creative Messages
How to start a conversation on Tinder can be challenging, especially if you are new to the platform or the whole dating idea. Honestly, Hi's and Hello's have become clichéd to act as Tinder conversation starters. Instead, you must send some creative, customized, and personalized messages that reflect some efforts to catch your match's attention.
For instance, you can complement their profile photo (like the scenic beauty) or ask about the place where it was clicked. Or talk something about their bio that is unique or close to your interests and experiences. You need not use technical jargon and instead keep it simple and engaging.
#3. Don't Send Too Many Questions/Messages at Once
Usually, the best way to start a conversation on Tinder is to send your match a sweet, simple, and short message and establish yourself as a unique individual. Wait patiently for their response but avoid sending multiple questions or messages at once to suffocate your match virtually and display yourself as a harasser or creep.
Fun and thoughtful Tinder openers work well when you give others the time to respond. If they don't answer you, the reason might not be YOU. The problem may lie at the other end. So instead, swipe other profiles and start a Tinder conversation afresh to try your luck again.
#4. Be Engaging Instead of Being Too Vanilla
Nobody likes a Vanilla personality - plain and unexciting! However, if you are interested in a profile and it's a match, you can take advantage of in-app features to crack the game with on-point Tinder conversation starters and connect with people easily.
Once your 'how to start a conversation on Tinder' query is figured out, all you have to be is nice, decent, engaging, and unique to be memorable and turn your match into a date. People want someone who signals investment to them, so picking on hobbies is a fool-proof method to crack some common interests and comfortably slide into the conversation.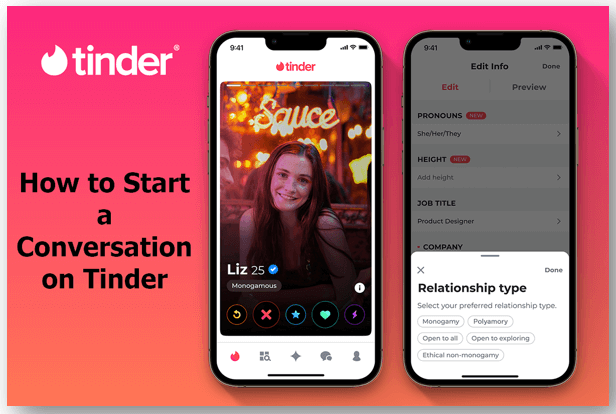 #5. Compliment Your Partner at the Right Time
When you start a Tinder conversation, ensure to NEVER compliment the looks. You have swiped right, which confirms your interest in the looks. Instead, praising them now may depict your excitement and display that you have never talked to someone as good-looking as them.
So the best way to start a conversation on Tinder is to keep it simple or lightly humorous and reserve compliments for the next time. Compliments at the wrong time may serve as a lock than the key to talk to girls on Tinder. You can instead talk about their pets (if displayed in the profile picture) and crack some fun conversation.
Start a Conversation on Tinder
#6. Find Something You Have in Common
How to start a conversation on Tinder is relatively easy when you figure out your goal of being on the platform - whether you are for casual dating or seeking long-term relationships. Depending on it, you must select your best Tinder conversation starters wisely.
Tinder conversation starters must involve something that can help you proceed with the conversation, like shared interests, hobbies, etc., where you can contribute equally to the discussion. You can ask about their bio, newly-released movies, books, or anything their bio or profile picture hints upon!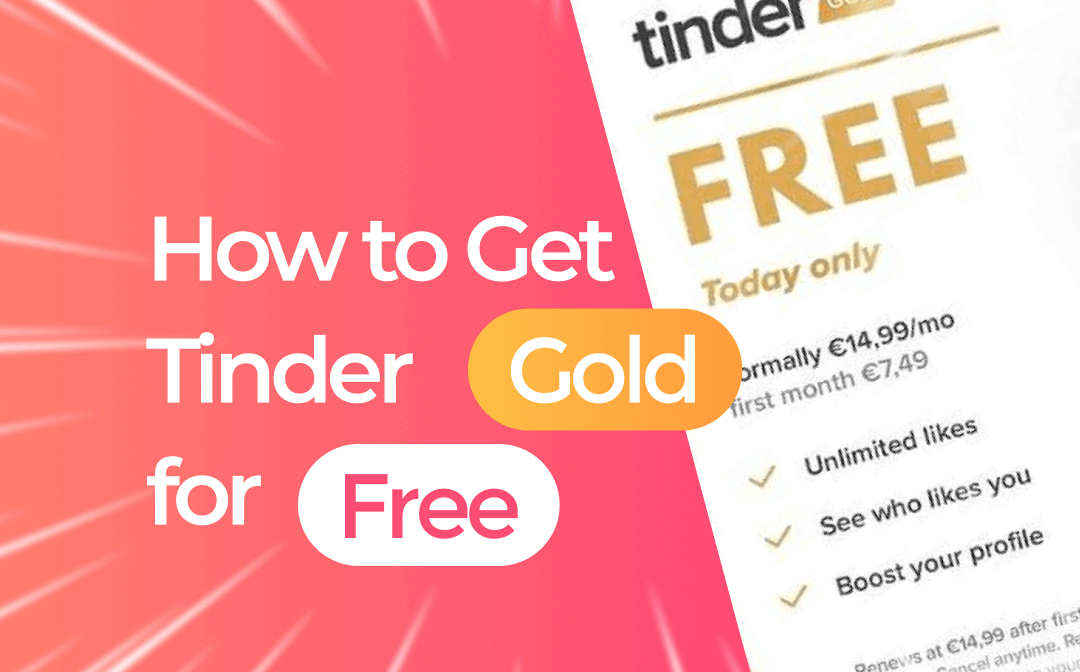 How to Get Tinder Gold for Free: 4 Simple Solutions
Do you want to get Tinder Gold for free? This article explains how to get free Tinder Gold with 4 methods.
READ MORE >
Extra Tip: How to View Profiles from Other Cities on Tinder without Subscription
AWZ AnyPorter is a powerful location spoofer for iPhone and Windows users to teleport anywhere in the world. Its unique features help Tinder users start a Tinder conversation with any person across the globe and use the best Tinder openers. AWZ AnyPorter lets you view profiles from other cities and nations without upgrading to a Tinder subscription. You can mock your location to access new features from other social apps and get fresh updates.
Besides being a location spoofer for iPhone, some of the other features of AWZ AnyPorter include;
Spoofs GPS of up to 5 devices at once
Enables to move along a customized route
Compatible with all geo-based services
Hides location to prevent tracking
Now after knowing how to start a conversation on Tinder, let's find out how to use AWZ AnyPorter to change your GPS location.
Step 1: Download the AWZ ANyPorter location spoofer and connect your iPhone to the PC;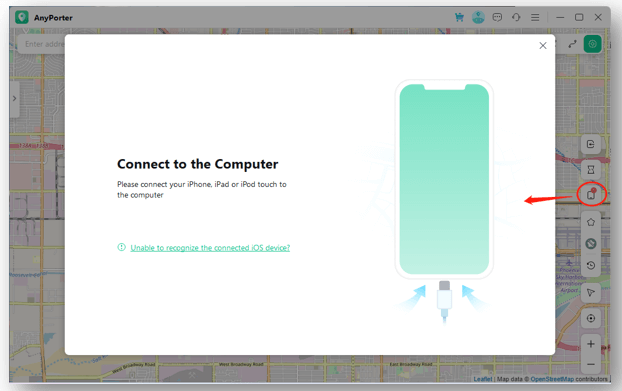 Step 2: Select a new destination;
Step 3: Click Move to change the GPS location.
To Sum Up
Now what to say on Tinder shall not be worrisome as we have already guided you with expert tips. How to start a conversation on Tinder is a great deal, but our tips will glide your conversation seamlessly for a smooth flow. And, of course, users who want to meet people from other cities at an affordable price can use AWZ AnyPorter to change their GPS locations and instantly connect with that region's people. You can try it today!