TikTok has become one of the most popular video sharing apps globally. With numerous wonderful videos and live streams, many TikTokers want to screen record and save their favorite ones. In order to record a TikTok video, you'll need a handy screen recorder.
There are lots of screen recording software available. You may also turn to the built-in application on your device. This article is here to introduce how to record a TikTok video on different devices, in a total of 4 ways. You can use the mentioned software tools and follow the explained steps. Moreover, you can explore more methods to screen record from AWZware's Screen Recording Tips.
Record a TikTok Video on Windows
AWZ Screen Recorder
AWZ Screen Recorder is one of your best software choices to record a TikTok video. It is tiny, fast and easy to use. All the popular recording modes are available in its app, such as recording a video with audio or webcam or just the audio. When you screen record on TikTok, you can select the TikTok-friendly recording size to start.
Step 1: Get your TikTok video ready for playing, and launch AWZ Screen Recorder;
Step 2: Click the Full Screen button to choose Fixed Size and TikTik (9:16);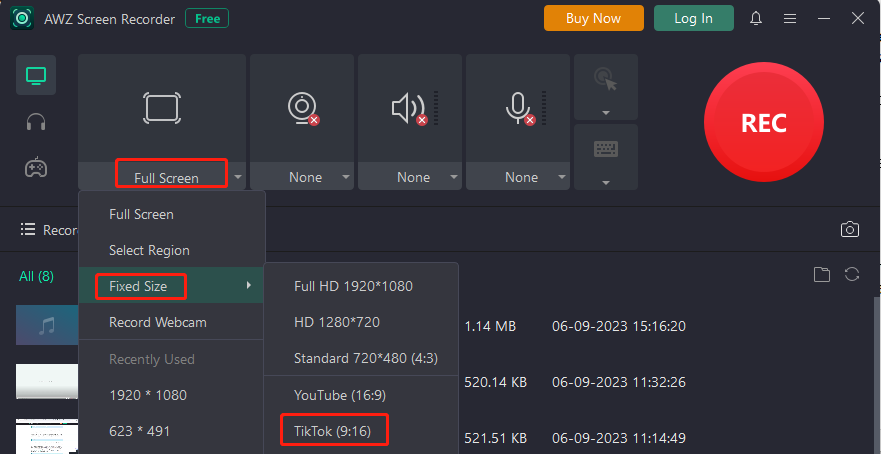 Step 3: Enable the audio recording if needed, adjust the recording area to focus on the video, click REC and play the video in a countdown;
Step 4: Tap the Stop button to finish the recording and view the saved file in Recording List.

Besides the feature to record a TikTok video or videos from any other websites, the screen recording software allows you to record gameplay and online meetings.
ApowerREC
If you are a Windows user, get ApowerREC to conveniently record a TikTok video. The screen recorder app comes with a small size and rich features. It allows you to select a custom area, full screen, or standard size to record. The software's user interface is modern and straightforward to navigate. There are 9 output video formats and GIF format for you to choose before recording. You can annotate and screenshot the video as you screen record any TikTok video.
Check the several simple steps to record a TikTok video on your PC.
Step 1: Launch the downloaded ApowerREC, go to Settings on the top right corner, and choose an output video format from the Output format menu;

Step 2: Select the Record Screen mode, click Full or Custom to choose a recording area or size, and tap the REC button;

Step 3: Within 3 seconds, open the TikTok video you want to screen record to record at once;
Step 4: Press the F7 key or click the stop button to complete the recording.
ApowerREC provides a free trial version for every new user. So you can utilize the trial to record a TikTok video for free. Specifically and better yet, the free trial allows you to smoothly screen record as many videos as you want to high quality videos. The recording time is limited however.
In addition to helping screen record on TikTok, the software program also supports audio recording, webcam overlay, and scheduled recording. The scheduled recording feature is particularly useful when you wish to record a TikTok live streaming video. You can set when a recording starts and ends, then the screen recorder will automatically begin and finish the recording for you.
Record a TikTok on Mac
To record a TikTok video on a Mac device, OBS Studio is one of the best software applications to use. The screen recorder is free, open-source and multi-platform supported. It is downloadable and workable for TikTok screen record on Windows and Linux computers as well. You can record existing and live streaming videos from TikTok, YouTube, and all other sites with it. The software also allows real-time capture, and broadcasting. It has a multi-language interface.
Discover how to record a TikTok video on Mac using the free OBS Studio.
Step 1: Open the screen recorder app, click the + icon at the bottom Sources panel, and choose Window capture;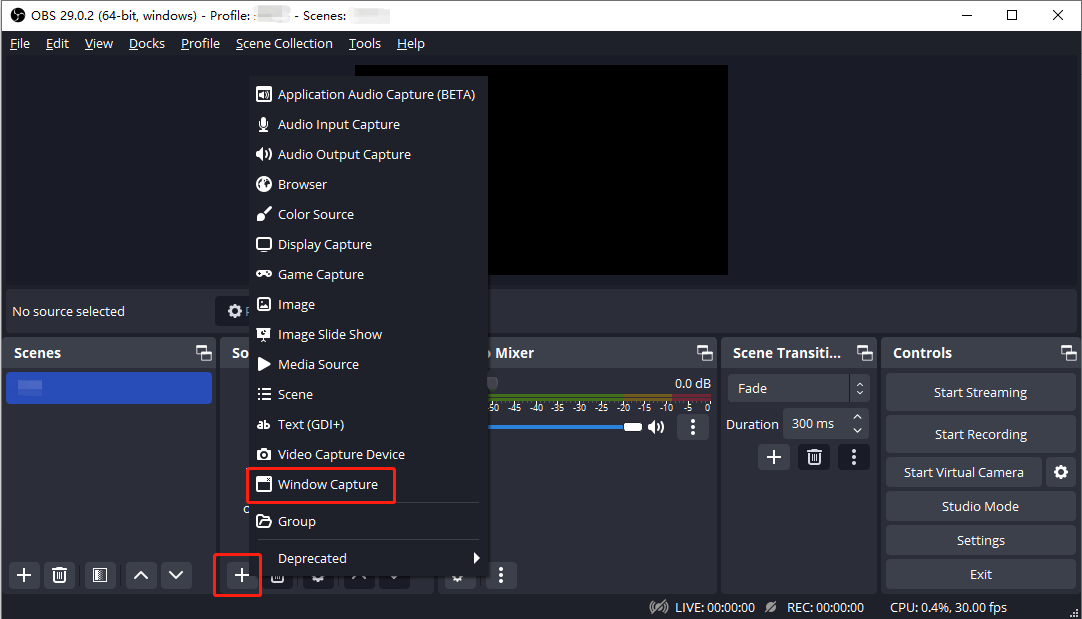 Step 2: Enter a name and click OK to create a new source;
Step 3: Select the window you want to record a TikTok video in, and tap OK in the new dialogue box;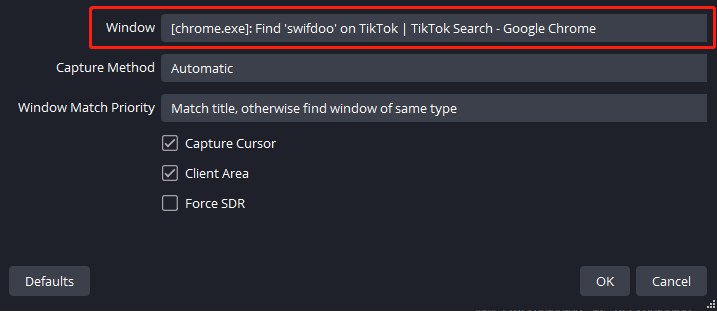 Step 4: Go to File, click Settings, select Video in the left-hand pane, and set the canvas and output resolution same as a TikTok video;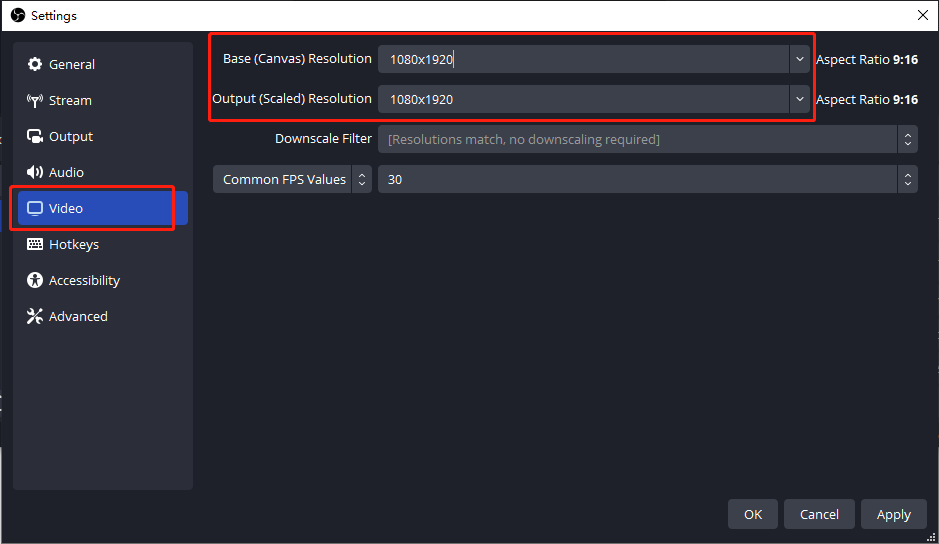 Step 5: Tap the Output tab in the same window to select the output video format and output path, and hit OK;
Step 6: Drag the red border to size the source to fit your video, click Start Recording at the bottom right corner of OBS, then click Stop Recording when you're done.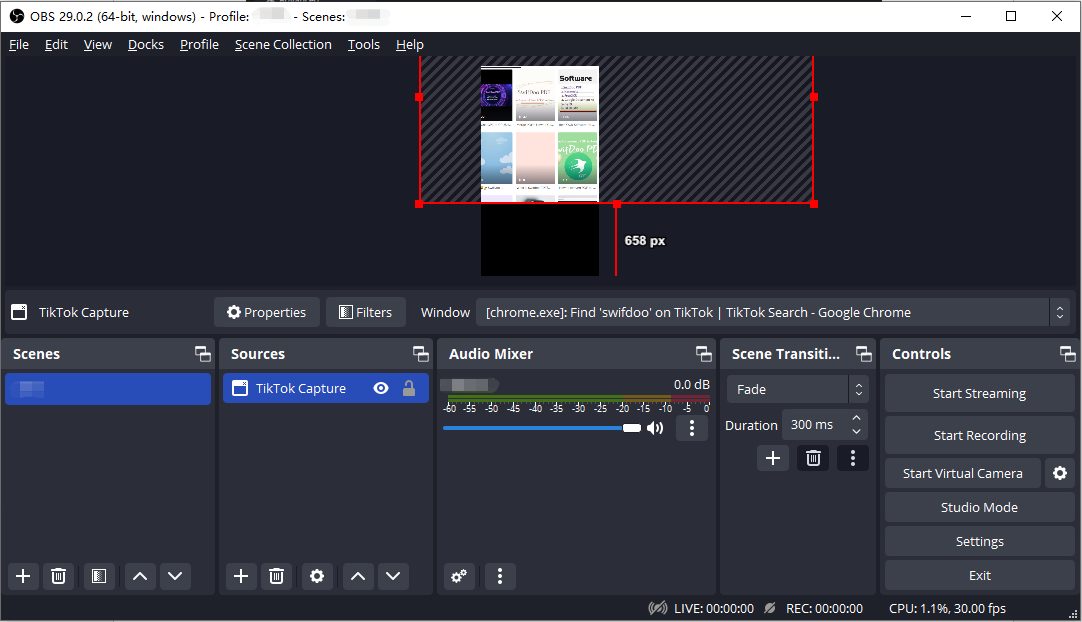 When you stop recording, the recorded video file will be automatically saved to the specified location. This is how you can screen record a TikTok video for free on Mac. The key you should pay attention to is to capture a specific part same big as a TikTok video instead of the full display.
How to Record a TikTok on iPhone
For iPhone users, recording TikTok videos to play offline can be easily done with the inbuilt screen recording feature of iOS. Thanks to the useful feature, you don't have to download any third-party app. There is no payment and no trouble. All you need to record a TikTok video is to add the screen recording button to your Phone's Control Center and click on it.
Here is a complete guide on how to screen record on TikTok live or existing videos on your iPhone. If the recording option is already in your phone's top drop-down menu, skip the first step.
Step 1: Go to Settings, click Control Center, and scroll down to add the Screen Recording button by hitting the green plus icon;
Step 2: To record a TikTok video, swipe down from the top right corner of your screen, and tap the recording button;
Step 3: Within the three-second countdown, open the live or uploaded video you want to record, and the TikTok screen recording will start automatically;
Step 4: When the recording is ok, tap the red clock on the top left corner of your screen, and click Stop in the pop up window. That's it.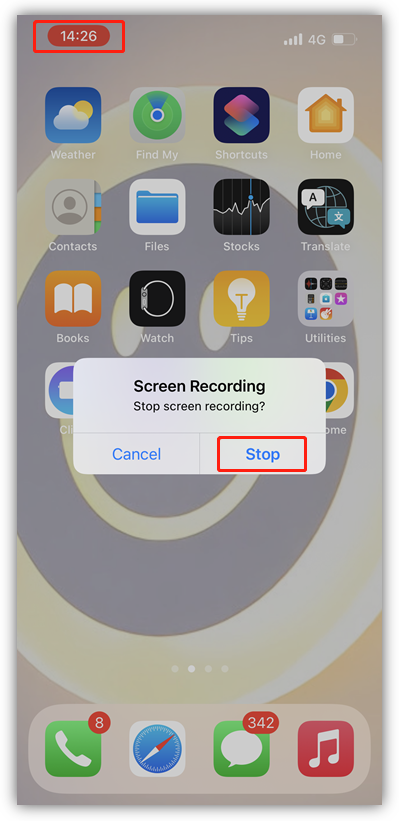 The native screen recording feature on iPhone lets you record a TikTok video without showing your hands. When clicking the red clock and Stop buttons, your hands won't appear in the output video. You can check, play, edit and crop the recorded video as you like in your Photos app.
Screen Record TikTok on Android
An Android phone also has the screen recording function to record on TikTok. There is no need to add the function button from the settings app. You can directly access the feature from your phone's top drop-down menu. The way to record a TikTok on Android is similar to that on an iPhone.
Simply take a look at the steps to record a TikTok video.
Step 1: Swipe down from the top of your phone's screen and swipe down again or swipe right to show all the Quick Settings;
Step 2: Tap the Screen Recorder button, and play the TikTok video to start your screen recording right away;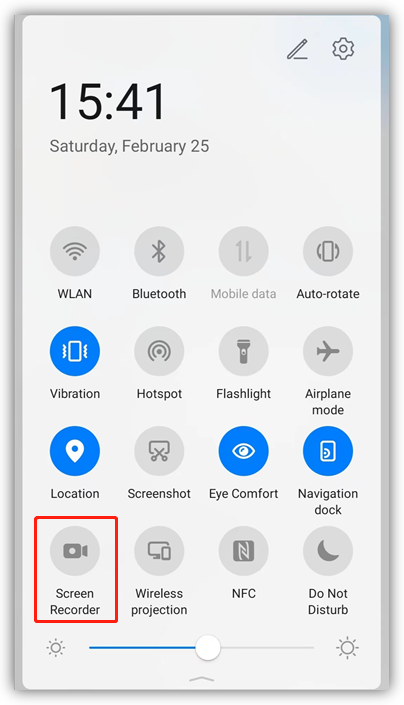 Step 3: Click the red Stop and timer button on the top left corner to stop recording. Repeat to record all your liked TikTok videos.
The Android screen recorder will record both your screen and audio on TikTok. The videos you have recorded are stored in the Gallery app. Better yet, after you record a TikTok following the above steps, you can then view and edit it at any time in Gallery.
Conclusion
The above tutorials demonstrate the methods to record a TikTok on computers and mobile phones. For basic recording needs, mobile users can get the job done right with the already-have functionality on their phones.
To screen record TikTok videos to high quality videos smoothly on Windows, a professional recording software like ApowerREC is highly recommended. The software enables you to capture any area of your screen and offers multiple recording modes. You can record lectures, live streams, webinars, games, and everything you want to watch later. Please note that you can only record your own videos when you record a TikTok.
FAQs about Screen Record a TikTok
Q: Does TikTok notify when you screen record?
A: TikTok doesn't send notifications to tell or show anything if you screen record. It won't notify the video's creator or the person who are trying to screenshot or record a TikTok. Neither TikTok nor the video creator can see or know if you screen record. While TikTokers can safely screen record various TikTok videos without a hassle, you should not infringe the video owner's copyright. Better not to share or use the content for public or commercial use.
Q: Can you screen record TikTok with sound?
A: You can screen record on TikTok with sound on any device, Windows, Mac, Android or iPhone. ApowerREC is one of the best solutions for Windows devices. Before recording, it allows you to set the volume and microphone to record a TikTok with or without sound.
Q: How do I record audio from a TikTok?
A: You can record audio on TikTok using ApowerREC on Windows. Select the "Record Audio" mode, click the Test audio menu to choose System sound or Microphone, adjust the volume and change other settings, then tap REC and play the TikTok audio to start recording. Remember to choose the output format from the home Settings menu.
If you need to record TikTok to audio on a phone, use any TikTok downloader to save TikTok content in MP3 or another audio format. For example, the Lovetik.com site. Many YouTube to MP3 converters also let you get audio from TikTok on a mobile.