How Can I Turn on Developer Mode on iOS 16 Before Connecting to AWZ AnyPorter?
If your iOS device has been upgraded to iOS 16, it is necessary to enable Developer Mode before connecting to AWZ AnyPorter and start spoofing your location. Here are the easy steps to complete the task:
Method 1: Go to "Settings" and choose "Privacy & Security". Scroll down and click "Developer Mode". Enable the feature and tap "Restart" to restart your device. After your device restarts, unlock it and press "Turn On" when a window pops up.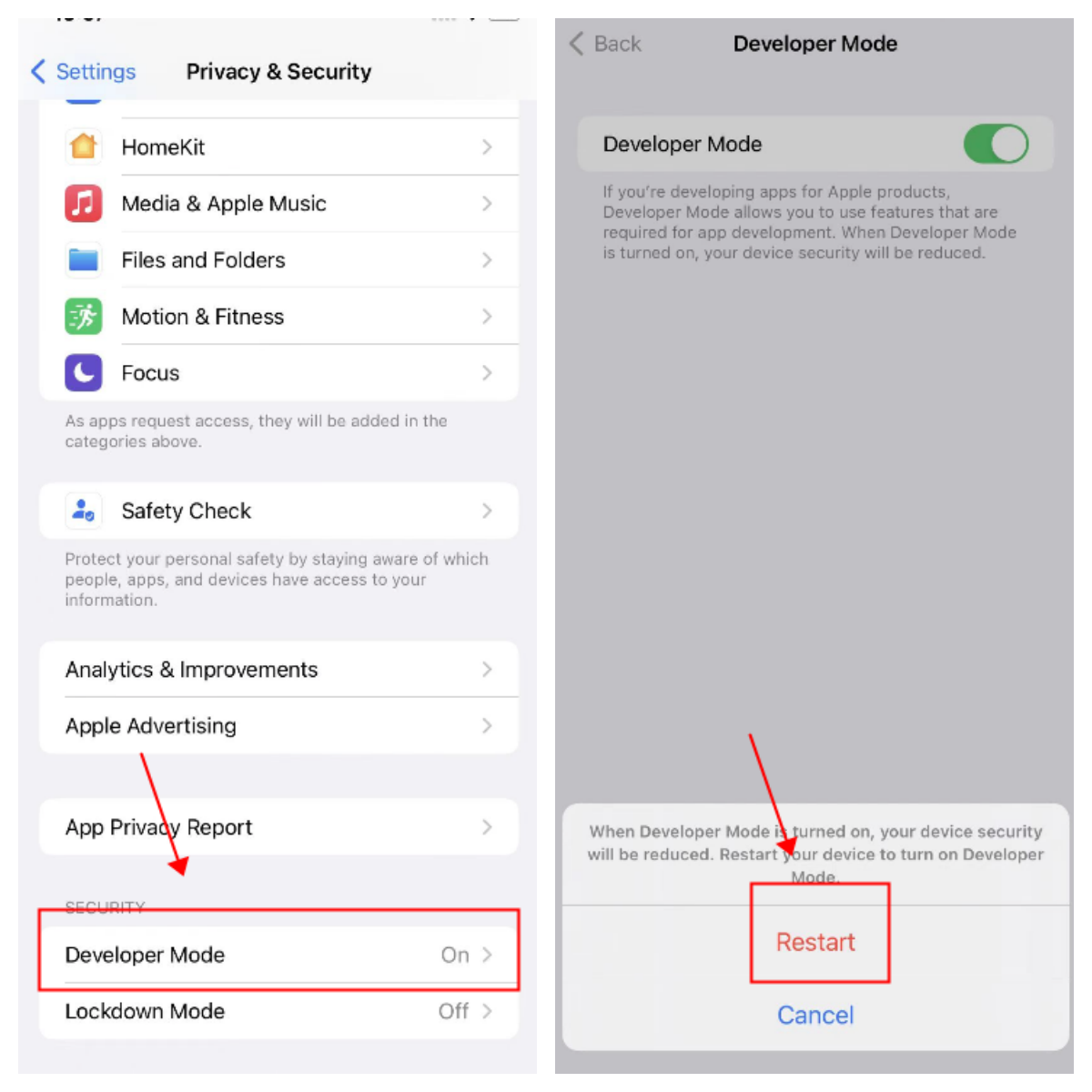 If there is no Developer Mode option shown on your device, please try the second method below:
Method 2: Navigate to "Settings" and click "Private & Security". Select the "Analytics & Improvements" option and toggle on "Share iPhone Analytics", "Share With App Developers", and "Share With Developers". Then you can connect to the location spoofer and seamlessly change your location on any app.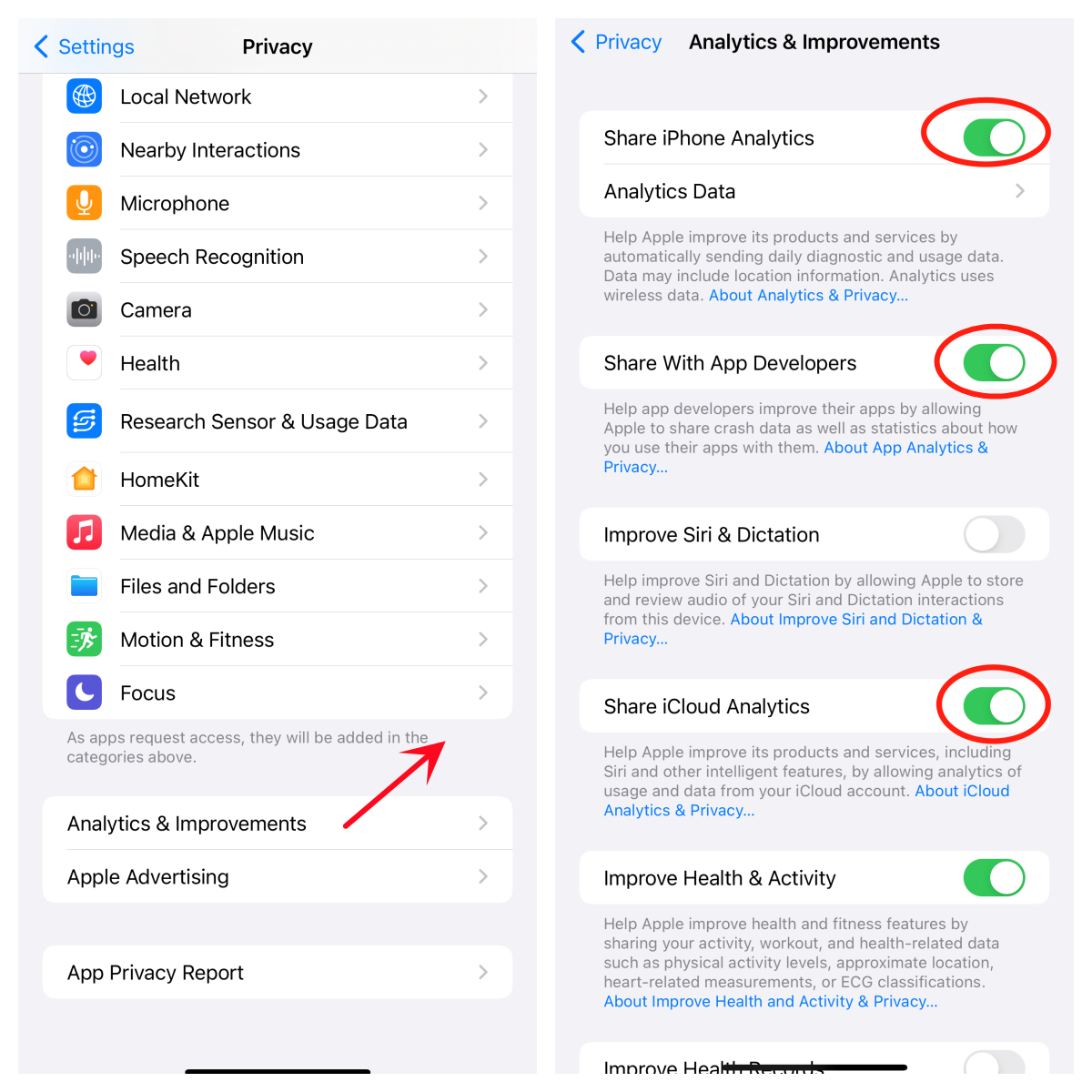 Is it safe to purchase AWZ AnyPorter from your website?
Yes, it is 100% safe and secure to purchase this GPS spoofing app from our website. Your privacy is highly valued and we will safeguard your data when you're browsing the website, downloading our products, and making an online purchase.
Can I spoof my location without jailbreaking my iPhone?
Of course, you can! Your device doesn't need jailbreaking to alter the location. With AWZ AnyPorter, you can spoof your GPS location on an iOS device flexibly and easily.
How can I download and install AWZ AnyPorter on Windows/Mac?
Download:
You can download this AnyPorter from our homepage, the current FAQs page, or any other web page with the download button. Both Windows and Mac versions are available and you can choose the corresponding one.
Install:
The steps to install AWZ AnyPorter are shown below.
Step 1: Click on the AWZ AnyPorter installer at the bottom of your browser or the Downloads list. A notification window will pop up;
Step 2: Tap Custom Install to browse and locate the program files and select the language. Tik I have read and agree to the Service Agreements;
Step 3: Choose Install Now and wait for the installation. A popup window will be displayed for you to track the installation progress;
Step 4: After the installation completes, press Start Now to launch AWZ AnyPorter.
How to fake my location on Find My?
With AWZ AnyPorter, you can share a virtual location on the app Find My in just 3 clicks. Install and launch this GPS spoofing app > connect your iOS/Android device to the computer via USB cable > select your desired destination and you can fake your location successfully!
You can also check more detailed instructions on our user guide page.
Can I change the GPS location on Pokemon Go?
Yes, you can effortlessly alter your GPS location on Pokemon Go to anywhere you like all around the world with AWZ AnyPorter. Besides, this Pokemon Go spoofer allows you to simulate natural movement along your customized routes through its Single-Stop mode or Multi-Stop mode so that you can just stay at home to catch more Pokemon and hatch eggs!
What devices are supported by AWZ AnyPorter?
This location spoofer is compatible with almost all phone models. For iOS users, it supports iOS 7 and above versions, while for Android users, Android 5.0 and later versions are supported.
When it comes to PC, it is compatible with Windows 11/10/8.1/8/7 and Mac OS X 10.9 to Mac OS X 10.15.
Is AWZ AnyPorter Free?
Yes, you can use AWZ AnyPorter for free. This application enables free users to change their GPS locations 5 times. You can also use Single-Stop mode and Multi-Stop mode once a day respectively. A Pro version not only provides users unlimited access to enjoy the services mentioned above but the feature to save historical spots and 24/7 customer support to solve all your problems.
How many devices can be added to AWZ AnyPorter?
We don't set a limit for devices added to AWZ AnyPorter, but by default, you can connect to 5 different devices when you've placed an order. If you need more devices, just check out this page to know how to add more devices.
Why is my GPS location automatically reset to the real position?
Using network time and location information provided by mobile, Wi-Fi, and GPS networks, your device will calibrate itself accurately in a period of time and your location will be reset to the real position. For phones running on iOS 12 and below, the automatic calibration is in around 2 days; for iOS 13 – iOS 15, it's around 3 -6 hours; for iOS 16, it's around 2 - 6 hours.