Instagram is the oxygen for many budding creators who explore the platform to the fullest to make the most of their content. It lets you share moments and experiences while keeping your followers updated with your current activities. Instagram Stories are the highlight to drive engagement levels and promote your brand effortlessly.
But have you ever thought about the IG Story dimensions before uploading your content? Instagram Story post size matters to deliver high-quality content across all devices and OS.
The blog by AWZware will discuss the perfect dimensions of videos and images for your Instagram Story size, including the Safe Zone. You'll also be in for a seamless solution to compress your large video files without compromising the original quality. Let's get started without further delay.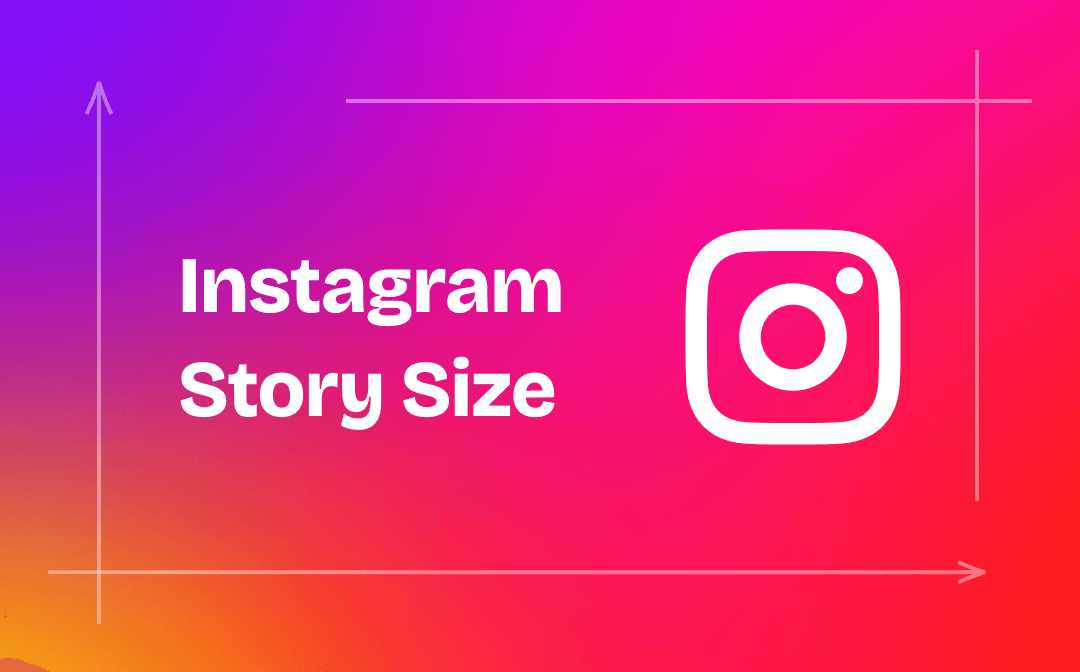 Ideal Instagram Story Size & Dimensions
Instagram has provided Story dimensions to ensure you upload high-quality content, prevent unnecessary pixelation, and make your brand look more professional. These Instagram Story dimensions are ideal for most mobile phones, ensuring your video, image, or GIF content appears correctly across other OS and screen resolutions. This section will introduce Instagram Story size and dimensions.
Instagram Story Dimensions: Videos
Instagram Story size dimensions are 1080 pixels wide by 1920 pixels tall, i.e. 1080p x 1920p or 1080p resolution. Your IG Story size should have a minimum width of 500 pixels with an aspect ratio of 9:16. Usually, the maximum video length is 15 seconds with the accepted MOV, MP4, or GIF file formats and must not exceed 4GB in size.
Make Perfect Size IG Story Posts
When you shoot or make an IG Story video with your phone, the dimensions are generally 1080p x 1920p, so you need not resize it. But if you use a camera or a customized setup, chances are high that you must resize the dimensions to ensure they meet the requirements.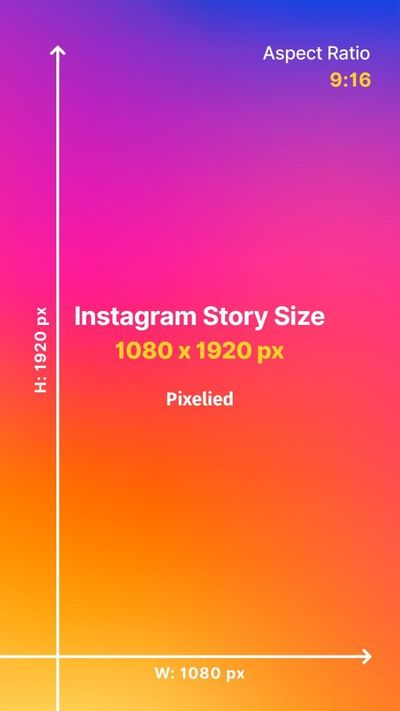 IG Story Size: Images
The Instagram Story size of the image is 1080p x 1920p and accepts multiple file formats of JPG/JPEG, PNG, and GIF. You can collage photos using Instagram's Layout feature or add a maximum of 10 pictures to your Story. The image stories are visible for 5 seconds and must not exceed 30MB in size.
The perfect Instagram Story aspect ratio is 9:16, which fits the vertical orientation of most modern smartphones pretty well. But your content need not be exactly 1080p wide and 1920p tall as long as its aspect ratio is 9:16, as Instagram automatically scales your content to match these dimensions perfectly. Some other resolutions with the same aspect ratio are
2160p x 3840p
1440p x 2560p
720p x 1280p
This table can help you further quickly understand the Instagram stories dimension of images and videos.
| | | | |
| --- | --- | --- | --- |
| Story Type | Dimensions | Supported Formats | Instagram Story size ratio |
| Photos | 1080p x 1920p | PNG and JPG | Less than 30 MB |
| Videos | 1080p x 1920p | MP4 and MOV.video | Less than 4 GB |
Keeping your videos, images, or a mix of both of your Story content in a "Safe zone" is essential so it won't be hidden or cut off.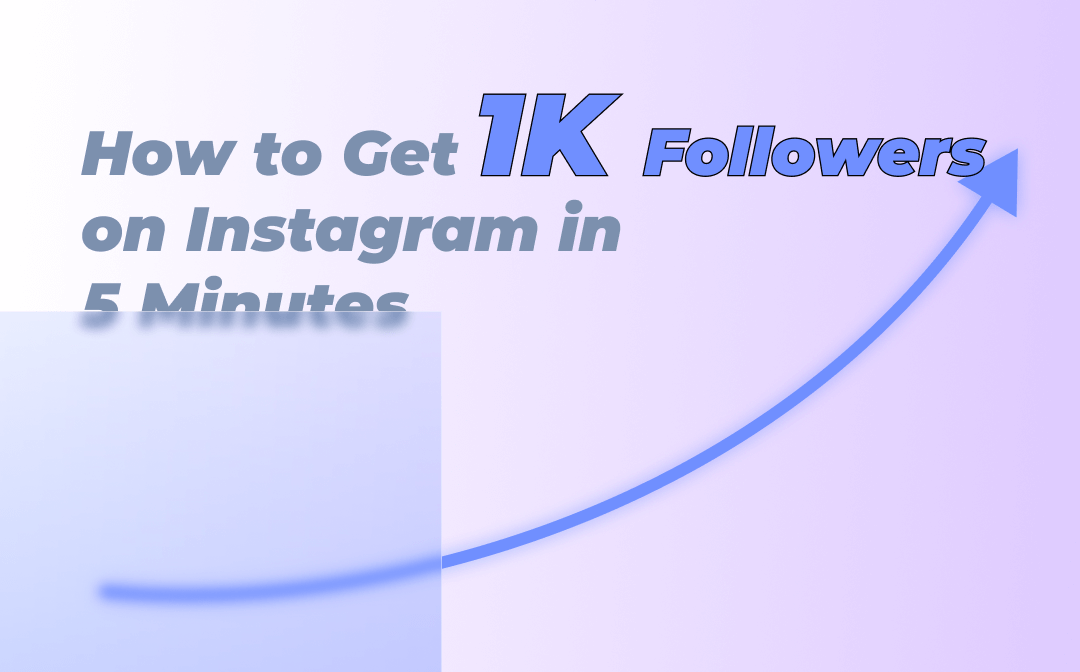 How to Get 1K Followers on Instagram in 5 Minutes [2023]
How can I increase my Instagram followers instantly? This post elaborates on how to get 1K followers on Instagram in 5 minutes with four tips.
READ MORE >
Instagram Stories Dimension: The Safe Zone
Since you know the Instagram Story size, paying attention to the IG Story format guidelines is essential to reveal the safe zones.
Instagram Story safe zones are content areas not covered by UI elements or cropped out of sight. When you post a video or image, Instagram recommends leaving some space by showing a blue line.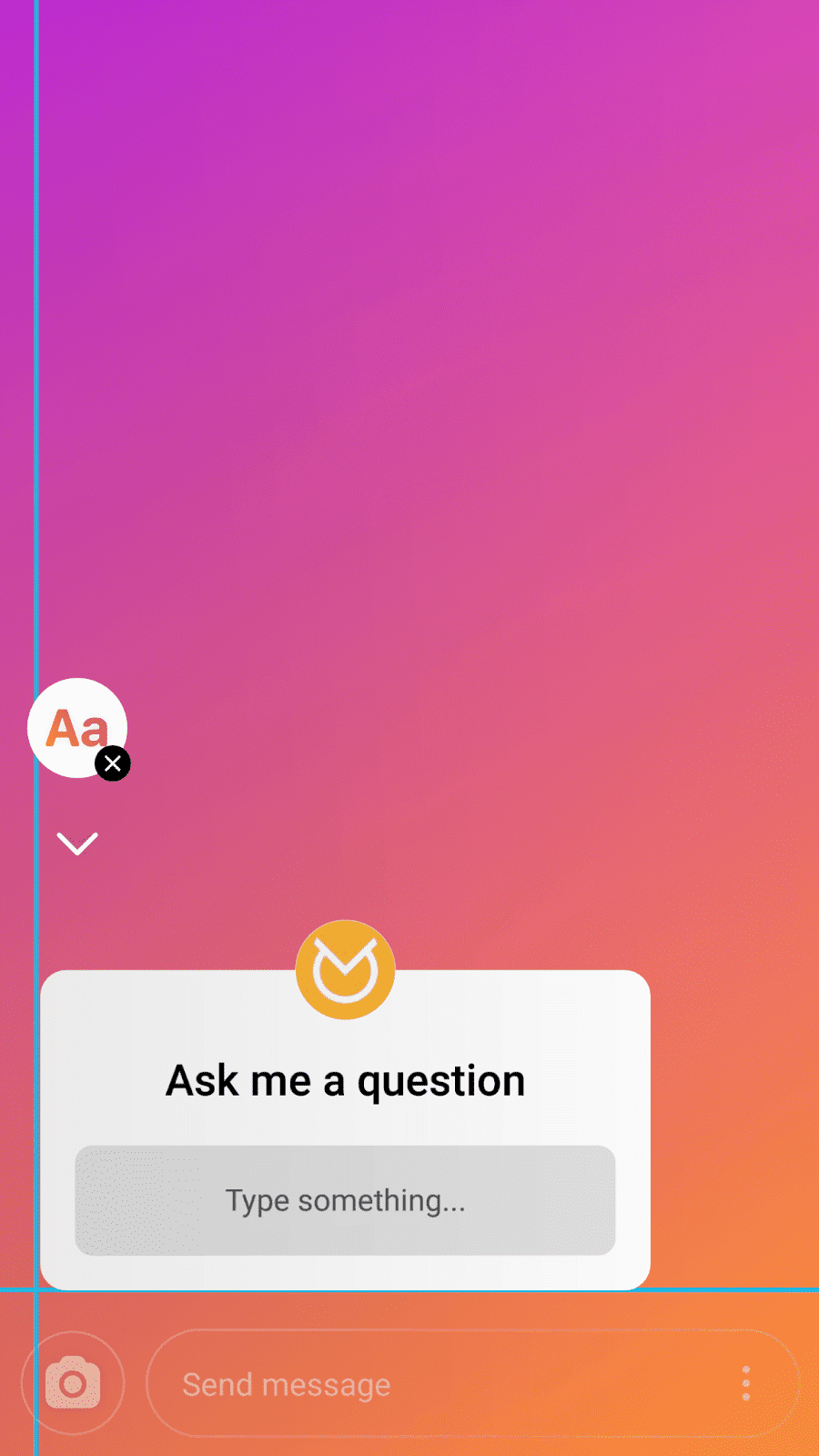 You can put your stickers and text overlays within the safe zones, ensuring to leave approximately 250 pixels of the top and bottom from any elements as it is reserved for other things like your profile name, swipe-up button, or other actions that prompt users to visit the link mentioned in the Story.
Usually, the IG Story editor indicates the specific area with a white line that you can watch out for to stay within the top Safe Zone. For convenience, Instagram snaps Story elements automatically to the edge of your Safe Zone, and the line turns blue once you reach there.
Furthermore, grid lines appear at the editor's sides and bottom, indicating the safe zone's boundaries.
So, putting your content, like stickers, polls, quizzes, emoji sliders, etc., within the prescribed Instagram Story dimensions is highly recommended.
Bonus Tip: Best Video Recorder and Compressor for Instagram Story Size
Using a phone sets your creation automatically to the specific IG requirements. But if you are using a professional, high-quality camera, you may need to compress your content to fit the Instagram Story dimensions. Before you look here and there for a solution, AWZ Screen Recorder is here for your rescue.
AWZ Screen Recorder is a screen recording tool that enables you to compress and trim your videos for free. Besides supporting you with its excellent screen recording features, it makes all your video-related activities easy and convenient. You can select the specs when recording the screen and reduce the Instagram Story size to the chosen level. You get different compression options to fit large videos to a suitable size.
Compress Videos to Fit Instagram Story Size
Check the quick process to compress large video files without losing the original quality with AWZ Screen Recorder.
Step 1. Free Install it on your computer.
Step 2. Open and enable AWZ Screen recorder. Move to the Quick Tools menu and select Video Compressor.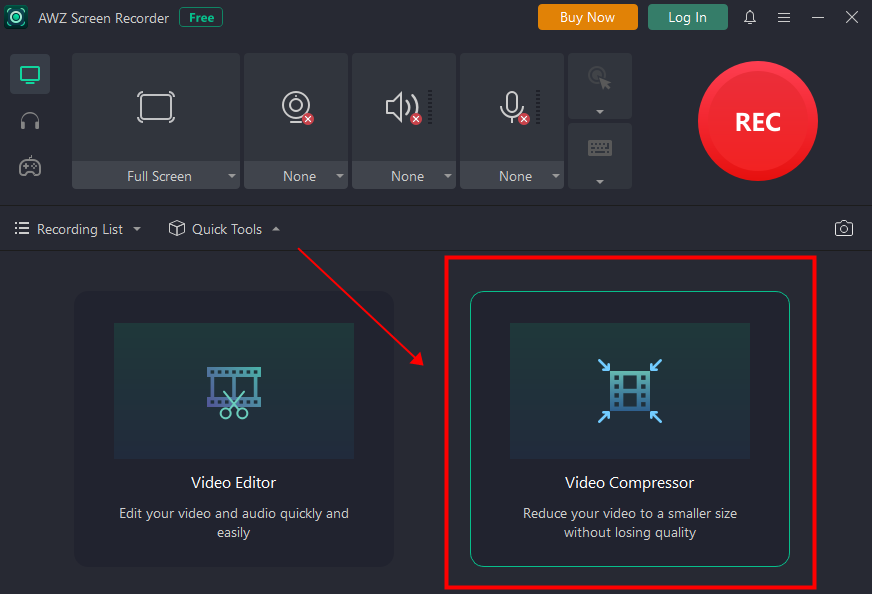 Step 3. Drag and drop your file on the next screen that prompts. Or, click on the workspace and choose the target video from your local folder.
Step 4. Reduce the size for Instagram Story without compromising the quality by choosing Low: Less file size reduction under the Compression Level menu. Click Compress to complete the action.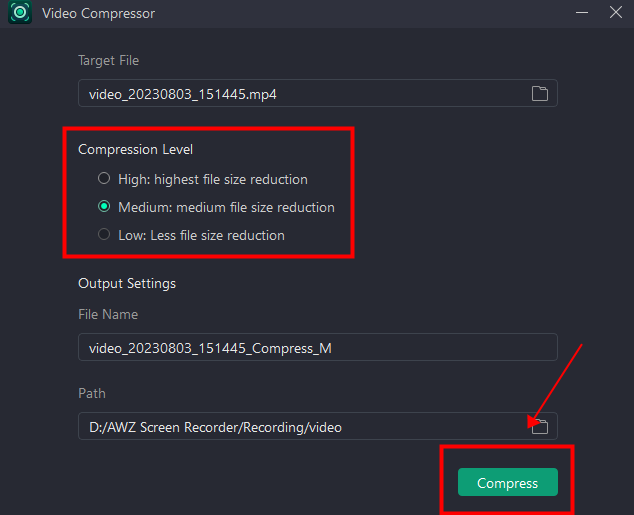 This way, you can preserve your video's original quality while compressing its file size.
How to Record an IG Story with a Perfect Instagram Story Aspect Ratio
You can save other's IG stories on your system with the multi-functional AWZ Screen Recorder in a few clicks. Here's how.
Step 1: Open and launch AWZ Screen Recorder on your Windows PC or laptop and tap the Full Screen drop-down menu. Click Select Region.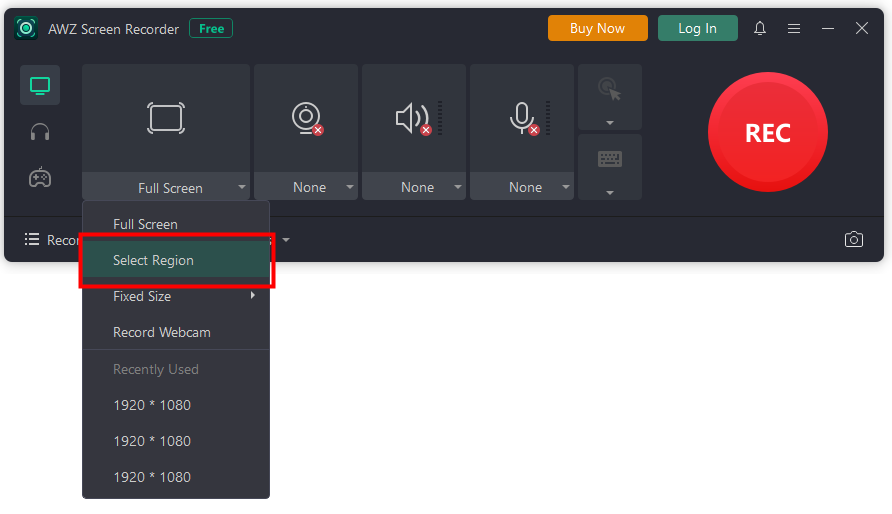 Step 2: Drag your cursor and select the specific area you want to record. You can also enable the webcam, system sound, and microphone recording from the home interface if needed.
Step 3: Select Settings from the hamburger icon in the top-right corner to set the output options.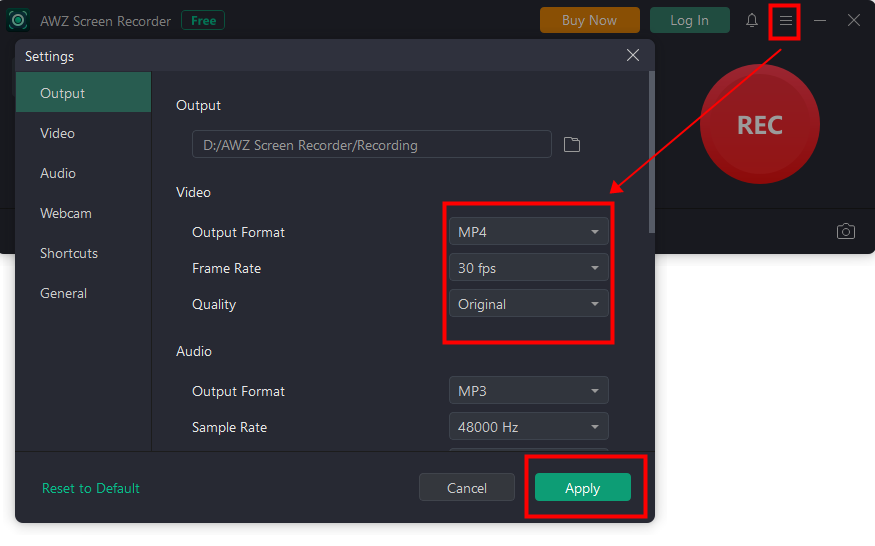 Step 4: Click the REC button or tap the F12 shortcut key to start the screen recording on your system instantly.
Step 5: Once done, stop the recording process by clicking the red-colored Stop button or pressing the F12 shortcut key again.
The Bottom Line
Now you are familiar with the perfect IG Story specs to create high-quality videos and images for your Story and get the audience involved effortlessly.
Whether you are a professional or have recorded your video casually that does not meet the set and required dimensions, we suggest you try AWZ Screen Recorder to compress your Instagram Story size without compromising the quality and get the videos in the desired size. Besides video compression, AWZ Screen Recorder offers a one-stop recording convenience with a video editor and lets you instantly share your videos on social media platforms.