You may have heard of the developer mode on Android, but what about iOS? The good news is that Apple has introduced it in iOS 16 and watchOS 9. Now every iPhone user can access the mode as long as they have updated their phone system. Here comes the question: where can I find it? How do people enable the developer mode on iOS 16? Don't worry, you can find everything about iPhone developer mode in AWZware, keep reading!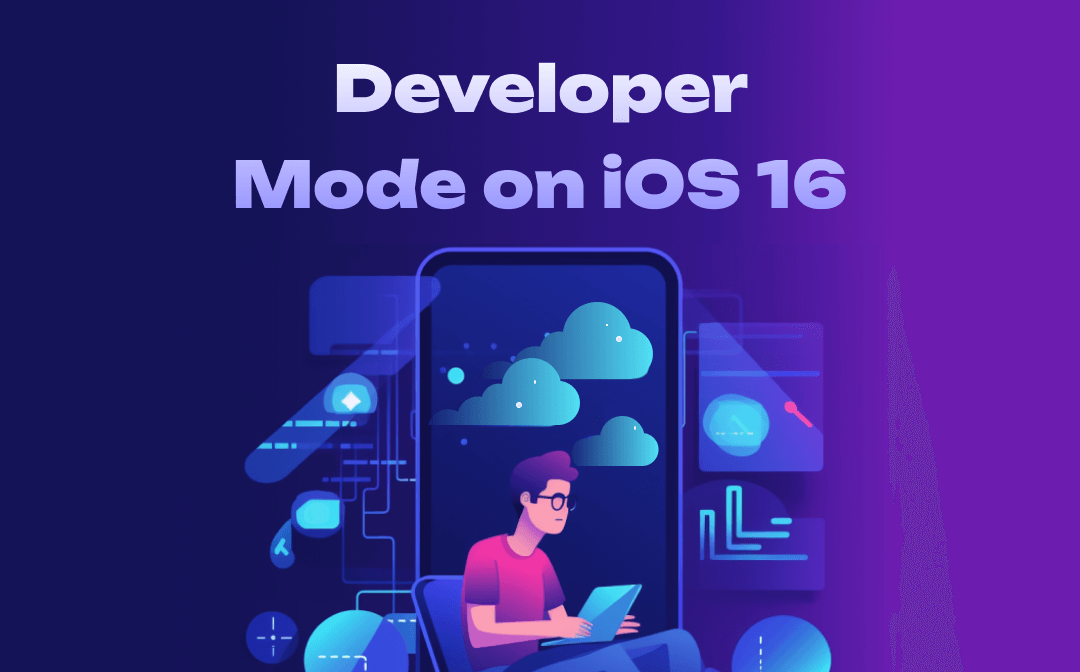 What are the Developer Mode Settings?
The iPhone developer mode is for specialists who focus on electronic technology. They need to detest apps on iPhones with the mode on. Many users may have noticed that there is no developer mode on an iPhone before. Well, why did they introduce it in the newest system? Here is the reason.
The Outer Pressure Makes Apple Publish Developer Mode on iPhone
The newest two regulations, "The American Innovation and Choice Online Act" and "Digital Markets Act" (DMA), tend to stand against monopolistic behaviors. They aim to prevent big tech companies from promoting their own products and services at the expense of competitors, especially some small tech companies. Some well-known companies, like Amazon, Google, and Apple, get a lot of attention.
According to DMA, companies that disobey these regulations will be sanctioned with fines of up to 10% of their worldwide turnover. To get away from fines and other punishments, Apple has to grant access to all its users.
Benefits of iPhone Developer Mode
Based on the information from Apple's official website, it can protect users from inadvertently installing potentially harmful software on their devices.
When you launch apps from unknown/third-party websites, a reminder will pop up and prompt you that the app may be dangerous. These apps are mostly for testing and are not highly protected, which means they may bring viruses or steal your personal information. But now, with iPhone developer mode on, you can test these apps and check them.
How to Enable Developer Mode on iOS 16?
Since you know the benefits of developer mode, here are the specific steps to enable developer mode on iOS 16. Just to let you know that in the latest and stable version of iOS 16, the iPhone developer mode may be missing. But you can still try the following steps to check your iPhone developer mode settings.
Reminder: Ways to fix iPhone developer mode not showing on iOS 16 will be introduced in the next part.
Step 1. Go to iPhone Settings and select "Privacy & Security".
Step 2. Scroll down and find "Developer Mode".
Step 3. Turn it on, and a "Restart" window with a warning will appear. Restart your phone now.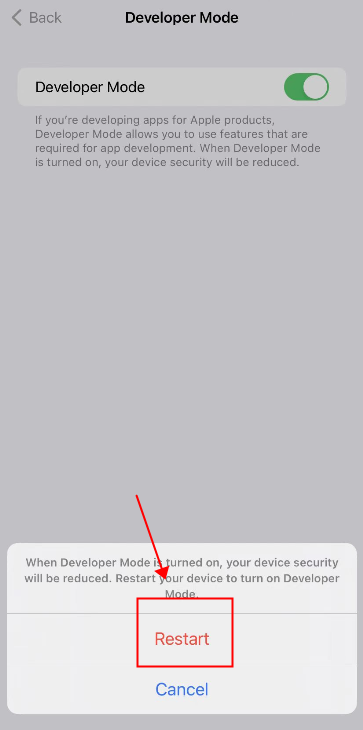 Step 4. After restarting and unlocking your phone, an alert will be displayed. Click "Turn On" and input passwords.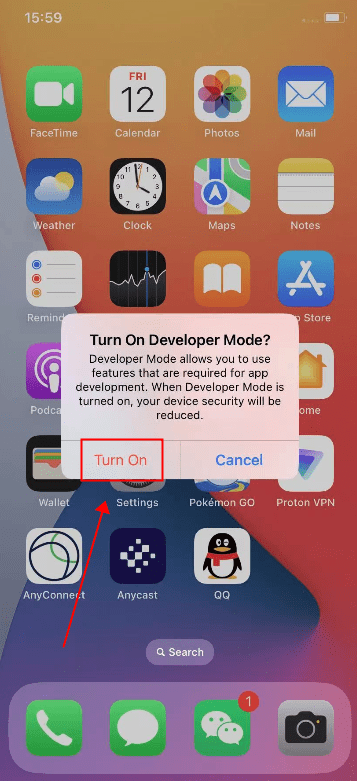 Developer mode is on now! You can run and debug software freely.
What If I Can't Find Developer Mode on the iPhone? Solved!
If the iPhone developer mode is not showing on iOS 16, you have to ask some apps for help, which will take time and effort. Check out the 3 ways in the following content.
Enable iPhone Developer Mode with Xcode
Just to remind you, this method is a little bit complicated, and you need a Mac.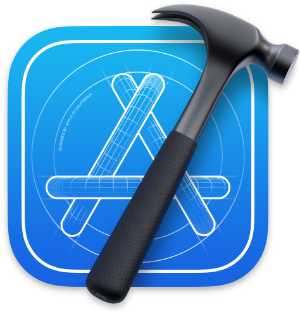 Step 1. Connect your iPhone to the Mac and install Xcode on the computer.
Step 2. Launch Xcode, find "Devices and Simulators" in "Window", and tap on it. Select iPhone in the pop-up interface.
Step 3. Go to iPhone Settings >> Privacy & Security >> Developer Mode. You can switch it on now.
How to Enable Developer Mode on iOS 16 with 2 Tools
Xcode requires a Mac, and it is time-consuming to download. You can use the next two tools to enable the iPhone developer mode without Xcode.
AnyTo
This is a free tool with an easy process to find developer options for iPhone.
Download the app from its official website. Set it up, and connect your iPhone to it.
Click "Developer Mode" and "Yes" in the next window that shows up.
Tap on the "OK" button, and a prompt saying "The developer mode entry has been displayed, please follow the instructions for the next step" will appear.
Then you can find developer options on your iPhone in Settings >> Privacy & Security>> Developer Mode, just like in the steps above.
iCareFone
iCareFone is a powerful tool that can manage all the data and settings on your phone. You can use it to enable iPhone developer mode settings, and back up and transfer phone data as well.
Install and open this app on your PC or Mac. Connect your device (iPhone or iPad) with a USB cable.
Click the pen icon that represents an edit. Add "developer mode" to the "Quick Acess" section.
Press "Open" in the later pop-up window.
Now the developer mode will show up on your iPhone. Check and turn it on in the phone's settings.
Tips:
If you need a location changer to get apps that are restricted in your country, try
AnyPorter
. It can change your location in seconds without jailbreak!
Conclusion
This page has shown you the meaning of "Developer Mode" on iPhones. Along with reasons why Apple publishes it, it provides you with 4 methods on how to enable the developer mode on iOS 16. If you just want to run apps coming from websites or you are an app developer, you should try the above 4 methods now!
FAQ: Is iPhone Developer Mode Safe?
It is risky to enable it. Since the mode has been introduced to everyone, the iPhone developer mode security has been asked about by many Apple users. With this mode on, you may accidentally install some dangerous apps from a third party. The advice for normal people is to keep it off because it does not affect downloading apps from the App Store.