TikTok is a rising star that is reshaping the video industry. With the advent of TikTok, users have started a craze for sharing short videos on this platform. The popularity implies many possibilities for brands, businesses, creators, and influencers.
You may have seen the potential and opportunities to reap benefits from this platform by becoming a TikTok influencer. Do you ever think of being a star on TikTok? Are you looking for an effective way to get your first 1000 TikTok followers? No hurry, this post presented by AWZware will be your guide on how to get 1k followers in 5 minutes on TikTok.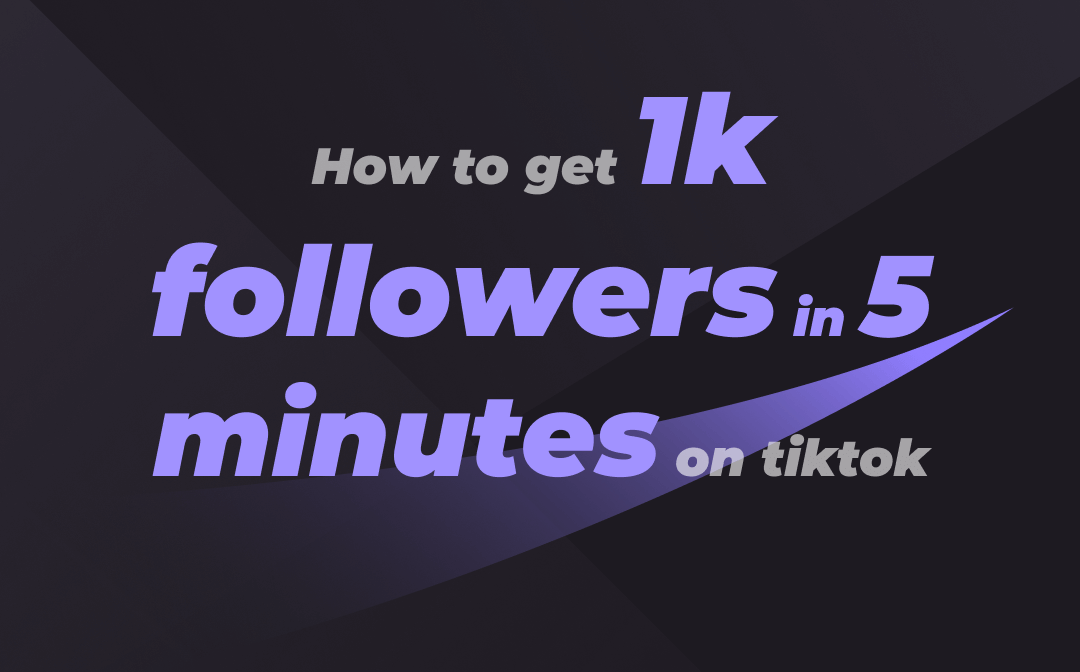 What Does 1K followers on TikTok Mean?
Why does everyone want to increase TikTok fans in 2022? The answer is simple. The number of TikTok followers is positively correlated with the odds of being successful on this platform. Sounds great, right? Then, what happens if you gain 1k followers on TikTok? The only difference is you can unlock new features like adding links to your bio and TikTok Live.
What is TikTok Live? And how many followers on TikTok can I go live? As the name suggests, live chat creators can start a real-time chat with users. More crucially, creators can receive TikTok Live gifts from the audience when they have gained their first 1K followers and their accounts have been active for more than 30 days. These gifts are a viable way to collect Diamonds, which can be redeemed for real money by users.
How many likes on TikTok to get paid?
Likes are a crucial factor to getting paid on TikTok. However, video views and followers also matter a lot. Once your account is followed by 10,000 users and your videos are liked 59,000 times, it can be said you can earn stable money from TikTok.
In addition, TikTok released a campaign, TikTok's Creator Fund, with the intention of encouraging content contributors to create engaging and high-quality videos. If you are a part of the plan, you can get $20 to $32 per post, only with the premise that you have 10,000 followers and gained more than 50,000 likes.
This is the primary reason why everybody strives to grow the TikTok account and gain their first 1K followers on TikTok. After you've grasped the significance of increasing your fanbase, it is time to know how to kick off.
How to Get 1K Followers on TikTok in 5 Minutes
If you are a fresher to TikTok, you have probably pondered ways to grow your account and gain your first 1K followers. However, getting started on TikTok is not always easy, and being the star of tomorrow requires some useful tips and tricks. Here we will shed some light on how to gain more followers on TikTok.
Instant TikTok Followers
Some users may want to cut corners and grow a good following in fast way, buying TikTok followers from TikTok growth services will be a way out. However, there're a variety of service providers in the market, some of whom claims to adopt a legit and sustainable method to attract followers but your account ends up getting banned by TikTok official. Hence, which agency should you trust to gain your first 1000 legit followers?
In this section, we've reviewed and hand-picked the three best TikTok growth services you can count on to manage your account and automate actions on this short-video platform.
Media Mister
Media Mister promises to provide competitive marketing strategies for users, and they made it. They have rendered a wide spectrum of promotional services to increase overall exposure on mainstream online social platforms, such as Instagram, TikTok, YouTube, Twitter, Vimeo, Spotify, and Facebook.
Concerning how to gain more followers on TikTok in a short time, users can buy followers, comments, likes, shares, and views from this all-in-one service provider.
Features:
Excellent customer support (live chat & email service)
Natural growth and active followers
1000 TikTok followers delivered within 6-9 working days
Allow buying comments, likes, shares, and followers bundles
Pros:
Intuitive and clear web design to create a superb user experience when buying followers;
Immediate customer support;
Tiered pricing strategy and money-back guarantee;
No need for sign-up or registration.
Cons:
Relatively slower delivery;
No authentic engagement with real TikTok users;
Unstable followers.
TokUpgrade
If you are looking for a dedicated TikTok growth tool to gain real followers, TokUpgrade is another premier agency you can place trust. This online marketer only focuses on TikTok growth to provide TikTok videos downloading, follower growth service, and TikTok bot, as opposed to Media Mister. That's why they are dubbed as a real TikTok expert.
Features:
Advanced targeting to beat the competition and boost the social presence
TikTok bot based on the TikTok algorithm
Authentic followers to engage with active TikTok users
Account manager email support
Pros:
Cancel at anytime
Able to implement hashtag-specific automation campaign
Blacklist specific accounts, keywords, tags, or languages
Auto like/comment (DM)/follow/unfollow
3-day free trial
Cons:
Email needed when checking out
Invisible delivery
Try Jeffrey
It's hard to associate this name with a TikTok automation tool. Indeed, Try Jeffrey is an online TikTok growth provider specializing in TikTok. One of the highlights of this tool is that it provides a clear dashboard with different statistics. Users can observe the account performance and then adjust the growth strategy at any time. With Try Jeffrey, how to gain more followers on TikTok can be easily squared away.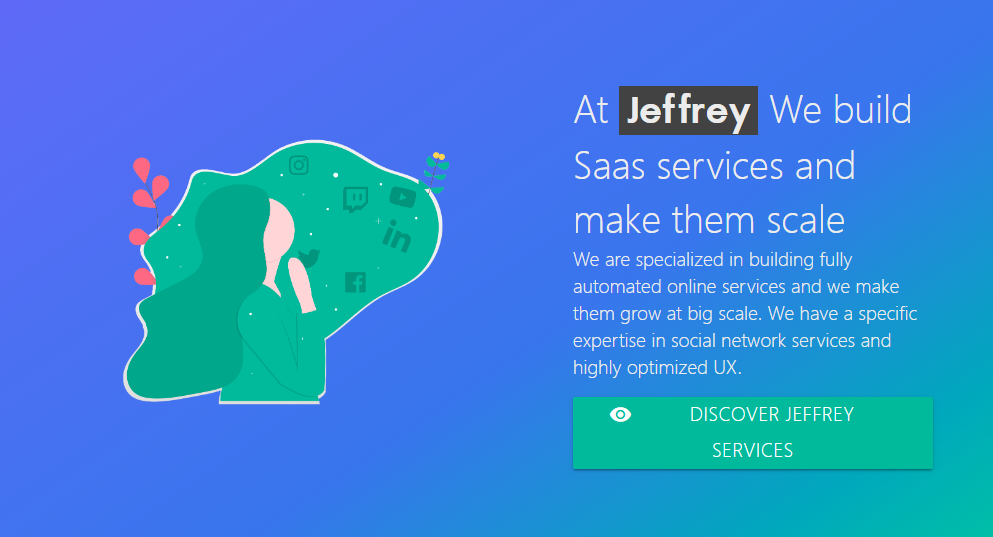 Features:
Real and activate followers & engagement
Dashboard with real-time account statistics
Integrated account management to support multiple accounts
Pros:
Visible reports and statistics
No credit cards required
Traceable growth process
Account security first
Cons
Configure account settings by yourself
While everyone is trying to grab the public attention on TikTok, hiring someone to build a sustainable TikTok growth plan sounds like a great idea. If you don't know how to get 1K followers on TikTok in 5 minutes, the above-mentioned service providers may help you to enhance exposure on this social platform.
However, nothing comes for free. These agencies are not free of charge. More crucially, when you stop buying TikTok followers, your account growth may suddenly cease. All your efforts could be in vain. To sum up, buying followers cannot ensure a long-standing and positive growth. Consequently, you have to implement another effective approach to boost your following - organic TikTok growth.
Organic TikTok Growth
Except for buying TikTok followers to quickly grow your account, you do have another choice, that is to increase your followers organically. By shifting to this growth mode, the tempo slows down and no one can ensure that you can get your first 1,000 followers on TikTok in 5 minutes. The organic TikTok growth entails a long-term and practical marketing strategy.
In case that you don't have any clue where to begin with, here are some useful tips you can employ to boost your profile and gain more followers:
Identify Your Niche
First things first, as a wise TikTok marketer, you need to know your vertical market inside out, that is, the certain business niche your contents are created for. Before it all, it's imperial to know who is your target audience. Only in this way can you produce attractive and helpful video with great relevance.
Why is it so important to know your audience? These figures might explain. TikTok has 1.2 billion monthly active users in Q4 2021 and there were more than 1 million views generated every day. How do you make sure that your videos will be seen by users? Follow the three easy steps:
Focusing on a specific group of users;
Devising the keyword strategy;
Creating high-quality content for the target audience;
Implementing cross-platform content distribution plan;
Keeping track of the results.
Use hashtags
You may have already seen hashtags on other social platforms. Things are the same as on TikTok. They are often used with a # symbol to index keywords or topic. The purpose of a hashtag is to group pertinent information in a certain topic. When you use the hashtag in your content, people spend less time searching for relevant information. your content will be more likely exposed to users who are interested in the certain topic. Before you create TikTok hashtags, be aware of the following tips:
Use hashtags that are related to your content;
Don't create too many hashtags to avoid confusion;
Add straight and easy-to-remember hashtags;
Post regularly
According to the TikTok's Inactive Account Policy, when an account stays inactive for 6 months or so, the username may be reset to a randomized numeric username. That's why TikTok encourages users to access the app and post videos regularly. If you wonder how to grow your TikTok account, consistently producing high-quality content is a must:
Build a professional image to earn more trust from the audience;
Increase engagement to generate more leads and likes;
Leave a deep impression to improve social media exposure;
Now you have have gotten the hang of it, do you know what time is the best to post on TikTok? Generally speaking, you'd better post 1-4 times a day as it's recommended by TikTok. See the time spot below to post a video at the right time for maximum engagement:
Monday: 6 AM, 10 AM, 10 PM
Tuesday: 2 AM, 4 AM, 9 AM
Wednesday: 7 AM, 8 AM, 11 PM
Thursday: 9 AM, 12 AM, 7 PM
Friday: 5 AM, 1 PM, 3 PM
Saturday: 11 AM, 7 PM, 8 PM
Sunday: 7 AM, 8 AM, 4 PM
Don't forget to keep up with the latest trends or challenges and stay alive on TikTok
Being original
The importance of originality and authenticity cannot be overemphasized on any social media app, with no exclusion to TikTok. Even though that everybody is following the trends and making similar videos, someone needs to be the trend starter. Human beings are visually-motivated, and something new and funny has a big change to go viral on the internet. So, make sure your content is as original as you can to get more likes and followers on TikTok.
Build relationships with other creators
If you need to grow bigger on TikTok, don't brush aside the user engagement. That being said, you ought to interact with the creators (or related businesses in necessary). Leaving comments below is an effective way to build bonds with other channels. This will not only attract theirs followers to you and may invite more collaboration opportunities. Sounds reasonable in increasing public exposure, right?
How many people can you follow on TikTok?
When you start a new journey to TikTok, you may wonder is there any limit of following people on this platform. Yes, every TikTok user can follow up to 10,000 accounts. Besides, you are not allowed to follow more than 200 accounts a day. That's mostly because the official don't want any spamming or bots on the app.
Algorithm of TikTok
The last thing is to play by the rules. As for TikTok's rules, it actually refers to the unique algorithm. Its algorithm is a recommendation system which can decide what type of videos will be presented to you on the For You page. Additionally, the algorithm remembers all your behaviors, like dislike, like, or comment, to recommend the most related content. Read on to find out several points that influence the TikTok algorithm:
Users interactions
Video information (captions, sounds, hashtags, effects, and trending topics)
Device and account settings (language, country settings, type of device, and preset preference)
To Sum Up
We've covered two methods to get 1K followers in 5 minutes on TikTok, namely buying followers from marketing agency and opting for organic TikTok growth.
The former strategy seems tempting and quick, which makes your profile well-recognized and trustworthy. Furthermore, it's not an expensive decision to buy followers. But once an account operator stops paying for third-party service, the previous effort will gradually lead to no end.
The organic growth plan, on the other side, is a long-term project. However, if you follow the sustainable tactics we've put forward above, your account will survive from the fierce competition and all efforts will pay off sooner or later.