Bumble is a dating app that is taking users by storm to help match like-minded people. You can create impressive bios to make your profile look appealing and let others know about you in a creative and exciting way.
The page by AWZware has listed a collection of tips and ideas to make the best Bumble bios for your profile and make them stand out. Take a look to uplift your Bumble bio with our best tips and compel others to swipe right to land with potential matches and romantic dates. Let's get started.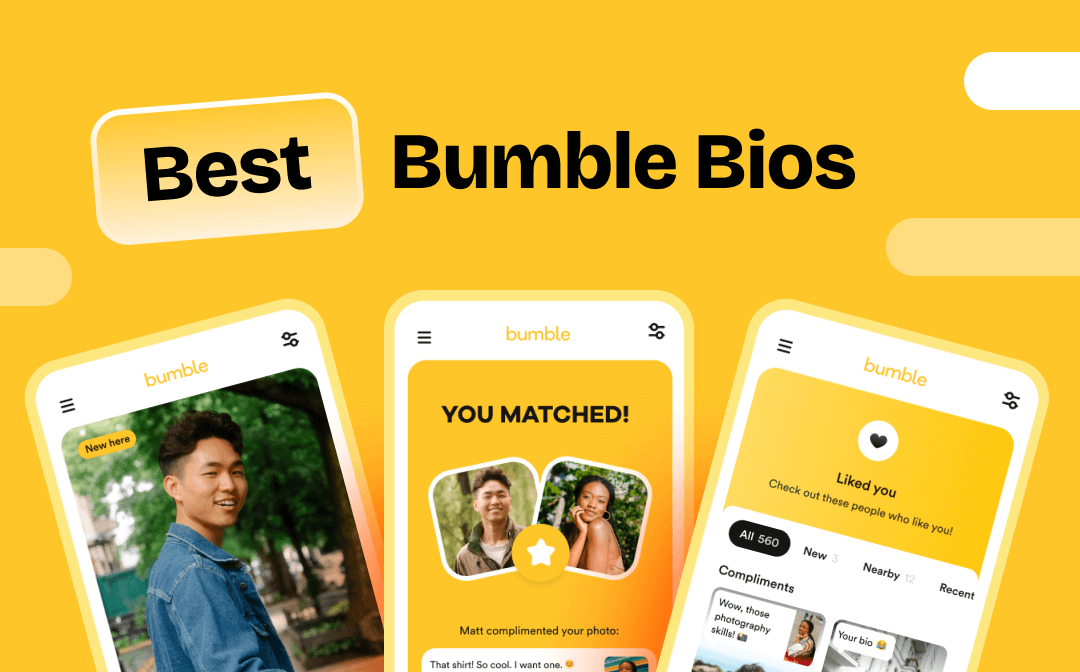 11 Ideas to Make the Best Bumble Bios
Check some of the best Bumble bios ideas to make a good Bumble bio and the profile examples to fetch more matches.
An Attractive Photo
Usually, an attractive photo compliments the best Bumble bios as it's the first thing that catches anyone's attention. You must not lose the opportunity to click and upload your best photo, highlighting your face's best features. Ensure to face the camera and avoid wearing sunglasses for a clear view.
Pros and Cons
Girls and boys can use Pros and Cons to make the best Bumble bios. This lets them be funny and serious at the same time to write the best and worst things about themselves. Some of the Bumble bio ideas include;
Mike, 28
Pro: I love Sci-fi and action movies
Cons: I cry at emotional scenes
Nick, 20
Pro: I'm a big-time foody
Cons: I can't cook
Unpopular Opinions
People disagree with unpopular opinions. You can post unpopular opinions as funny Bumble bios, where people will raise an eyebrow and argue with you. You can make good Bumble bios with uncontroversial opinions like,
Diana, 22
Atheism is a religion
Weddings are uniformly dull
Vanilla icecreams taste horrible
Two Truths and A Lie
The two truths and a lie method is the best way to reveal good and bad things about yourself and create funny bios for Bumble to grab the eyeballs of every Bumble user. Check out these examples of the best Bumble bios.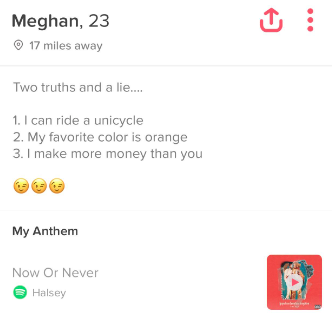 Tom, 24
I grew up in New Zealand
I love dogs over cats
I'm currently working as a model
Liala, 24
I'm a twin
I play piano and guitar
I have 40 pairs of beach sandals
Useless Skills
Often funny Bumble bios revolve around the useless abilities of users. You can show off your bizarre talents and personal skills to make some of the "About me" talents. Some examples of good Bumble bios males include;
James, 25
I can paint and write well with my feet
I know the lyrics of all songs of Beyoncé
Nancy, 26
I can make any dish from any ingredients
I know every line from The Princess Bride
List of Your Likes
Nobody likes to date a couch potato, so you should only mention creative and exciting things that can appeal to others. Here's how you can write the best Bumble bios to list your likes,
Xander, 22
I like…
My dog's fur
To explore new places
Lina, 21
I like…
Watching cartoons in my free time
Ice creams with brownie
About You and What Are You Looking For
Bumble lets you express your choices and list what you're looking for to write the (best)Bumble bios for guys and girls. It would help if you listed some basic things about you in your bio and what you're looking for in your companion. For instance, you can write,
"Hi! I'm Alex, an English teacher and I love teaching. My hobbies include playing baseball, reading and enjoying short trips on weekends. I'm looking for someone to have adventures with."
Less than and Greater than
You can make great impressions by writing the best Bumble bios. Use the less than and greater than tricks to impress others and create your profile attractive to get more people to initiate a conversation with you. For example, some Bumble bios for girls are,
Amy, 21
Country life > City life
Savory < Sweet
Dogs > Cats
Hailey, 23
Pasta < Pizza
Winter > Summer
Beaches > Mountains
By Night and By Day
You can have different personalities by day and night. You can list them to make good Bumble bios and write facts to let others know better about you. For instance, these
Bumble bios for men can put you on a win-win side.

Jack, 26
A chef by day and writer by night
John, 20
A student by day, a DJ by night
Three Simple Things
You must write three simple things to make the best Bumble bios before anyone asks you. Be honest and open-minded but creative with this one and ensure not to invite any risk along. For instance, you can write good Bumble bios like,
Jessica, 25
I love dogs
I'm an avid traveler
I love guys with a good sense of humor
First and Last
The first and last bios are some of the best Bumble bios and a great way to introduce yourself to others. You can list funny and interesting facts in your Bumble bios to have fantastic conversation starters, like,
Ron, 21
First…
Trip: Hawaii
Crush: Emma Watson
Book: The Alchemist
Last…
Vacation Place: Alaska
Web Series I watched: Money Heist
Bonus Tip: Get New Matches from A New Spot without Effort
Besides these interesting, funny, and best Bumble bios, you can expand your search area to find matches beyond your current region by spoofing your GPS location using AWZ AnyPorter.
AWZ AnyPorter is a location spoofer tool that works to spoof your GPS location to travel to any place and meet new matches in just one click. It lets you record your location history, set coordinates, simulate natural movement, and customize moving methods hassle-free. This iPhone location spoofer works on all iOS devices, including iPad, iPhone, and iPod touch, without jailbreak.
How to use AWZ AnyPorter
Step 1: Download and run it on your system.
Step 2: Quickly connect your phone and computer with a cable (USB) and click Trust to get started.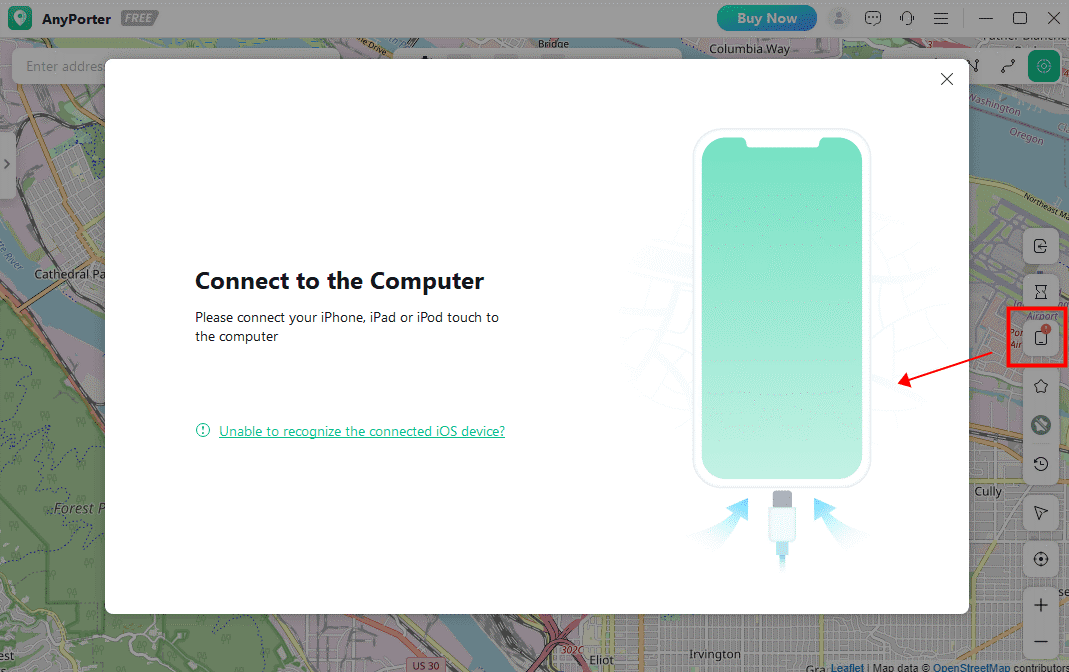 Step 3: Meet new matches with a tap.
Choose a new destination by pinpointing a place or entering the GPS coordinates in the address box.
Click Move in the sidebar with detailed information to change your GPS location instantly.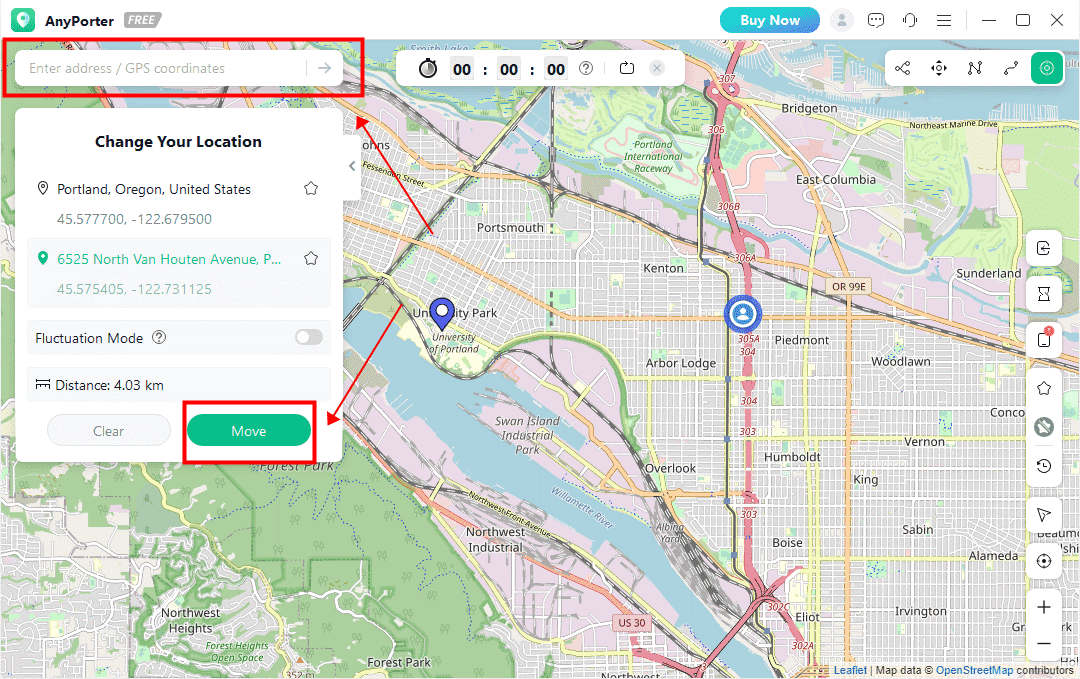 The Bottom Line
Writing the best Bumble bios can be overwhelming. It gives your first impression to the viewer, so you cannot go lazy with it by any chance to get the best and most potential matches. While the Bumble bios can be intimidating, you must come up with perfect bios to get others to kick a conversation with you.
We have discussed the best tips to write the best and funniest Bumble bios, but you can try AWZ AnyPorter to find matches beyond your current region by spoofing your GPS location in one click.