Introduction:
Subtitles are not just important when watching foreign movies, TV series, or YouTube videos. They help you better comprehend the dialogue as well, even for videos in your native language. However, not all movies or YouTube videos are equipped with captions by default. This forces you to manually download subtitles and add them to the video. Then here comes the question: which platform is available for subtitles download for free?
Fortunately, we have multiple options to download subtitles for your movie and YouTube videos conveniently. This guide features a detailed introduction to 6 popular free subtitles download sites. You can find subtitles that perfectly match the video you're watching on these sites. Different languages are accessible with accuracy. Together with AWZware, let's dive deeper into this article.
Best 6 Sites for Subtitles Download
Subtitles can be applied to TV series, movies, YouTube videos, stand-up comedy specials, and more. Based on your various needs, here we recommend 6 websites that enable you to download subtitles in Korean, English, and any other language.
SRTFiles

SRTFiles is the platform best for accessing TV shows and movie subtitles. It enables you to search for the movie or TV series you like to download. If no results are found, you can request the desired captions and wait for others to provide the resource. Not limited to TV shows and movies, captions for animation such as One Piece, Dimon Slayer: Kimetsu no Yaiba, and others are available. More than 100 languages are supported for subtitles download for free.
Features:
Offers top subtitles of the year for quick navigation;
Full collections of various TV shows and movies;
Accurately match the subtitles of the movie you want to find.
Savesubs

Savesubs is a good place to download YouTube videos with subtitles. This free online website can extract the existing subtitles from a video while retaining the quality of the video. After the extraction, you can even share the subtitle with others via a link, which makes it easy to let others download the same captions. The YouTube subtitles download site can import videos by entering the URLs to remove the hassle of downloading them.
Features:
Three available formats to choose from: SRT, VTT, and TXT;
Download both YouTube videos and subtitles;
Online translate captions to any other language.
Subdl

Subdl is a quality subtitles download site with an intuitive user interface. It is also great for finding and downloading movies and TV-related subtitles. The processing speed is fast and the results will be listed swiftly. All you need to do is enter the name of the movie or TV series. Then hit "Search" to download the subtitles. However, one flaw is that the available languages for different captions might be limited. You might find and download subtitles for a certain movie in a single language.
Features:
Able to filter languages when searching;
Update the subtitles frequently;
Rich library for TV series and movie subtitles download for free.
YouSubtitles

Another platform to download YouTube videos with subtitles is YouSubtitles. The software locates your desired YouTube video through the exact URL. In one click, this YouTube subtitles download site can extract the captions from your video and enables you to download the captions in SRT format. Online translation is also accessible to quickly translate the subtitles to your native language.
Features:
Preview the video with bilingual subtitles;
AI translation is applied to translate with accuracy.
English-subtitles

As its name suggests, English-subtitles is optimal for English subtitles downloads. The site updates the captions resources regularly to ensure you can access captions for newly released movies, TV series, and TV shows in time. The file size of each subtitle file is presented to help you better manage your space of storage.
Features:
Allow you to upload resources for others to download subtitles;
The largest platform supports English movie subtitle downloads for free.
Get Subtitles

Except for subtitles download sites, one mobile app for Android also helps you download subtitles in different languages for a target movie and TV drama. Get Subtitles provides two methods to search for captions: Auto Search and Manual Search. The former feature can match your downloaded video and its corresponding subtitles automatically as long as the app detects the video. The latter enables you to enter the name and download subtitles you like.
Features:
Automatically scan your video and provide corresponding captions;
Alternative options are provided when the preferred subtitles are not found;
Easy navigation to download TV shows and movie subtitles.
How to Add Subtitles Downloaded to Videos Permanently
After being familiar with where to download subtitles for free, another vital step you need to take is to add the downloaded captions to your target video. This comes to an online video editing platform named Kapwing. It is a web-based website that enables you to add subtitles to any video for free. The application supports uploading captions from subtitles download sites, typing out the subtitles from scratch, or automatically generating ones.
Follow the guide below to add TV or movie subtitles downloaded to any video permanently:
Step 1: Visit Kapwing and locate All Tools under the MORE tab. Navigate to Add Subtitles to Video;
Step 2: Click Add subtitles and upload your desired video to the indicated area;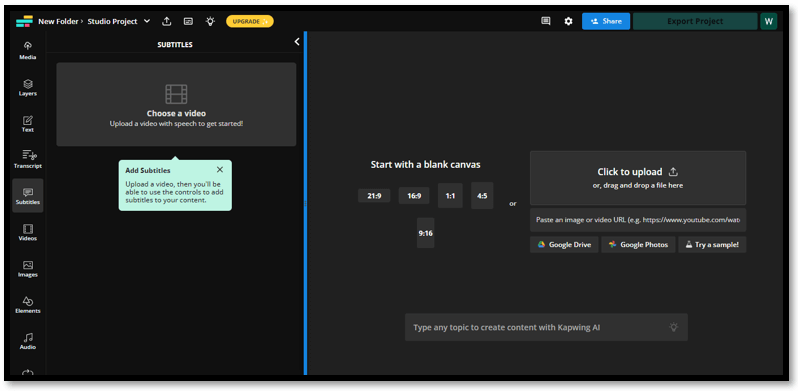 Step 3: Tap Upload SRT/VTT to import the downloaded subtitles. Then hit Export Project in the upper right to save the changes.
Extra Part: How to Download YouTube Videos with Subtitles Unlimitedly
In addition to utilizing a subtitles download site to add captions to a downloaded video, directly downloading a YouTube video equipped with subtitles is another good choice. Nowadays, many YouTube videos are attached with captions by default in different languages. You may simply capitalize on a screen recorder to capture both the closed captions and video.
AWZ Screen Recorder is an offline screen recording solution to record all your on-screen activities with quality. It lets you flexibly record a specific region on your screen to protect your privacy. The software can precisely capture the internal audio and video images without latency, which guarantees lip synchronization to enhance your watching experience. More importantly, this program allows you to download YouTube videos without any restrictions.
Let's see how to download YouTube videos with subtitles in AWZ Screen Recorder:
Step 1: Launch the screen recording software by double-clicking;
Step 2: Click on the speaker icon to let the program capture the internal audio;

Step 3: Prepare your YouTube video. Click Settings, go to Subtitles/CC, and choose the target captions. Tap REC to record the full screen of it.

Tip: If you want to customize the recording area, hit "Full Screen" and choose "Select Region". Click and drag your mouse to draw a rectangle to select the desired area.
If the recorded YouTube video is too large, AWZ Screen Recorder offers a video compressor to compress the video and reduce the file size.
Last Word
After reading this post, have you found the ideal subtitles download sites? Platforms such as English-subtitles are available for downloading English subtitles for free. Other websites are accessible to download subtitles in Korean, Japanese, Chinese, and more. In addition, you can learn the way to add the downloaded subtitles to your video and enjoy a better experience.