Introduction:
Does Discord record audio is a frequently asked question. Some people are concerned that conversations on Discord will be monitored. Others want to record calls for further use. Well, after understanding the Privacy Policy of Discord, you will know everything. This guide will cover all the information you need to know.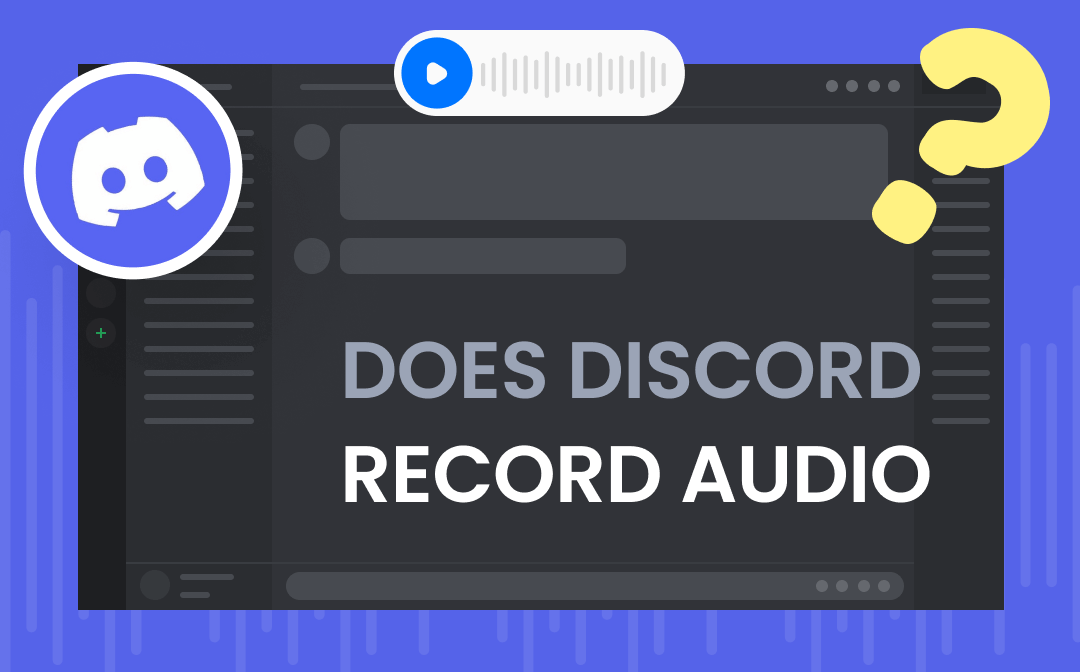 Does Discord Record Audio?
The answer is No. Discord will not monitor, record, or store any calls/chats made on Discord. This applies to audio calls, video calls, server chats, the calls made within DMs or private groups.
The Discord team has repeatedly emphasized that privacy is very important to the company. This is probably why users love Discord, not having to worry about their words being monitored. Nonetheless, everyone had the opportunity to record Discord audio. You can read on to learn more about it.
The Privacy Policy of Discord
If you still have questions about "Does Discord record audio calls", then take a look at Discord's privacy policy. Here are some highlights:
We generally do not store the contents of video or voice calls or channels. If we were to change that in the future (for example, to facilitate content moderation), we would disclose that to you in advance...We also don't store streaming content when you share your screen...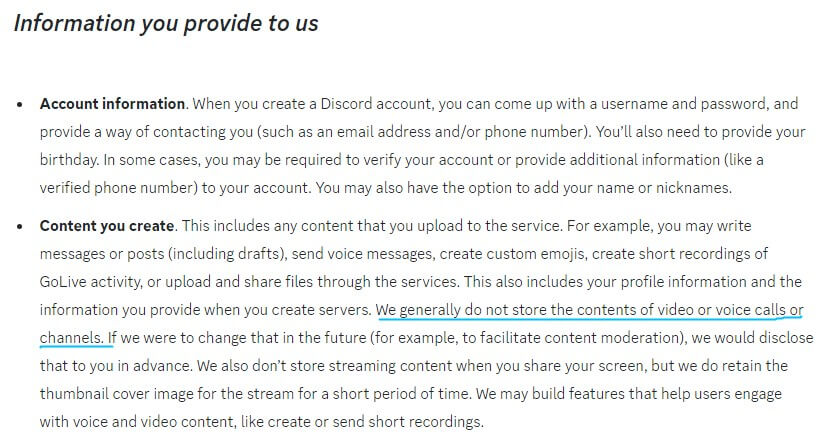 As you can see by these words, Discord does not record any of your calls. However, in March this year, a change in its privacy policy had caused panic. Gone were the phrases "We generally do not store the contents of video or voice calls or channels." and "We also don't store streaming content when you share your screen."
One user then took to Reddit to point out the change and express concern.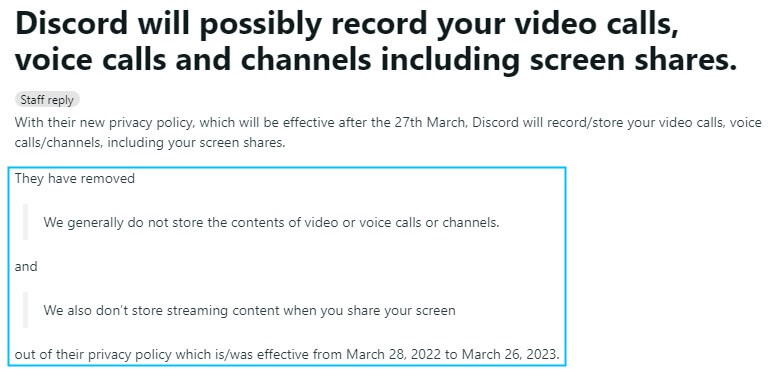 Soon after, a message from a staff member claiming to be from Discord said that they had already realized that the broad wording in the new privacy policy had inadvertently caused confusion among users, but needed to clarify that nothing had changed.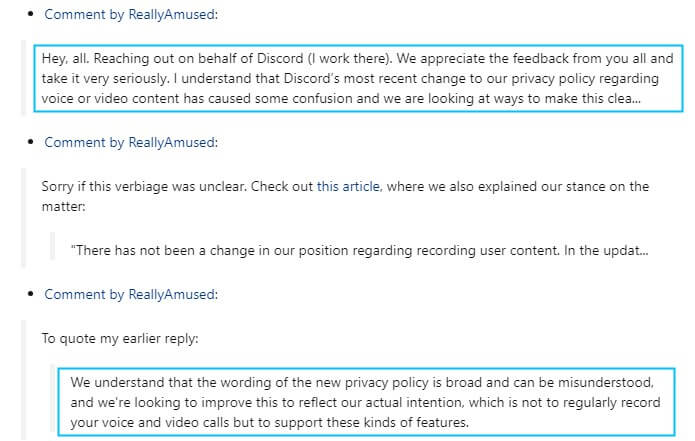 Shortly afterward, Discrod added the deleted content back into the privacy policy. As you can see, Discord does value the privacy of its users. And there's no reason for them to do so, monitoring and storing chats would generate huge amounts of data.
It is Possible to Record Audio on Discord?
While Discord does not monitor your calls, the fact is that any participant in a call has the opportunity to record the audio. And, it is possible to record without the other party's knowledge.
It is necessary to be discreet in voice chat channels particularly the public servers, where many people go in and out. You never know if someone is recording quietly.
But don't worry too much, in most parts of the world, it is against the law to record without the other person's knowledge. So if your privacy is violated in this way, you absolutely have rights.
How to Record Audio on Discord
Sometimes you may need to record some conversations and post them to your social media as a recap. Here are two possible ways to do this.
Record Audio on Discord with Craig Bot
If you are the owner of the server, then you can ask Craig bot to record the chats. Craig bot is developed by Discord and is able to record voice from every speaker. All you have to do is invite the bot to the channel and then you can start a recording.
1. On your cell phone or computer, open the browser and go to https://craig.chat/ > Click Invite Craig to your Discord server.

2. Log in to your account > Add your server > Click Authorize.
3. When Craig joins the channel, tap and send /join to start recording.
4. To end the recording, use the /stop command.
5. Then you can download the recording from the message sent from Craig.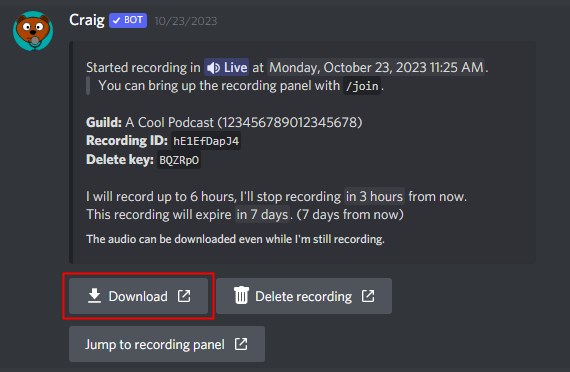 Record Audio on Discord without Them Knowing
As mentioned earlier, it is unethical and illegal to record a conversation without the knowledge of another person. However, if it is for personal purposes, such as saving a conversation and then giving it to someone as a surprise gift, then this is not an issue.
You can use one recording tool called AWZ Screen Recorder to help you record audio on Discord on computer. It will block extraneous sounds so that you will have a high-quality audio file. See how to use this tool.
1. Install the tool on your computer.
Win:
Mac:
2. Go to Settings to adjust the output format.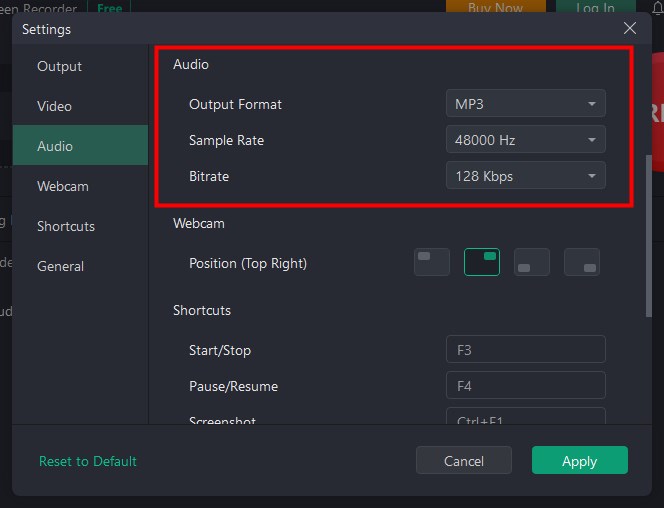 3. Go to Record Audio and turn on the channels.

4. When it's ready, click the REC button.
5. Click Stop to end the recording and you can go to Recording List to check the audio file.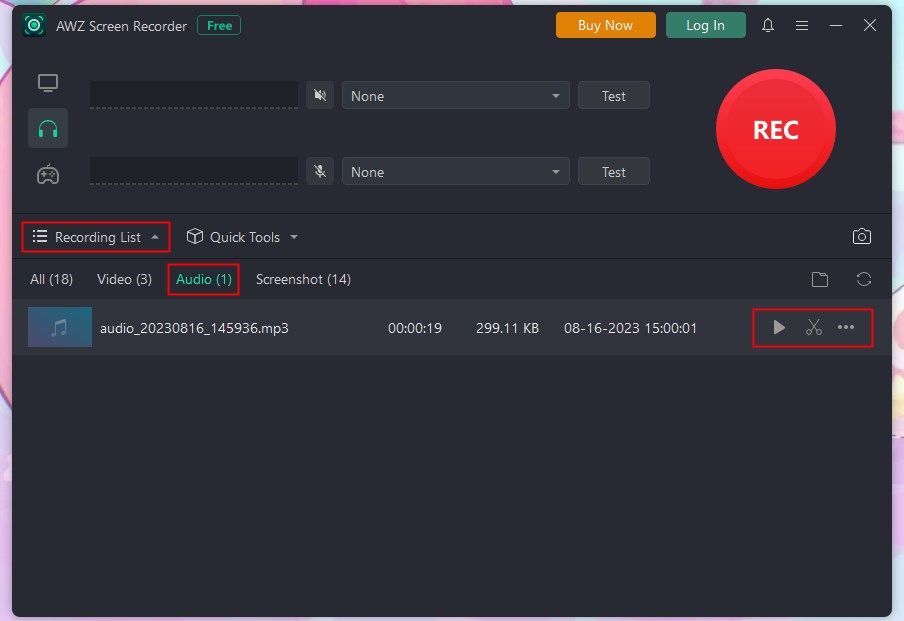 This guide has more ways to record audio on a Windows computer: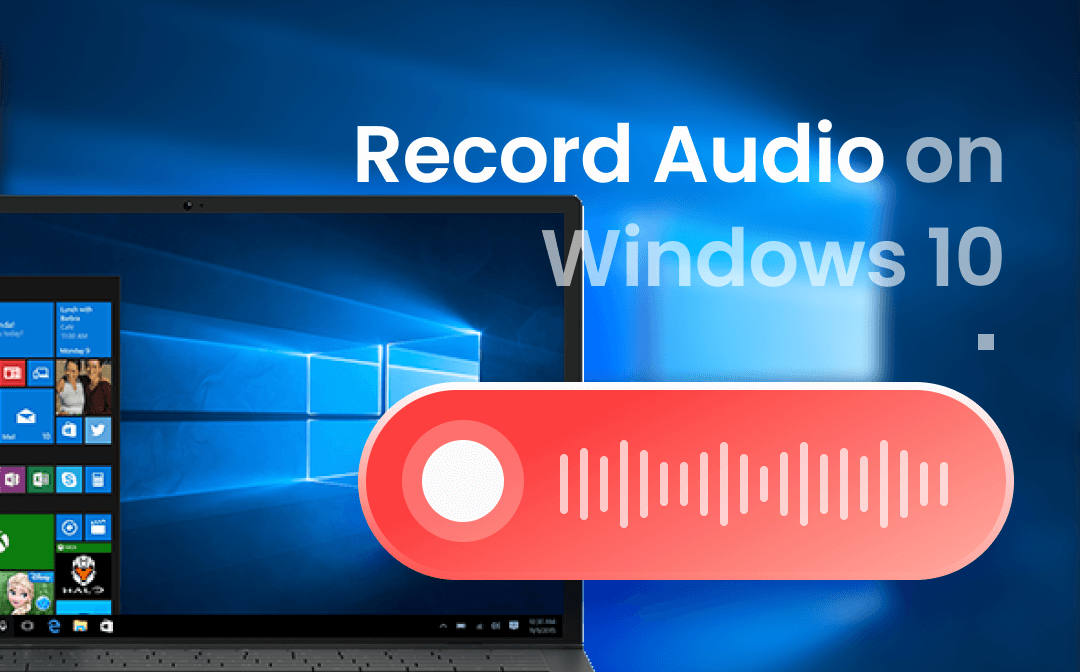 How to Record Audio on Windows 10 with or without Microphone
This guide will show you how to record audio on Windows 10, including the method to record audio without a microphone.
READ MORE >
Final Words
Does Discord record audio? The answer is No. However, it doesn't mean there isn't a way to record your voice. The owner of the server can invite Craig bot to record the chats. In addition, anyone can use a cell phone or audio recording tool to record any chats or calls. If you want to make a recording then please inform everyone to avoid any hassle.
If you found this article provided by AWZware helpful, then just share it with your friends and family.