Have you ever wondered why people deactivate their Instagram accounts and take a digital break? Usually, account deactivation helps people engage in a digital detox. This way, they have more self-time, create real-world connections, have increased productivity, focus on goals, have less stress, get sound sleep, get rid of the social validation trap, and bring in more perks. Also, many people deactivate their Instagram accounts due to privacy concerns, emotional health issues, and social media addiction.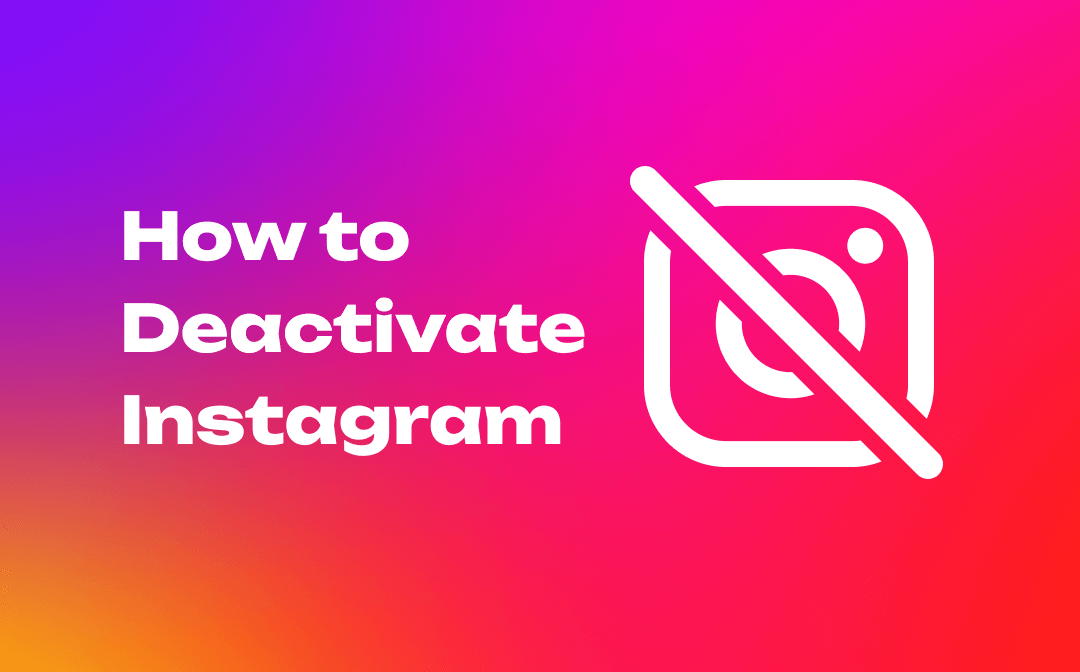 Here we will highlight the importance of understanding the Instagram account deactivation process and its implications and provide assistance on how to deactivate Instagram. So whether you are an individual, influencer, or business user, there might be various reasons for deactivation, and this post can be useful. Keep reading!
Understanding Instagram Account Deactivation
While the account deactivation may sound easy, you must know the implications of your actions before proceeding with the deactivation. Instagram does not send your account deactivation notification to your contacts and followers; no one will get to know if you disappear suddenly unless they are in close contact with you.
When you deactivate your Instagram account temporarily, your profile, comments, likes, and photos will remain hidden until you log back in and reactivate it. In short, your Instagram account will look as if it does not exist. Even your photos won't show up in others' tagged photos lists, and no one will be able to send you a message, making you digitally disappear on the platform.
Considerations Before Deactivating Your Instagram Account
Before you get to the discussion on how to deactivate Instagram, you must know that deactivating your Instagram account, even temporarily, can be a significant decision that comes with pros and cons. While it may benefit your mental and emotional well-being, you must consider a few things before taking a break from the digital platform.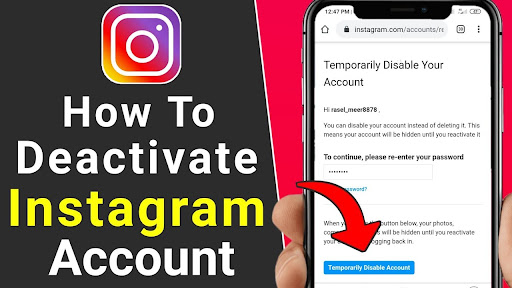 Back up your data and content like status updates, chat history, likes, photos, etc., so if you ever want to revisit them in the future, you can do so easily. Moreover, you can save the images you were tagged in one by one.

Inform your followers and contacts, so they are well-informed of your decision beforehand and do not worry about your sudden disappearance. It helps you give a sense of closure.

Evaluate alternative options like adjusting privacy settings. You may not necessarily deactivate the account. Instead, you can opt to disable it or reduce the usage to focus on other necessary things.

Make a contact list of people connected through social media so that when your account disappears, you still have the means to contact them. You can compile a list of emails and phone numbers to remain in contact even after deactivation.

Consider whether deactivating your account is a smart move for your career, as some businesses encourage employees to be socially active on media handles and link their accounts to the company website.

Prepare yourself for a distraction, or pick a hobby that does not involve your phone usage. Make some goals and work on them to achieve and fulfill your dreams.
These are only a few considerations before you proceed with account deactivation. Even if the decision is temporary, you must be careful before executing it, as it may affect your personal and professional connections. Once you are sure, you can check how to deactivate Instagram account in the following part.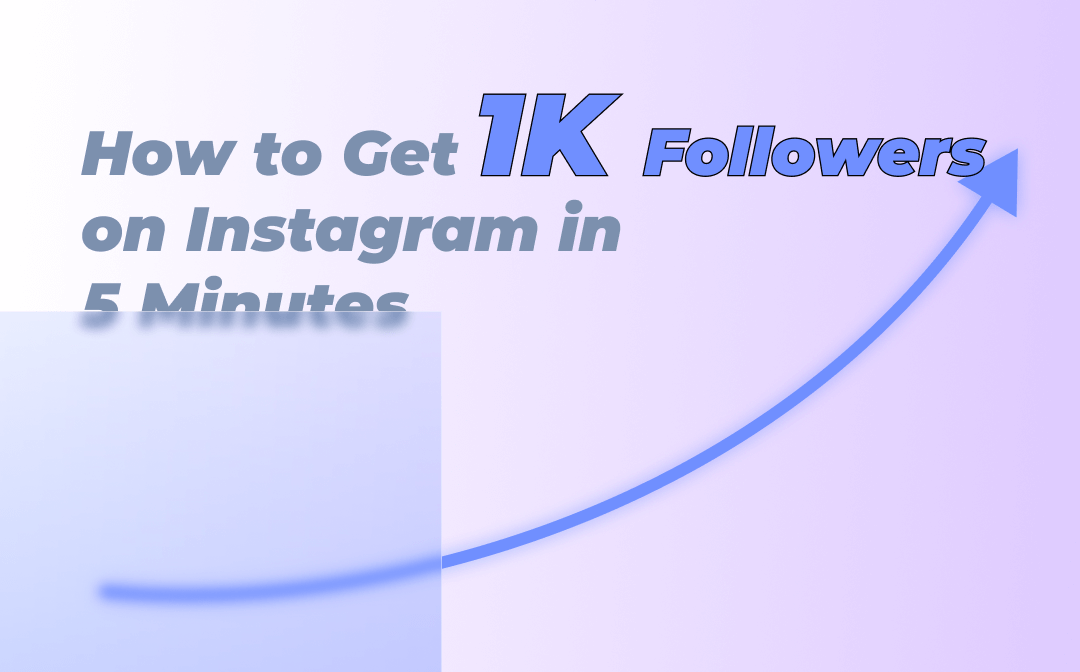 How to Get 1K Followers on Instagram in 5 Minutes [2023]
How can I increase my Instagram followers instantly? This post elaborates on how to get 1K followers on Instagram in 5 minutes with four tips.
READ MORE >
Step-by-Step Guide: How to Deactivate Your Instagram Account
Considering how to deactivate Instagram, there are many ways: through PC, browser, Android, and iOS. Let us see how to deactivate Instagram accounts temporarily through the official app and Accounts Centre.
1. How to Temporarily Deactivate Instagram Account from Instagram App
Step 1: Log in to the official Instagram website from a PC.
Step 2: Move the cursor to your profile picture at the upper-right and select Profile > Edit profile.
Step 3: Scroll down and select Temporarily deactivate my account at the lower right.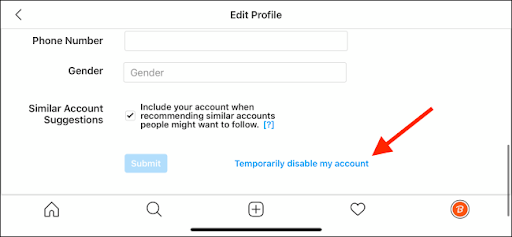 Step 4: Select a reason for account deactivation and re-enter your password.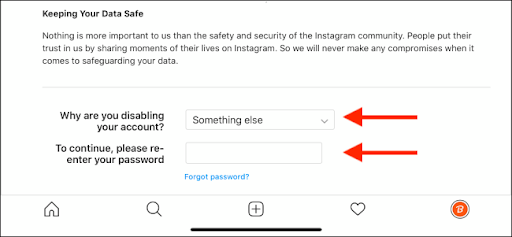 Step 5: Tap on temporarily deactivate the account and click Yes to confirm.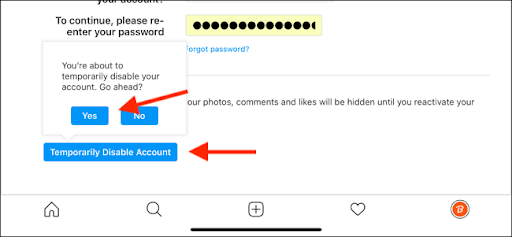 2. How to Deactivate Instagram Account Temporarily from the Accounts Centre
Step 1: Tap the More icon at the bottom-left (hamburger menu) and click the Settings icon (gear).
Step 2: Select Accounts Centre > Personal details.
Step 3: Select Account ownership and control > Deactivation or deletion.
Step 4: Choose the account to deactivate temporarily.
Step 5: Click Deactivate account > Continue.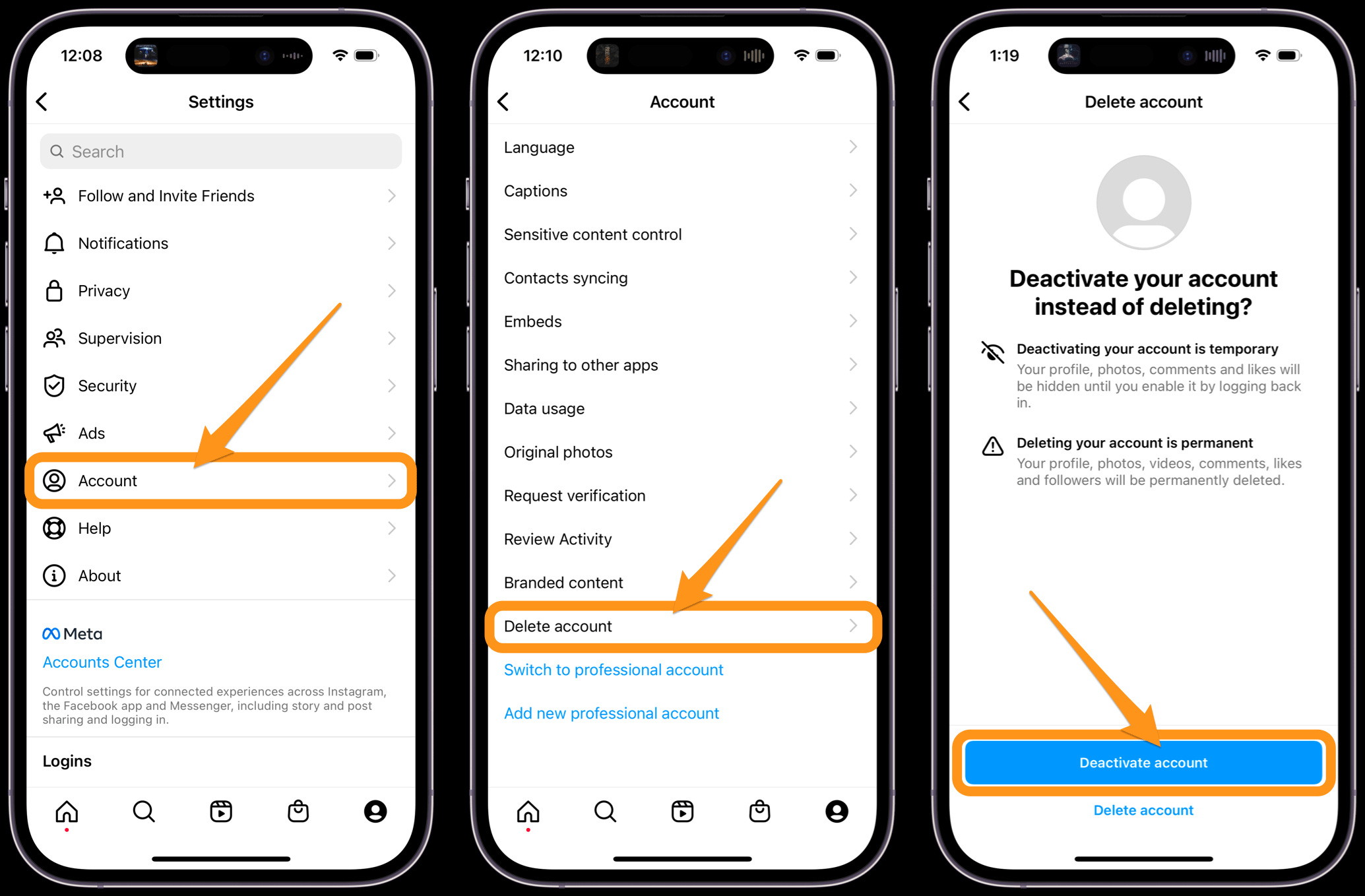 Also Read: Check and Solve Who Blocked Me on Instagram >>
Managing the Implications of Instagram Account Deactivation
How to deactivate Instagram account is quite an easy process. But once done, undoing your action the next day can be embarrassing. So before you proceed with the deactivation, you must know the implied results. The process can either affect you personally, including your privacy, or have an effect on your social relationships and communications. Either way, your life shall not be the same as before.
A. Privacy considerations
Impact on Profile Visibility
The deactivation process impacts your profile visibility, followers, and content accessibility. When the account is deactivated, your profile is temporarily hidden from visibility so no one can see your posts, photos, likes, or comments. In addition, neither one can follow/unfollow you, nor shall you be able to follow/unfollow someone.
There will be no profile image; even the username will be displayed as Instagram User to your connections. Also, messages sent to such accounts will not be delivered. In a way, all your account activities will be temporarily removed from Instagram, and neither will they be searchable nor modified unless you reactivate your account.
Review Third-Party Apps
Moreover, ensure to review the third-party applications and permissions linked to your Instagram account. When you link an external app to your Instagram account, you may see an authorization request listing all the information for access by the external apps.
These third-party apps can request information like your username, photos, etc., that you have shared previously. You can either choose to cancel it and stop the process, or Authorize to permit the app access. Furthermore, you can also opt to remove the third-party apps added to Instagram.
B. Social Implications
As a business user or influencer, how to deactivate Instagram can be easy, but addressing the social implications can be challenging. The account deactivation process can impact customer and audience relationships, communication, and social interactions.
Also, you might lose credibility, new followers (looking forward to following you), and even the existing customers and followers may seek better alternatives. As the communication ceases to exist, ensure either you create a new Instagram account or a new platform to make sure your credibility remains intact and effective communication remains unhampered.
You May Also Like: How to Check Unfollowers on Instagram >>
To Sum Up
Instagram is an emotion for influencers, content creators, and small & large businesses, so deactivating an Instagram account can bring many challenges. Unless you are thorough with the underlying implications and repercussions, you must think wisely before deactivating your Instagram account. A temporary break is always welcomed, conditioned that it does not cost you something more prominent and considerable. If you still think account deactivation is the need of the hour, we have shared how to deactivate Instagram accounts temporarily. Good luck!