Introduction:
Nowadays, almost all online social media platforms use emojis to make conversation funny, engaging, and exciting, as they help add expressions to your messages. So why are you staying behind? Make an emoji of yourself and rock the trend right away! As there are multiple apps available, we understand you may wonder how to turn your face into an emoji.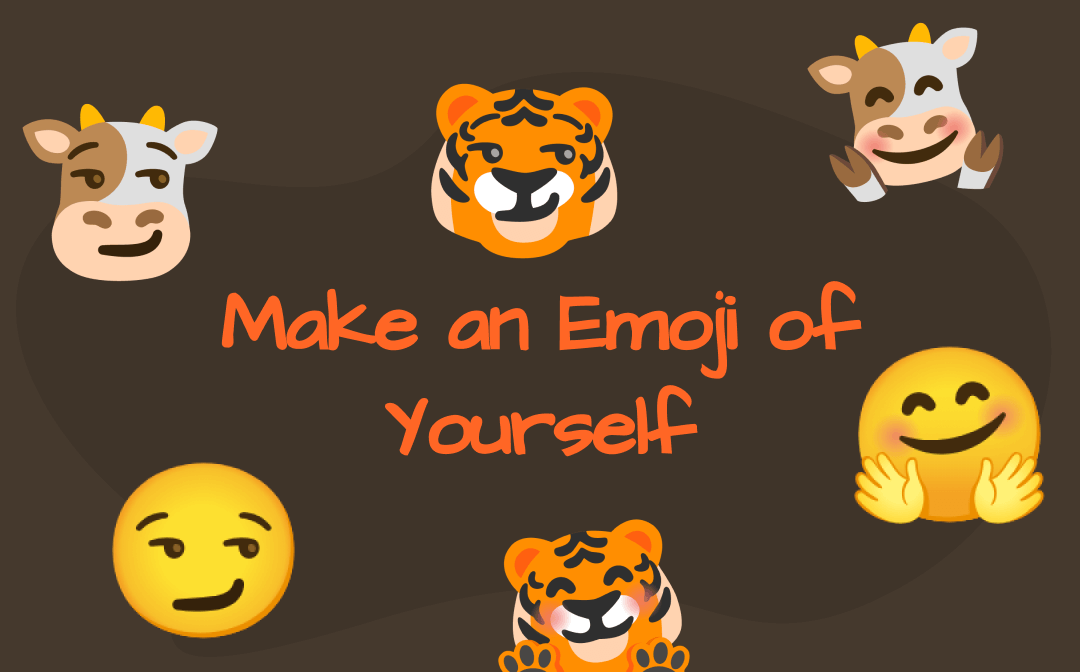 We have offered you all the best possible options to make an emoji of yourself by providing you with the best emoji apps for PC, iPhone, Android, and online (web app). These emoji apps help create funny avatars and experiment with your looks, making them slightly different from regular emojis. Let's take a look at them to get started instantly with AWZware!
How to Make an Emoji of Yourself on iPhone/iPad
You can create a Memoji that syncs with your personality and mood, then send it in Messages and FaceTime. Memoji is Apple's built-in emoji app that lets you make an emoji of yourself. Using a compatible iOS device like iPhone or iPad Pro, you can easily create an animated Memoji that uses your voice and seamlessly mirrors facial expressions.
Let's check how to create emoji in an iPhone in a few clicks.
Step 1: Bring up the Messages app and tap the Compose tab to start a new message. Alternatively, you can go to an existing conversation.
Step 2: Click the Memoji button. Swipe right and click the New Memoji icon.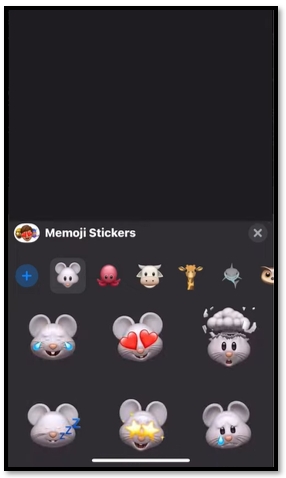 Step 3: Customize and personalize the features of your Memoji to suit your style, such as skin tone, hairstyle, eyes, etc.
Step 4: Once satisfied, click Done.
How to Make an Emoji of Yourself on Android
Bitmoji is Android's personalized emoji app that resonates well with Snapchat users and enables you to make an emoji of yourself in a few clicks. Google has integrated Bitmoji inside Gboard.
You can install it once to complete the integration and setup. Then, you need not swap apps to insert a Bitmoji, as you can do it from the keyboard itself. It offers you various customizable options, a multitude of accessories, and exciting costumes to make your avatar look cooler. Here's how to use Bitmoji.
Step 1: Bring up the Messaging app and click the chat where you want to send the Bitmoji. Ensure the Gboard app opens in the text field.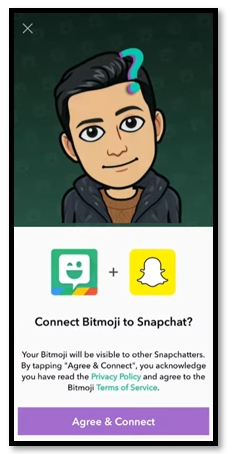 Step 2: Tap the post-it-like icon denoting Stickers on the keyboard's top bar.
Step 3: Find the Bitmoji icon in the Sticker pack.
Step 4: Tap Add/Install Bitmoji. You will be auto-directed to the Google Play Store to download and install Bitmoji.
Step 5: Open the Bitmoji app and quickly set up your personal Bitmoji avatar.
Once your avatar emoji is set up, you will see your Bitmoji as suggestions in the Bitmoji tab in Gboard.
How to Make an Emoji of Yourself on PC
The Moji Maker app is a freely available emoji design app to help you (Windows users) make emoji of yourself from the Microsoft Store. You can select and position component clips to design avatar emojis in the app. Check out how to turn your face into an emoji with the Moji Maker app.
Step 1: Bring up the Start menu and select the Microsoft Store. Type Moji Maker within Microsoft Store's search box and select the Mohi Maker app.
Step 2: Install and open the app. Then, click the Create New option.
Step 3: Select the eyes/glasses icon at the bottom and click the suggestions you want to add.
Step 4: Left-click the eyeballs/glasses and position the cursor on the emoji. You can even resize the eyeballs/glasses by left-clicking the bottom-right arrow of the selection box and dragging the cursor.
Step 5: Repeat the two steps mentioned above to add a mouth/hair/nose/beard/hat/mask, and more components to your avatar emoji.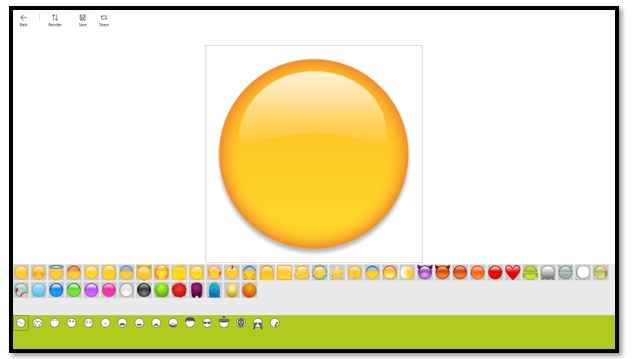 Step 6: Once finished, click the Save button and select emoji size. Tap the OK option and choose a folder in the Save As window.
Step 7: Input a file tile in the name box and tap the Save option.
How to Make an Emoji of Yourself Online
Angel Emoji Maker is an incredible emoji builder to customize and turn your face into an emoji online with any software or app download. It includes a multitude of emoji components to select from. Check out the quick process to make an emoji of yourself in a few clicks.
Step 1: Open the Angel Emoji Maker web app and click the Start Design button.
Step 2: Select a shape for your emoji and choose the preferred Eyes and Glasses.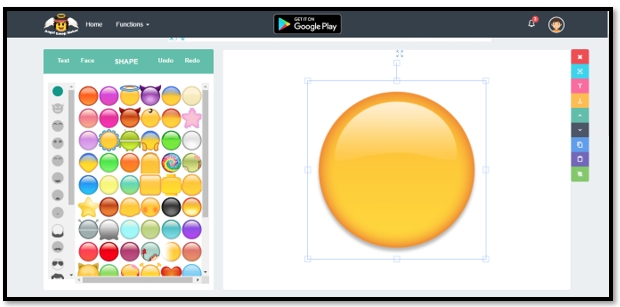 Step 3: Resize the added emoji component by left-clicking one of its border's corners, holding the mouse, and dragging the cursor.
Step 4: Repeat the abovementioned steps to add beard, hands, hair, mouth, nose, hat, and more emoji components.
Step 5: Select the Backgrounds button to add backdrops to your emojis.
STEP 6: Once done, click Save and select the Save Now option. Then, tap Download to save a PNG file for the emoji.
Bonus Tip: Record Your Emoji Video on PC with AWZ Screen Recorder
Now, you have enough options to make an emoji of yourself using different apps and devices and add fun to your chats. But do you know you can also record your emoji video on a PC with a versatile screen recorder? Yes! AWZ Screen Recorder is handy for capturing your emoji video on PC in a few clicks.
AWZ Screen Recorder lets you record every detail on your screen, including your avatar emoji, on a PC without any hassle. You can create quality recordings to capture the best moments and sound.
Smooth screen recording on Windows
Records the screen, audio, and webcam with various parameters
Create screencasts and make edits to them using built-in annotation tools
Save recordings or screenshots in multiple file formats
Share the recorded footage on social media sites
Step 1: Download and start the AWZ Screen Recorder on your Windows PC and choose a recording mode like screen, webcam, microphone, or audio.
Step 2: Record the full screen or any selected region on your screen and set up advanced capture options. Click the REC button to capture your screen.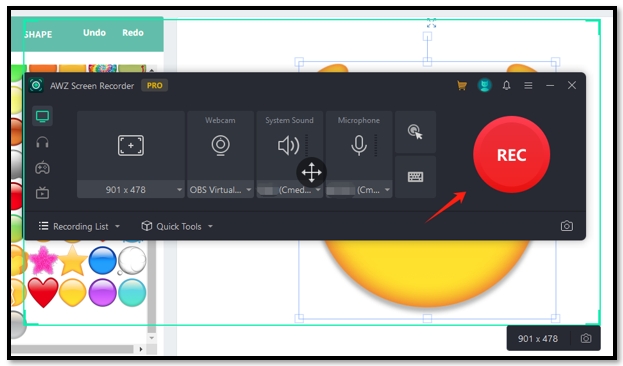 Step 3: Playback the video, make the edits to your recordings or audio source, and output it to any format in HD quality.
The Final Words
Emojis add a fun communication element and further convey messages and expressions more than words. We have listed some of the best emoji apps to make an emoji of yourself on PC, iPhone, Android, and online. These emoji apps offer exciting and attractive features to emoji yourself in the best possible way.
You can create videos using your memojis and avatar emojis and record them using AWZ Screen Recorder to edit and upload on social media sites to increase your subscriber count. Try the exciting software today to enjoy the new ways of expressive communication.