Introduction:
YouTube lets you stream videos but doesn't have the download option. However, people often want to save YouTube videos to watch offline. So every time they watch the videos, no need Internet connection and they can watch on any device. As a result, converting YouTube videos to MP4 videos becomes popular. To convert YouTube to MP4 format, a
YouTube to MP4 converter
is the key.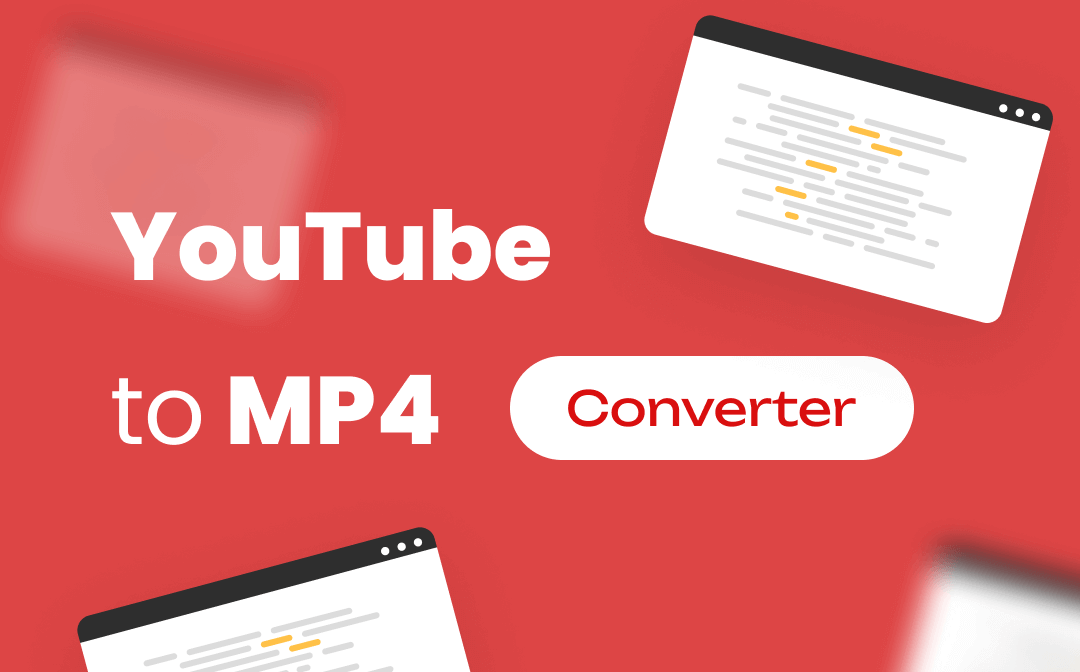 Not knowing which converters are safer and more practical? You don't have to test each one you've found on the web. We have tried and introduced the 9 best free YouTube to MP4 converters here. They are reliable to turn to. You may also learn how to perform the conversion with the converters in the blog.
Make sure you save the correct converter websites without ads or other disturbing things. Read every part, and choose your preferred YouTube to MP4 converter or multiple them.
OnlineVideoConverter.com
YT Saver
WinX Video Converter
YT Convert
YouTube4KDownloader
Wave.video
Fastest YouTube Downloader
VideoProc Converter
MP3Studio YouTube Downloader
1. YT Saver
YT Saver YouTube Converter is a convenient tool for converting YouTube videos to MP4 format. It is available on Windows, Mac, and Android, offering a clean and user-friendly interface. You can convert videos up to 8K resolution, playlists, channels, and audio without losing quality.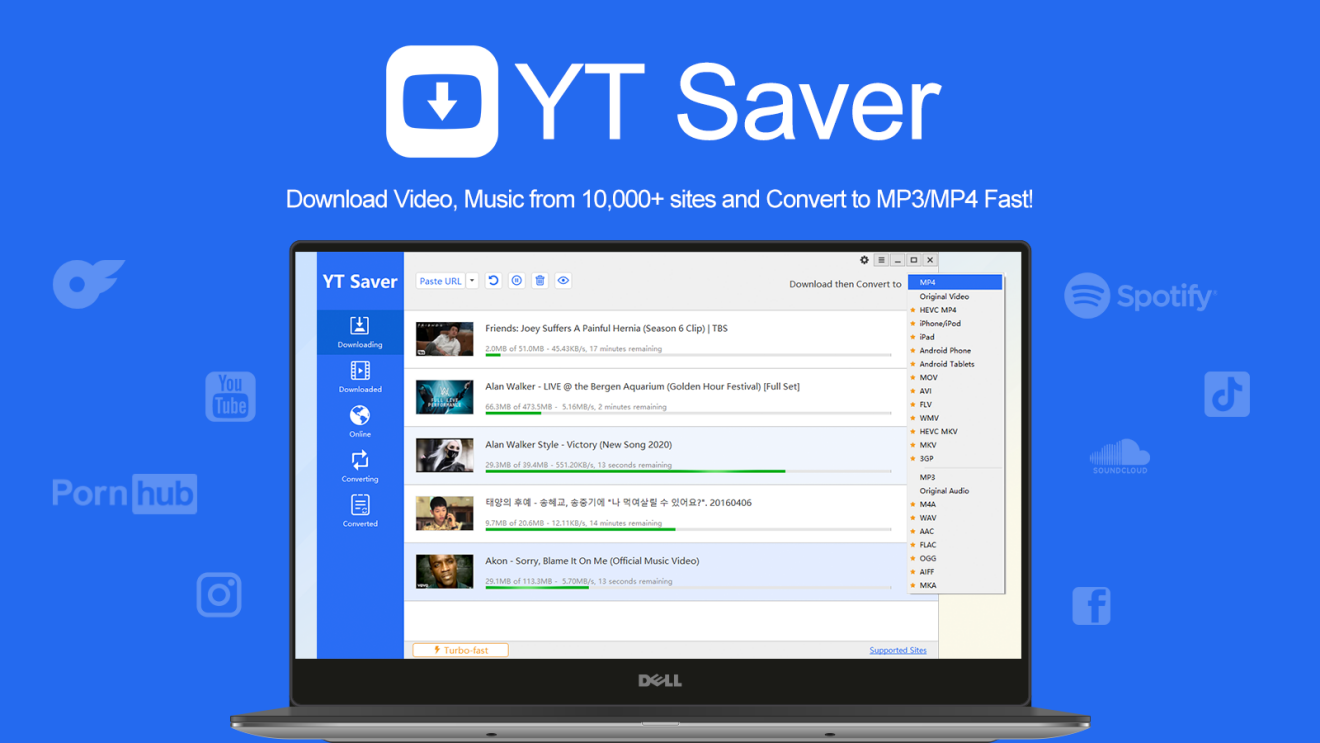 In addition to YouTube, the YT Saver converter offers the capability to convert and save videos and audio from popular platforms like TikTok, Facebook, Instagram, and over 10, 000+ streaming sites. This wide range of compatibility makes it a comprehensive solution for all your video and audio conversion needs.
Whether you want to convert videos or audio files, YT Saver YouTube Converter is a reliable choice. Its versatility, simplicity, and speed make it a valuable tool for anyone looking to convert media files effortlessly.
2. WinX Video Converter
WinX Video Converter is a free all in one YouTube to mp4 converter. You can use it to batch download 4K/8K video from 1000+ websites to MP4, MP3 and more formats. It runs with GPU acceleration, which means it can process video 47x faster than other converter. The standout multimedia software that delivers a seamless and efficient video downloading and converting experience.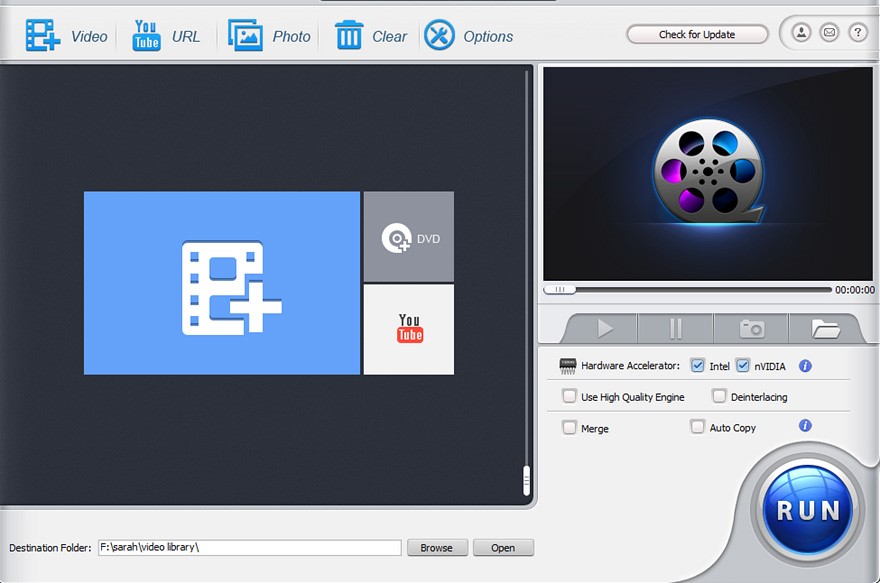 Whether it's downloading/converting a high-definition video to a portable device-friendly format or compressing a large file without compromising quality, this software handles the task flawlessly. Its extensive codec library ensures compatibility with various media players and devices, giving users the flexibility they need. Basic edit features and cut, merge, trim video make it convenient once you want to edit the mp4 files you download.
3. OnlineVideoConverter.com
OnlineVideoConverter.com is one of the best websites to convert YouTube to MP4. This YouTube to MP4 converter allows you to convert unlimited YouTube videos online for free. That's the best part. It has different video resolutions for you to output the converted MP4 videos. You can convert online YouTube videos to MP4 videos in HD 1080P. No registration or login need. The site is completely ad-free.
To convert a YouTube video to an MP4 file, all you need is to access the YouTube to MP4 converter, copy and paste the YouTube video link into the blank box, select the converted MP4 video quality, and click "START". The site also supports YouTube video download in various other formats, such as MP3, WAV and M4A. It not only converts video links but also can convert existing video files.
4. YT Convert
The second online YouTube to MP4 converter you can try is YT Convert. It can convert YouTube to MP4 on almost all devices, including iPhones, Androids, PCs, Macs, and laptops. What makes it stand out is the ability to convert YouTube videos of any length to high-quality MP4 files. No time limit. No conversion limit. The converter's interface is simple and clean.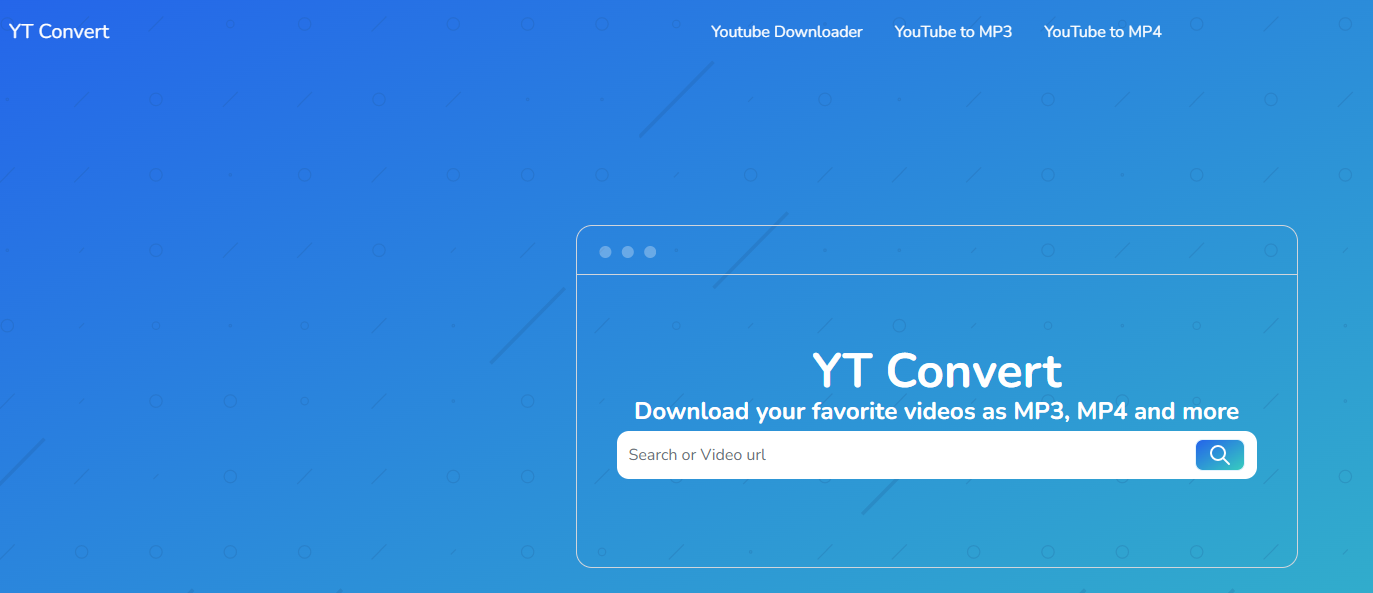 It takes just a few clicks to convert a YouTube video to an MP4 video. Paste your YouTube video link into the converter, press the Enter key, and pick your desired MP4 quality to download the file. The site is more than a YouTube to MP4 converter and also a YouTube to MP3 converter. Besides, it can be used to download MP4 videos from TikTok, Instagram, Vimeo and many other websites.
5. YouTube4KDownloader
YouTube4KDownloader is a platform you can rely on to convert YouTube to MP4 in your browser. The best YouTube to MP4 converter can convert any YouTube video to an MP4 video with high quality. It allows you to download YouTube videos to MP4 or other video files with 720p, HD 1080p, 2K, and 4K quality. The YouTube to MP4 converter is available on computers (Windows, Mac, and Linux), tablets, iPhones, and Android phones.

In addition to YouTube to MP4 conversion and download, YouTube4KDownloader allows converting YouTube to WEBM, MKV, 3GP, OGG, or MP3. The site offers a tool for simple video cutting. It also works as a Facebook downloader and can download videos or audio from more than 900 sites.
6. Wave.video
Wave.video is a free and trustworthy web tool for YouTube to MP4 converting and download. Like other online converters, the YouTube to MP4 converter and downloader allows you to convert as many YouTube videos as you want to MP4 files. The process of converting a YouTube video to an MP4 file using the converter is more streamlined than other converters. Simply paste the YouTube video URL into the input box, and hit the "Download" button.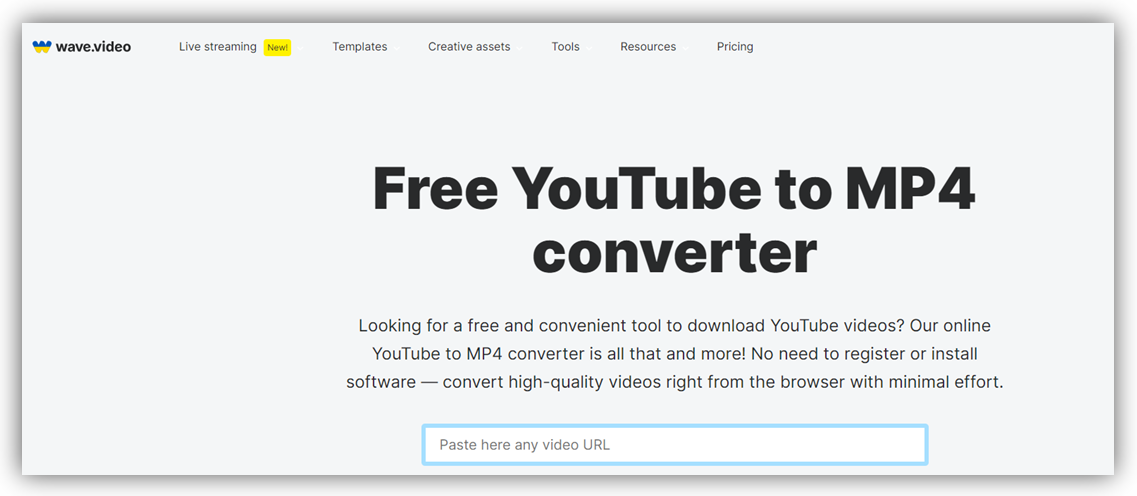 If you wish to download the converted MP4 files in 1080p resolution, go with the premium version of the YouTube to MP4 converter. You can use the converter on both desktop and mobile such as iOS. On the Wave.video site, you can do more than convert and download YouTube videos to MP4 files. It has additional tools to trim, edit, and cut the videos and add subtitles.
7. Fastest YouTube Downloader
Fastest YouTube Downloader is another YouTube to MP4 converter that deserves to be put on the best converters list. As the name suggests, it is one of the fastest converters. It provides 20+ output file options and file sizes. You can decide to download and save the resulting MP4 files without sound or audio. The YouTube converter allows you to convert YouTube to MP4 online for completely free. Before converting, there is a video thumbnail or preview image to check.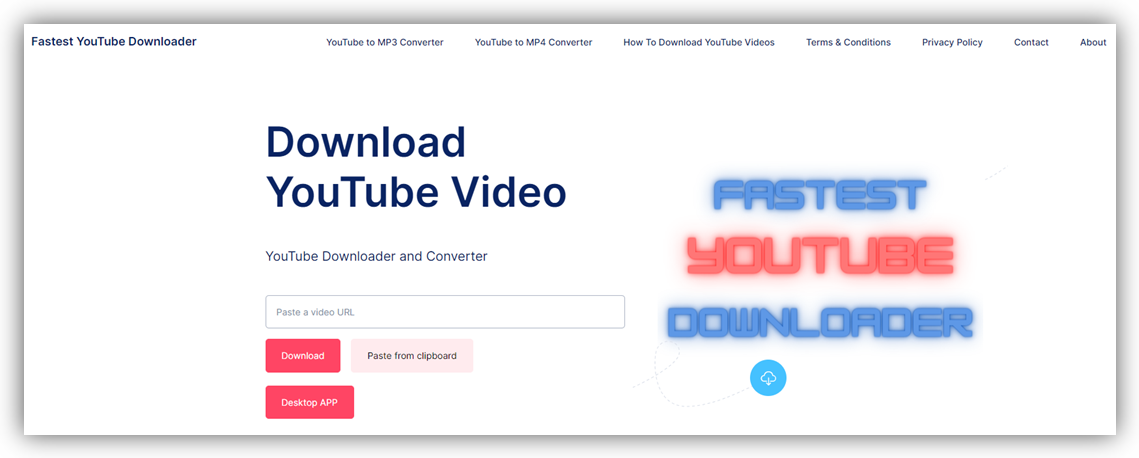 On the free YouTube to MP4 converter site, you can do a lot more than convert YouTube videos or shorts to MP4 files. The site supports converting YouTube to other formats, which are MP3 and WEBM. It also enables you to download videos from TikTok and all the popular social media websites, including Facebook, Vimeo, Soundcloud, and Instagram. The desktop converter app can be downloaded to run offline.
8. VideoProc Converter
VideoProc Converter is your best YouTube to MP4 converter and downloader for free download on Mac and Windows. It also has YouTube to MP3 and MP4 to MP3 converters and more tools. Similar to online converters, it empowers you to directly convert a YouTube link or URL to an MP4 video file. The converter can deliver 47x real-time faster conversion speed with GPU acceleration. It can batch convert videos to high resolutions (up to 8k).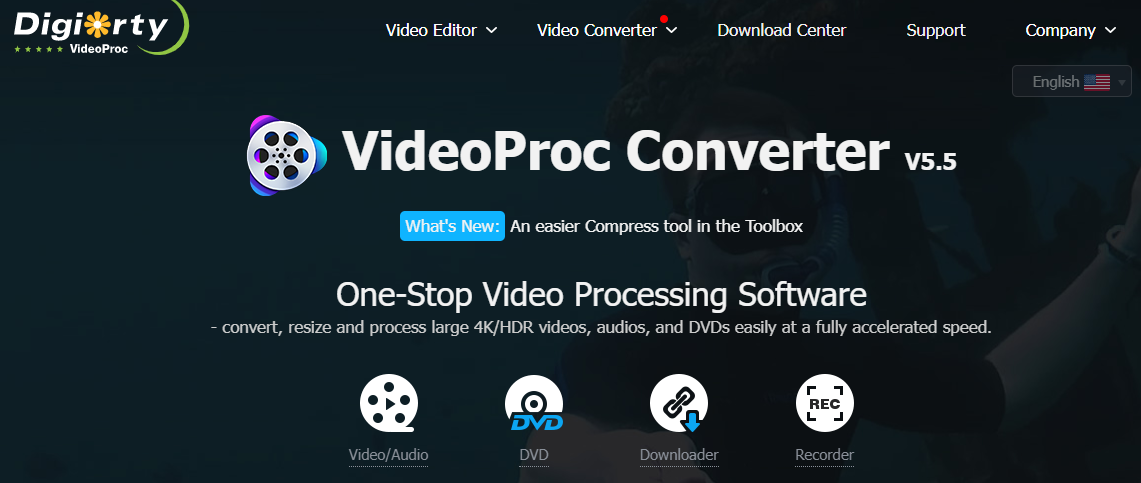 The YouTube to MP4 converter app allows you to convert YouTube to MP4 for free. It can convert a full YouTube playlist to MP4 files. Other output formats include AVI, MOV, FLV, and MKV. The free version of VideoProc supports downloading videos from 10 regular sites without any limit. The premium version can download from 1000+ sites, such as Facebook, and Vimeo. The app also lets you merge, cut, and crop videos. It converts any videos, audio, and DVDs.
9. MP3Studio YouTube Downloader
MP3Studio YouTube Downloader is one of the best YouTube to MP4 converters for Mac, Windows, and Android users. It has the feature to convert an entire YouTube playlist to MP4 videos at once. Converting a video from YouTube to MP4 format is straightforward. Paste the video link into the search box, select MP4 as the output format, and click "Convert".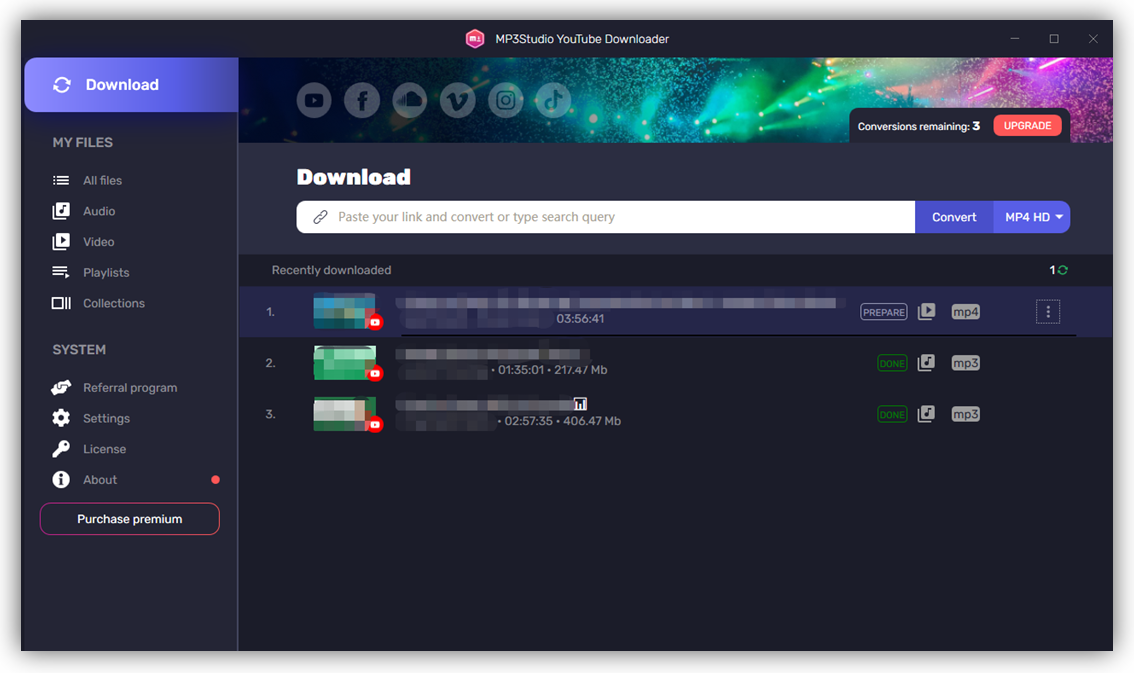 The YouTube to MP4 converter app has a compact and user-friendly interface. You can choose to convert and download YouTube videos to AVI, WMV, WMA, and other formats. Converting 4K YouTube videos to MP4 or other files is a basic capability of MP3Studio. The app is also capable of downloading videos from other video hosting platforms. It has three subscription plans, which are monthly, 3-month, and lifetime plans. The free version allows 3 daily conversions.
How to Record YouTube to MP4 for Free
In addition to using a dedicated YouTube to MP4 converter, you can achieve the YouTube to MP4 conversion with a screen recorder. With the help of the AWZ Screen Recorder screen recording software, you can record and save YouTube videos to MP4 files with the original video quality. The software is designed with video recording, audio recording, webcam overlay, and scheduled recording. You don't have to sit or wait in front of the computer. The software helps you get things done.
Check the below steps to see how AWZ Screen Recorder works as a YouTube to MP4 converter.
Step 1: Make your YouTube video ready for playing;
Step 2: Launch the screen recording app, click the Full Screen button to choose Select Region, and enable the audio recording;
Step 3: Drag to draw an area around the video, press F12 or click REC to start recording in a 3-second countdown, and play the video in time;
Step 4: To stop the recording, press F12 or tap the red Stop button and the YouTube video is saved in MP4 format by default.

Through the process, you successfully record and convert YouTube to MP4. You can view the video from the YouTube to MP4 converter and recorder or your local file folder. The software helps record Facetime or Google Meet to MP4 as well.
If you have both the need to convert YouTube and record screen, combine the above YouTube to MP4 converters and a screen recorder. They will make your workflow and life easier than ever. The free trial of screen recording software lets you record YouTube videos to MP4 files for free without limitations. It may also allow you to add annotations to videos.
Conclusion
When you have a YouTube video or other YouTube content to convert to an MP4 file, get any mentioned YouTube to MP4 converter. The online converters don't take up space and have no limit on conversion times. The desktop converters do a good job of batch converting YouTube videos and converting playlists. They are more secure and stable than online converters.
All the YouTube video converters allow you to convert YouTube to MP4 for free. It's recommended to choose a converter with a higher conversion speed and high-quality output options. Between the two desktop YouTube video or link to MP4 converter apps, VideoProc Converter works better without lags. Try them to convert, download, and play your liked video on the go.
Bookmark the AWZWARE website to learn more about various effective tools, such as PDF editing software, location changer, and the soon-coming screen recorder.
FAQs
Is it legal to convert and download YouTube videos?
YouTube video conversion and download may be legal or illegal, depending on the content type. According to United States copyright law, it is illegal to make copies of copyrighted YouTube videos without the permission of the owners. Whether it's for personal or distribution use. However, you can convert those copyright-free videos for personal purposes with a YouTube to MP4 converter.