Introduction:
To stream audio-video content on your Windows or Mac computer, you always look for the commonly used MP4 player, a media-playing software that supports the MP4 file format. It is the most popular one to enjoy media content as it supports both the audio and video formats, Mp3 and Mp4. Instead of carrying the physical copy of your favorite CDs or DVDs, you can store and carry them in your MP4 file player.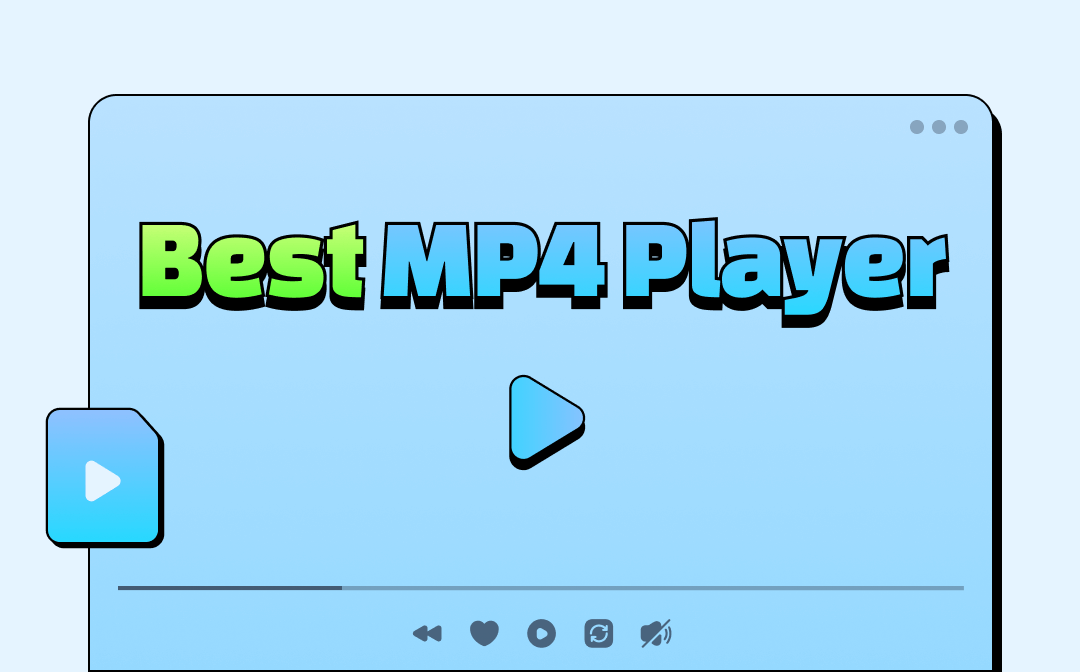 Having a compressed file format, MP4 video players also customize your system's storage space. This beginner-friendly media player offers many customizable functions with a big screen for visual clarity of your digital media content. So, instead of picking up any random software, here you get the list of top MP4 players for Windows 10 and Mac OS with their exclusivity. Explore them together with AWZware!
Comparison of the 7 MP4 Players
Let's get a quick comparison of the top 7 MP4 file Players with their best possibilities and useful aspects.
| | | | | |
| --- | --- | --- | --- | --- |
| Name | Known For | Compatibility | Price | Ratings |
| VLC Media Player | Free, Open-source, add & spyware free, widest format support | Windows, Mac, Unix, Linux, Android, & iOS | Free | 4.5/5 |
| FLVPlayer4free | Extensive format support, playlist editor, UHD support, & resizable window | Windows | Free | 4.6/5 |
| Aiseesoft Blu-Ray Player | AI tool, any types of file, folder & disc support, SD/HD support, H.265/ HEVC codec | Windows, & Mac | Free version & paid plan for unlimited access to all features | 5/5 |
| Jumpshare | Online tool, installation free, all browser support, thumbnail customization, source link adding, | All devices, OS & browser | Free | 4.4/5 |
| QuickTime Player | Built-in app, extensive editing, online & live streaming, screen recording | Mac | Free & $29.99 for Pro version | 3.3/5 |
| Elmedia Player | 70+format support, 8K resolution support, screen mirroring, screenshot during playback | Mac | Free & $19.99 for Pro version | 4.5/5 |
| Moviest | Internet video streaming, quality & subtitles selection, multiple language support, reading subtitles | Mac | Free & $4.99 for paid version | 3/5 |
4 MP4 Players for Windows 10
Being one of the most commonly used OS Windows computers must be an inseparable part of your personal, professional, or entertainment purposes. From streaming movies and OTT content, playing video games, and listing music and audiobooks to editing and customizing, you can do multiple works on your Windows computer with your favorite media content. So, to optimize your audio-video media file handling experience with excellence, here you go with the MP4 players for free download with highlights.
1. VLC Media Player
Being one of the most reputed and open-source, you can enjoy VLC on your Windows computer. This one of the high-end MP4 players Windows 10 compatible programs also supports other OS, including Mac, Linux, Unix, iOS, and Android.

Highlights
Without any codec pack, it supports most codecs like H.264, WebM, MKV, etc
It plays all multimedia files & streaming protocols like Webcam, files, streams, discs, and devices
Spyware, ads, & tracking-free program
2. FLVPlayer4Free
FLVPlayer, for free, is one of the smartest MP4 players to enjoy your favorite multimedia content from online or offline sources on your Windows PC. This media player is known for its ultimate customizing tools, such as a resizable window, last setting remembering function, smart volume control, etc.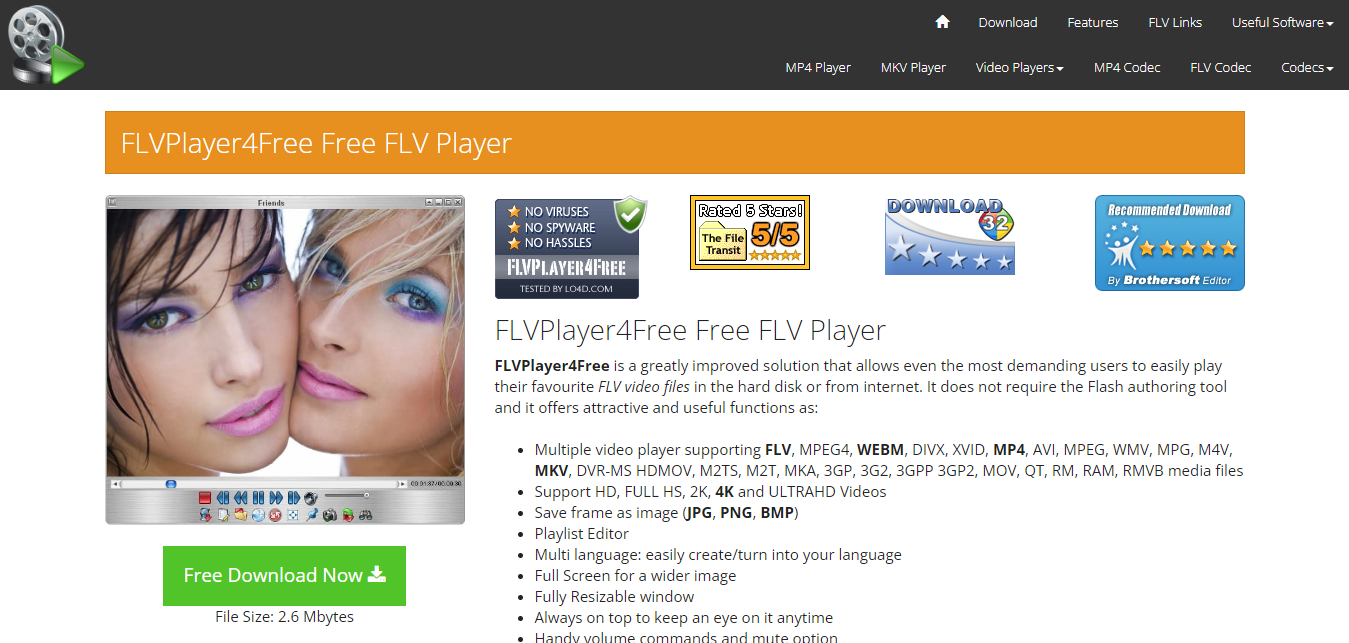 Highlights
This MP4 media player doesn't need any Flash authoring tool
It supports most common file formats like FLV, M4A, Mp4, MKV, etc
It supports multiple resolutions like HD, UHD, 4K, etc
It offers a playlist editor with multi-language support
3. Aiseesoft Blu-Ray Player
With trendy AI technology, the Aiseesoft Blu-Ray Player lets you play Blu-Ray folders, discs, DVDs, iOS files, and folders with multiple audio-video customization options. This MP4 player Windows 10 compatible program also supports Mac Os. You can also capture scenes while streaming with this program.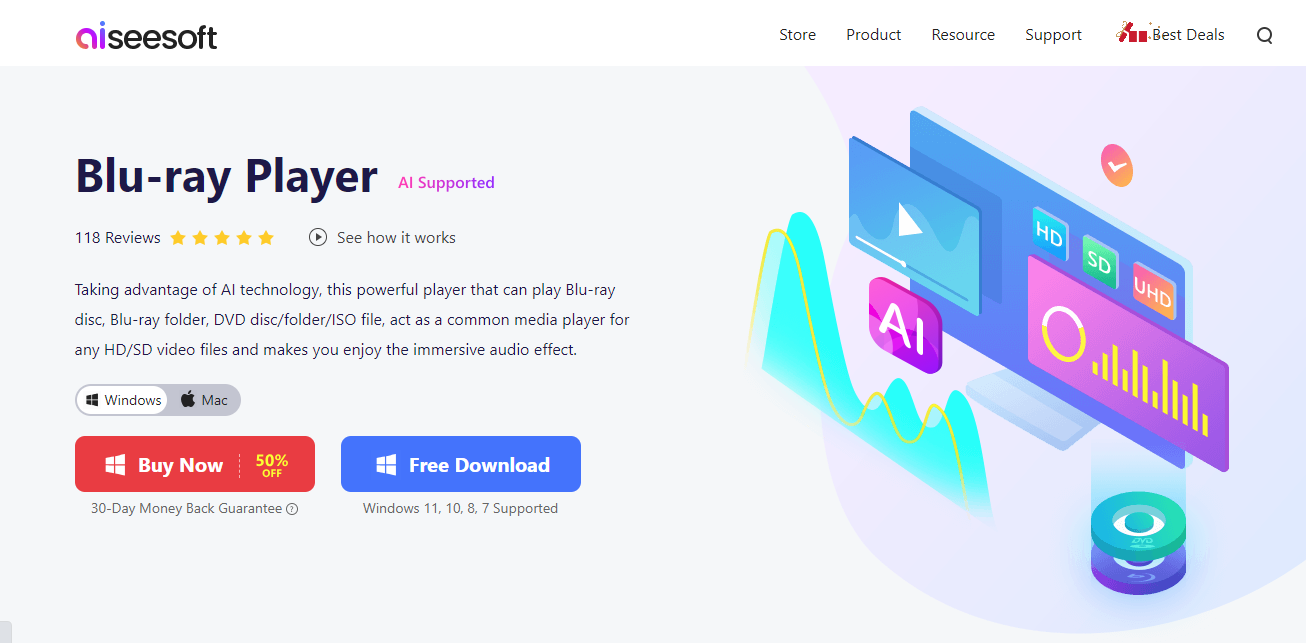 Highlights
Explore this Mp4 video player free downloads with resolution from 720p, 1080p to 4k
Lossless video compression with H.265 or HEVC encoding
It offers multiple audio-video format support like MP3, AAC, WMA, etc
It supports multiple setting options like audio track, subtitles track, etc
4. Jumpshare
To look for a free MP4 player online, Jumpshare is the smartest and safest free online player for Windows. It also supports other OS & devices like Mac, Linux, Android, iOS, etc, with all browser support. It doesn't require any sign-up or account for use.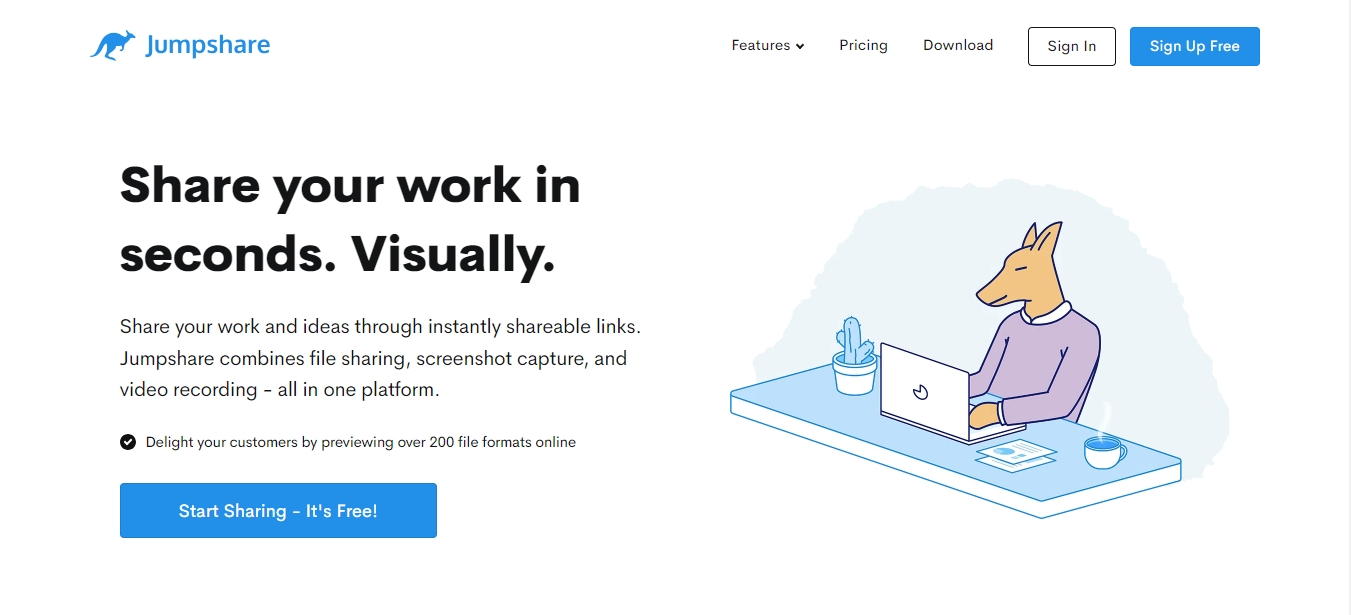 Highlights
Despite being an online MP4 player, it's a secure platform with an HTTPS connection & AES-256 military-grade technology.
You can embed this program anywhere, including your personal website, product page, etc.
Video editing option to remove unwanted portions of the media content
Add additional resources by adding links with a Call-to-action feature
3 Top 3 MP4 Players for Mac
If you are a Mac user and think that finding the most suitable MP4 video player is quite a job, here you will get the most effective and authentic MP4 players for Mac. Using these players, you can stream, edit, or customize any audio-video content from the web world or your system's hard drive.
1. Quicktime Player
Quicktime Player is a built-in program on Mac computers. It lets you play any media file with a few clicks. This MP4 player also allows you to record the screen of your system for later flexible watches. You must go through how to record video on Mac to customize your offline video streaming experience.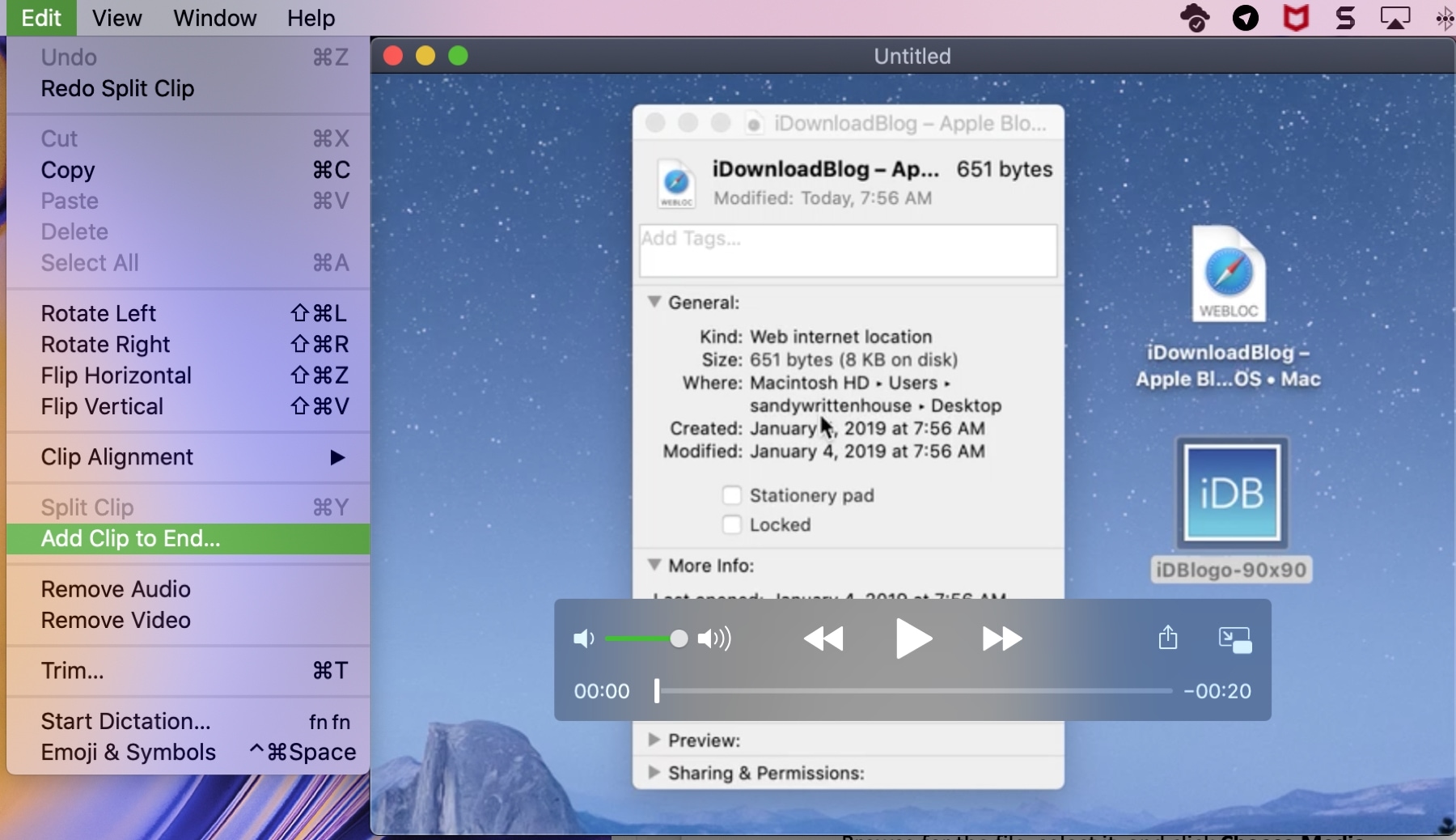 Highlights
This MP4 media player supports multiple file formats such as MP3, MPEG-4, WAV, Flash video, ASF etc
It offers the best editing suites with trimming, cropping, rotating, etc, for any multimedia file.
This filmmaker's favorite application is integrated with different websites, apps, and video games.
This MP4 video player is a multifunctional program as a media player, image viewer, and virtual reality tool with an online video streaming option over networks
2. Elmedia Player
Elmedia Player is a free MP4 video player for the Mac platform. While supporting over 70 audio-video formats, this tool doesn't need any additional codecs to work. You can download this MP4 player online for free. You can explore online content searching options through the extensive database from the MP4 media player.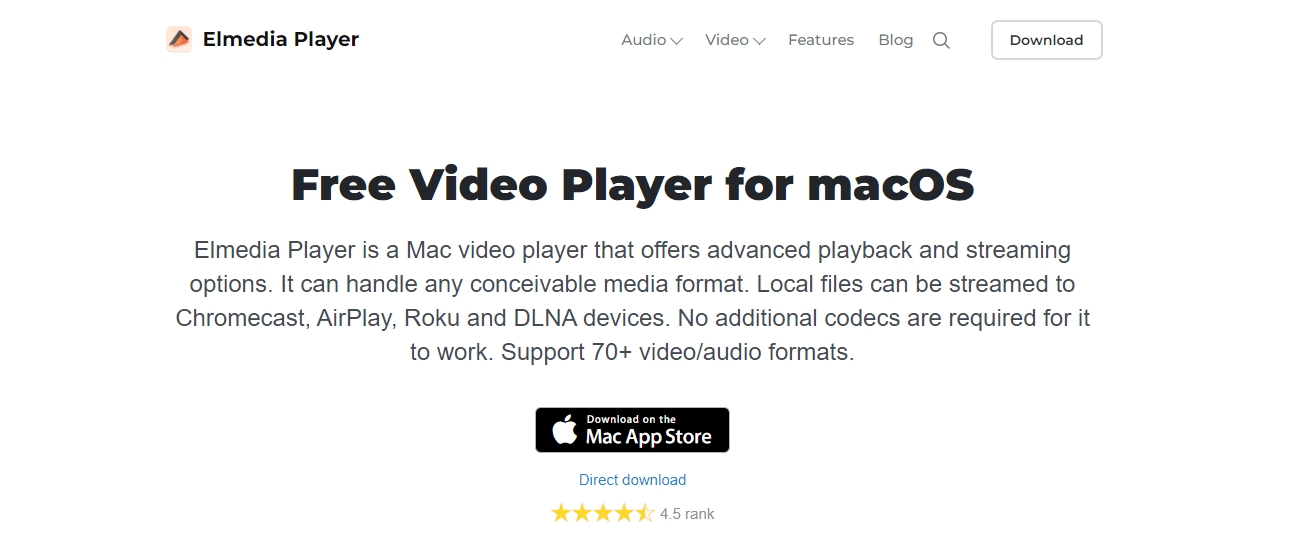 Highlights
Enjoy HD quality content without any slowdown or synchronization issue
Repeat/ Shuffle option to watch playlist later
Customize the video streaming experience while syncing the speed, audio, subtitles, etc.
Timeline preview thumbnail option for playback customization
Ultimate customization with font, size, background & text color
Subtitles auto-saving option in preferred languages.
3. Movist
Movies is another option to explore Mp4 Player free downloads on your Mac computer. This high-end program has various customizable functions like a transparent title bar, controllers, and control panel, many with various states, etc. It lets you watch online videos with a web page while entering the online video link.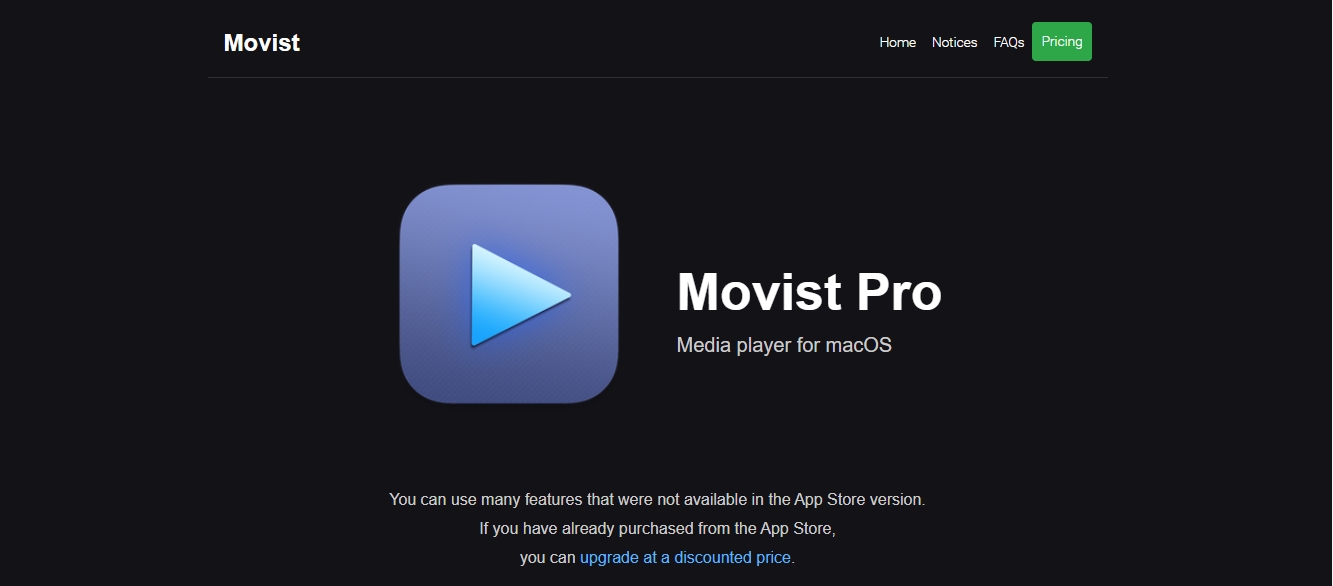 Highlights
It offers a light & dark theme with the H.265/ HEVC codec
It supports 4K resolution
Subtitle adding option is available with multiple language subtitles viewing option simultaneously.
Explore default language track settings with filter, equalizer, and other setting options.
Pro Tip: Edit Your MP4 Files to Save more space in AWZ Screen Recorder
While streaming online videos or binge-watching your DVD collection on any MP4 media player, AWZ Screen Recorder will assist you in recording the full screen or any part of the screen on your Windows or Mac system. This screen recorder will help you to customize and compact your device's space size by recording and saving the required part of the media content while eliminating the rest. This will take less storage on your device. So, let's see some exclusive features of this screen recorder.
Features
While streaming on an MP4 media player, Webcam & microphone recording
Record 2D or 3D games
Capture screenshots
Share recording to any social media platform
Video editor with annotation & lets you trim videos on Windows 10
Record online courses, meetings, streaming videos, YouTube videos, etc
Enjoy scheduled recording
How to use AWZ Screen Recorder to compress MP4 videos on Windows 10
Step 1: Once you run the program on your system, select "Quick tool"> "Video Compressor" > drag & drop your selected video to the workstation.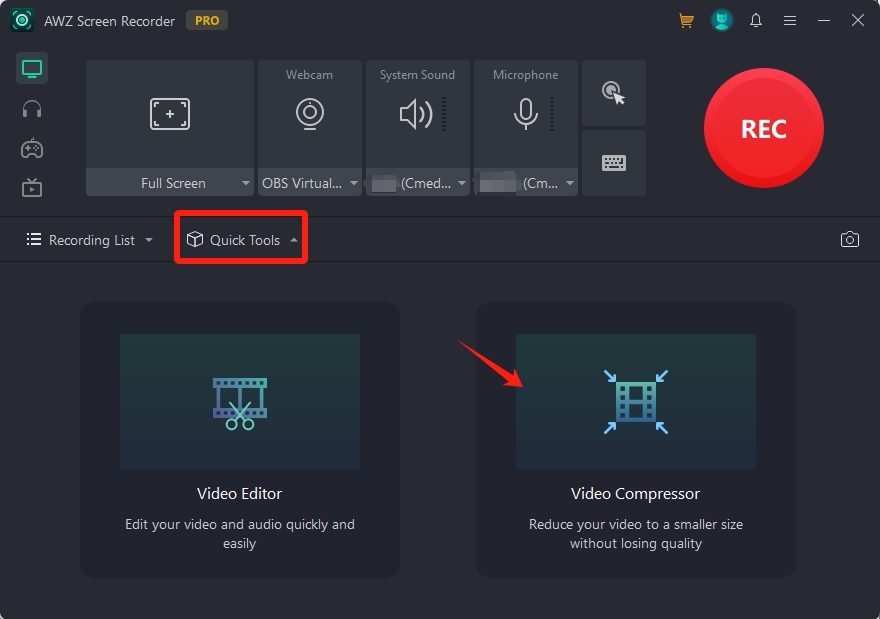 Step 2: After specifying the compression level, head to the "File name" option to rename the file & select the output path. Select the "Compress" option to compress your selected MP4 video.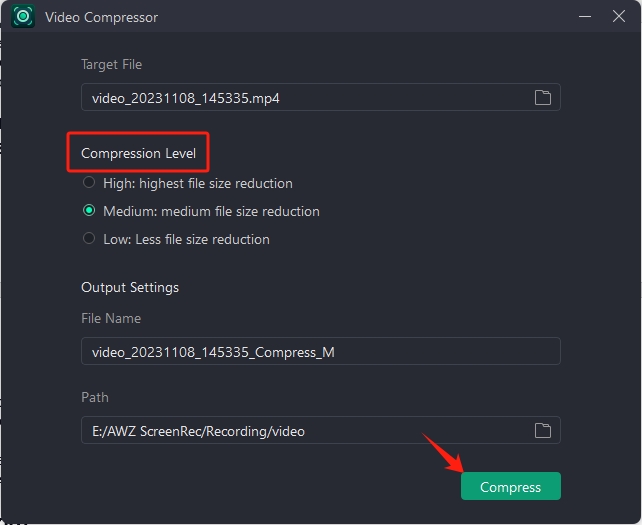 Final Word
Never compromise with your media streaming experience, as you have the most sorted list of the top 7 MP4 media players with their best benefits. Now, while streaming, explore the ultimate customization of your content for your later offline watching with the unlimited flexibility of the AWZ Screen Recorder.