Introduction:
The free plan of Discord has an 8MB size limit for file uploading and sharing. When you have a video that is too big, you may want to compress the video for sending on Discord instead of upgrading to the Basic or Nitro version. A great
video compressor for Discord
is essential to get the compression done efficiently and easily. This post by
AWZware
has rounded up the 5 top file compressors worth trying and you can browse and pick one that fits you best.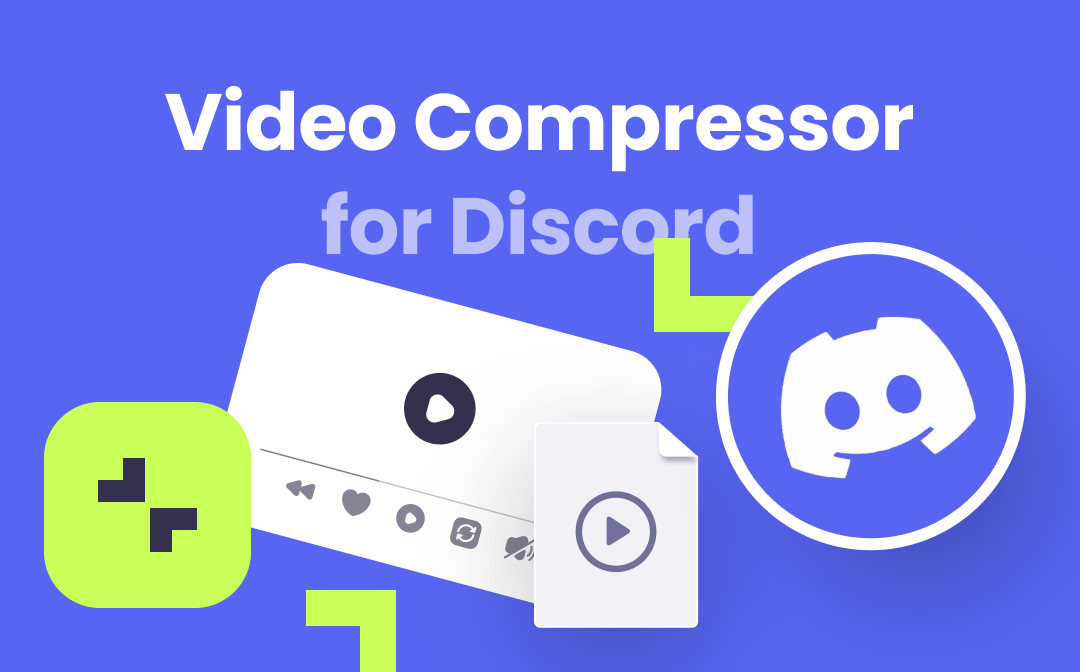 Best 5 Video Compressors for Discord's 8MB File Size Limit
To compress a large video to a smaller 8MB video using a video compressor for Discord, you can turn to either a downloadable desktop app or an online tool. Depending on your preferences and your considerations, they both have their own strengths and weaknesses. Read the following content to learn about the 5 offline and online Discord video compressors.
#1. AWZ Screen Recorder - Best Video Compressor for Windows
AWZ Screen Recorder is a fast and handy video editing and recording software that is also a video compressor for Discord. It supports MP4, WMV, AVI, MKV, and various other video formats. Three compression levels are offered to compress videos to lower, higher or medium quality for Discord. The compression process takes just a few seconds. The user interface is intuitive and user-friendly.
Check the below steps on how to compress a video easily with the video compressor for Discord.
Step 1: Access the Video Compressor
Download and launch the compressor software on your PC, click Quick Tools at the bottom and choose Video Compressor;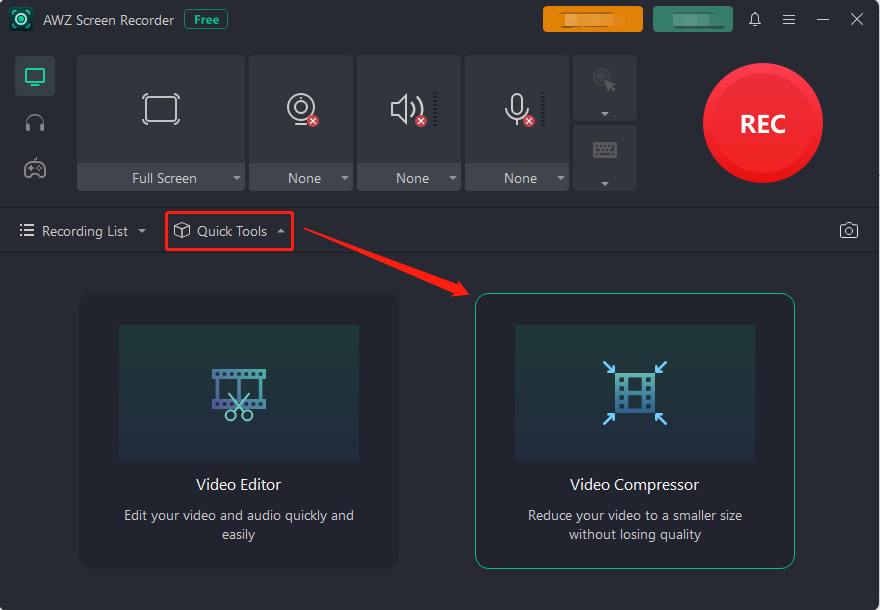 Step 2: Set the Reduced Video Size
In the compression setting dialog box, select which compression level or how big to reduce the video size by checking the High, Medium or Low radio button.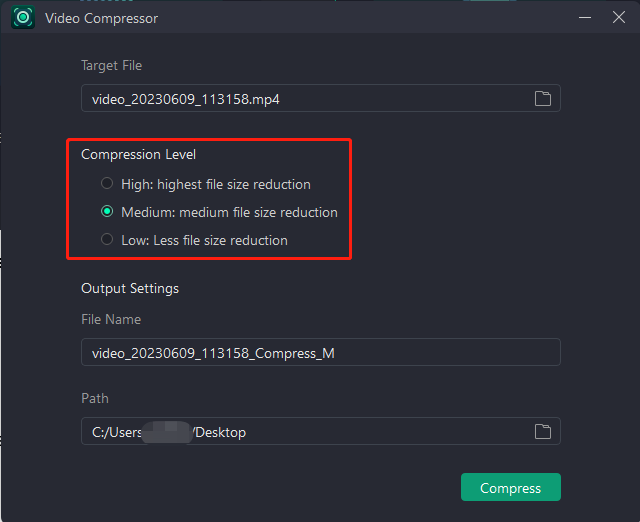 Step 3: Compress Video to 8MB for Discord
Let the video compressor for Discord work its magic by clicking the Compress button and the compressed file will be saved to your specified location.
The software is more than a video file compressor to reduce the video size to 8MB to send for Discord and can also make videos smaller in other ways:
Trim videos to cut off unnecessary parts.
Screen record videos to a different format like MP4 which saves videos in a decreased size.
Download the video compressor for Discord to get rid of the video size trouble and also screen record on Windows.
#2. HandBrake
HandBrake is a free and open-source video and audio transcoder that's preferred by lots of professionals. It enables you to convert videos to a selection of modern formats and compress Discord videos to 8MB. As a video compressor for Discord, it supports customizing the bit rate, maximum file size and quality of the exported videos. Created by volunteers, the software is a bit complicated to use and doesn't provide a streamlined workflow.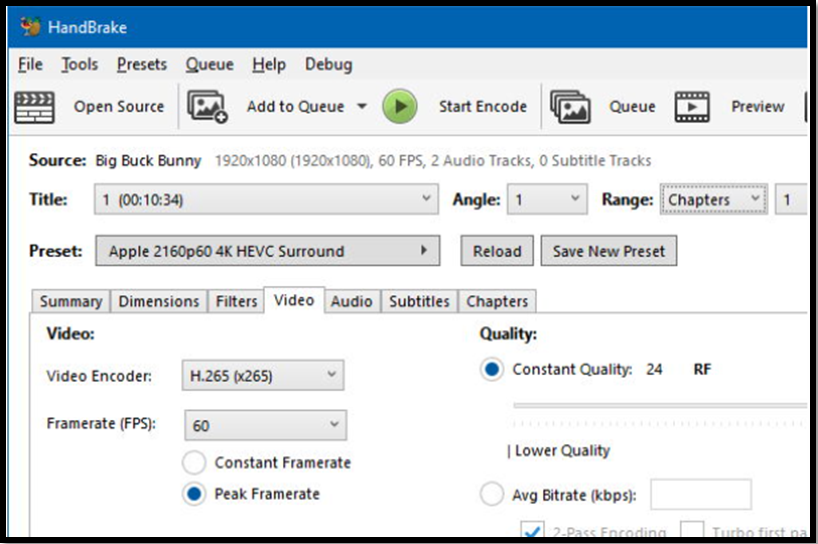 In terms of how to compress a video for Discord, import the video into the program, click the Preset button, select an option from the Web section, choose the destination folder and start. The cross-platform video compressor for Discord allows you to compress video files on Windows, Mac and Linux.
#3. 8mb.video
8mb.video, as the name suggests, is designed as a Discord video compressor which allows you to reduce the video file size online for free. It doesn't require you to sign up for an account. The available compressed video size can be 8MB, 25MB, 50MB and 100MB. You can enter the URL of an online video to process it. The video compressor for Discord has advanced options for you to remove the sound, take off the first or last clip and do something others.

To perform a video compression for Discord, upload the video file, select the 8MB size, check your wanted options, and click the Upload button. Since the 8MB video compressor for Discord is browser-based, it's accessible for any PC and mobile. One thing to note is the website has intrusive ads and be careful with any of your actions.
#4. OnlineConverter.com
OnlineConverter.com is another online video compressor for Discord. It not only allows you to compress a video file to 8MB for Discord but also enables you to convert video formats, and merge, cut, and rotate videos. You can upload a file up to 200 MB and choose from a list of audio quality. While the video size compressor for Discord supports typing a size value, the resulting size may be bigger. Make sure your target size is not too small.

The video compressor for Discord has an outdated and ads-filled interface which is the main downside of it. In addition, when you upload a video to compress for Discord with the compressor, the uploading time will be a bit longer.
#5. iMove
iMove is a native Discord video compressor for Mac, iPhone, and iPad. The free video editing application by Apple is simple to learn for novice users. It allows you to create memorable videos and trim clips. To start a task with the video compressor for Discord, import a video, make any edits you like, click File > Share and choose File to set the resolution and more options that can reach the 8MB size or less, then export the file.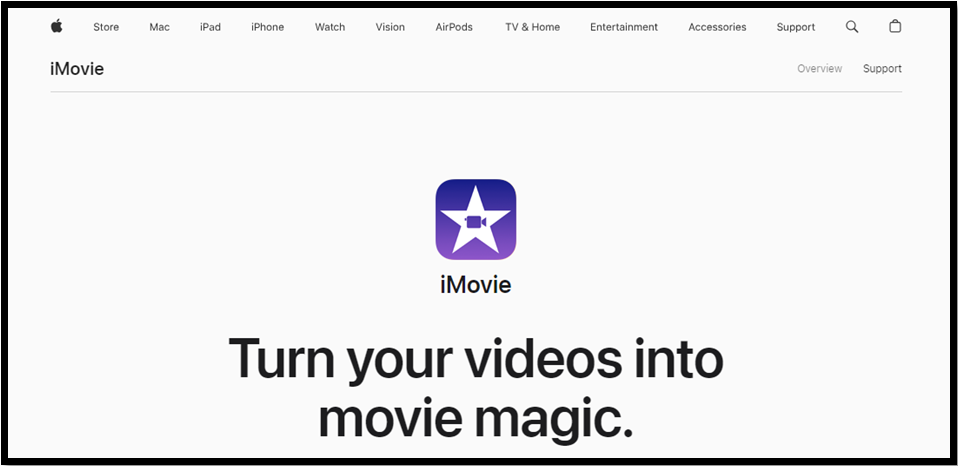 iMove also has a range of tools like image stabilization rather than just helping with Discord video compression.
How to Choose the Best Video Compressor for Discord
When it comes to picking a video compressor for Discord, you should first be aware that the compressed video's quality will be lower than the original. Especially if the source file is much larger than 8MB. Therefore, regardless of which one you choose, it's recommended to apply a proper compression level in order to watch the video without a hassle.
Then, an excellent Discord video size compressor should be easy to use, safe, time-saving and preferably multifunctional. According to your compression frequency and budget, you can invest in an affordable video compressor for Discord or a free online one. Take what you care most about into account.
To Sum Up
If you always talk over video and stay close to your friends and communities on Discord, these 5 Discord video file compressors may often come in handy. Online file compressors are good for not asking you to register or download software and have free services. However, you should know the file privacy leakage risk. We suggest you resort to a professional video compressor for Discord that can be trusted.
FAQs
Does Discord have video compression?
Discord itself doesn't have a video compression tool and you can only subscribe to its premium plan for up to 50MB or 500MB uploads. Or, use AWZ Screen Recorder's video compressor to compress your video to 8MB, or larger or smaller.
Is 8MB Video Compressor legit?
Yes, it doesn't infringe the copyright of videos and just reduces the video file size to make the video smaller. While the video compressor for Discord claims the uploaded video files will be deleted after compression, you'd better not upload private videos online for 100% protection.