Years have passed, and Facebook is still one of the leading social media in the world. You may not be very familiar with one of its features called "Stories". It is a collection of photos and videos made by users and it will disappear after 24 hours.
To avoid missing it, saving it locally is the best way. How to download Facebook Stories is the next question you should think about. But don't worry, this blog by AWZware is going to show you three practical Facebook Story savers. Read on!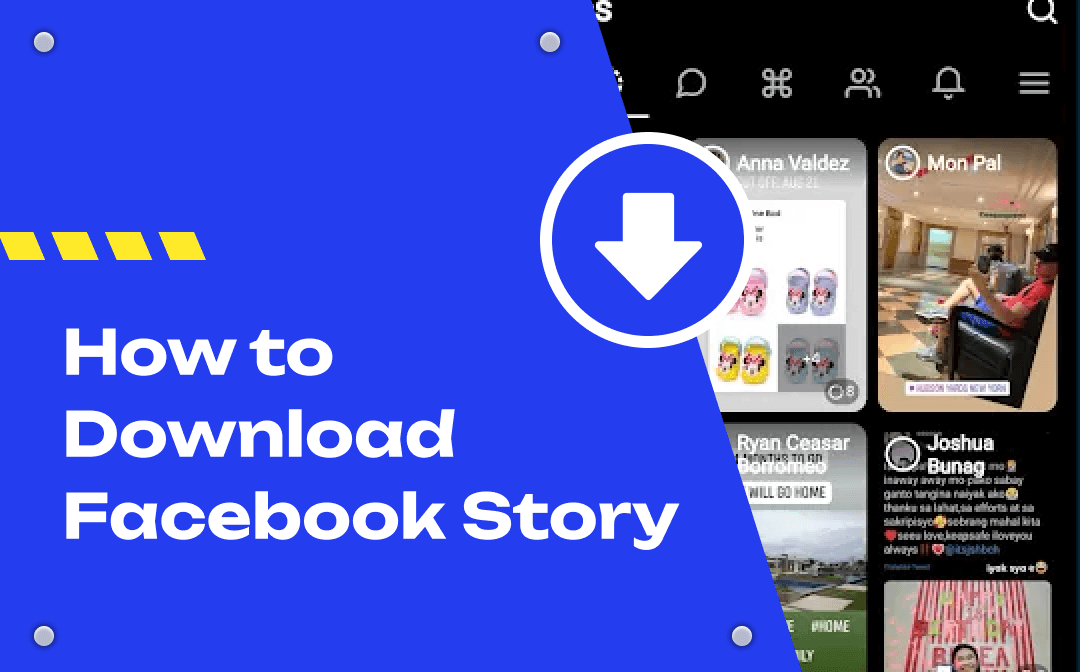 How to Download Facebook Story with A Screen Recorder [Quick & Easy]
Well, you can't deny that there are still a lot of people using the web version of Facebook on their computers. That is why this section is about a third-party Facebook Story saver called AWZ Screen Recorder, a professional FB Story recorder.
It is developed to help you download Facebook Stories with just a click. Furthermore, it records Facebook Stories without lag or losing quality. All your recordings will be saved automatically in local storage. This app even offers you a video compressor just in case you find out videos are too large to share.
Below are how to download Facebook Stories with it and some features you might be interested in. Come take a look at it!
Step 1. Navigate to Facebook and locate the Story that you want to save.
Step 2. Download and launch it on your computer.
Step 3. Adjust some settings.
In the panel, you can choose where to record by tapping the drop-down arrow next to "Full Screen". Then drag the cursor to select the recording area. If you need audio, enable the speaker and click the arrow to determine the sound channel.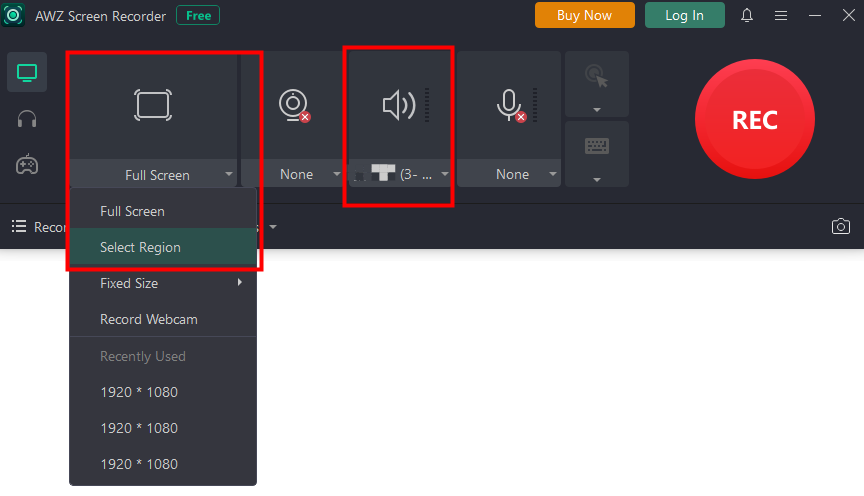 Step 4. Download Facebook Stories in one tap.
Click the red "REC" button on the right side, or you can press "F12" to start and stop working. It will save Facebook Stories after a 3-second countdown. You should be prepared to play the Story in that shot break.

Step 5. Stop capturing by pressing "F12" or tapping on the stop button.
Features:
Multiple modes. There are record screen, audio, and game modes. It can capture screen and sound together and separately.
Built-in editor. You can edit videos and audio here, whether they are recorded by you or local files on your computer.
All-in-one screen capture. Record the screen and take a screenshot.
Record TikTok videos and audio with high quality.
Online Facebook Story Saver: Getvid.io
Speaking of how to download Facebook Stories, you cannot miss online downloaders. They can be used to download videos and audio from multiple platforms, such as downloading TikTok audio. Online tools make downloading FB Story easy, no matter if it is on your computer or a mobile phone. This section will display an online Story saver for Facebook called Getvid. Read if you are interested.
Getvid is a free online video downloader that can help save videos from popular platforms, such as Facebook, Instagram, TikTok, Twitter (which is now called X), and much more. Follow the lead to know how this easy-to-use Facebook Story saver works.
Download Facebook Story with a FB Story Saver
Step 1. Locate which Story you want to download.
Step 2. Copy the link.
If you are using the web version of Facebook, just press the left button of the mouse in the address bar at the top of the screen. And then tap "Ctrl + C" (Command + C on Mac).
For mobile phone users, tap the share button and copy its link.
Step 3. Paste it in the box and tap the download button.
The FB Story saver will recognize the link fast and generate the download options.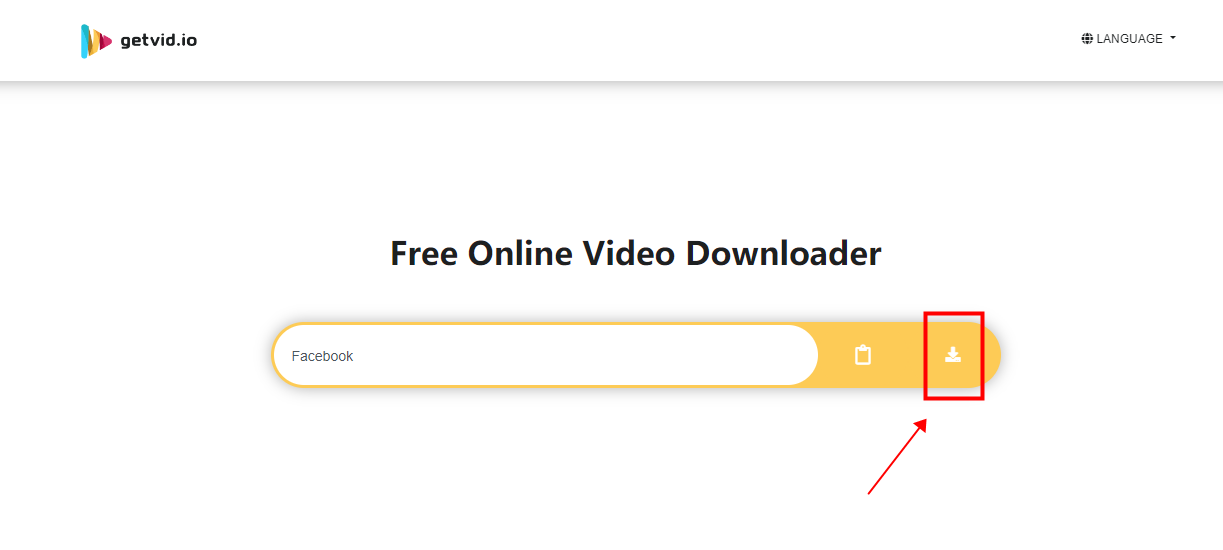 That's how to download Facebook Stories with an online video downloader. This Facebook Story saver is simple to use but while testing, the site sometimes crashes. So you need to try several times. Below are some features of it that you may want to know.
Features:
Free of charge. No need to pay to download Facebook Story.
Over 40 sources are supported.
You can download videos and audio here.
Not just a Facebook video downloader, it can download from many different websites.
Available for Windows, MacOS, Android, and iOS.
Save Facebook Story with Chrome Extension: Story Saver
When it comes to how to download Facebook Stories, a Chrome extension will help you a lot. The thing is that many people are using Chrome as their default browser, both on computers and mobile phones. Extensions usually help people to apply features that the official Apps do not support. You will find it effortless to use a Facebook Story saver on Chrome to download FB Story.
The trouble is to find the best one among many extensions, but no need to worry, this part is going to introduce a Facebook Story downloader on Chrome that is still useful in 2023 to you.
Story Saver is a very powerful yet easy-to-use Stories downloader. It can not only save Stories from Facebook but also from Instagram and WhatsApp. With this extension, saving Facebook Stories won't be a problem. With just one click, you can watch Stories anywhere and anytime you wish. The following guide will show you how to download Facebook Stories with it.

How to Download Story from Facebook with it
Step 1. Open Chrome Webstore and find Story Saver.
Note: Remember to type in the blank space, or you will find another saver for Instagram Story.
Step 2. Add it to your Chrome and pin it.
After pinning it, the icon will show at the right end next to the address bar.
Step 3. Log in to Facebook and locate the Story that you want to save.
Step 4. Tap Story Saver's icon and it will automatically download the video.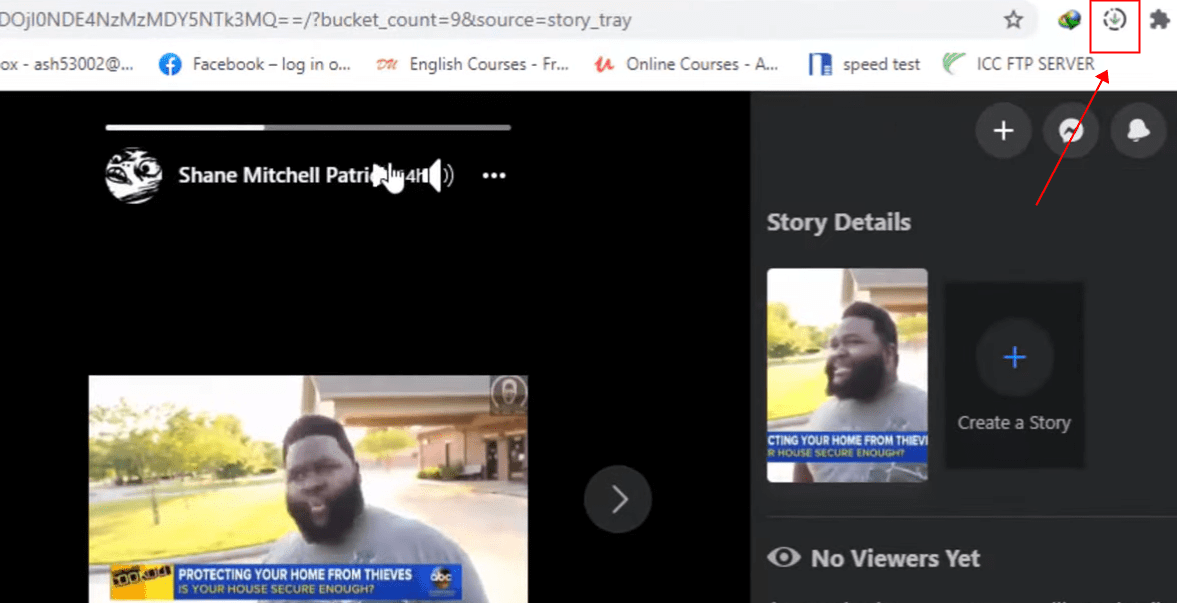 Features:
Very simple to apply. No need to copy and paste links, just one click to download Facebook stories.
No need to download third-party apps. You can download FB Stories on the page.
Now you have learned how to download Facebook Stories with a Chrome extension, but Story Saver has a disadvantage. It cannot choose the output format and the quality of the Story.
The Bottom Line
The official Facebook doesn't allow you to save Stories for it is somewhat against the purpose for which the feature was published in the first place. But saving Facebook Stories is not an impossible thing. This blog has shown you how to download Facebook Stories on PC and mobile phones. If you are searching for an online Facebook Story Saver, try Getvid and Story Saver. But if you want a more stable tool, don't miss AWZ Screen Recorder, the all-in-one screen capture app. Download and try now!