"Your files are too powerful, max file size is 8 MB. Upgrade to Discord Nitro for 100 MB file limit!"
­– Alert notice from Discord when free users try to upload videos that are bigger than 8 MB.
Feel awful when delivering fascinating movies on Discord but are unable to process? Discord has set a file size limit of 8 MB for free users. If a free Discord user tries to upload videos larger than 8 MB, he/she will be asked to upgrade to Discord Nitro to break the limit. However, a Discord Nitro account costs $9.99 per month or $99.99 per year, which seems unnecessary for casual users. Fortunately, a practical workaround can help you find a way out: compress your videos under the limit with an 8 MB video compressor before uploading.
An 8 MB video compressor, obviously, offers a direct and easy compression service for you to reduce the file size of videos to 8 megabytes or smaller, making it convenient and quick to deliver films on sites that have an 8 MB maximum file size limit such as Discord. In this article, we'll introduce you to 4 popular video compressors that can compress videos to 8 MB or less. Let's check them out!
Quick View on the 4 Discord Video Compressors
This part draws a simple but comprehensive chart of the 4 popular 8 MB video compressors, with which you can select a favorite one without spending time reading the whole article.
| | | | | | |
| --- | --- | --- | --- | --- | --- |
| | Price | Supported Formats (Video) | Compression Speed | Watermark | Ease of Use |
| 8mb.video | | MP4, WEBM, MOV, AVI, MKV, WMV | Fast | NO | ⭐⭐⭐⭐⭐ |
| Media.io | | MP4, MOV, VOB, AVI, FLV, MKV | Low | YES | ⭐⭐⭐ |
| Descript | | AVI, MOV, MKV, MP4, MPEG, Apple ProRes | Medium | YES | ⭐⭐⭐ |
| Kapwing | | MP4, MOV, MPEG, GIF, HEVC, WMV, WebM, 3GP, AVI | Medium | YES | ⭐⭐⭐ |
#1. 8mb.video: Reduce Video Files to Less Than 8 MB Online
8mb.video offers free online services to help you compress video files from any size (currently limit is 2000 MB) down to 8 MB, 25 MB, 50 MB, and 100 MB. Without any dazzling designs or annoying advertisements, it's clear and intuitive for you to reduce video file size. 8mb.video allows you to import videos from a computer, or mobile phone, and even enter an online URL. After uploading videos, simply select 8 MB and confirm your compression. It will finish the task instantly with relatively high quality. Moreover, to protect users' privacy, all videos will be deleted permanently from the server after 20 minutes.
Visit website: https://8mb.video/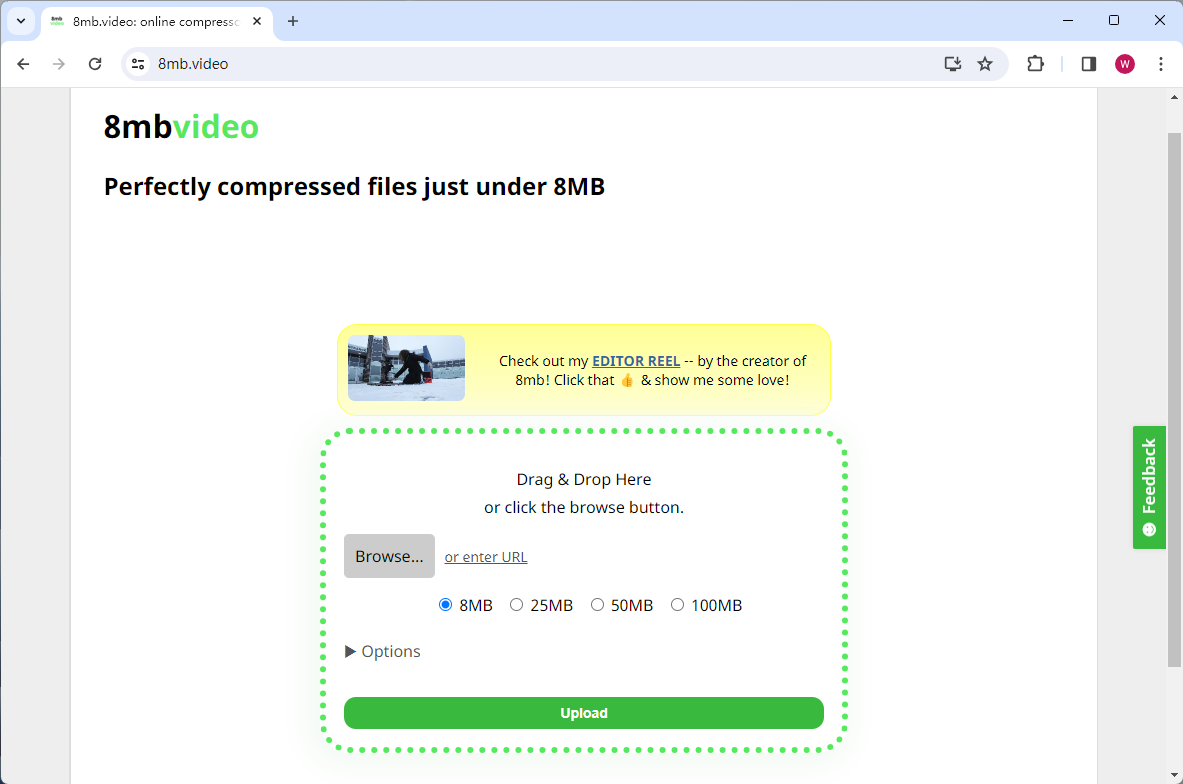 Advanced Features:
Mute videos in one click
Images compression supported
Skip custom seconds at the beginning/end of the video
Select to keep relatively good quality and still compress videos to 8 MB or less
#2. Media.io: Online Discord Video Compressor
Media.io also provides a browser-based tool that allows users to compress videos with customizable file sizes. Users can select any size and get an ideal video after uploading videos successfully. It supports most video formats for compression and allows you to convert to Discord-supported formats such as MOV, WebM, and MP4. However, it requires logging in to a Wondershare ID before using, and compared to other tools mentioned in this article, when compressing the same video file, Media.io takes longer time than others.
Visit website: https://www.media.io/video-compressor-for-discord.html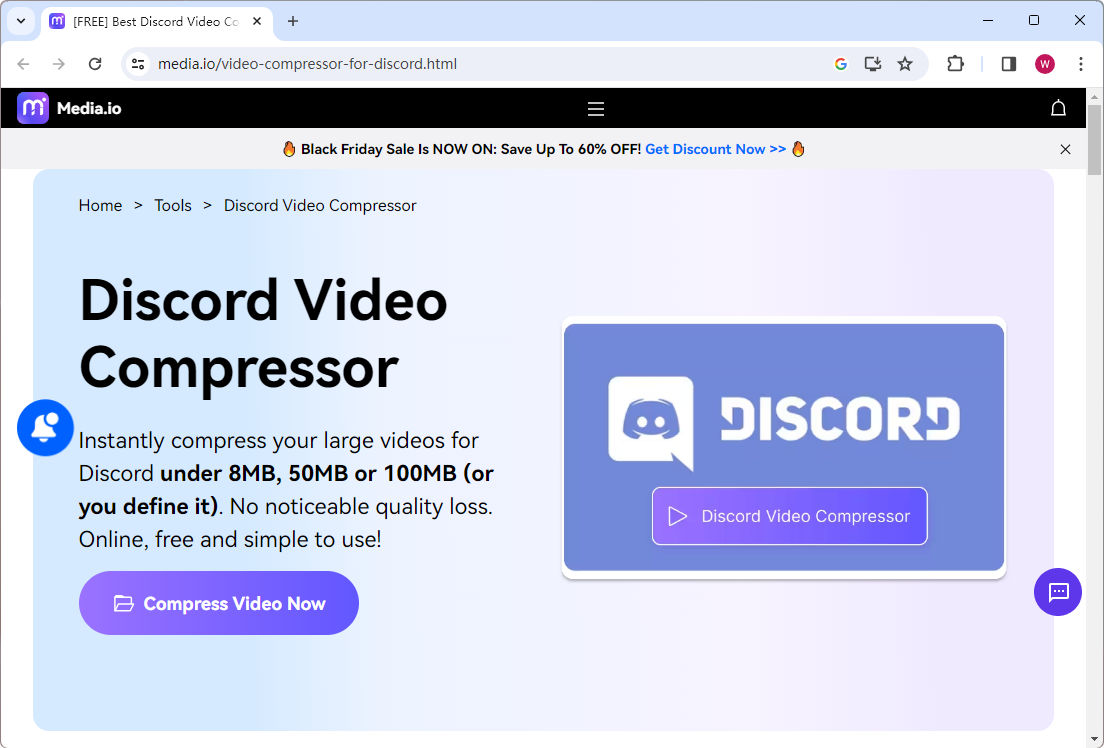 Advanced Features:
Batch compression supported
Customizable compression degree and resolution
More video editing tools are available in Media.io to help you produce professional-like videos
#3. Descript: Under 8MB for Large Video Files
Descript is an all-around tool that enables you to write, record, transcribe, edit, collaborate, and share your videos and podcasts. It also serves as a screen recorder and audio editor, as well as provides AI tools for creating engaging AI videos. Descript supports compressing videos in AVI, MP4, MPEG, MOV, OGV, WMV, WEBM, and Apple HDR, covering almost all your needs during life and work. When compressing videos down to 8 MB with Descript, you can customize the size, type, and quality of the video according to your requirements.
Nevertheless, there are also some flaws in using Descript. For instance, you need to sign up with your email and only one watermark-free export is allowed per month when compressing Discord videos.
Visit website: https://www.descript.com/tools/online-video-compressor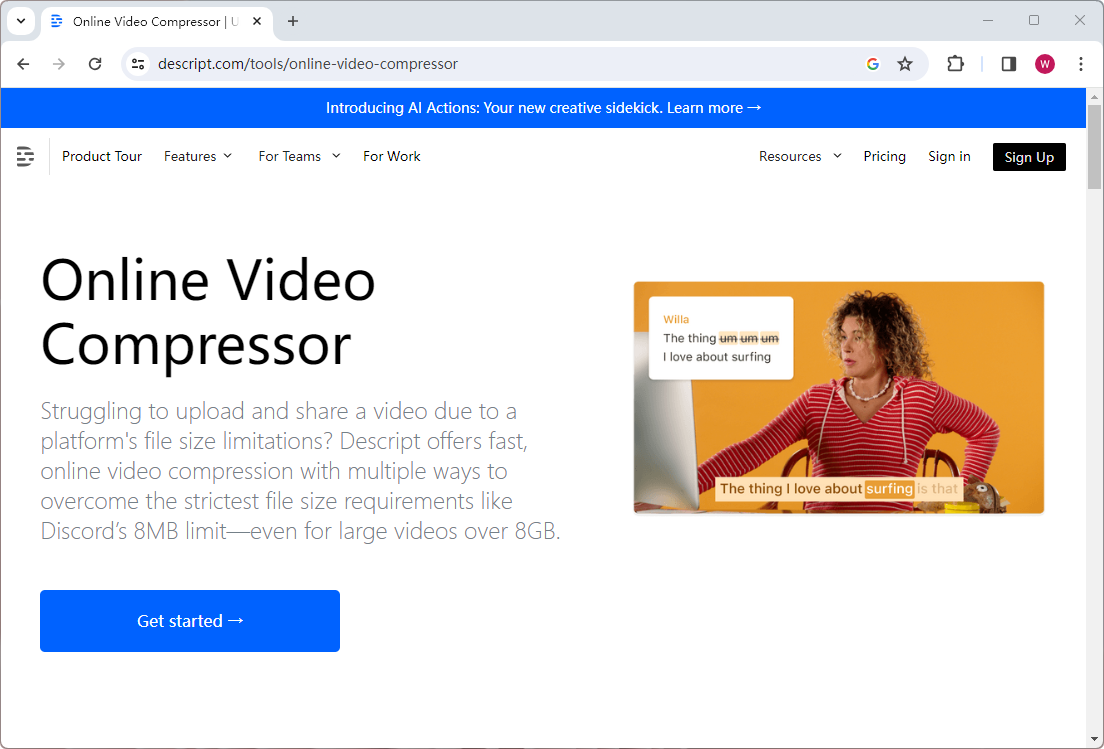 Advanced Features:
Transcript audio to text and vice versa
Capture, edit, and share screen/webcam recordings
Make AI voices/effects/actions to enhance your videos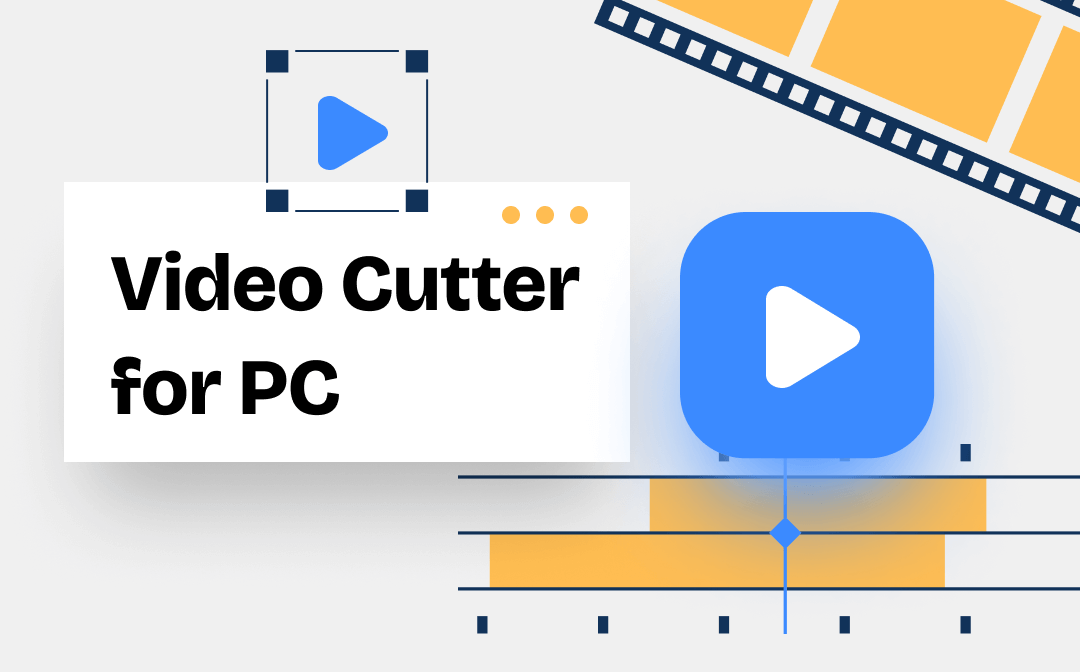 6 Free Video Cutters for PC | Best Tools for Windows & Mac
This post lists 6 video cutters for PC users to cut a video for free. You can choose the best video cutter program to make it more appealing to your audience.
READ MORE >
#4. Kapwing: Send Large Files Without Discord Nitro
Kapwing is a comprehensive video/audio/image enhancer that allows you to edit videos and images for Discord professionally. For people who require not only compression but also creating appealing Discord videos, Kapwing is a solid option. You can easily trim videos, insert text, apply filters, reduce video/image size, etc., with this tool effortlessly.
Likewise, users who are running a free version cannot get rid of the watermark from compressed videos, and Kapwing only allows to export of videos up to 4 minutes with up to 720p video quality.
Visit website: https://www.kapwing.com/tools/compress/discord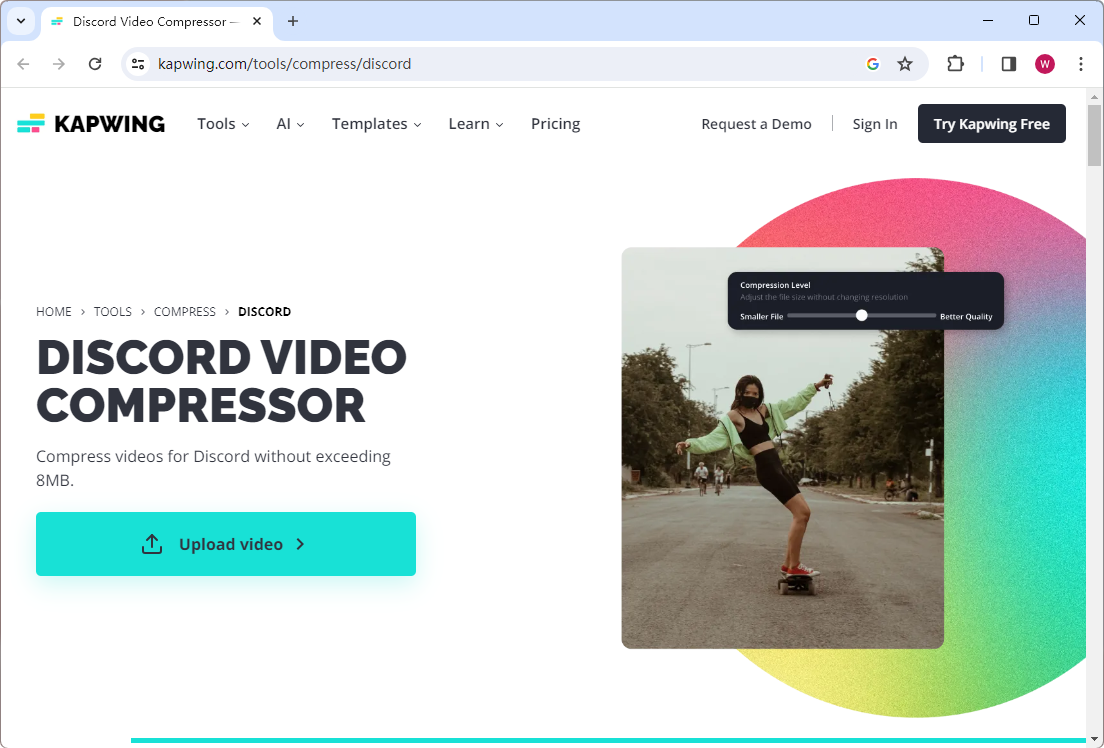 Advanced Features:
Convert videos to Discord-supported formats
Multiple video and meme templates offered
Offers comprehensive video editing tools such as resizing, combining, beautifying, etc.
Bonus: A Powerful Screencasting & Video Editing Tool
After learning the top 4 best 8 MB video compress, let us introduce you to a top-rated screen recorder & video editor, with which you can easily screencast and edit recordings, thus creating videos and uploading to Discord without a hassle.
AWZ Screen Recorder, available for Windows and macOS, is a comprehensive tool for recording screen/audio and editing media files. More importantly, AWZ Screen Recorder has a dedicated Record Game mode, enabling you to record gameplay on your PC with no lag. After recording, you can edit this clip and compress it to less than 8 MB, and then upload videos to any Discord community.
AWZ Screen Recorder: The Best Screencast Tool
Record gameplay clips with no lag
User-friendly interface & Easy-to-use
Record system sound & voice from you
Automatically block extraneous sounds
Free Download
Windows 11/10/8.1/7/XP
Key Features of AWZ Screen Recorder:
Screenshot during recording/when playing videos.
Share videos to social media platforms in one click.
Edit recordings by trimming, compressing, removing watermarks, etc.
Visual keyboard and mouse highlight effects guarantee a good recording experience.
Record screen, audio (both system sound and microphone), webcam, gameplay, and streaming videos.
How to record gameplay clips with AWZ Screen Recorder and compress videos under 8 MB:
Step 1. Free download and install AWZ Screen Recorder. Then launch it.
For Windows User:
For Mac User:
Step 2. Play a game or open other activities. Select a recording mode in AWZ Screen Recorder. Tap REC (the red button) or press F3 to start recording.
Tips: You can customize all hotkeys in Settings.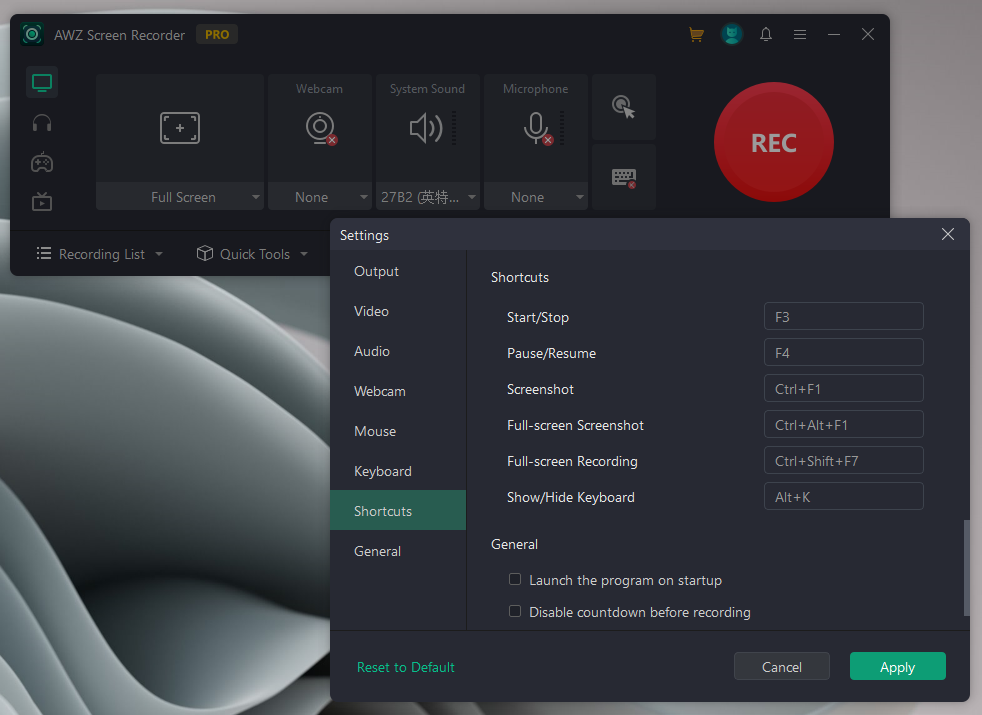 Step 3. Click Quick Tools > Video Compressor and import the recording you want to compress.
Step 4. Select High: highest file size reduction in Compression Level. Click on Compress to process.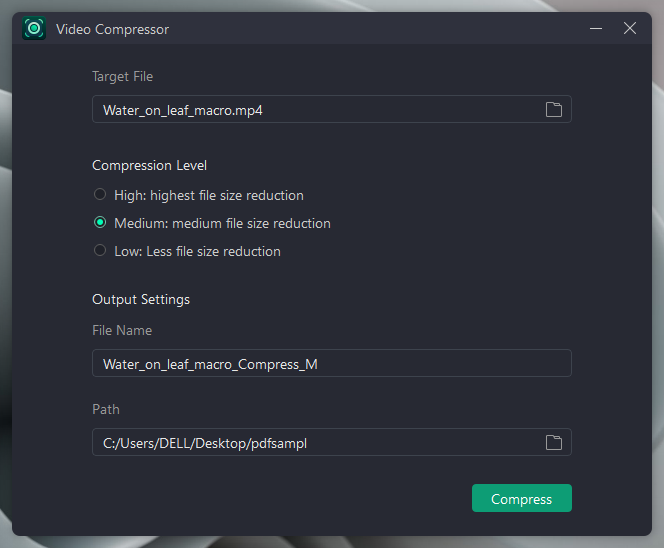 Conclusion
Preparing an 8 MB video compressor saves you from the Discord limits. You can easily upload any video on Discord without upgrading to Discord Classic or Nitro. Simply try any video compressor introduced in this article and reduce the file size of your videos to less than 8 MB without losing quality. At the end of this article, we've also provided a comprehensive screen recorder and video editor/compressor named AWZ Screen Recorder, allowing you to master the art of screencasting like a pro. Just download it now!