Introduction:
Sometimes, a long video may contain unwanted content that not only makes it lengthy but also consumes your storage space. That's when you need a good video cutter for PC. It lets you keep the content you and your audience desire to make sure your video starts swiftly and captures their attention.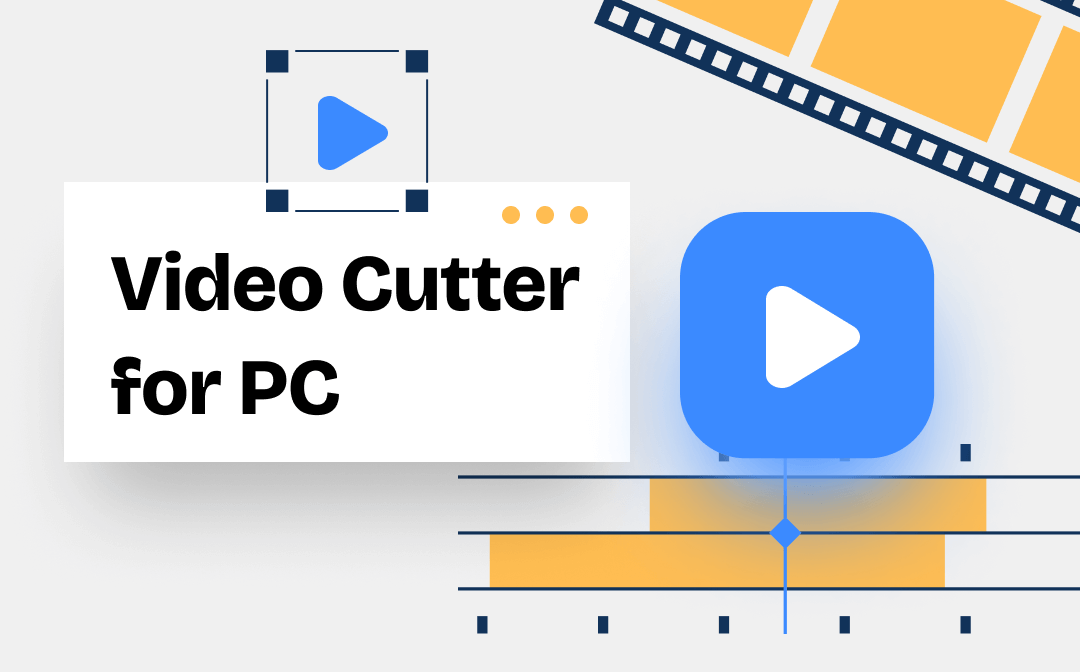 In this post, AWZware tests and summarizes six easy-to-use free video cutters for PC users. Tools working with Windows and Mac are listed to help you seamlessly cut a video without charge so that you won't have to scratch your head anymore.
AWZ Screen Recorder - Best Free Video Cutter for PC on Windows/Mac (Beginners' Choice)

AWZ Screen Recorder is the go-to for users who want to edit a video without a watermark. As a professional screen recording solution, the application can do more than just record your on-screen actions and audio. The free video editor allows you to precisely cut off unwanted information and no latency occurs even when you deal with long videos. You can trim the beginning and the end together or respectively to keep the only part you want. All of the popular video formats are supported such as MP4, MOV, WMV, etc.
Pros:
Free video cutter for download and use with no watermark;
Able to preview the results;
Save the original video for future use;
Take screenshots while trimming the video.
Cons:
It would be helpful to have more advanced editing tools.
Click on the download button below to install it on your PC. Read on to see how to trim a video with this free video cutter for PC:
Trim Video on Your Windows Trim Video on Your Macbook
Step 1: Open AWZ Screen Recorder and tap on the Quick Tools button. Click Video Editor to enable the video-cutting software;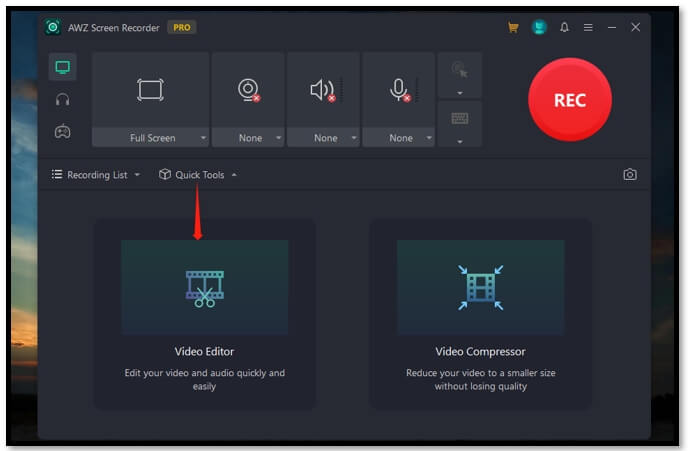 Step 2: Drag and drop your video file to the indicated area;

Step 3: Drag the green sidebar to decide the part you want to cut out. Then hit Apply to trim the video on your Windows or Mac device.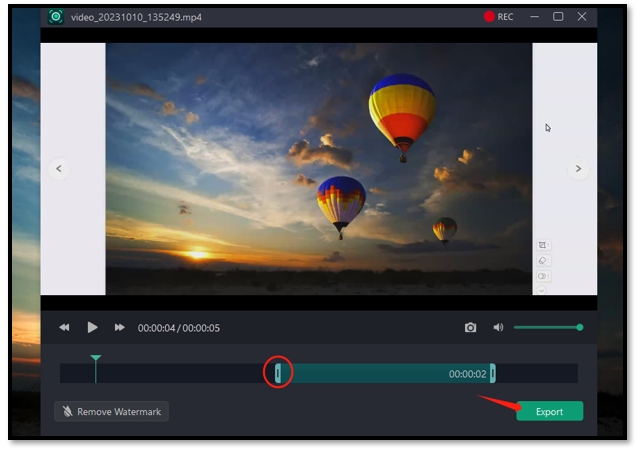 For more free video editing software without a watermark, please check out this post: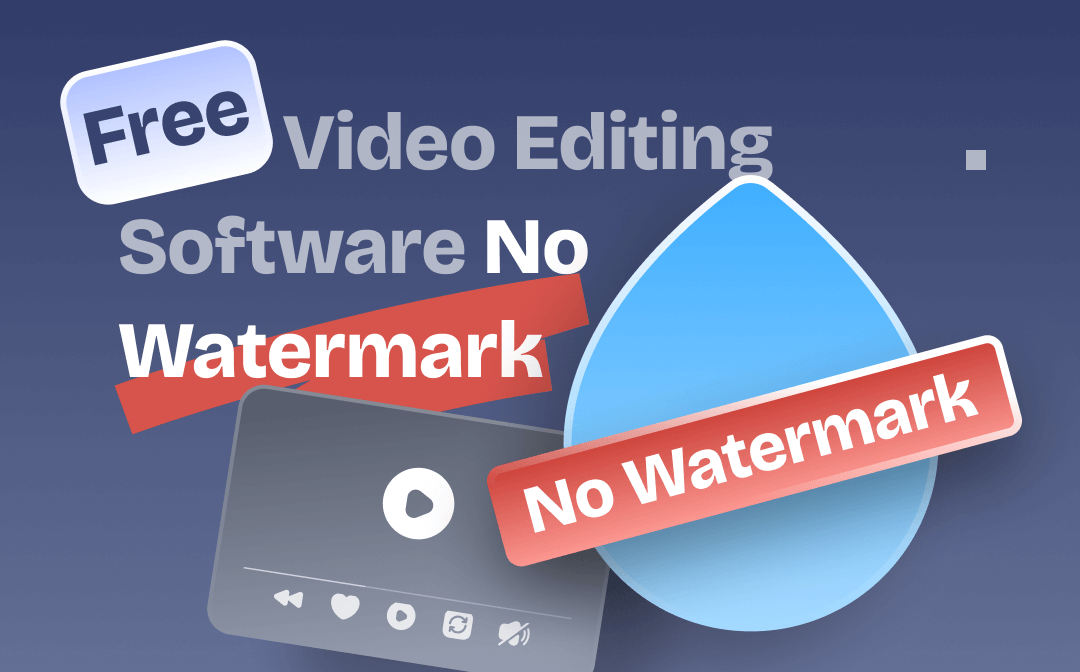 6 Best Free Video Editing Software with No Watermark in 2023
Which is the best free video editing software with no watermark? If you are looking for this kind of video editor, you can find the ideal one from this article.
READ MORE >
Top 3 Video Cutters for PC on Windows
If you want to know some other free video cutters to download on Windows, this section introduces three standalone programs that might suit your needs. The easy navigation of these tools streamlines the process of cutting video online and offline.
The Built-in Video Editor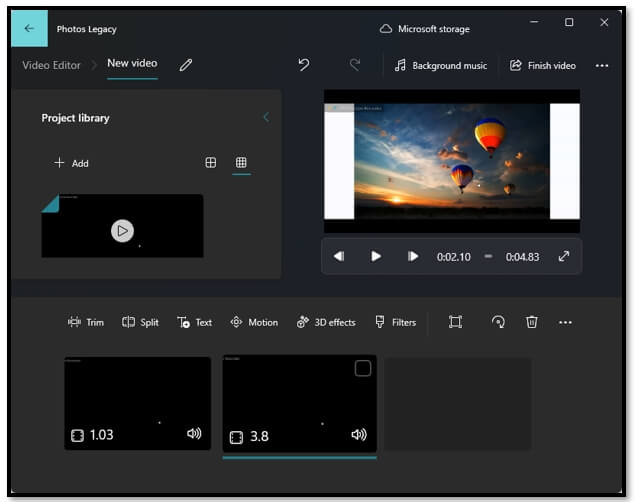 Windows computers have a native video-cutting cutter software that gets rid of the need to download other video editors. MP4, WAV, and AVI are supported video formats for editing without charge. This video cutter for PC enables you to trim video on Windows 10 and 11 without a watermark. You can cut off the beginning or the end clip quickly without lag while preserving the original video.
Pros:
Save your storage space;
Split a video file to trim the clips respectively;
Offer 3D effects to edit the video.
Cons:
Need to install an additional free add-on first;
MOV format is not supported.
Softonic Free Video Cutter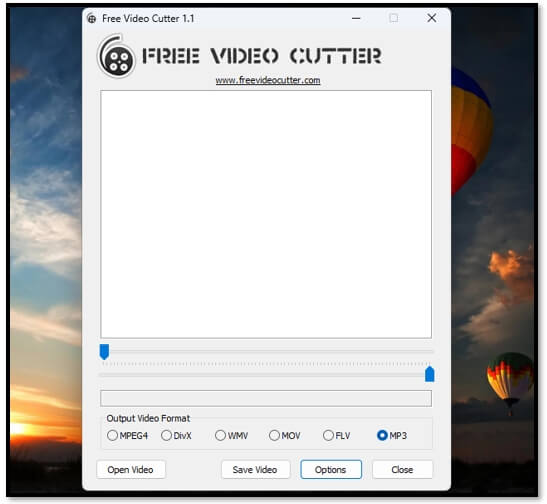 Softonic is a comprehensive toolkit packed with a free video cutter for PC. It is compatible with Windows 8, 10, and 11 to cut out unwanted clips from your video. The program allows you to adjust the precision of the timeline to precisely locate the frame you need to cut. A highlight of this video editor is that it can straightforwardly convert your video to MP3. You can select the output video format to decide on the new format after editing.
Pros:
Multiple output formats are available, including MP4, MOV, FLV, and MP3;
Allow you to cut the file on the exact frame you want;
free video cutter to download with an intuitive user interface.
Cons:
Slow loading speed;
Cannot preview the edited video.
Hitpaw Video Cutter and Trimmer (Extension)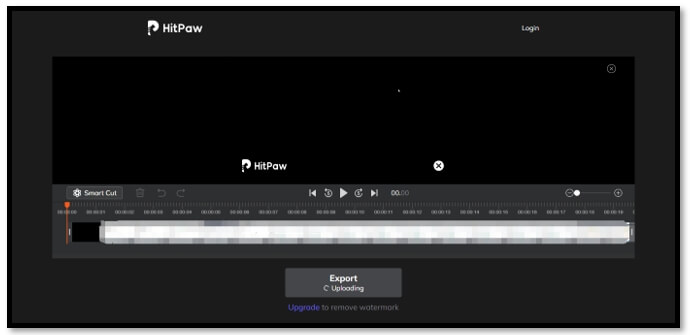 Except for offline video-cutting software, web-based video editors save more storage space and enable you to trim a video on any device you use. Hitpaw has a video cutter for PC which is accessible as a Chrome extension. It lets you cut videos online with a few clicks for free using Chrome web browser. The online tool provides a Smart Cut feature to assist you in locating clips without sound. Besides, for long videos, a magnifier helps you zoom in and out of the timeline. It is easy to select multiple clips from one video to cut them off.
Pros:
One-click to tag the part you need to remove;
Automatically mark clips with low volume or no audio;
No need to log in.
Cons:
Add a watermark to the video;
May have ads.
Top 2 Video Cutters for PC on Mac
When it comes to cutting videos on Mac, there is no need to search for a free video cutter to download. Two built-in applications are preinstalled on your Macbook to cut off the clip you don't need. Let's check them out in the next parts.
QuickTime Player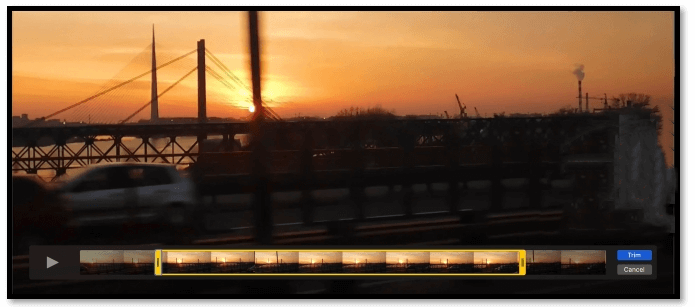 It may be surprising that QuickTime Player is not only one of the best screen recorders for Mac, but also a practical video cutter for PC. It lets you trim the beginning or the end of the video to cut off unnecessary clips. The simple UI enables you to finish the task without any learning curve. The timeline can expand when you click and hold for a second, which helps you to have finer control of the trim location.
Pros:
Easy for beginners with little video editing experience;
Free to trim a video.
Cons:
Support limited video formats;
Only offer basic video trimming tools.
Download the Best QuickTime Player Alternative
iMovie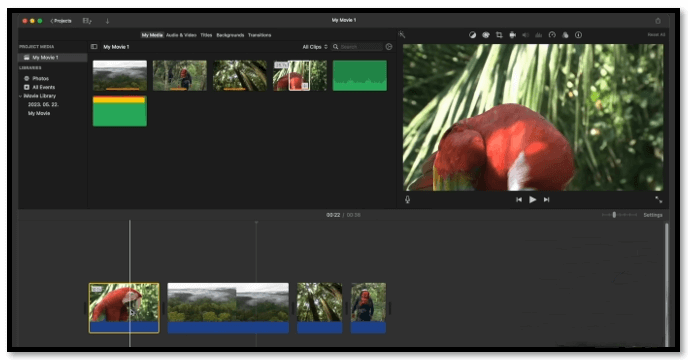 iMovie is a built-in video cutter for PCs created by Apple. The program has a range of advanced video editing tools to enhance your video and boost viewers. You can cut clips of a video, reorganize them, and add new effects. Shortcut keys are available to speed up the process and improve your efficiency. The free video cutter and joiner syncs the data with your devices so that you can deal with the same video on different Macbooks.
Pros:
Continually save while you are working with the video;
Quick to cut out unnecessary clips.
Cons:
Performance drops when handling large video files;
Cannot share to social media platforms within the app.
Verdict
After reading this post, do you find the ideal free video cutter for PC? All the video editing software presented will help you to easily crop the length of your video with no charge. Both Windows and Mac users can find easy video-cutting software to trim their videos effortlessly.