Introduction:
Your MP4 video file might be bulky due to its frame rate and resolution. A large video file not only takes up more storage space but also makes it inconvenient to transfer. After all, many SNS apps and email service platforms set size limits for video files. Consequently, this triggers the need to learn how to compress MP4 videos.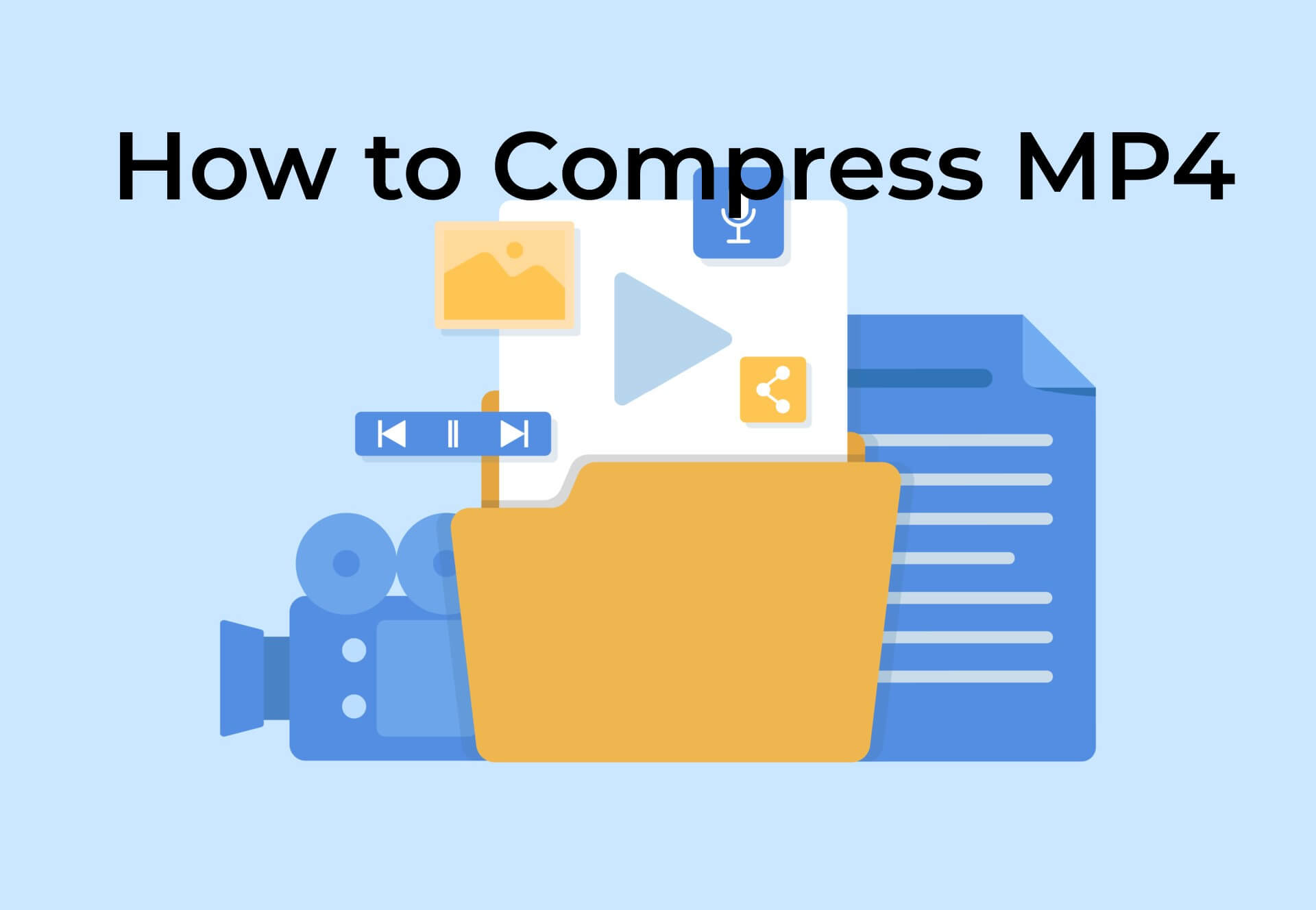 Based on the operating system you use, different MP4 compressors are available to complete the task. This post takes you through a complete guide on how to compress MP4 videos on Windows, Mac, online, iOS, and Android. 5 easy methods are provided, letting you reduce the MP4 file size for free without losing the quality. Together with AWZware, let's dive deeper into the article.
How to Compress MP4 on Windows/Mac with Ease
As the two dominant desktop operating systems, Windows and Mac hold the most market share in the world. For people who have both a PC and a Mac, an MP4 compressing tool compatible with the two systems could be specifically helpful in certain cases.
AWZ Sscreen Recorder offers a free MP4 compressor to compress MP4 video files on Windows or Macbook. The program can work with multiple video formats such as MP4, MOV, WMV, and FLV. It allows you to make an MP4 file smaller with two tools: a video compressor and a video cutter. Each feature can preserve the video quality and no watermark will be applied after reducing the file size.
Make an MP4 File Smaller by Compressing
In terms of compressing MP4 files with the compressor tool, it has three compression levels for you to choose from. This enables you to decide how much you need to shrink the MP4 video file size. The high and medium compression levels are recommended to greatly retain the quality when compression.
Click on the download button below to install this screen recorder on your computer. Let's discover how to compress MP4 videos on Windows and Mac with AWZ Screen Recorder:
Step 1: Enable the MP4 compressor tool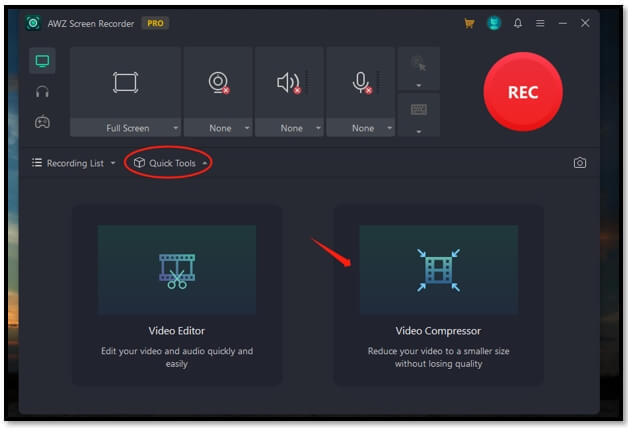 Launch the program on your computer, click on "Quick Tools" at the bottom, and select "Video Compressor". Then a new window will appear.
Step 2: Import your target video

Click on the dotted box and upload your MP4 file from a local file. Or you can drag and drop files directly into the workspace.
Step 3: Reduce the MP4 file size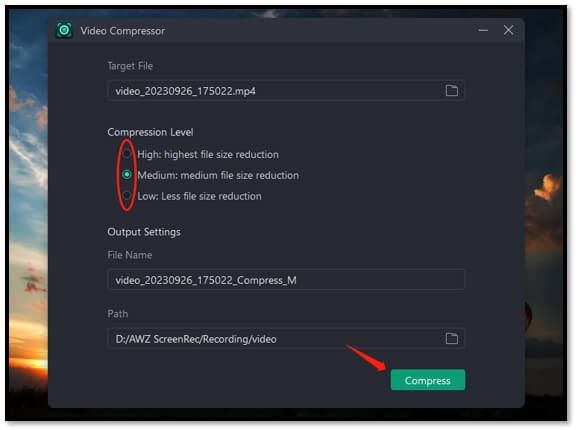 Under the "Compression Level" tab, select the compression rate you want. The higher the compression level you set, the smaller the video file you get. Tap "Compress" to compress the MP4 video.
Make an MP4 File Smaller by Cutting the Video
Another way to reduce MP4 file size is by trimming the video. AWZ Screen Recorder offers a video trimmer to remove unnecessary clips for free. This OBS alternative helps you effortlessly cut a long MP4 video without latency. More importantly, this method won't cause quality loss and can greatly shrink the MP4 video size.
Make MP4 Video Smaller without Losing Quality
Take a look at how to compress MP4 videos on Windows and Mac by cutting out unnecessary clips:
Step 1: Run AWZ Screen Recorder and go to Quick Tools;
Step 2: Select Video Editor and add your MP4 file to the indicated area;

Step 3: Drag the green sidebar of the clip left or right to trim the video. Then hit Export to make the MP4 file smaller.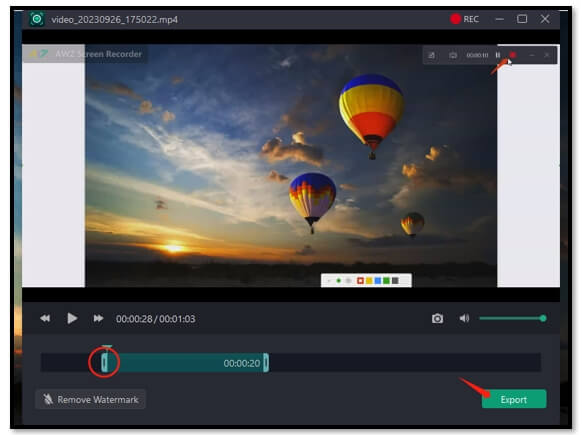 How to Compress MP4 with Online Tools
Video Candy is an online site that allows you to reduce MP4 file size for free in one click. This tool works with all popular web browsers, including Chrome and Firefox. Once you download an online video to your computer, you can compress the MP4 video using any operating system and there is no need to install a new application. The processed file is saved to the history for future use.
The guide below demonstrates how to compress MP4 videos online:
Step 1: Visit the Video Candy website and hit ADD FILE to upload your MP4 video;
Step 2: The web-based tool will start to reduce the MP4 file size. Tap DOWNLOAD FILE to save the video.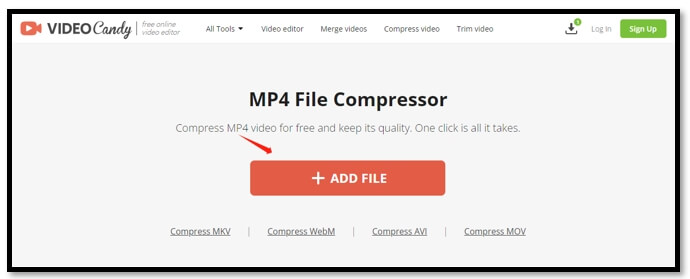 As you can see, this MP4 compressor does not allow you to customize the compression rate. If the compressed file is still large for email or transfer, you can also use its editing features to trim or crop the video, so that the file size can be further reduced.
How to Compress MP4 on Mobile with Quality
Mobile phones are extensively used to film or save videos now. If you are struggling with storage space, then join the discussions below to see how to compress an MP4 file on iOS and Android respectively.
Reduce MP4 File on iOS
The Compress Videos & Resize Video app is an easy-to-use one capable of shrinking an MP4 file. It enables you to customize the compression level by adjusting the frame rate and video dimensions. When compressing MP4 files, the MP4 compressor enables you to keep the original videos as backups. Once the process finishes, it shows the previous and new file sizes, together with how much it reduced the video file size.
Check out how to compress MP4 videos on your iOS device:
Step 1: Open this app on your iPhone. Press the plus icon to select your target video file and click Next to import it;
Step 2: Reduce the Frame Rate to the level you like. Then hit Compress to make the mp4 file smaller.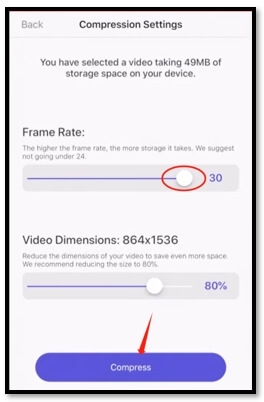 Reduce MP4 File on Android
Compress Video Size Compressor is a professional video compressor to make an MP4 file smaller. Supporting MP4, MKV, AVI, and other video formats, it provides multiple compression options to satisfy your needs while preserving the quality. Besides, the app lets you decide the desired file size after compression, which allows you to efficiently shrink the file size to the level you want.
Here is how to compress MP4 videos with quality on an Android phone:
Step 1: Launch this MP4 compressor and click Import to select your video. Hit Next to add it to the app;
Step 2: Select your ideal compression level and tap COMPRESS;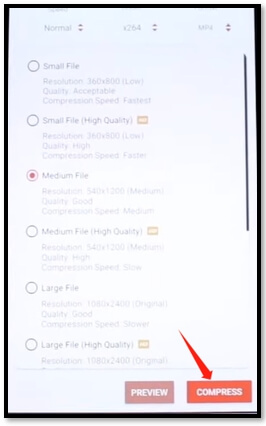 Step 3: Set the audio quality and click on the Start button to compress the MP4 file.
The Conclusion
After reading this article, we believe your problem about how to compress MP4 videos can be solved. Five tips are listed to help you reduce an MP4 file size on Windows, Mac, online, iOS, and Android. Whichever system you use, you can efficiently complete the task without compromising the quality.