Introduction:
OBS (Open Broadcaster Software) or OBS Studio is popular as a free, open-source and powerful screen recording and live streaming software program. It benefits professionals a lot but is so complicated to learn for beginners. If you are a novice, you must want an OBS alternative to quickly start and complete your work.
Luckily, there are lots of software like OBS Studio and come with a simple interface that's easy to navigate for newbies. They may have more other features to deal with videos. In order to save you time testing and installing all of them, this post by AWZware has selected the best 5 OBS alternatives that offer a streamlined workflow for recording screen or streaming.
5 Best OBS Alternatives [Free Ones Included]
The following list covers 3 screen recorders and 2 streaming software similar to OBS Studio. Whether you like to stream your gameplay or record your tutorial videos, they help you get the job done without taking much efforts. Regardless of Windows, Mac, and Linux, you will find an OBS alternative that suits you.
#1. AWZ Screen Recorder
AWZ Screen Recorder is an ideal OBS studio alternative that allows you to record screen in just a few clicks. The screen recorder software can record a full screen, a windows app or a selected area you drew. It does a good job of recording with audio or webcam to create picture-in-picture videos with your face. As one of the best OBS alternatives, the software provides 20+ video and audio output formats, including MP4, MAV, MOV, AVI, MP3, WAV, OGG, etc.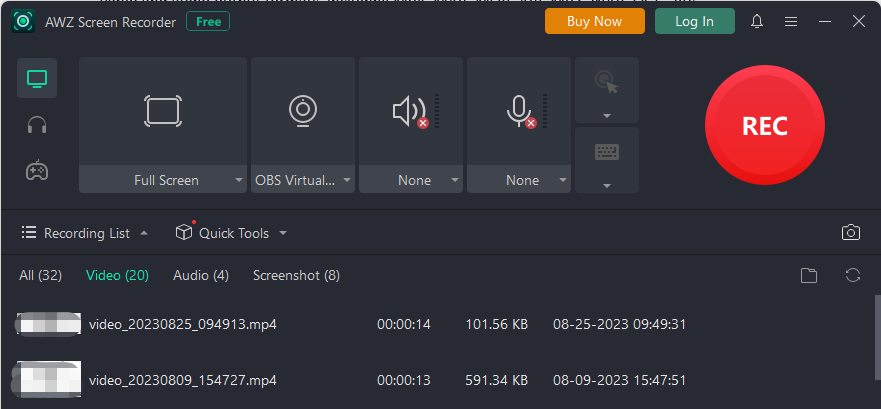 From gameplay, team meetings, and online webinars to streaming videos, AWZ Screen Recorder lets you accomplish all the tasks without breaking a sweat with its intuitive and foolproof interface. It is tiny in size and runs smoothly and fast. Powerful like OBS but used without a learning curve, this OBS alternative is available for free download for all Windows XP, 7, 8.1, 10 and Windows 11 laptops and desktop computers.
Highlights and features:
Record screen, microphone, system audio and webcam together or separately to original high-quality videos or audio.
Add annotations to the video during a recording.
Edit and compress the recorded videos.
Start and stop recordings at specific time with the scheduled recording function of the OBS alternative.
Take a screenshot on HP or any other computer.
Try AWZ Screen Recorder for free now!
#2. Bandicam Screen Recorder
Bandicam is another OBS alternative that enables you to capture everything and any area on your screen. It supports audio and webcam overlay recording, real-time drawing, and scheduled recording. You can record a TikTok video, lectures, games, and Skype calls with it. The OBS alternative also allows you to save videos and audio from Facebook, Vimeo as well as video conferences in full resolution. The software has a user-friendly interface.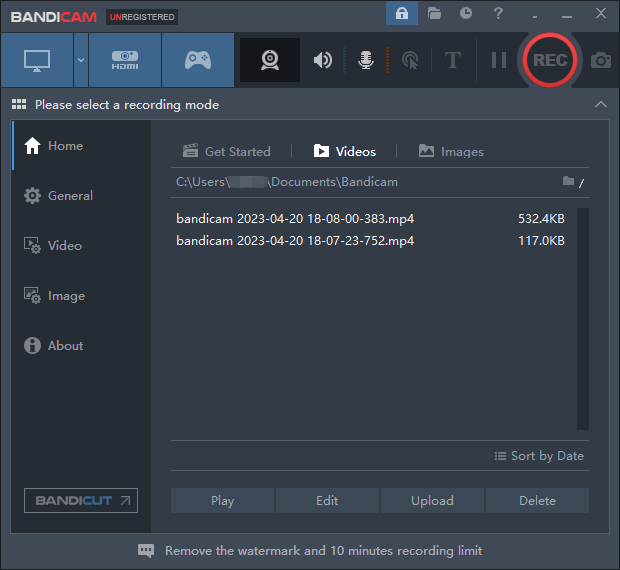 As one of the best alternatives to OBS, Bandicam allows users to screen record for free but up to 10 minutes per recording. A watermark will be added to the recorded video. The outstanding part is its ability to record 24 hours long-term videos without stopping. The OBS alternative gives you a better experience than OBS Studio among the best screen recorders for Windows 11, 10, 8, and 7.
#3. Freeseer
Freeseer is another great alternative to OBS Studio. Like OBS, the software program is free, open-source and cross-platform. It's initially developed for recording conferences but can record presentations, training material, demos and other videos. When you've downloaded the OBS alternative for Mac, Windows, or Linux, you have two more dependent programs to use, a talk-list editor and a configuration tool.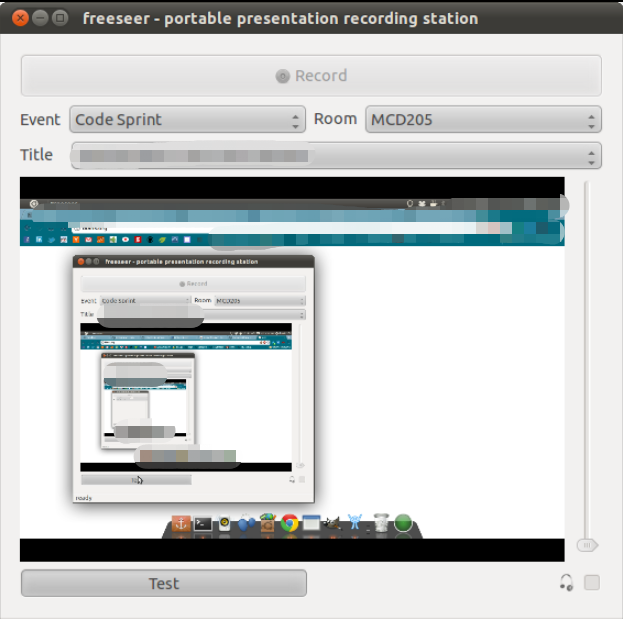 More than video and audio recording and streaming, the software contains a YouTube uploader for you to share your recordings. The screencasting application uses a plug-in system in case you want to add new features to it. On the list of the best free OBS Studio alternatives, it supports multiple audio inputs.
#4. Streamlabs OBS
The best OBS alternative for streaming is Streamlabs OBS. It is an all-in-one software application that lets you stream, record, and broadcast content from YouTube, Facebook, and more platforms. It's equipped with a range of features for users to customize their streams. You can create and switch different scenes seamlessly while streaming and change the layout and content on the fly.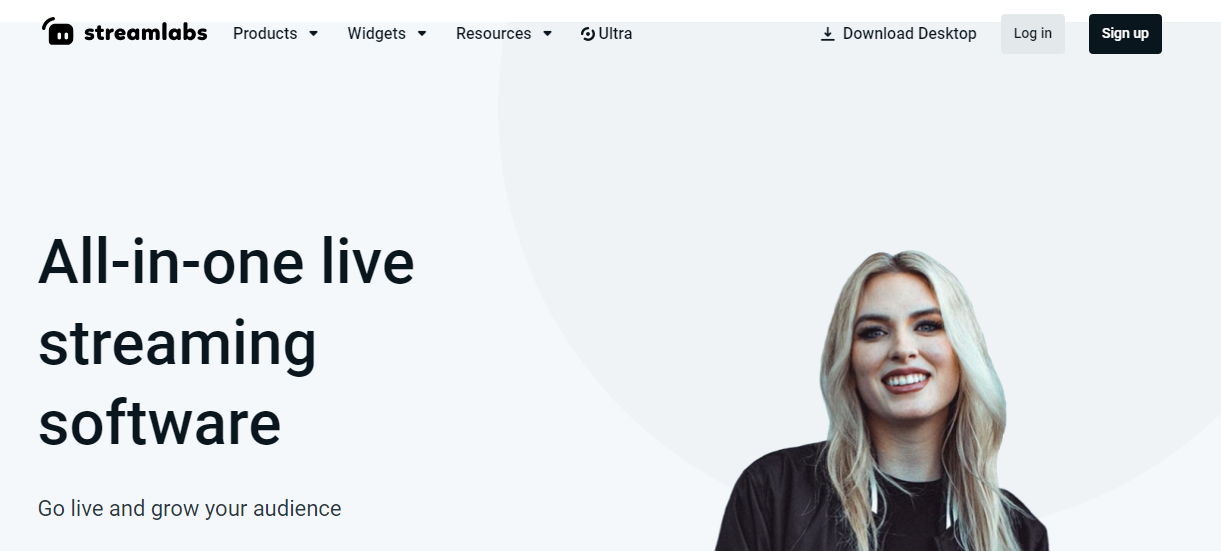 This OBS alternative is free and open source on GitHub and can be downloaded for Windows & Mac and iOS & Android mobile. Hardware acceleration is adopted by it to deliver high-quality streams with less consumption on system resources. Better yet, the software's one-click setup process can automatically configures the user's settings.
#5. XSplit Broadcaster
XSplit Broadcaster is an all-in-one live streaming and studio recording application. The lightweight OBS alternative is widely used by professionals and content creators to stream to most of the broadcast platforms. It allows streaming and recording multiple outputs simultaneously.

Together with other apps like OBS, XSplit offers a free version. Free users are not allowed to create content with it for commercial use and will get watermarks on their videos. Limited features and just several customization options are accessible in the free OBS alternative.
Which Is the Best OBS Alternative?
With a ton of OBS software alternatives, you might ask which the best is. Here is an overview of what to look for, which are most users may care about.
High-quality output: When you are seeking an alternative for OBS Studio, you must want it to be able to save the recorded or streamed videos in high quality. SwifDoo PDF and Bandicam are good to go.
Ease of use: The top OBS alternative should not spend your much time getting started. Anyone can instantly find and reach the tool and menu they want to use.
Affordable and free version: As OBS is completely free of charge, the one you pick had better has a free license and its pro version should be cost-performance.
Additional features: In case you have to further edit the streamed and recorded videos and audios, the OBS alternative can have other useful features.
Conclusion
If you haven't determined the best easy-to-use alternative to OBS for yourself, here gives a recommendation. Without paying anything, the open-source and free alternatives to OBS, Freeseer and Streamlabs OBS are worth trying. However, for a comprehensive application that not only supports you recording high-quality content but also allows you to make changes to the resulting files, SwifDoo PDF won't let you down.