Introduction:
Whether you are a video creator or a person who loves sharing life, cropping the view of a video is an essential step that you might take. Cropping a video can reduce the file size and more importantly, highlight the key information to attract viewers. Then, as a beginner, you may wonder how to crop a video to keep the vital part.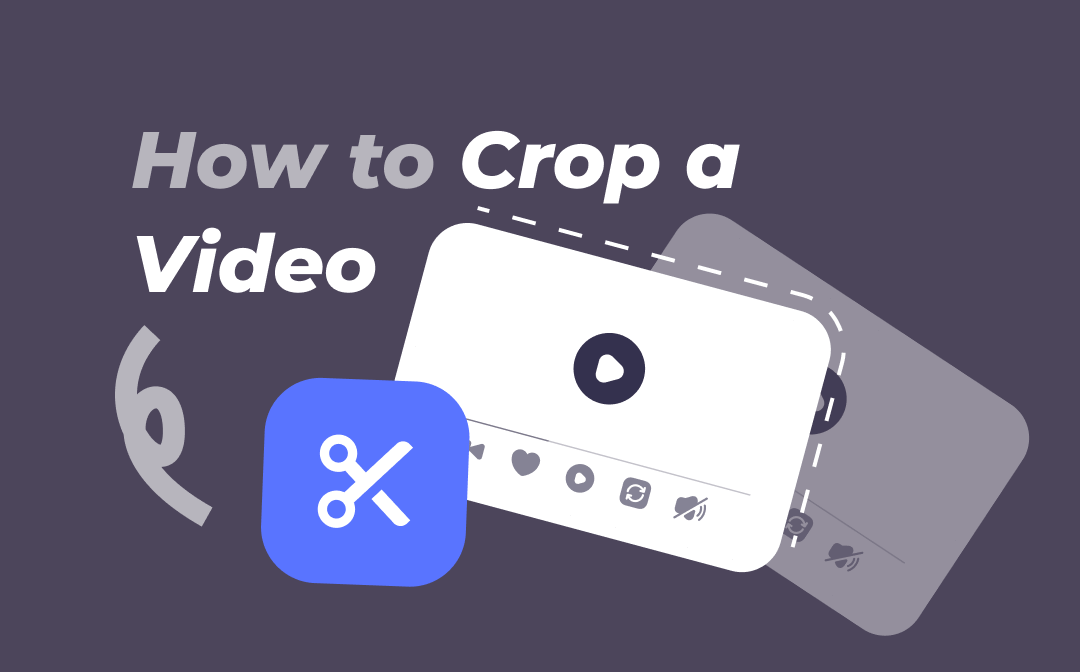 When uploading videos to Youtube, TikTok, or other apps, size limitation is the number one notice that you should be aware of. Or you just need a specific part of a video to let your audience access the information you want to transfer. Both require you to crop videos and keep the target pieces. In this article, AWZware does a quick walkaround on how to crop a video on Windows, Mac, online, and mobile phones to help you complete the task easily for free.
How to Crop a Video on Windows
Screen Recorder Editor is a free video cropping and screen-capturing tool. It is a Chrome extension that is available on the Chrome browser. Regardless of the Windows system you use, the plug-in allows you to crop videos on Windows 10, 8, 7, and even the latest Windows 11. You can easily crop the view of a video after screen recording on a Windows. The only flaw is that the software doesn't have a compressing tool to reduce video file size.
Let's see how to crop a video on Windows with it:
Step 1: Access this video cropper from Chrome Web Store. Click Extensions and choose the program;

Step 2: Tap Open Editor in the bottom right and add your video to the designated area;
Step 3: Choose the frame you want to crop. Hit the Crop icon and select the area. Click the check icon, hit EXPORT, and select Start to crop a video.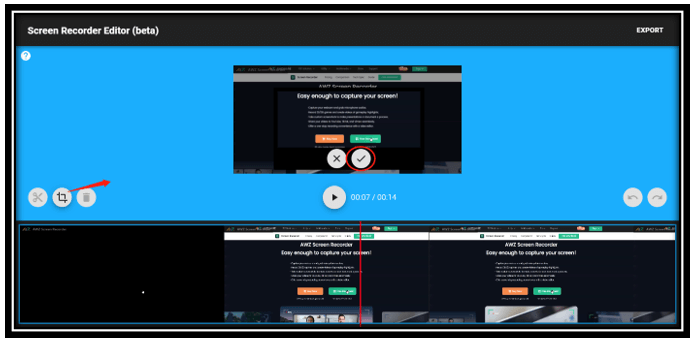 After cropping a video, if you find the video file too large, use AWZ Screen Recorder to compress the file size without compressing the quality. Tap the download button to access the free video compressor.
How to Crop a Video on Mac
Mac's Photos app has a video cropping feature, which removes the hassle to use other third-party applications. As the in-built app, Photos is capable of cropping a video of any size for free. It enables you to crop videos with simple steps and make your videos impress and engage. Additional filters can be added to enrich your video and you can rotate the video to make it satisfied.
Gear up to learn how to crop a video on Mac:
Step 1: Activate Photos on your Macbook and drag and drop the video you want to crop to the app;
Step 2: Double-click on the video to open it and tap Edit in the upper right;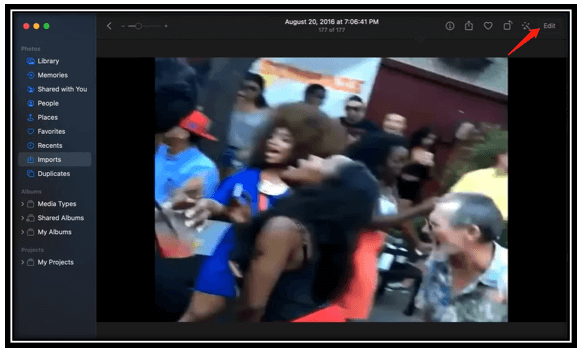 Step 3: Choose Crop and adjust the desired area. Then click Done to crop a video.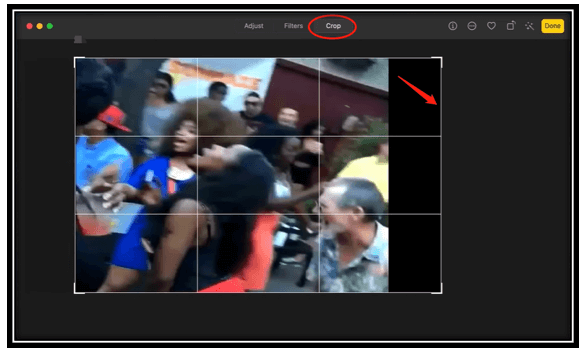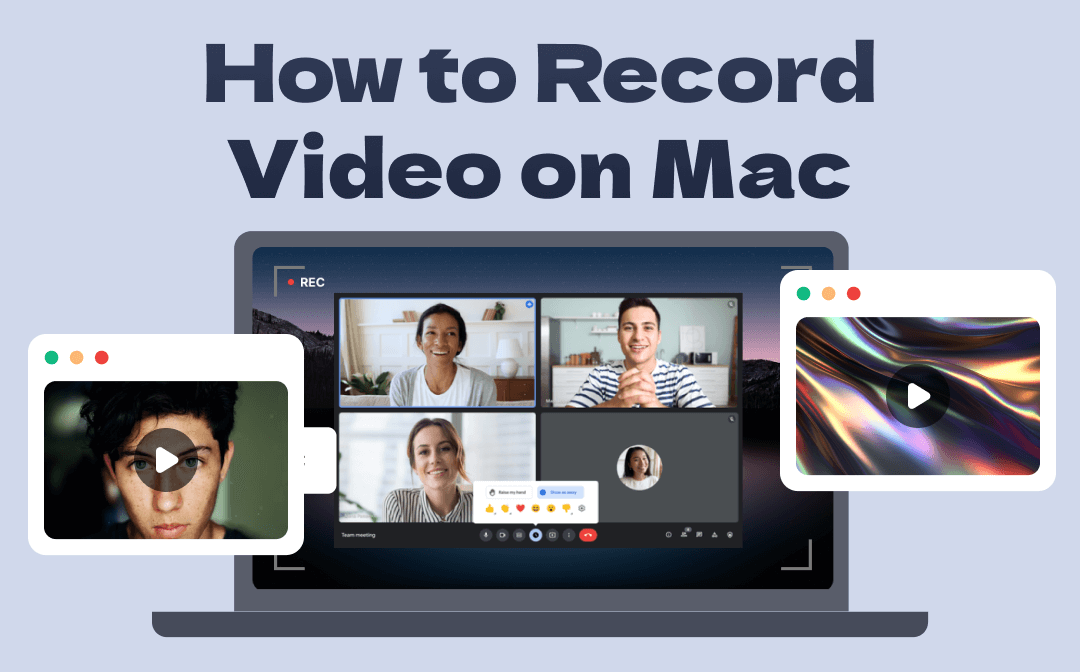 How to Record Video on Mac [Step-by-Step Tutorial]
Do you need to know how to record video on Mac? This post lists four quick recording approaches to let you screen capture videos on Mac freely.
READ MORE >
How to Crop a Video Online
Clideo's video cropping tool makes it quick to crop the view of a video. It allows you to crop videos online for free and has no limitation to length. The site supports the most popular video formats and allows you to choose a new format before cropping a video, including AVI, F4V, and FLV. One thing worth noting is that a watermark will be added to the cropped video.
Check how to crop a video online in Clideo by following the steps below:
Step 1: Visit this online video cropper and tap Choose file to upload your video;

Step 2: Drag the video cropping box (the yellow border) to a desired area. It is flexible to adjust the size of the frame. Or you can select a fixed size on the right;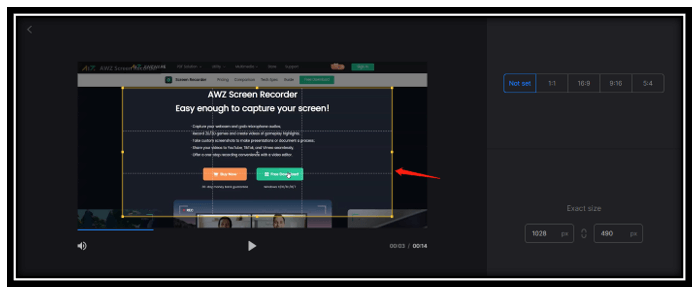 Step 3: Press the play button below to check whether you are satisfied. Finally, hit Export in the lower right corner to crop a video.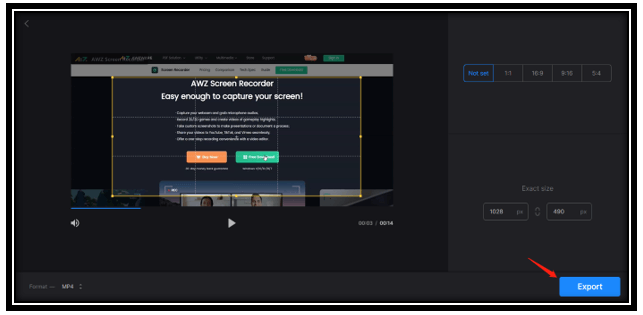 How to Crop a Video on Mobile Phone
Google Photos is a free video cropper compatible with both Android and iOS. It not only enables you to store photos but also to crop videos with easy tools. The app lets you flexibly adjust the area you want to keep and preview the cropped results. You can also select a fixed size offered to make your cropped video meet up to specific video uploading requirements. This can be extremely helpful when you want to record a TikTok video.
Go over how to crop a video on mobile phones with the detailed tutorial:
Step 1: Open Google Photos and upload your target video to it;
Step 2: Tap on the basic correction slider and choose Crop;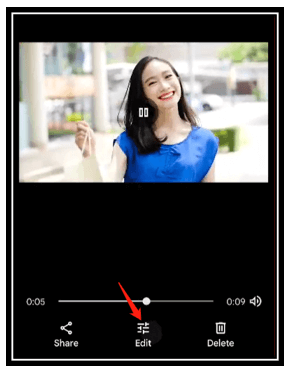 Step 3: Drag the dot to select the frame you want to keep. Then hit Save copy to crop a video on your phone.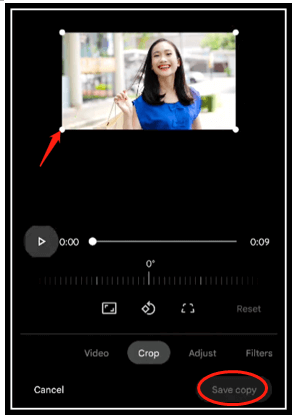 Bonus Part: How to Compress a Video on Windows for Free
When we demonstrate how to crop a video on Windows, we mentioned that the Windows video editor for cropping a video cannot compress video. That could be a problem if your file is still too large to upload. Then AWZ Screen Recorder is the right tool to help you reduce video size. It offers a free video compressor to cut the file size of a video on Windows with a few clicks.
Make sure to click the following download tab and install the Windows video editor on your computer. Then read on to see how to trim a video on Windows:
Compress Your Video with AWZ Screen Recorder
Step 1: Enable the video compressing tool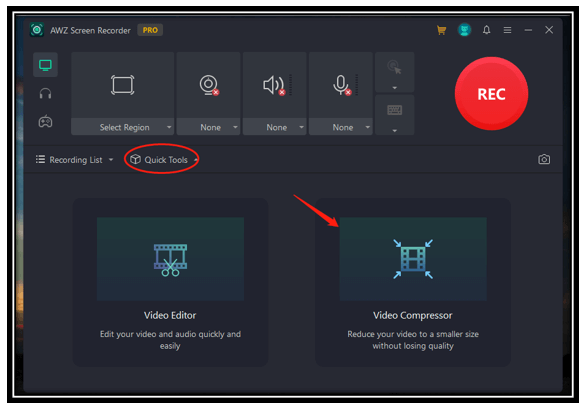 Double-click on the program to launch it. Tap "Quick Tools" and choose "Video Compressor". A Video Compressor window will show up.
Step 2: Import your video
Click on the workstation and choose your video from the local folder. Alternatively, drag and drop the target video to the indicated space and it opens immediately.
Step 3: Compress the video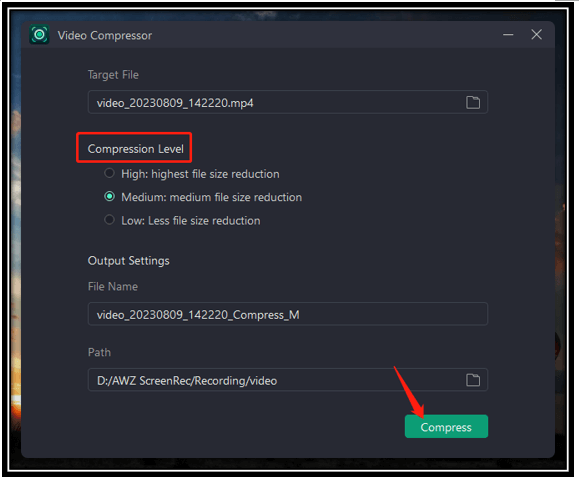 Select the Compression Level and choose an output path. Tap "Compress" to reduce the file size of your video
Bottom Line
This tutorial features a step-by-step guide on how to crop a video on different devices. Windows users can capitalize on a Chrome extension to crop videos for free disregarding the Windows system. Mac users can use the video cropper of the innate Photos app to perform the task. Online video cropping sites are also accessible to provide free services whenever you need them. Lastly, Google Photos is another convenient app to do the job on a mobile phone.
However, the recommended Chrome extension for Windows cannot compress video to reduce the file size. If your video is still large and could not be uploaded, AWZ Screen Recorder can provide a free video compressor to cut the video file size.