Introduction:
Instagram introduced the Stories feature to let users share their photos and videos that will disappear and cannot be viewed after 24 hours. If you have watched or explored a story that interests you, you must want to screen record and save it for future review. To screen record Instagram story or other content, you need to know what tools to use and how to do that.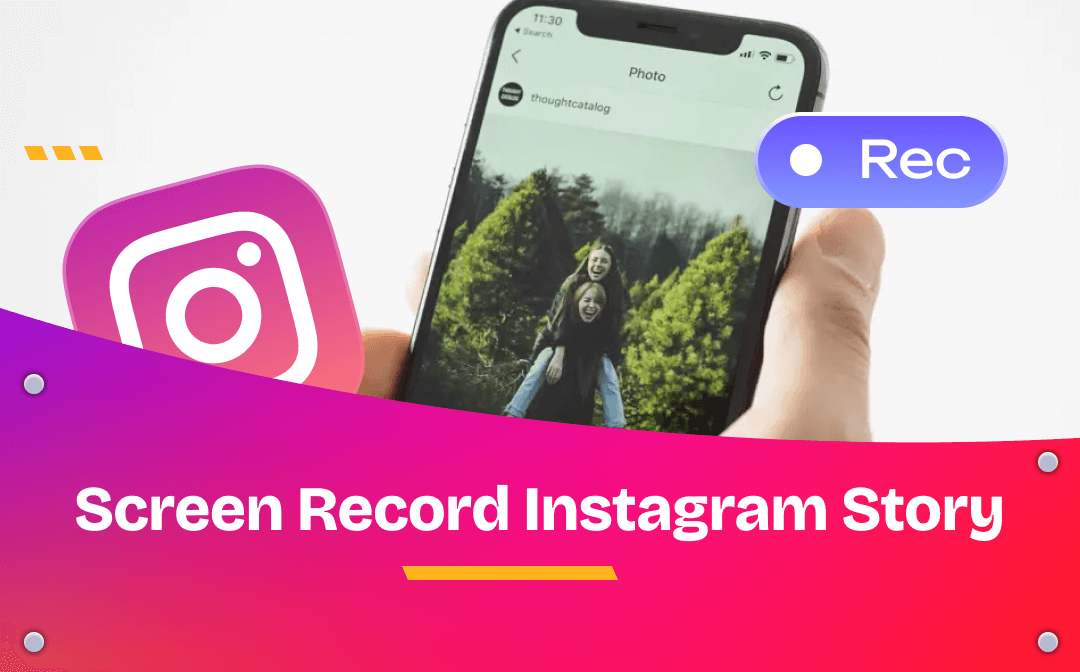 Perhaps you are wondering whether screen recording Instagram stories will notify the story owner or other people, and how to record without them knowing. This post by AWZware gives you a full explanation of the question and walks you through the quick methods to record. You can screen record Instagram story on either a computer or a mobile.
Does Instagram Notify When You Screen Record a Story
Instagram won't notify the content poster or any other people when you screenshot or screen record a story, post, or reel normally. No one but yourself can see the action. However, when you screen record Instagram story within the private Instagram DMs and the story is a disappearing photo or video, Instagram will notify the sender. Direct messages sent in Vanish Mode will also be told to the sender by IG.
To avoid any trouble while screen recording IG stories, read on to learn the how-to guides.
Screen Record Instagram Story on Windows
One of the best ways to screen record Instagram story without notification is to record within a web browser. You can achieve that using AWZ Screen Recorder, a lightweight and powerful screen recording application for Windows 7/8/10/11. The app allows you to record any selected area, fixed app window or a full screen to original-quality videos with audio included. Multiple output formats are offered for you to save the recorded story, such as MP4, WMV, and MOV.
Check the steps to screen record Instagram story quickly.
Step 1: Set Output Options in Screen Recorder App
Download and install AWZ Screen Recorder on your computer or laptop, and open it. You can first click the hamburger icon and choose Settings to set the recorded video format, quality and more properties.

Step 2: Access the Instagram Story You Want to Screen Record
To screen record Instagram story secretly, log into Instagram in a web browser, search for and go to the story you wish to record and save. You can directly copy and paste the URL of the Instagram story into the address bar to access it. If the story is shared through Instagram DMs, go there to locate it.
Step 3: Start to Screen Record Instagram Story
In the screen recorder software window, click the Full Screen button and select the recording area. Enable the system audio recording if needed. Press the F12 key or click the red REC button to start your recording within a 3-second countdown, during which open the target video.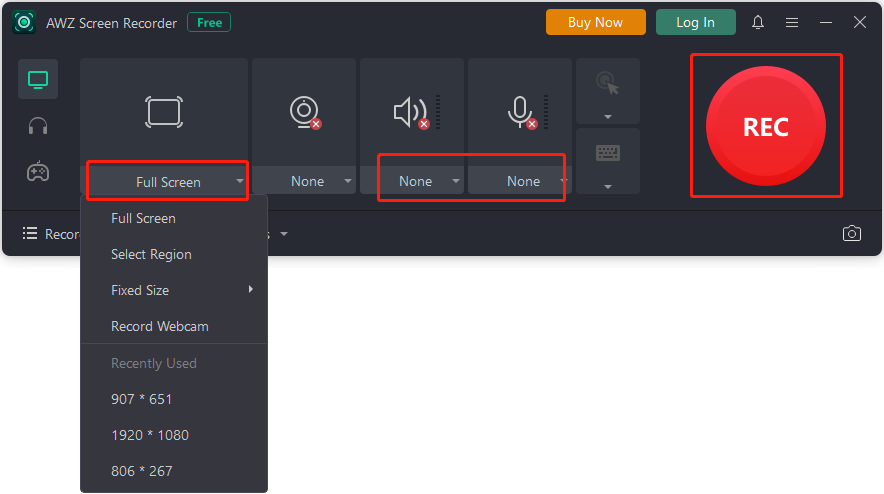 Step 4: Stop Recording and Check Video
Press F12 or hit the red square icon in the small toolbar to stop screen recording the Instagram story. Navigate to Recording List to check or play the output video. Click the file folder icon to reach where the video is saved on your computer.

This is an excellent way to screen record Instagram story as well as screen record Instagram DM as the photo and video sharing platform won't tell other people about recordings through a web browser. The screen recorder app has a free version that allows you to record as many stories of full length as you like for free without registration or signing in.
When you finish screen recording an IG story, you can use AWZ Screen Recorder to do many more to the recorded video to perfect it to fit your needs best.
Features:
Screen record Instagram story and DMs without asking your signing up or payment.
Compress a video to make it smaller in size and save your space.
Trim or cut videos when the recording contains extra unnecessary clips.
Record video with webcam overlay and audio or record audio only.
Schedule a recording to start and end at an assigned time.
Screenshot on HP or any other desktop computers and laptops.
Download AWZ Screen Recorder to screen record Instagram story for free without a hassle.
Screen Recording Instagram Stories on Mac
If you are running a Mac device, you are able to capture and record what's happening on the screen using Movavi Screen Recorder. The software offers a 7-day free trial and enables you to record a video for up to 5 minutes for free, with a watermark added. The method to screen record Instagram story with it is almost the same as that on Windows. Take a look.
Step 1: Open the particular Instagram story and choose the Screen Recording option in the software;
Step 2: Draw a region around the story, and click the REC button to begin recording;
Step 3: Click the Stop button to complete the recording, then tap Export to save the video.

You can only screen record Instagram story or other screen activities within trial days. The screen recorder will stop working and nothing you can do with it after that period.
Screen Record Instagram Story on iPhone
On an iPhone, there is a built-in screen recording tool to help screen record Instagram story and thus you don't have to resort to third-party apps. To make sure nobody will see if you screen record someone's Instagram stories in any case when necessary, you can turn on your phone's airplane mode. This works when you record a photo or video that quickly disappears in DM.
Check how to screen record on Instagram.
Step 1: Log into Instagram to screen record a story on your iPhone,
to screen record Instagram story posted by someone other, access the account and find the specific video or photos;
to screen record a story received from a private message, load the video or image in the chat window;
Step 2: Swipe down from the top right corner of your screen, and tap the plane icon to turn off airplane mode;
Step 3: Tap the screen recorder and play the video to start recording;
Step 4: Click the red button on the top left corner to end the recording.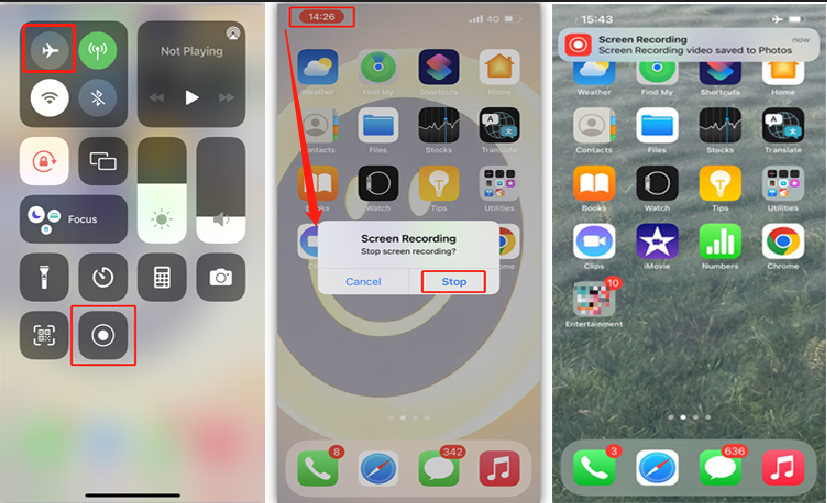 The method to screen record Instagram story on iPhone mobile will save the resulting video to the Photos album automatically.
Screen Record Instagram Story on Android
Android users can also record everything on their screen with a native screen recorder utility. The workaround to prevent getting discovered when you screen record an Instagram story is to disable the internet connection or turn the airplane mode off. So no one can tell what you are doing, and neither can Instagram.
Regarding how to screen record Instagram story, the process is similar to that on iOS.
Step 1: Go to a specific story on Instagram and load it;
Step 2: Swipe down from the top of the screen and turn off the airplane mode or disable Wi-Fi and cellular connection;
Step 3: Choose the screen recorder, swipe up from the bottom and quickly back to Instagram to play the video;
Step 4: Swipe down from the top to hit the stop button. With multiple Instagram stories to screen record, repeat the steps.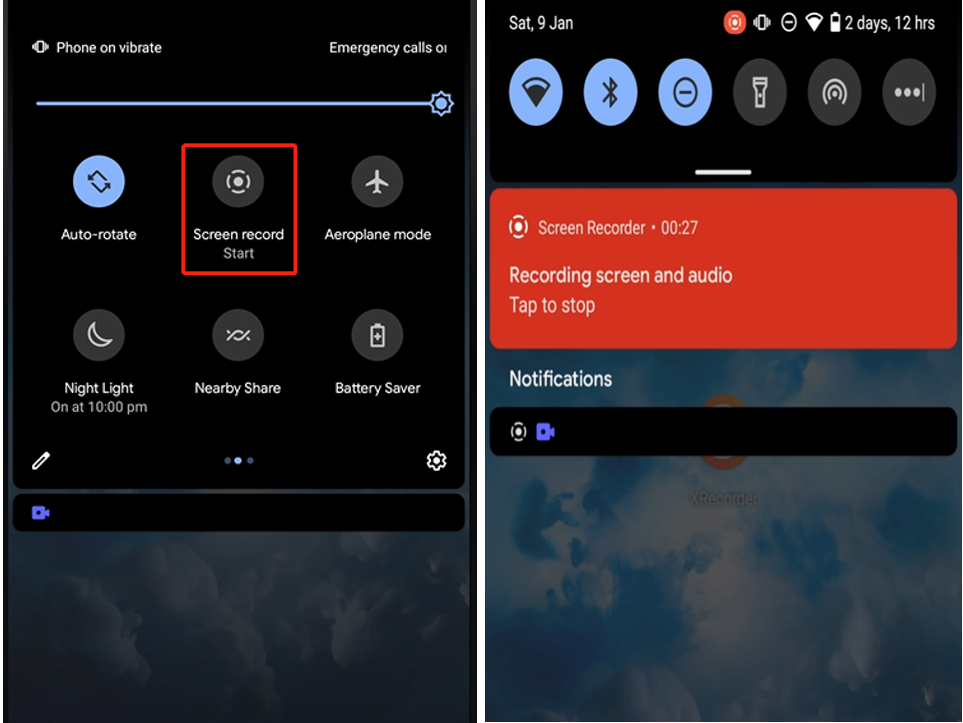 To Sum Up
It's never difficult to screen record Instagram story with the help of this article and the introduced software. Follow the guides and others won't know you are recording their videos, regardless of whether the story is in the conversation or not. Mobile users can effortlessly get their job done with a preinstalled tool. To screen record a story on Instagram on a Windows PC, AWZ Screen Recorder is worth a try, which doesn't require your subscription or personal info.