Introduction:
Screen recording is a fantastic way to quickly save and demonstrate what's going on on your phone and computer. You can guide others through a series of actions, capture gameplay and create video tutorials. If you are a Samsung user, you might wonder how to screen record on Samsung. Regardless of a phone or tablet, you can make a screen recording video with the native Samsung screen recorder. Also, a few handy third-party apps are worth trying.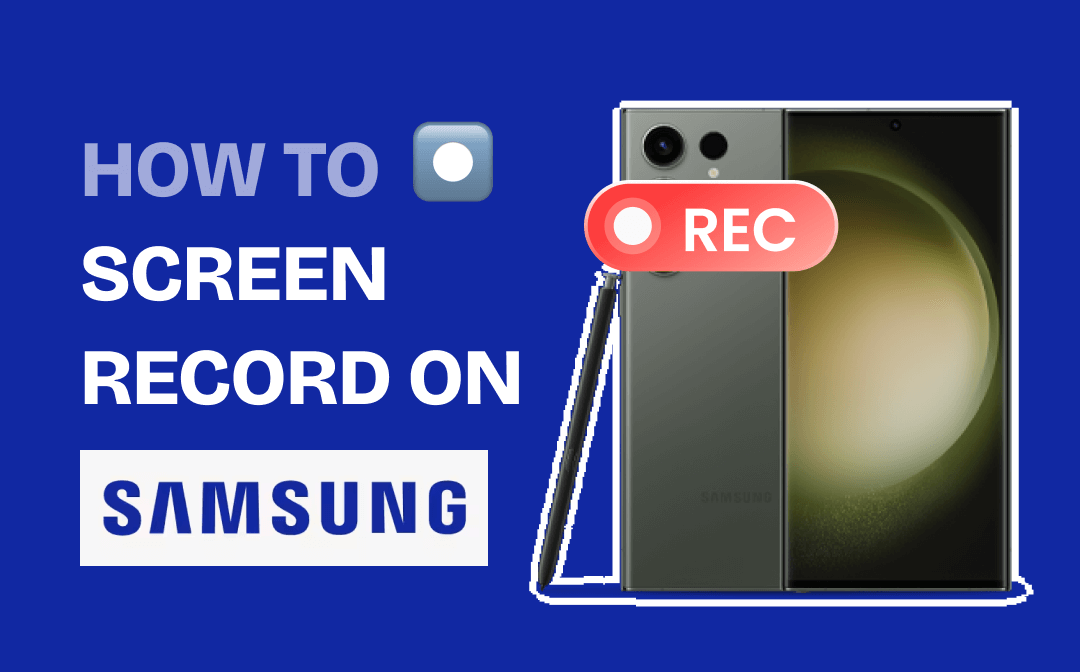 To help you record high-quality videos with less effort, this post shows you the easy steps to screen record on Samsung using 3 screen recorders. Read and follow the guides in the AWZware post to quickly get started.
How to Screen Record on Samsung Android Phone and Tablet
Built-in Screen Recorder
Samsung phones and tablets have a built-in screen recorder for screen recording with system audio, voice or selfie. This new feature saves you from the trouble of downloading or paying for any external applications.
Check how to screen record on Samsung in a few clicks.
Step 1: Swipe down from the top of your screen with your two fingers to open the quick tools panel;
Step 2: Choose the Screen recorder option or hit the + icon to add this control to the panel if there is not;
Step 3: Select your needed sound option, and toggle Show taps and touches or not;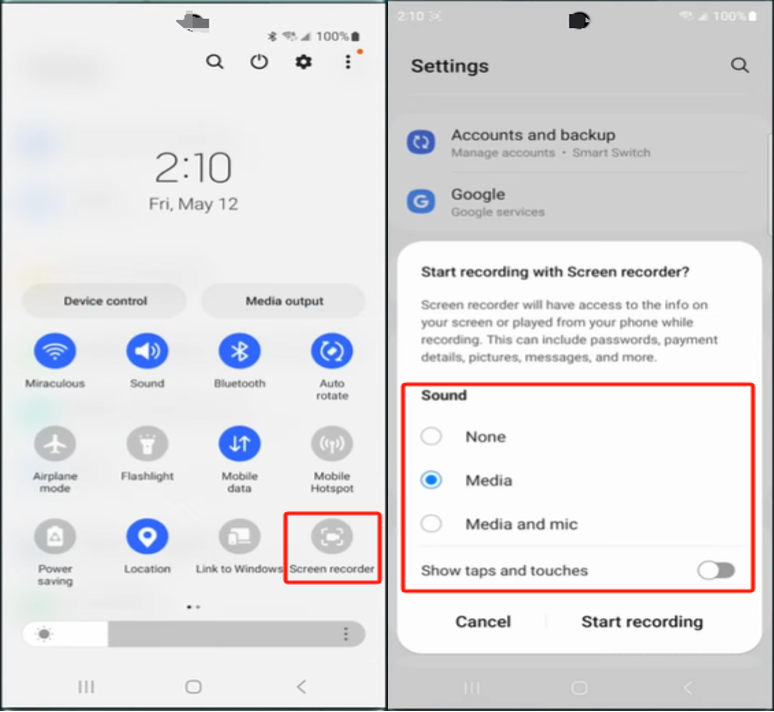 Step 4: Click Start recording and you can screen record on Samsung in a 3-second countdown;
Step 5: Click the person icon in the floating bar that appears to record yourself if needed, and tap the stop button to stop your recording.

The methods to screen record on an Android Samsung phone and tablet are similar, so you can just follow the above process. During a recording, the pencil in the floating bar allows you to draw on and make annotations to the video. Make "Show taps and touches" unselected and you'll be able to record on Snapchat without hands on Samsung.
After learning how to screen record on Samsung Android phones and tablets without downloading any app, take a minute to learn how to do that using a third-party app next. It's necessary as not all Samsung devices have a built-in screen recorder. Only some of the Samsung Galaxy Tab series, S series, Z series, Note series and A series are designed with the feature.
AZ Screen Recorder
To screen record on Samsung, AZ Screen Recorder provides one of the best alternative methods. The screen recorder app for Android allows you to screen record on a Samsung with audio and facecam. It is also capable of live streaming and video editing that can compress and trim a video. The Samsung-supported screen, voice and audio recorder offers free services and won't watermark the output recordings.
Learn how to screen record on Samsung Galaxy using the Android app.
Step 1: Install and open the screen recorder app and swipe down from the top of the screen;
Step 2: Click AZ in the notification bar and hit Start now in the pop-up window to record the screen on your Samsung phone or tablet in 3 seconds;

Step 3: When you're done, hit the Stop button in the notification bar.

The recorded video will be saved and displayed on the screen. While you can screen record on Samsung using this app for free, there will be intrusive ads to be careful with. The screen recorder offers in-app purchases. You should first confirm whether your phone or tablet has the screen recording function and if not, consider this method which lets you record phone calls on Samsung.
How to Screen Record on Samsung Laptop/Desktop PC
Sometimes you need to record screen on Samsung phones or tablets and some other times you may want to screen record on Samsung laptops. For the latter purpose, AWZ Screen Recorder comes in handy. This application lets you record videos, webcam, audio and voice simultaneously or separately. It allows you to select any portion of your screen for recording. Multiple output video formats are available to choose from. The screen recorder comes with a free version.
Here is how to screen record on Samsung laptops or desktop computers.
Step 1: Launch AWZ Screen Recorder, tap the hamburger icon to choose Settings and set the recording options;

Step 2: Click the Full Screen button to decide the recording region, and enable the sound or webcam recording;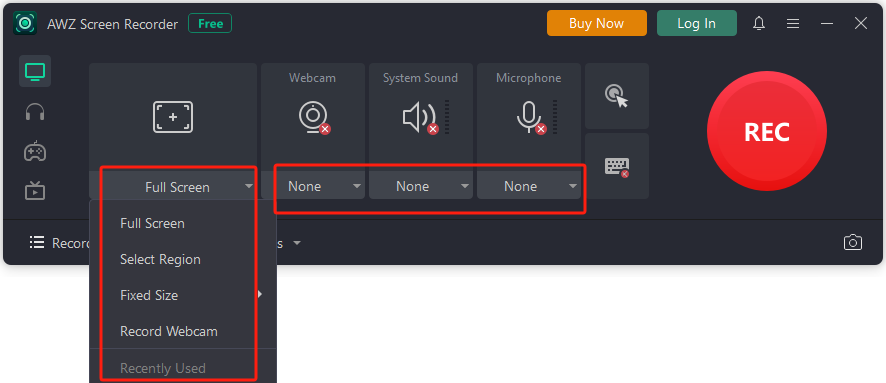 Step 3: Click the REC button to record your screen on Samsung after a three-second countdown;
Step 4: When you finish, hit the red square in the recording toolbar to end the recording.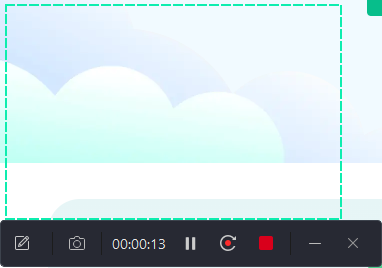 AWZ Screen Recorder not only helps you screen record on Samsung to high-quality videos without a hassle but also can cut and compress a video. Specialized gameplay and streaming video recording modes are supported.
Why My Samsung Screen Recorder Is Not Working?
With the aforementioned screen recorders and methods, it's easy to get the screen recorded on Samsung phones, tablets, laptops or PCs. However, there might be times you fail to do that. The main reasons why you can't screen record on Samsung are explained below and the solutions are given.
The preinstalled screen recorder on Samsung cannot record phone calls, VOIP calls, or video calls. When you are in an active call, you can record with the "Record call" feature in the three dots menu. Or, go to Google Play for a screen recording app.
Not all apps allow you to do recording or screenshots. When you screen record on Samsung, these apps may block you from recording with a black screen or similar things due to copyright restrictions. In this case, try an external screen recorder like the AZ Screen Recorder in this post.
Outdated software may cause compatibility issues so you should make sure your Samsung devices and applications are up-to-date.
If you can screen record on Samsung but the recorded video has no sound, it might be due to the permission problem. Check and ensure that the media and microphone permissions are turned on. The same to the camera.
To Sum Up
This article shows you how to screen record on Samsung and how to fix the screen recorder not recording issues. Mostly, you can just take advantage of the built-in Samsung screen recorder to get your job done on an Android or tablet. When the utility cannot help, the introduced screen recorder app is at your disposal. In case you need to record a larger screen, AWZ Screen Recorder for Windows is recommended, which enables you to record for free and edit videos.
FAQs
How do I screen record Netflix without a black screen on Samsung?
When you screen record on TikTok, Netflix, and some other apps on Samsung, you might have come across the black screen trouble. This is because of these platforms' copyright protection policy. The workaround to this situation is to record in a browser like Google Chrome.
First, go to "Settings" > "System" in Chrome, toggle the "Use hardware acceleration when available" option to turn off hardware acceleration, click "Relaunch" to restart the browser, open the Netflix video or page you want to record, and use a screen recorder like AWZ Screen Recorder to screen record on Samsung computers.