Introduction:
OGG files are popular for good sound quality with small file sizes. However, based on your needs, there are chances that you want to convert OGG to MP3 for sharing, uploading, or performing other tasks. So how can you find the optimal tool to convert your OGG file to MP3?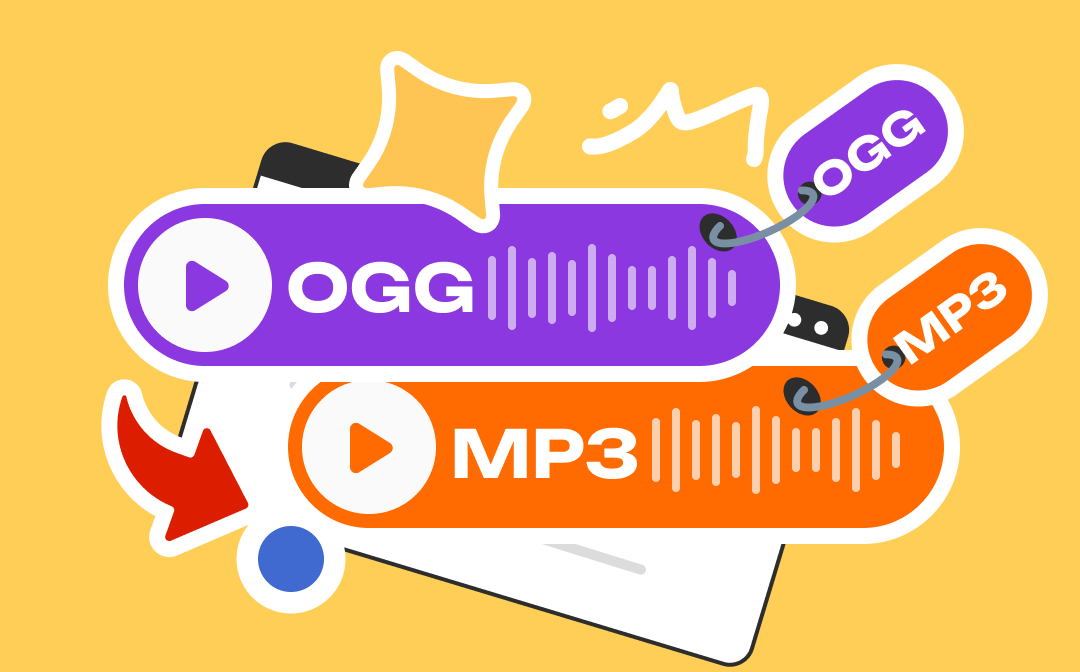 Are you looking for an OGG to MP3 converter to transform your OGG files with ease? Check this article! AWZware demonstrates all-around information about several tools to convert OGG audio files to MP3 online or offline without compromising the quality.
The Top OGG to MP3 Converters
Converting OGG to MP3 online or offline has different advantages. Online tools are known for their flexibility which allows you to complete the task wherever you are, while offline programs offer more stable Internet connections. You can find the best online and desktop applications to convert your OGG file to MP3 for free in the following part. Let's discover them together.
XConvert (Online)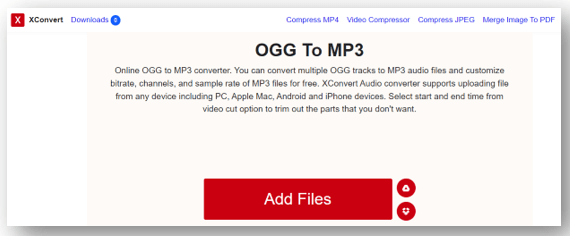 XConvert is a simple OGG to MP3 converter with a user-friendly UI. It is optimal for transforming multiple OGG files to MP3 at a time. Except for uploading files from a local folder, it also allows you to import audio files from Dropbox or Google Drive without downloading them. After adding the files, the audio duration, bitrate, and file size will be displayed. You can choose the output audio bitrate, channel, and bite rate to adjust the converting settings.
Onlineconvertfree (Online)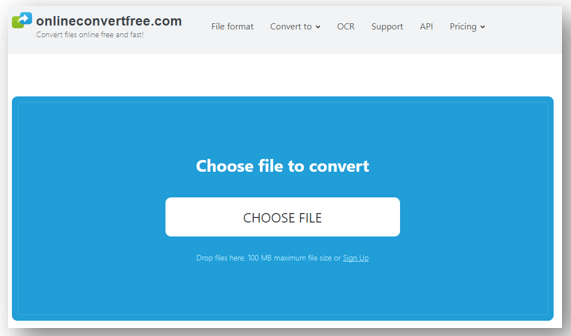 Another online site to convert OGG to MP3 is Onlineconvertfree. As its name implies, it is a free website to convert an OGG file to MP3 with a few clicks. This tool can process an audio file up to 100 MB without registration. Batch conversion is supported and it allows you to choose the output format respectively for each file. The processing speed is quick and no ads will disturb you.
Video Candy (Online)

Video Candy is a free online video toolkit with an OGG to MP3 converter. It can perform the transformation for one file each time. Once you upload the OGG file to the designated area, it automatically starts converting while preserving the original quality. In addition to transforming OGG files to MP3, this online program is also a video editor that can record audio on Macbook or insert music to a video.
MiConv (Online)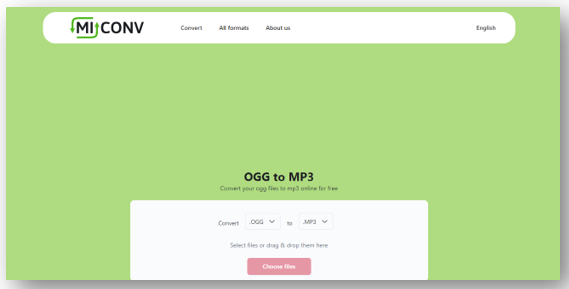 MiConv offers a free OGG to MP3 converter to convert multiple OGG files to MP3 or vice versa in one click. You can set the different output paths separately as well without hassle. This site is compatible with Windows, Mac, Linux, iOS, and Android. The maximum file size limit is 75 MB and there is no requirement for signup.
Freemake (Windows)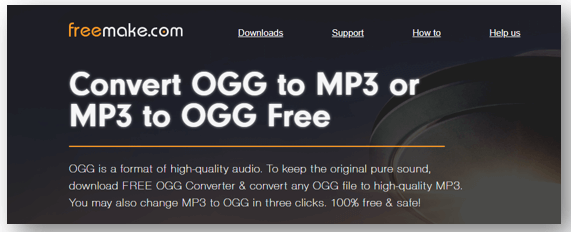 If you wonder how to convert OGG to MP3 offline, then Freemake can do a great job. It is a Windows-based converter that enables you to convert an OGG file to MP3 in a batch for free. Although the user interface looks a little outdated, it functions fast to complete the task. The software can directly change the file name once you upload it to the workspace and merge multiple files into one during the conversion. One highlight of this tool is that it supports syncing the converted files to iTunes automatically, which makes it easier to export your audio files to iOS devices.
Any Audio Converter (Windows)

Any Audio Converter is another desktop application for Windows users to convert OGG to MP3 offline. This free converter allows you to import files from your local folder or through a URL. It displays details about the OGG file, including format, duration, file size, and estimated file size after the conversion. You can easily rename your file and transform an OGG file to MP3 effortlessly. The tool also is a YouTube audio downloader that can convert a YouTube video to audio hassle-free.
Why Convert OGG and MP3
As you are considering the best OGG to MP3 converter to transform an OGG file to MP3, it could be the icing on the cake to know some advantages to do this job. After all, understanding the file format you are using can sometimes be important to increase your efficiency and remove certain hassles during file transmission.
The biggest advantage of the MP3 format is its compatibility. MP3 is almost supported by all systems and devices, making it convenient to share with others or upload it online.
Another reason to convert OGG files to MP3 is that the OGG format consumes more battery compared to the MP3 format. If you want to save your battery consumption.
Converting OGG to MP3 is easy with the above online and offline tools. However, sometimes the OGG or MP3 file you have is too long and you only need a specific section of it as material. Then you might need an audio trimmer to cut the desired audio clip.
Bonus Tip: Trim Your Audio Files with Ease
AWZ Screen Recorder has explicit features to trim audio files in the OGG or MP3 format with ease. It has an intuitive user interface with easy navigation. Despite the length of your audio, the program can cut the audio without losing its quality. It is a free service and you can edit your audio file whenever you need without charge.
Here is the guide to cropping your file after the OGG to MP3 conversion:
Step 1: After the installation, launch it on your computer;
Step 2: Choose Quick Tools below and click Video Editor;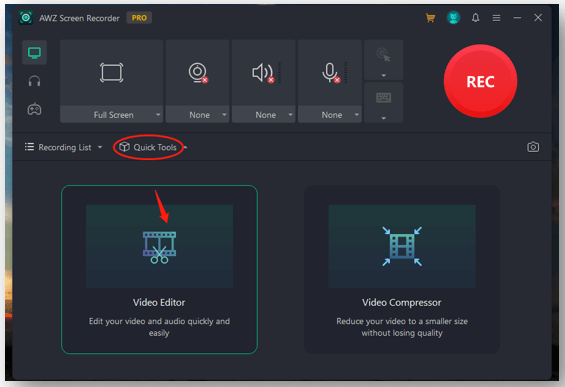 Step 3: Click on the indicated area and import the target file to the trimming tool;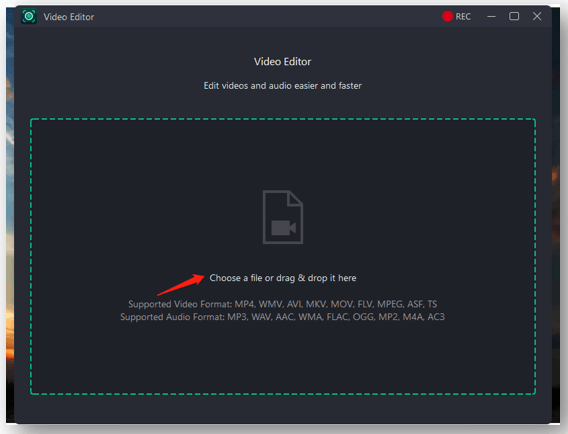 Step 4: Drag the slider to choose the audio clip that you want to trim. You can preview the edited audio and make sure it is your ideal result. Then tap Export to cut the audio file.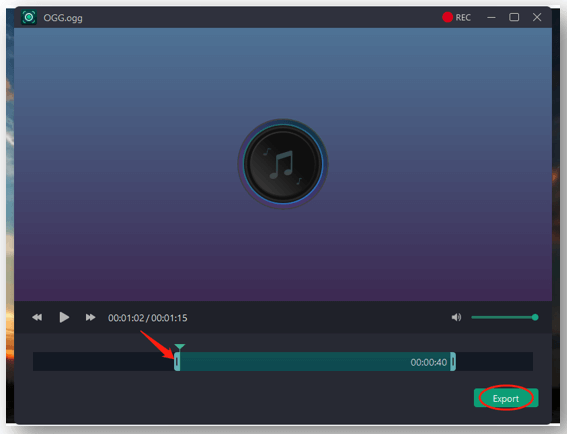 Besides trimming the audio you have, this program also is an audio recorder that can record audio from your computer or speaker. Whether you want to record the music playing in the background or a podcast to post on YouTube, it is a handy tool to create quality records.
The Conclusion
OGG files can be swiftly converted to MP3 files without compromising the quality. We have picked up the six best OGG to MP3 converters to perform the transformation. Both offline and online tools are included based on your different needs.
If you also need to trim the file after converting the OGG file to MP3, you can try the simple AWZ Screen Recorder to cut the file easily without a learning curve. This software can also help you to record any audio you need in a selected format without limitation.