Introduction:
As an online video platform alternative to YouTube, Rumble has attracted lots of live streamers and content creators to share their creative works. However, it doesn't offer a download feature to let you save videos. If you want to enjoy a video offline in the future, you may need to know how to download Rumble videos.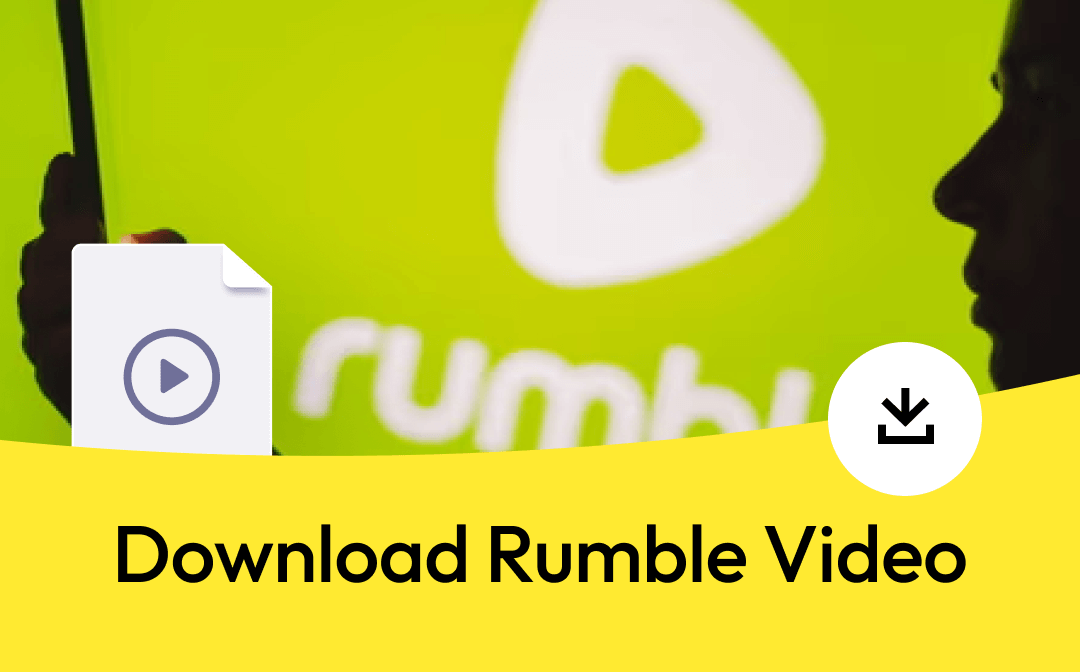 There is no need to scratch your head anymore. In this article, AWZware provides comprehensive know-how to help you download Rumble videos with 4 handy Rumble video downloaders. It is hassle-free to save a video from Rumble with quality.
How to Download Rumble Videos Without Using External Sites
Although Rumble doesn't allow you to download videos from it, a little trick can help you straightforwardly save the video without relying on external tools. Video sources are accessible and transparent from this online website. You can effortlessly locate the source of the video you need to download from Rumble and save the video in its original resolution.
Learn how to download Rumble videos directly from the website without using other tools:
Step 1: Go to Rumble and choose the video or live you want to download;
Step 2: Right-click on the video and choose Inspect;

Step 3: In the page source window, locate the video source under the Video tag;


Step 4: Copy and paste the video source into a web browser to search for it. Click on the three-dot icon in the lower right and choose Download to download the video from Rumble.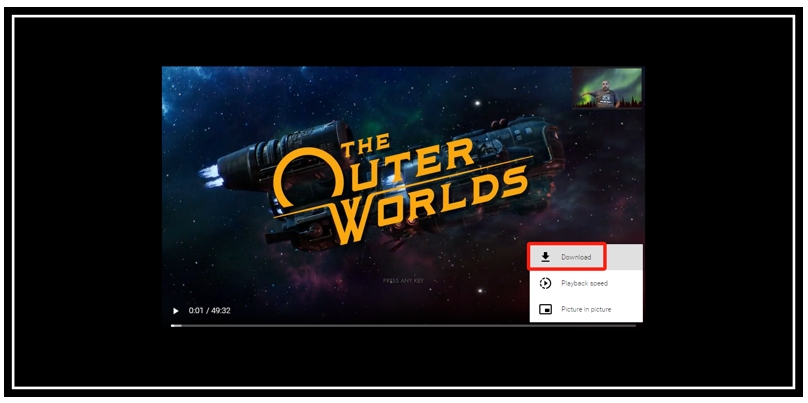 How to Download Rumble Videos on PC & Mac
For long Rumble videos, it takes time to download, not to mention the speed can be greatly influenced by the network connection. Using a screen recording application like AWZ Screen Recorder is an optimal option to record a Rumble video while enjoying the content at the same time, which saves much time.
AWZ Screen Recorder is a user-friendly screen recording solution that can capture video and audio together or separately in high quality. It lets you record a video sharp and crisp without any latency, especially when recording a long video. There is no time limit and it is able to quickly generate the results. You can enjoy a smooth recording experience while streaming the video.
Major features:
Various output formats are available;
Record audio only to save more space;
Add annotations when recording to highlight essential information;
You can tap on the download button below to install the Rumble video downloader on your PC or Mac. Then follow the steps below to get your video downloaded from Rumble:
Download Rumble Video in AWZ Screen Recorder
Step 1: Launch the program by double-clicking. Click on the speaker button to let it capture audio from your computer;


Step 2: Hit Full Screen and choose Select Region to adjust the recording area if you don't want to record in full screen.
Step 3: Press the REC button and stream the Rumble video to record it while watching.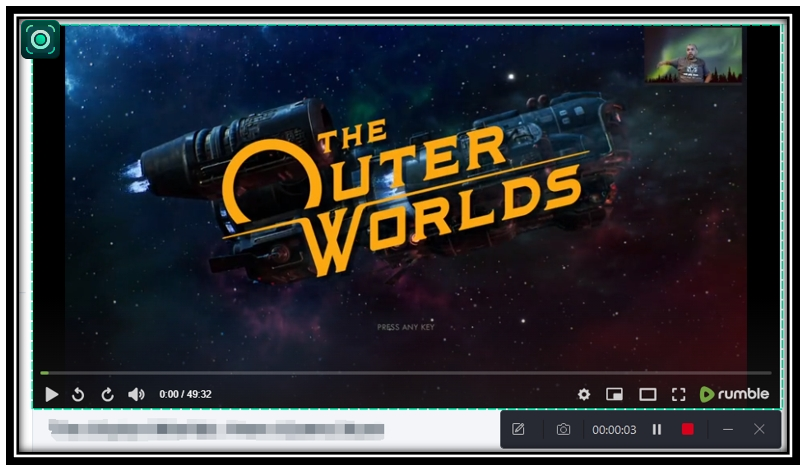 If the beginning and end of your recorded video contain unwanted clips, AWZ Screen Recorder's free video cutter for PC can remove those parts easily and no watermark will be added to the edited recording.
How to Download Rumble Videos Online
Several online Rumble video downloaders are available to extract the video directly from the platform. This method is ideal for saving short clips but may crash down when dealing with a large video file. It detects the source of the video by entering the corresponding URL link and various resolution options are offered based on the video. From 240P to 720p, different resolutions with different file sizes can be selected in case you are struggling for storage space.
Find out how to download videos from Rumble with this online Rumble video downloading platform:
Step 1: Open the video you want to download from Rumble. Copy its URL;
Step 2: Go to FlashSave.net and paste the URL into the workspace. Tap Get Video;


Step 3: Select the Resolution you like and press Hit to Download;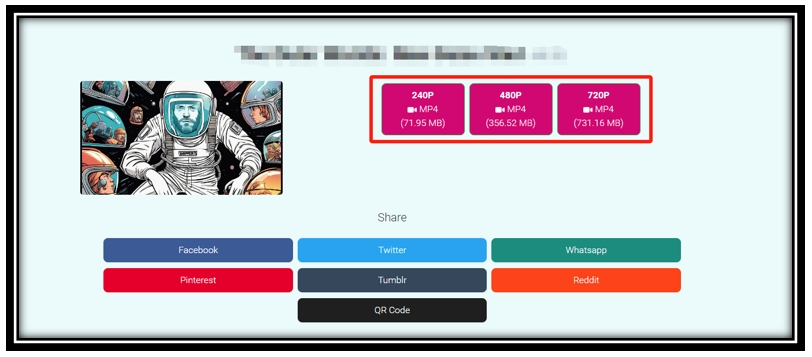 Step 4: After it redirects you to a new tab, click on the three-dot icon and choose Download to download the Rumble video.
In addition, the web-based Rumble video downloader enables you to share the video you want to download from Rumble to various sites, including Facebook, WhatsApp, Pinterest, and Reddit. To make the transfer faster, you can convert the video to a QR Code and share it on any platform you like.
How to Download Rumble Videos on Mobile
4K Video Downloader is a professional video-saving app capable of downloading videos from YouTube, Rumble, Vimeo, and other SNS platforms. Multiple resolutions are offered to save your target video. 4K HD is available to watch full HD content. Besides, the built-in audio converter lets you convert an MP4 video to audio in MP3 or M4A format in case you want to listen to it.
Here is the how-to to help you download Rumble videos in this Rumble video downloader:
Step 1: Run the app on your Android. Copy and paste the URL of the video you want to download from Rumble to the search bar;
Step 2: Tap Download and select the desired resolution;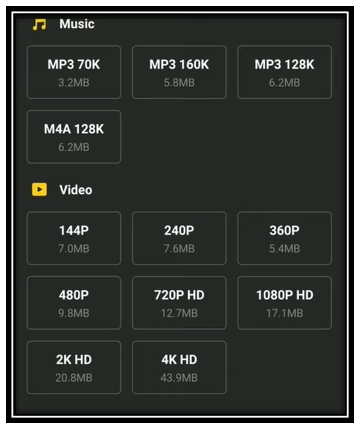 Step 3: Hit Start Download to save the video to your phone.
Bottom Line
This article features 4 methods to help you download Rumble videos quickly and smartly. High resolution can be guaranteed with the tool recommended. Hope you can find the way you like to enjoy your favorite Rumble video offline without worrying about the network performance.